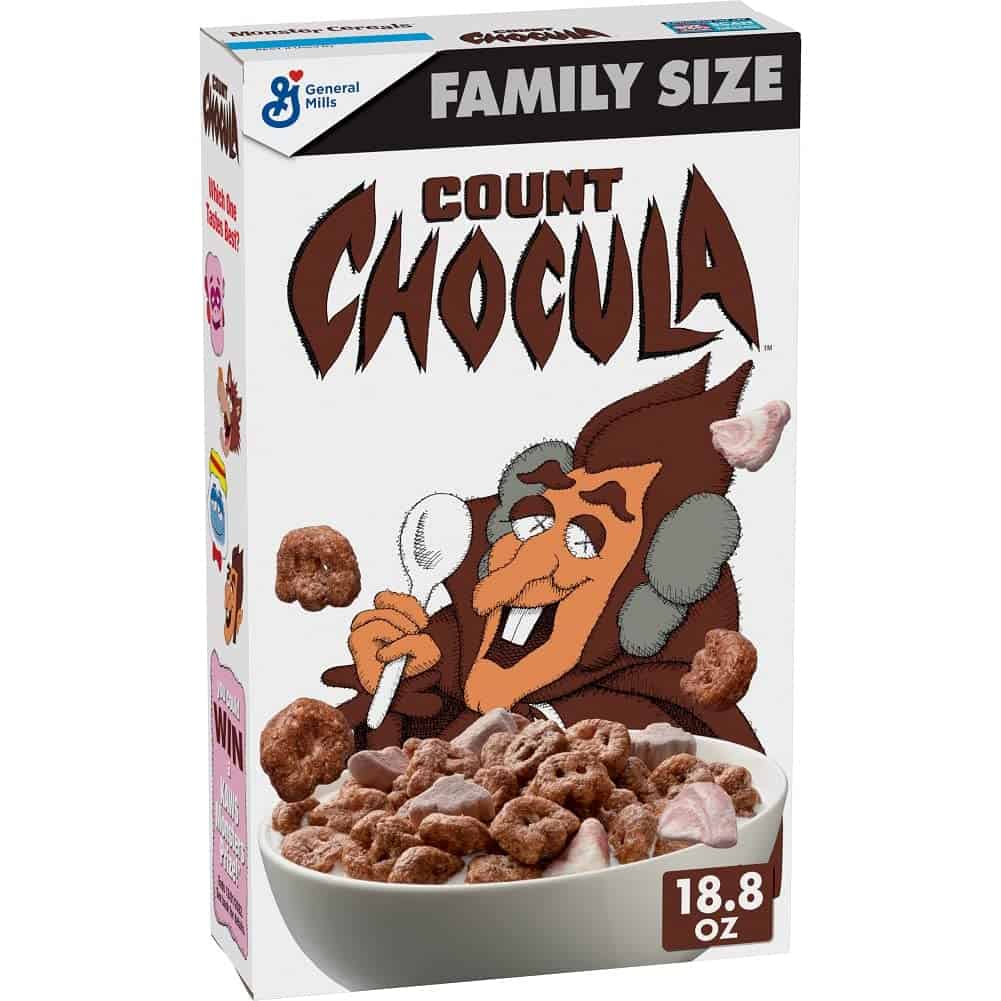 Galvanized by classic horror movies starring Count Dracula, Count Chocula comes in the shape of a chocolate-infused cereal that is released on a seasonal basis. Its winning formula? Monster marshmallows!
Created by the brand General Mills, this cereal is part of a trio of monster-inspired cereals and has been on the market for an impressive 50 years.
Every Halloween, most will be able to purchase this cereal from various grocery stores, and it's a treat most kids (and some adults) look forward to.
Nutrition Facts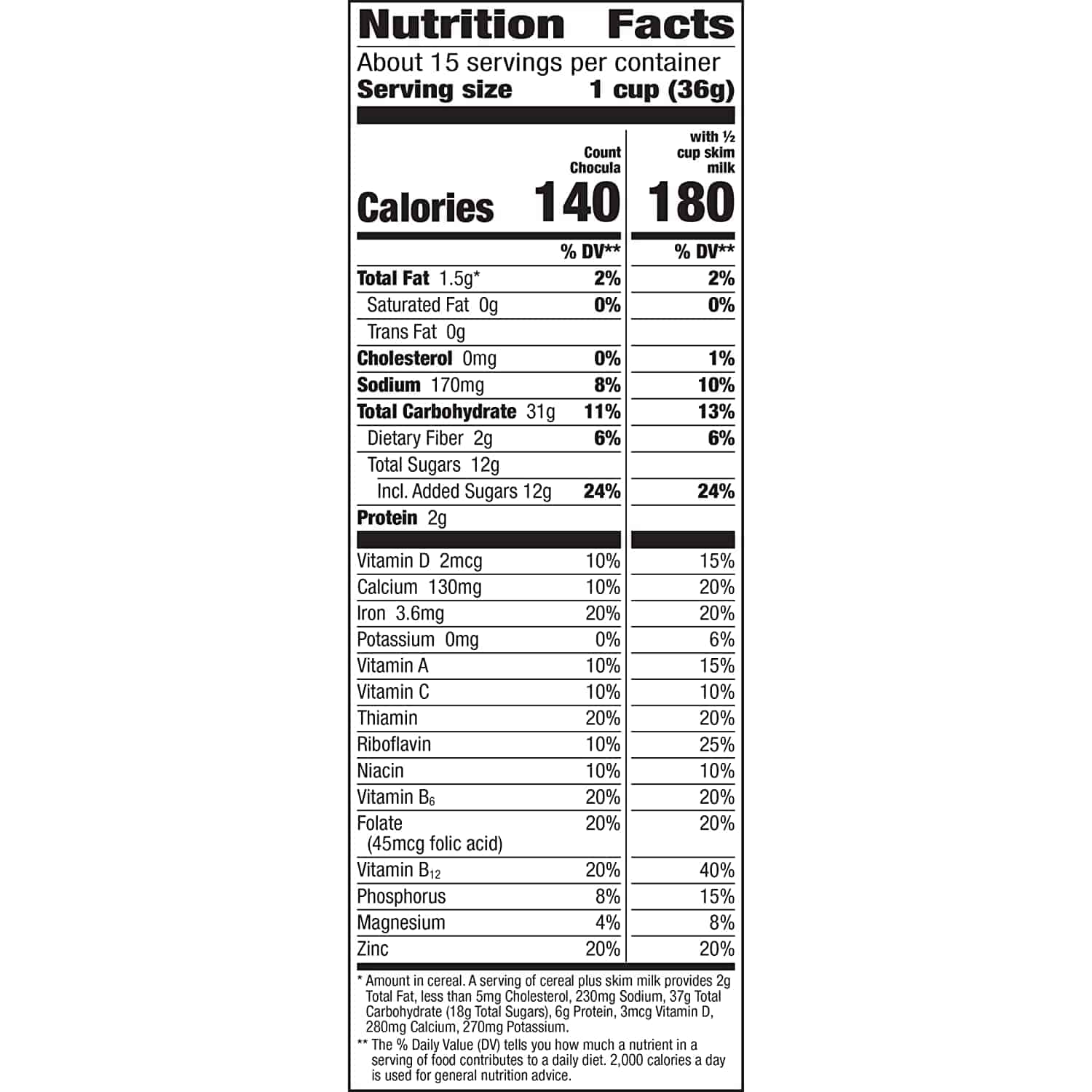 Calories: 103.4 (from fat: 11.4 – 11% DV)
Total fat: 1.3 grams (saturated fat: 0.2 grams)
Monounsaturated fat: 0.6 grams
Polyunsaturated fat: 0.4 grams
Trans fat: 0 grams
Sodium: 131.8 mg (6% DV)
Potassium content: 61.6 mg (2% DV)
Carbohydrates: 22.8 grams
Net carbs: 21.5 grams
Fiber: 1.4 grams (6% DV)
Sugar: 8.9 grams
Protein: 1.5 grams
Vitamins and minerals (The Daily Value percentage is based on a diet of 2,000 calories).
Vitamin A 142μg: 16%
Vitamin B6 0.5mg: 39%
Vitamin B12 1.5μg: 63%
Vitamin C 6mg: 10%
Vitamin D 1μg: 7%
Vitamin E 0.2mg: 1%
Vitamin K 0.5μg: 1%
Calcium 99.9mg: 10%
Iron 4.5mg: 57%
Magnesium 8.1mg: 3%
Phosphorus 59.9mg: 6%
Zinc 3.8mg: 26%
Copper 0mg: 2%
Manganese 0.3mg: 14%
Selenium 1.8μg: 3%
Thiamine 0.4mg: 26%
Riboflavin 0.4mg: 26%
Niacin 5mg: 25%
Folate 99.9μg: 25%
Choline 3.5mg: 1%
Ingredients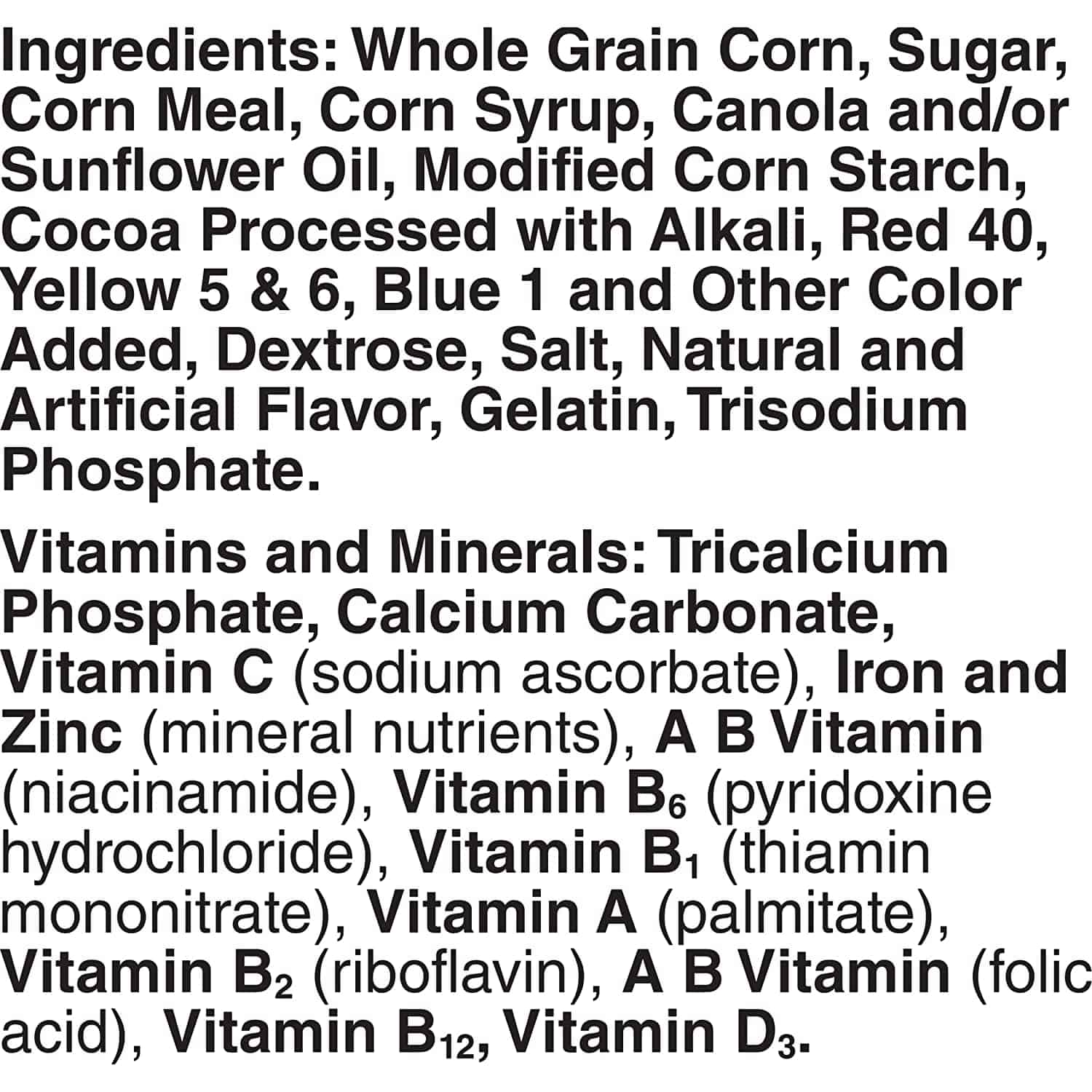 Whole Grain Corn
Sugar
Corn Meal
Corn Syrup
Canola Oil
Modified Corn Starch
Cocoa processed with alkali
Dextrose
Salt
Red 40
Yellow 5 & 6
Blue 1 and other food coloring added
Natural and artificial flavors
Gelatin
Trisodium Phosphate
Is Count Chocula Cereal Healthy?
Although Count Chocula proudly claims to be made with whole grain, when you read the reverse of the box, it doesn't appear to contain enough.
Grains, according to several studies, are said to help lower the risk of stroke and heart attack. Since these studies were released, numerous consumers have been jumping aboard what many refer to as the grain train.
Consumers often believe cereals and other foodstuffs to contain whole grain because of the clever labeling. Products are allowed to advertise items as whole grain or whole wheat, often displaying this proudly on the front of the box; however, this doesn't necessarily mean the product contains whole grain.
This must be labeled in the ingredients list on the back of the packet as "whole-grain whole wheat." Untreated or enriched wheat flours are not the same thing.
The positioning of "whole-grain" in the ingredients list is also important. This should sit at (or near) the top of the ingredients list. This determined how much is in the product – the lower down the list, the less there is.
As we can see from the ingredients list, Count Chocula contains whole grain corn.
Is Count Chocula Cereal Gluten-Free?
Unfortunately, for those wishing to stick to a gluten-free diet, Count Chocula cereal is not a feasible option as it is not gluten-free. All of the Monster Cereals feature whole wheat on their ingredient list.
Is Count Chocula Cereal Vegan?
Again, for those wishing to embrace Halloween traditions and veganism at the same time, Count Chocula cereal isn't an option. The yummy treat contains gelatin which is made from animal sources.
Is Count Chocula Cereal Keto?
If you wish to follow (or are already following) a keto or ketogenic diet, it is important to watch your carbohydrate intake daily. This is when the body enters ketosis.
For the majority of people wishing to achieve the best results, this necessitates ingesting fewer than 50g net carbs every day.
From the nutrition facts, we can determine that this cereal contains over 20g carbs per portion. Add the high added sugar content to this, and you have a product that can't be recommended for those trying to remain in ketosis.
Is Count Chocula Cereal High in Protein?
According to the details on the box, Count Chocula cereal has just one gram of protein per serving. Healthier options often boast closer to 10 grams of protein, which makes you feel fuller for longer.
Is Count Chocula Cereal High in Fiber?
This cereal, like Boo Berry and the other variants, doesn't contain much fiber, which isn't a great thing for those wishing to maintain a balanced, healthy lifestyle. A healthy breakfast cereal should contain at least three grams of fiber.
There are certain tips you can follow to up your fiber intake while enjoying this cereal, including:
Adding ground flax seeds to your cereal
Adding wheat bran or another high fiber cereal to your Count Chocula breakfast
Adding berries or other fresh fruit high in fiber.
Count Chocula Cereal Varieties
Follow-on products made to coincide with the Count Chocula cereal included candies and fruit rollups.
Count Chocula Cereal Store Brand Alternatives
Released in the 1970s, Count Chocula brand alternatives include Boo Berry, Franken Berry, and Fruit Brute. Both Boo Berry and Franken Berry have now been discontinued.
When both Franken Berry and Count Chocula were launched in March 1971, they were the only breakfast cereal on the market to contain chocolate and strawberry flavors.
Where You Can Buy Count Chocula Cereal
Taking inspiration from Count Dracula and celebrated horror films, Count Chocula, the seasonal, monster marshmallow-infused chocolatey breakfast cereal, is part of a set of three monster kinds of cereal.
The breakfast cereal brand General Mills produces all of them. This particular monsters variant has been around for almost 50 years. In October, close to Halloween, you can source this cereal in a variety of popular grocery stores across the country.
Famous Count Chocula Cereal Commercials
There are several famous Count Chocula ads worth knowing about. These include:
This 70s advert from Count Chocula monster cereals is one of the first to hit the screens.
Another popular advert that features both Franken Berry and Count Chocula, which you can take a peek at here.
Finally, a 1989 commercial reveals more about this celebrated breakfast cereal.
User Reviews
Review Summary
0.0 out of 5 stars (based on 0 reviews)
Recent Reviews
There are no reviews yet. Be the first one to write one.
Submit a Review