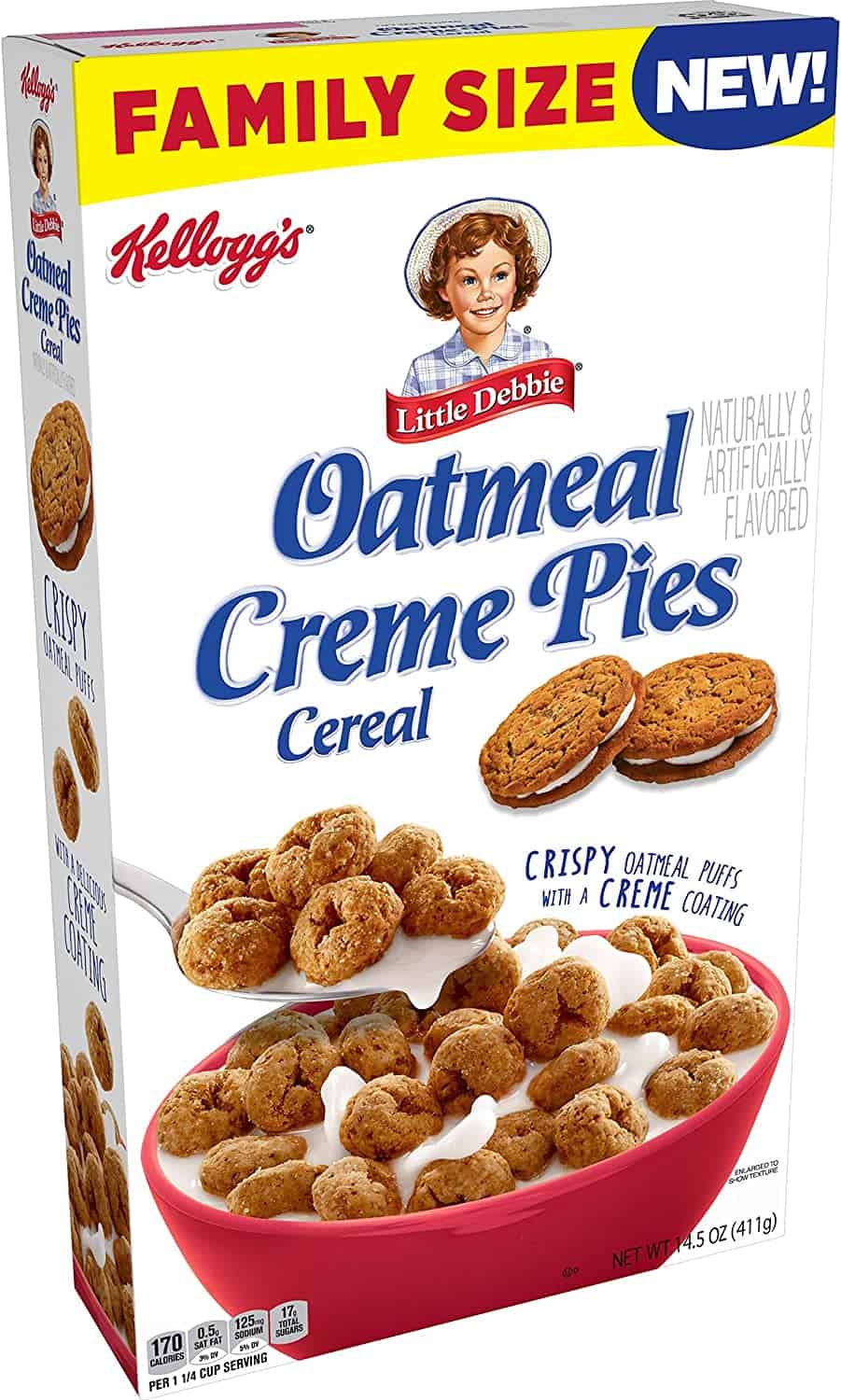 Little Debbie Oatmeal Creme Pies Cereal was first introduced in 2020 by Kelloggs, transforming the classic cookie into an irresistible breakfast cereal. Each piece consists of two oatmeal cookies, which are bursting with spices, joined together by a creme filling. The cereal also features an irresistible creme flavored coating, which gives the oatmeal taste a vanilla flavor.
A nostalgia snack for most, Kellogg's Little Debbie Oatmeal Creme Pies were first introduced commercially by McKee Food Corporation back in 1960. In the preceding years, Little Debbie became a mainstay, thanks to the irresistible aroma and crunch of the cookie.
Now that Little Debbie Oatmeal Creme Pies are available for breakfast, they're even more difficult to resist – but can they be considered a healthy breakfast option?
Nutrition Facts
Kellogg's Little Debbie Oatmeal Creme Pies come in two cereal box sizes: 9.1oz and 14.5oz. The 9.1oz contains around 6 servings, while the 14.5oz has around 10 servings. The box claims the cereal to be cholesterol-free, low fat, and contains both natural and artificial flavors.
1 cup of these crunchy oatmeal puffs contains:
Calories – 136
Cholesterol – 0 milligrams (0% daily value)
Total fat – 2.4 grams (4% daily value)
Saturated fat – 0.4 grams (2% daily value)
Trans fat – 0 grams (0% daily value)
Sodium – 10 milligrams (4% daily value)
Protein – 1.6 grams
Total carbohydrates – 26.4 grams (9% daily value)
Dietry fiber – 0.8 grams (3% daily value)
Added sugars – 13.6 grams (27% daily value)
Iron – 4 milligrams (20% daily value)
Calcium – 8 milligrams (1% daily value)
Potassium – 75 milligrams (2% daily value)
The daily value is calculated based on a diet of 2000 calories a day.
Ingredients
The ingredients list for this cereal includes:
Whole grain out flour
Degerminated yellow cornmeal
Creme coating (containing soybean, palm oil, soy lecithin, whey, milk, artificial flavor, and sugar)
Sugar
Fructose
Salt (2% or less)
Molasses
Cinnamon
Caramel color
Natural and artificial flavor
Nutmeg
Baking soda
Annatto extract color
Red 40
Blue 1
Yellow 5
Yellow 6
Wheat flour
BHT
Vitamins and minerals that are included in Kellogg's Little Debbie Oatmeal Creme cereal include:
Niacinamide
Reduced iron
Vitamin B6 (riboflavin)
Vitamin B12
Vitamin B1 (thiamin hydrochloride)
Vitamin D3
Folic acid
Is Oatmeal Creme Pies Cereal Healthy?
These oatmeal cream pies are marketed as a healthy cereal, being made with oatmeal and molasses. The packaging also boasts that the cereal contains 10 grams of whole grain oat flour and 8 different vitamins. However, despite these health facts being truthful, there are a number of factors that you should first consider before branding these crispy oatmeal puffs healthy.
The oats used provides the consumer with fiber, protein, magnesium, and zinc. These nutrients are good for aiding with weight loss, improving digestion, and combating diabetes and heart disease. The molasses, on the other hand, provide potassium, calcium, iron, and magnesium.
Although this would suggest that Oatmeal Cream Pies do contain healthy ingredients, the oats and molasses aren't as prominent in the ingredient list as you'd think.
Unhealthy ingredients such as corn syrup, dextrose, palm and soybean oils, and enriched bleached flour are all featured more prominently than the oatmeal and molasses contents, making it less healthy than it is marketed to be. There is also a higher sugar content than there are molasses.
Is Oatmeal Creme Pies Cereal Gluten-Free?
Little Debbie Creme Pies are not gluten-free. Just like the original Little Debbie snack, Oatmeal Creme Pies Cereal is not gluten-free as the product is jam-packed with wheat flour and whole grains. Unfortunately, there is no gluten-free Oatmeal Creme Pies Cereal alternative, and those with gluten allergies should avoid coming into contact with this cereal.
Is Oatmeal Creme Pies Cereal Vegan?
This oatmeal cream pie cereal is not vegan as it contains a number of animal-derived ingredients, including milk and its derivatives.
Is Oatmeal Creme Pies Cereal Keto?
If you're following a keto diet, Oatmeal Creme Pies should be avoided as they contain a high net count of carbohydrates. In just 1 1/4 cup serving of this cereal, there are 42 grams of carbs. This equates to 15% of your daily value.
If you're following a keto diet, you need to look for cereals that feature low net carbs, which includes the likes of Magic Spoon.
Is Oatmeal Creme Pies Cereal High In Protein?
A 32g serving of this cereal contains 1.6 grams of protein. This is an average amount of protein to be found in sugary breakfast cereal, and just 0.1g more than you'll find in Froot Loops. However, it is lacking in comparison to such cereals as Magic Spoon, which can have as high as 13 grams of protein perving in some varieties.
If you're looking for a high-protein cereal, Oatmeal Creme Pies Cereal is not a good option for you.
Is Oatmeal Creme Pies Cereal High In Fiber?
Little Debbie Oatmeal Creme Pies cereal is surprisingly low in fiber for an oatmeal cereal. Each 32 gram serving of the cereal only contains 0.8 grams of dietary fiber or around 4% of your daily recommended intake. This is significantly lower than other breakfast cereals such as Froot Loops, which contains 2.7 grams of fiber in a 29-gram serving – 11% of your daily intake.
Where You Can Buy Oatmeal Creme Pies Cereal
You can purchase Oatmeal Creme Pies Cereal at most well-stocked grocery stores throughout the U.S.
Grocery stores that definitely stock the product include Dillons, Kroger, and Walmart. It can also be ordered online from several virtual retailers.
Generally, it shouldn't be difficult to find this product, given how new it is and how popular it has become.
Famous Oatmeal Creme Pies Cereal Commercials
Unlike the original snack pie, there haven't been any famous Little Debbie Oatmeal Creme Pies cereal commercials since its release in 2020. This is perhaps because the original product is already so iconic that it needs no introduction.
User Reviews
Review Summary
0 out of 5 stars (based on 0 reviews)
Recent Reviews
There are no reviews yet. Be the first one to write one.
Submit a Review