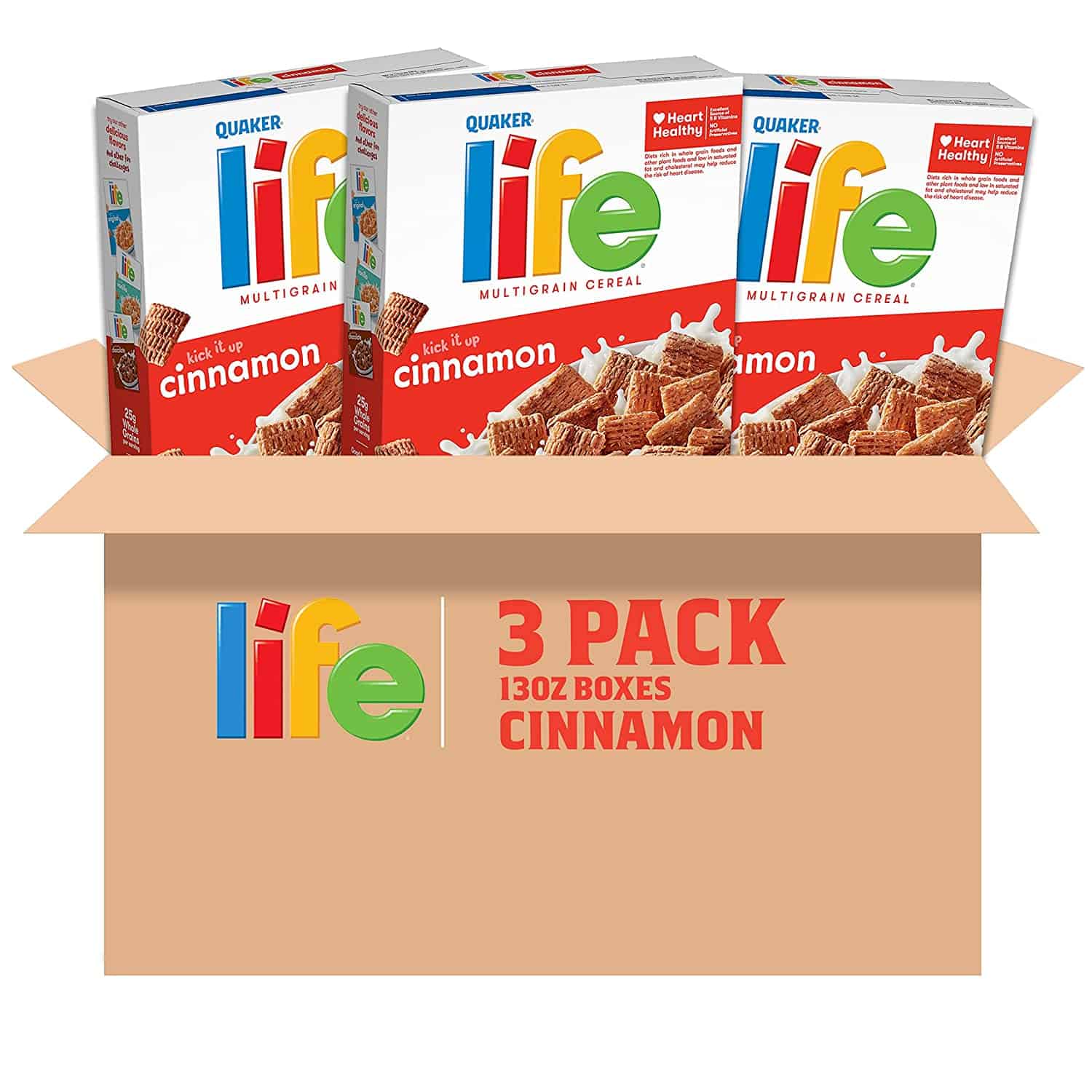 If you love the taste of Cinnamon, then you're really going to love Quaker's Cinnamon Life Cereal. As a morning meal, breakfast helps provide the best start to your day if done right. With Quaker Life Cereal, you can start your day with this sweet and tasty treat that combines whole grain Quaker oats and wheat with a delicious cinnamon flavoring.
Life Cinnamon multigrain cereal is a crunchy and tasty choice that will be loved by everyone in the home, even those fussy eaters! Starting your day off with Quaker's Cinnamon Life cereal can sweeten up anyone's day!
Nutrition Facts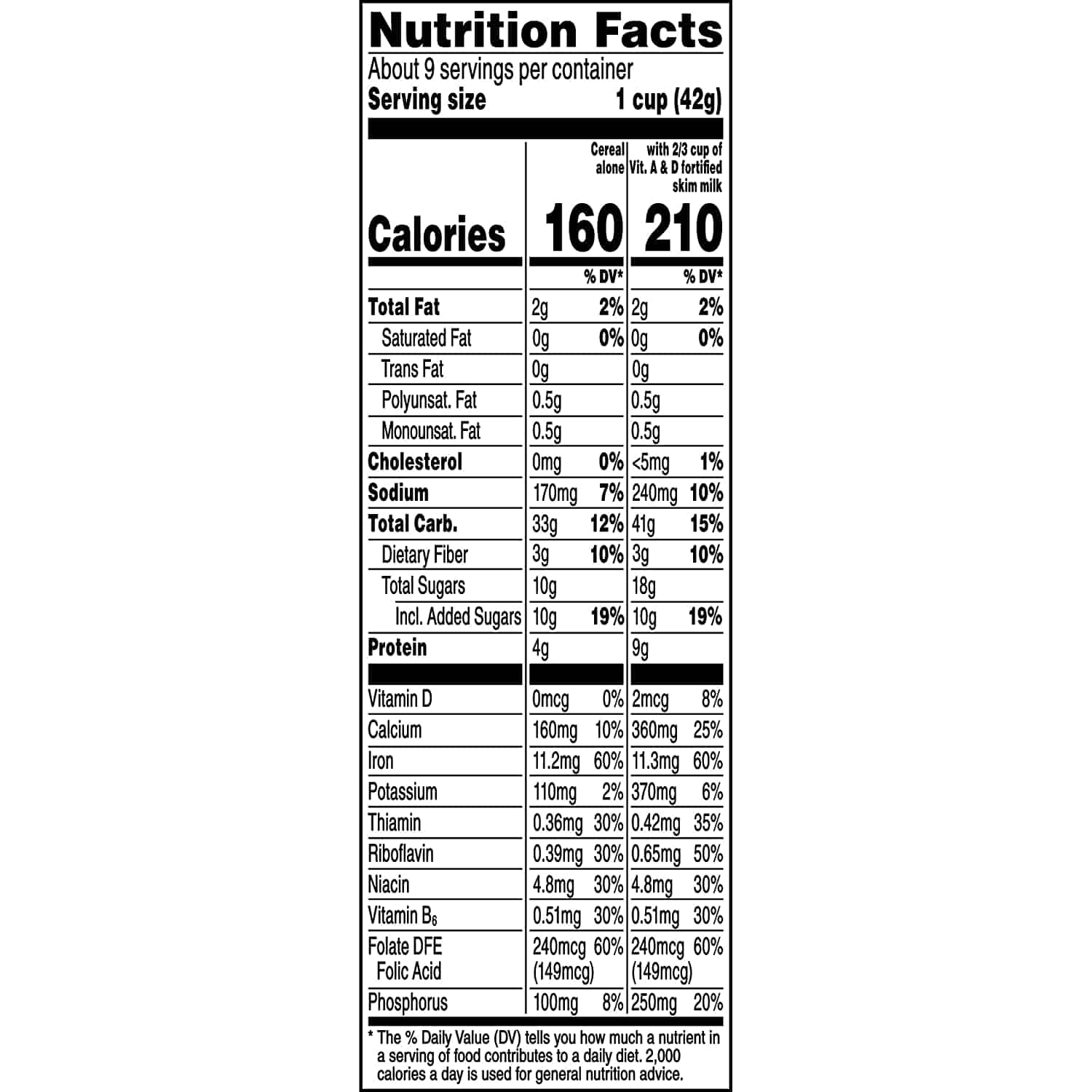 One serving size is 1 cup or 42g. Here are some nutritional facts about Cinnamon Life that are worth knowing.
Calories 160
Total Fat: 1.5g
Saturated Fat: 0g
Trans Fat: 0g
Polyunsaturated Fat: 0.5g
Monounsaturated Fat: 0.5g
Cholesterol: 0mg
Sodium: 200mg
Total Carbohydrate: 33g
Dietary Fiber: 3g
Sugar: 10g
Protein: 4g
Calcium: 170mg
Iron: 11.1mg
Niacin: 4.8mg
Phosphorus: 130mg
Potassium: 100mg
Riboflavin0: 4mg
Thiamin0: 4mg
Ingredients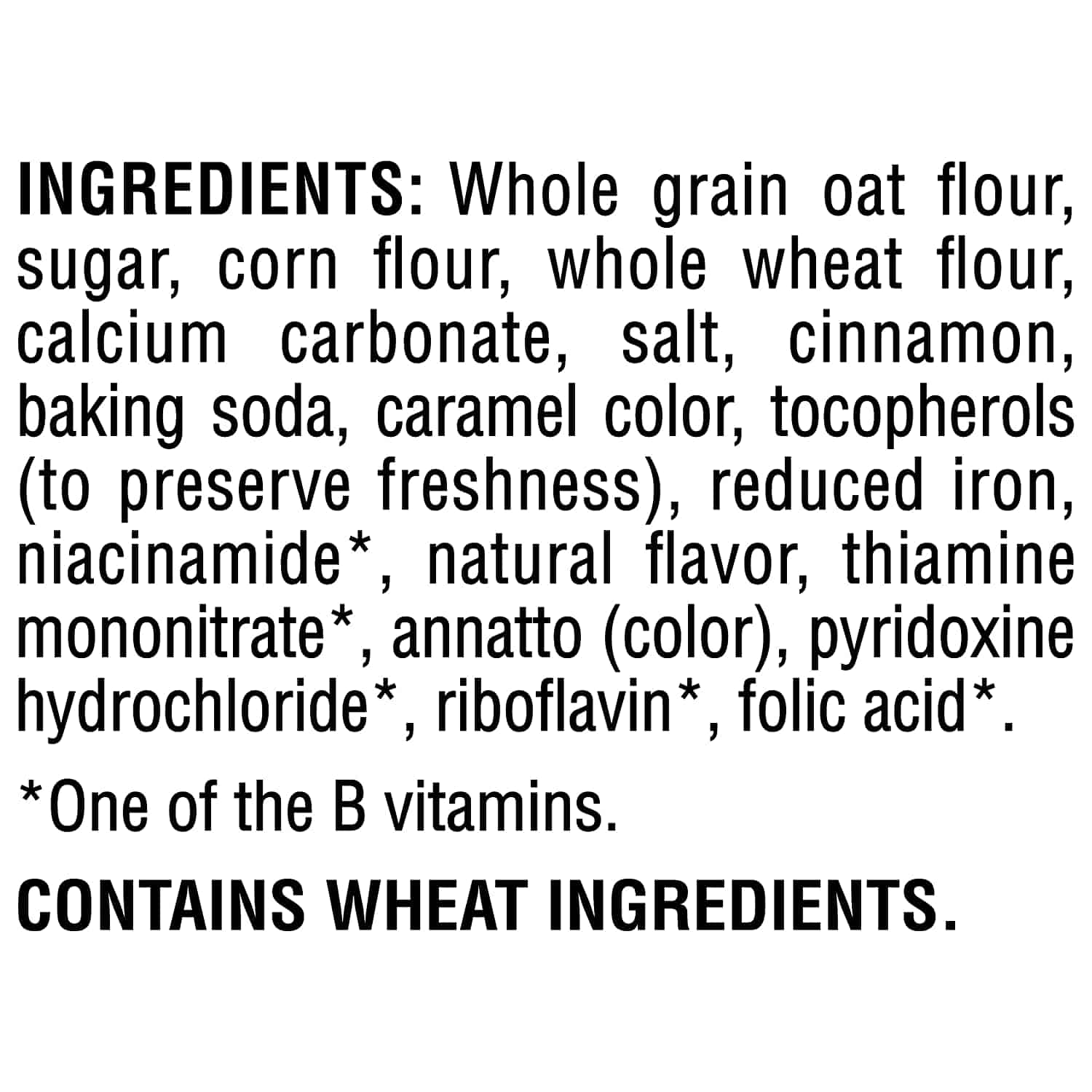 Understanding what goes into your food is important to know, and with this cereal, there are plenty of ingredients within this box of goodies.
Whole Grain Oat Flour
Sugar
Corn Flour
Whole Wheat Flour
Rice Flour
Calcium Carbonate
Salt
Cinnamon
Disodium Phosphate
Caramel Color
Reduced Iron
Yellow 6, Blue 1, Yellow 5, Red 40
Niacinamide
BHT (To Preserve Freshness)
Natural Flavor
Thiamine Mononitrate
Pyridoxine Hydrochloride
Riboflavin
Folic Acid
Is Cinnamon Life Cereal Healthy?
Life cinnamon multigrain cereal is healthier than some of the significantly higher calorie-based cereals. However, when it comes to being healthy, this bowl of cereal contains a hefty amount of sugar. It does seem like, at first, you're making a good choice due to the whole grain used.
One cup-size amount of this cereal has around 8g of sugar. The average sugar consumption per day is 37.5g for men and 25g for women. At 8g of sugar per serving, a good amount of your daily sugar consumption is used up. For kids, daily sugar allowance should be between 19g-24g, so it's something that could be a lot for children daily.
Is Cinnamon Life Cereal Gluten-Free?
This Quaker Life Cinnamon breakfast cereal is not gluten-free as it contains whole wheat flour. Interestingly, not all whole grains contain gluten, and most are naturally gluten-free. However, whether it's by choice or by necessity, it would be worthwhile choosing a gluten-free alternative for anyone on a gluten diet.
There are plenty of Quaker Life options that are gluten-free, so they definitely cater to those with gluten needs.
Is Cinnamon Life Cereal Vegan?
This great-tasting cereal, with its wholesome sweetness, is vegan. The Life cereal range comes in three varieties, original, maple syrup, and cinnamon. All three of them are vegan-friendly.
However, it does contain natural flavor, artificial colors, and sugar. Depending on your preference for the vegan diet, this can sometimes determine whether or not it's suitable. Some vegans tend to avoid these ingredients as they can often use animal by-products.
Is Cinnamon Life Cereal Keto?
Cinnamon is a keto-friendly ingredient that many on the keto diet will tend to use for its health benefits. It's a spice that contains antioxidants that help protect the body from damage.
However, the Quaker Cinnamon Life cereal isn't keto-friendly. This is due to the high-carb processed food. There are also certain ingredients like sugar, Blue 1, and BHA/BHT that are considered unhealthy ingredients in this type of diet.
Processed foods when it comes to a keto diet are often avoided, so this box of cereal is likely not going to be the best for keto dieters.
Is Cinnamon Life Cereal High In Protein?
The average protein consumption is between 46g and 54g per day. With Cinnamon Life cereal, it contains just 4g, which isn't a particularly high amount of protein. However, if you have a fairly protein-rich diet, then this is a little extra boost that can make it a favorite cereal for many to consume.
You can also enjoy cereal anytime; it's no longer just for breakfast!
Is Cinnamon Life Cereal High In Fiber?
Quaker's Life cereal has a low fiber content, which can help your digestive system.
Despite it containing whole grains, where whole-grain foods are supposed to provide the best nutrients, there's only 3g of fiber per one-cup serving. This may not be the optimal cereal option for those wanting a high-fiber breakfast.
Cinnamon Life Cereal Store Brand Alternatives
There are a few cinnamon cereal alternatives that you can find in various stores. These include:
Each one offers the same lively taste of cinnamon with the crunch of the multigrain squares.
Where You Can Buy Cinnamon Life Cereal
General Mills is a popular breakfast cereal provider, and as such, it's crafted great business relationships with plenty of local supermarkets and businesses online. Here are just a few places where you can shop this cereal online and offline:
Amazon
USA Food Store
Quaker Oats
Target
As it comes in three varieties, you're more than likely to come across it when shopping in the cereal section of any grocery store. All three life cereals are still in distribution and haven't been discontinued yet. They've been going for years; after all, there's really no stopping them!
Famous Cinnamon Life Cereal Commercials
This famous Life Cereal- Mikey Likes It! commercial was played for a decade due to its success. It follows two kids who don't want to try the cereal and so give it to Mikey, a kid who apparently doesn't like anything. It turns out he loves it!
Cinnamon life has existed for quite some time, and so this Cinnamon Life Cereal Commercial from the 80s follows a similar theme – a breakfast cereal all kids will love.
User Reviews
Review Summary
5.0 out of 5 stars (based on 1 review)
Recent Reviews
Submit a Review