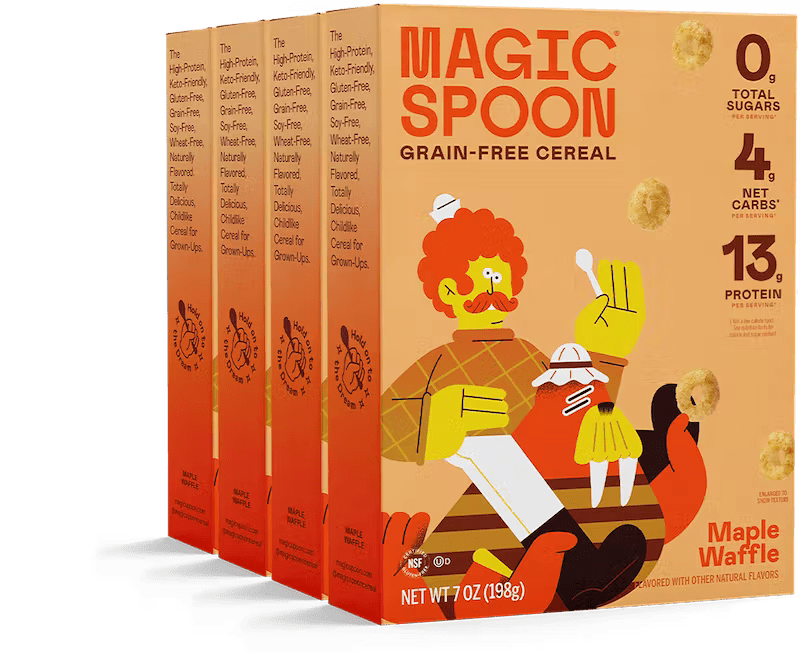 The Magic Spoon Maple Waffle Cereal is one of the latest flavors that Magic Spoon has added to their product line. It has the same qualities as its other cereals, with low net carbs and high protein content. This cereal will be sure to start you off right for the day.
Magic Spoon's twist on the maple waffle flavor is especially impressive as it provides the same taste of maple syrup drizzled on a sweet waffle without containing sugar. At only 150 calories per serving, this sweetened cereal will be sure to satisfy your sweet tooth without sacrificing your health.
Nutrition Facts
One portion (38g) of Magic Spoon Mape Waffle Cereal contains:
Calories – 150
Total fat – 8 grams/10% DV
Trans fat – 0%
Saturated fat – 5 grams/25%
Cholesterol – 10mg/3% DV
Total carbohydrates – 14 grams/5% DV
Total sugars – 0 grams
Dietary fiber – 1 grams/4% DV
Protein – 13 grams/26%DV
Vitamin D – 0mcg
Calcium – 36mg/3% DV
Iron – 2mg/11% DV
Potassium – 29mg/1% DV
Sodium 170mg/7% DV
Vitamin A – 0%
Vitamin C – 0%
A 198g box of Magic Spoon Maple Waffle Cereal contains 7 servings.
Ingredients
The ingredients list ofMagic Spoon Maple Waffle Cereal contains:
the protein blend of milk made from whey concentrates and milk isolates
sweetener blend made from monk fruit extracts, allulose, and steviol glycosides
oil blend made with high oleic sunflower oil, Vitamin E, and avocado oil
starch made from Tapioca
Chicory Root fiber – inulin
natural flavors
salt
Is Magic Spoon Maple Waffle Cereal Healthy?
This cereal is regarded as a healthy option for breakfast due to its high-quality ingredients and low net carbs. It has a super high protein content, and uses only natural sweeteners and swaps out bad products for the good things that you want to include in your diet, such as healthy fats.
You might be confused by Magic Spoon's Maple Waffle cereal's delicious sweet flavor due to it containing no sugar. Magic Spoon is able to achieve this by using a specially crafted sweetener blend that replicates the sweetness of your favorite childhood cereals without actually containing any sugar.
Like all of Magic Spoon's cereals, the Maple Waffle version is also keto-friendly with low net carbs, no gluten ingredients, and no cane sugar, corn syrup, or sugar alcohols. This makes the cereal suitable for those will all different kinds of dietary requirements and delivers the same desirable taste.
Is Magic Spoon Maple Waffle Cereal Gluten-Free?
Yes! This cereal has no wheat, rice, soy, or gluten-containing ingredients. This makes it perfect for those that have to keep to a gluten-free diet. You will find that all Magic Spoons have no gluten-containing ingredients in their products, so you can try them all and choose the ones you prefer the most.
Is Magic Spoon Maple Waffle Cereal Vegan?
Unfortunately, all of the Magic Spoon cereal flavors are not considered vegan friendly. This is due to the main ingredient being dairy protein. If you are vegan, then you might have to opt for an alternative brand.
Magic Spoon has said that they are not currently in the process of making a vegan option for lovers of their cereal; however, they aren't ruling it out for the future.
Is Magic Spoon Maple Waffle Cereal Keto?
With only 14 grams of carbs per serving, this cereal is definitely keto-friendly. For those sticking to a strict low-carb diet, this cereal will only contribute around 7% of your daily carb intake. Those on a keto diet usually try to keep their carb intake to less than 50 grams a day, so 15 grams for breakfast is perfectly fine as one of your 3 meals.
Is Magic Spoon Maple Waffle Cereal High in Protein?
Like all Magic Spoon cereals, this flavor also has a high protein content with around 13 grams per serving. For those looking to increase their muscle mass, this breakfast option is a great way to increase your daily intake before you go work out.
Is Magic Spoon Maple Waffle Cereal High in Fiber?
Magic Spoon Maple Waffle Cereal contains around 1 gram of dietary fiber per serving. This isn't a huge amount of fiber and contributes to around 4% of your recommended intake.
If you want to increase the amount of fiber you have in your diet, consider supplementing your breakfast with some whole grain bread and some fruit. These foods are naturally high in fiber and will help your gut stay healthy, allowing you to seize the day with no stomach issues.
Magic Spoon Maple Waffle Cereal Store Brand Alternatives
There is a large selection of Magic Spoon cereal that all deliver a delicious and satisfying taste that will start your day off right. You should try their frosted cereal that provides the same satisfaction as other famous frosted flakes cereal, such as Kellogg's Frosted Flakes, whilst remaining low in carbs.
Perhaps you enjoy a more chocolatey and creamy cereal. You should try Magic Spoon's Cookies & Cream cereal, which offers the same taste as Kellogg's Cookies & Creme cereal without being anywhere near as unhealthy. With only natural sweeteners and 0 sugars, it is a much healthier option for breakfast.
Where You Can Buy Magic Spoon Maple Waffle Cereal
This cereal is currently available at the supermarket giant Walmart. You can also purchase the cereal straight from Magic Spoon's website, or you can go to Amazon and buy their cereals in bulk if you want it delivered straight to your door.
Famous Magic Spoon Maple Waffle Cereal Commercials
Magic Spoon cereal was founded in 2018 by Greg Sewitz and Gabi lewis and has exploded in popularity ever since its creation. They spent over a year researching and crafting the perfect recipe that delivered the perfect taste whilst still being good for you.
Being a relatively new company, they haven't released a huge number of videos and commercials. There have been, however, a few memorable ones, including "Unbelievable", which described the science behind creating a delicious cereal that was able to create the taste of waffles without all of the sugar that is used to create them normally.
This commercial was seen on Magic Spoon's own website as well as other platforms, including Facebook.
User Reviews
Review Summary
0.0 out of 5 stars (based on 0 reviews)
Recent Reviews
There are no reviews yet. Be the first one to write one.
Submit a Review