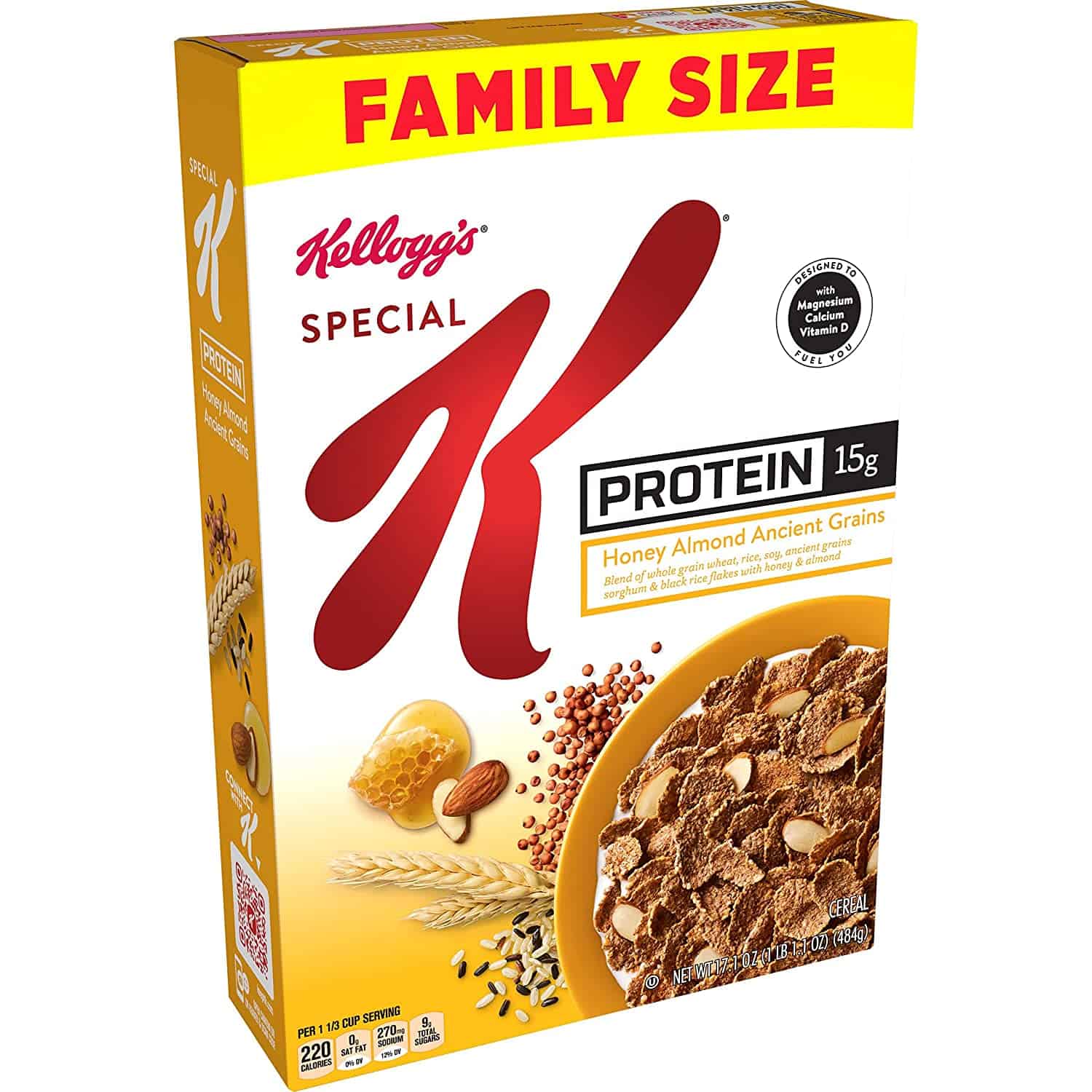 Kellogg's Special K Protein is a health-conscious twist on the original, classic breakfast cereal. Built on a base of wholesome flakes made of whole grain wheat along with ancient grains sorghum and black rice; this delicious multitasker is sweetened with natural honey flavor and sliced almonds to provide an extra boost of protein without cutting back on taste.
Serve with dairy or nut milk, or your favorite yogurt for a healthy breakfast option or delicious between meal treat; or perhaps try adding honey almond ancient grains to your breakfast smoothie or trail mix recipe for an extra, satisfying crunch.
Nutrition Facts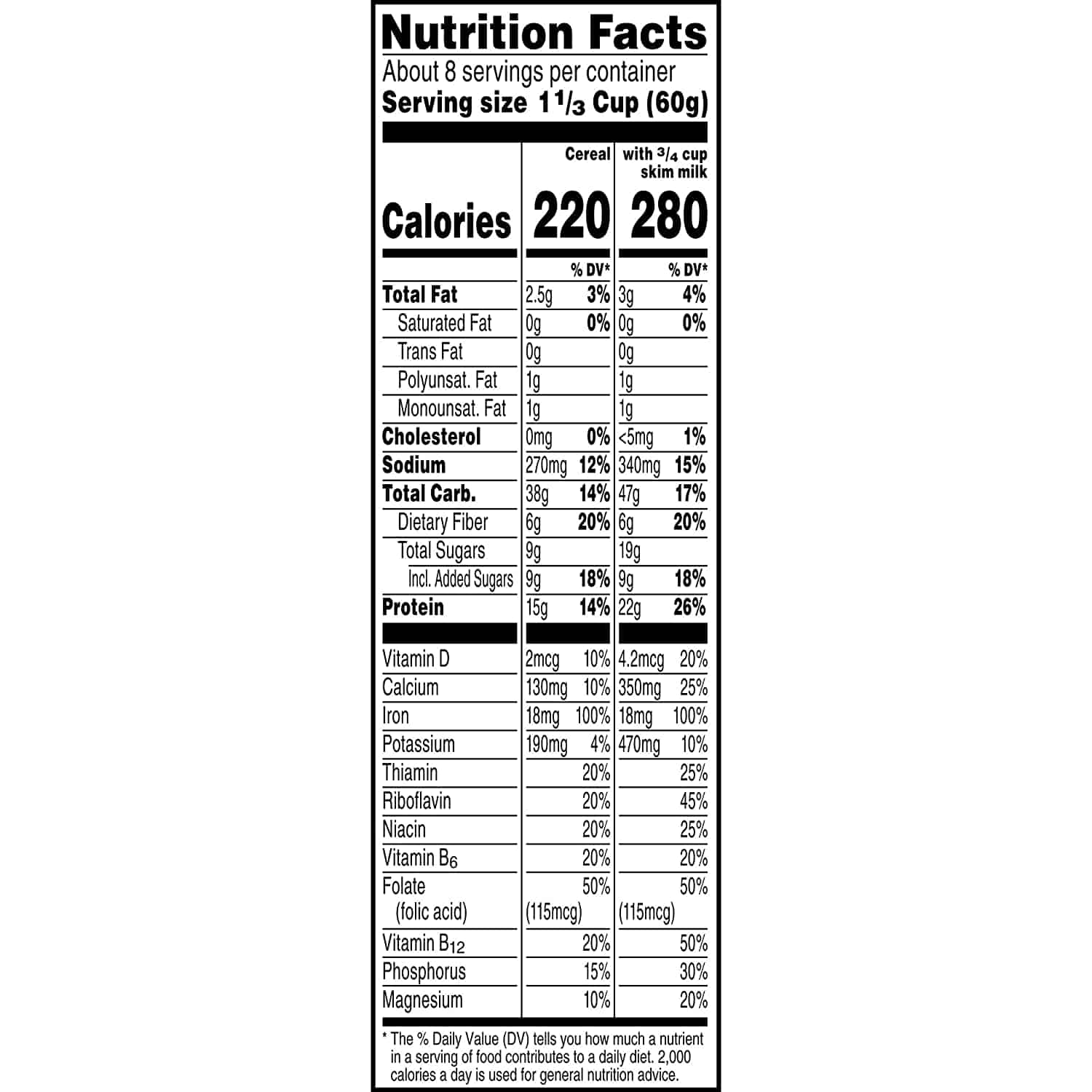 Calories (per serving) 230
Total Fat 3.5g 4.49%
Saturated Fat 0g 0%
Trans Fat 0g
Polyunsaturated Fat 1g
Monounsaturated Fat 1.5g
Cholesterol 0mg 0%
Sodium 270mg 11.74%
Total Carbohydrate 38g 13.82%
Dietary Fiber 4g 14.29%
Sugar 9g
Protein 15g
Calcium 130mg 10%
Iron 18mg 100%
Magnesium 42mg 10%
Niacin 3.2mg 20%
Phosphorus 125mg 10%
Potassium 160mg 10%
Riboflavin 0.26mg 4%
Vitamin D 2mcg 10%
Ingredients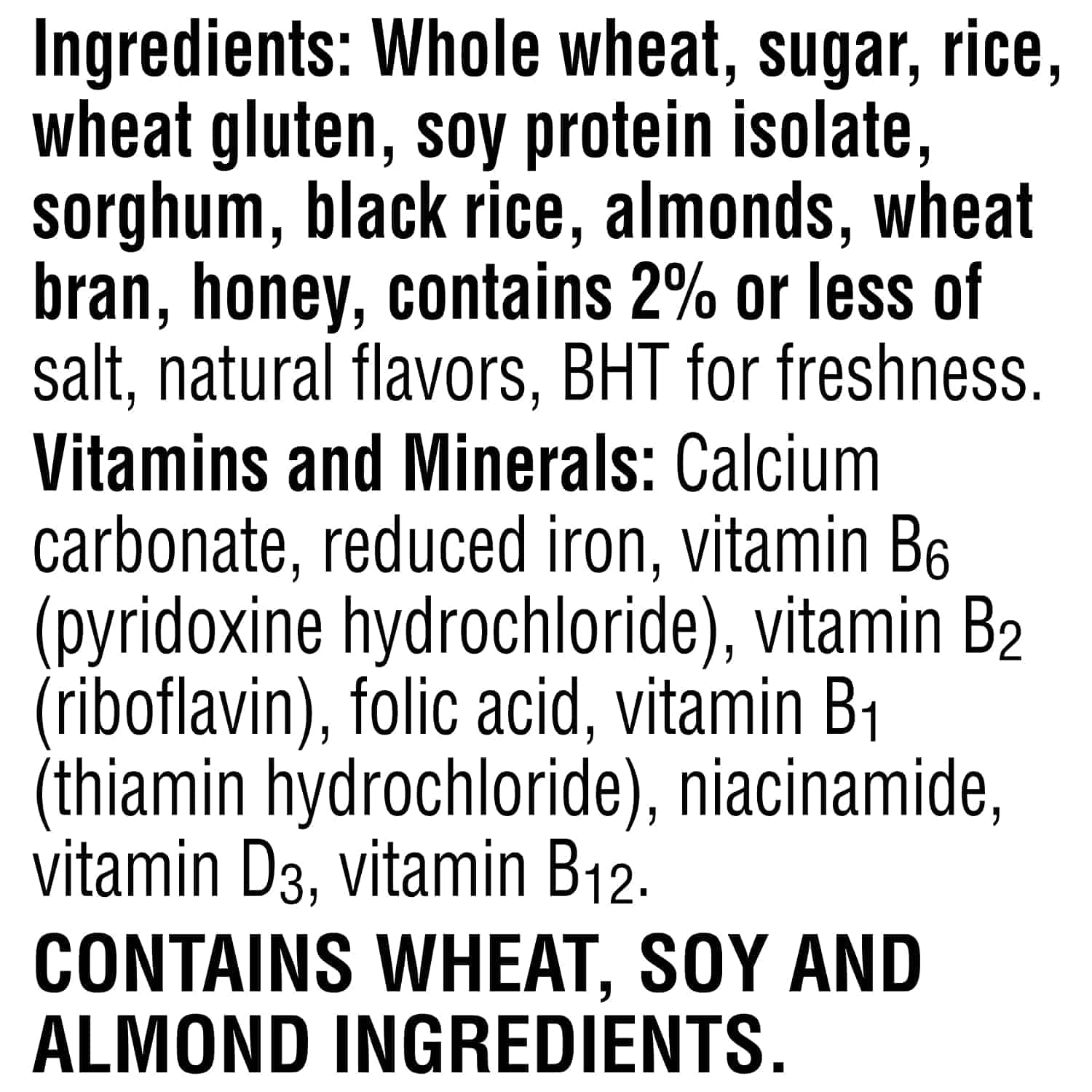 Whole Wheat, Sugar, Rice, Wheat Gluten, Soy Protein Isolate, Sorghum, Black Rice, Almonds, Wheat Bran, Honey, Contains 2% or Less of Sale, Natural Flavors, BHT For Freshness. Vitamins and Minerals: Calcium Carbonate, Reduced Iron, Vitamin B6 (Pyridoxine Hydrochloride), Vitamin B2 (Riboflavin), Folic Acid, Niacinamide, Vitamin D3
Is Special K Protein Honey Almond Ancient Cereal Healthy?
Kellogg's Special K Protein provides an excellent breakfast cereal (or late night snack) protein-wise, which is incredibly important since every cell in the human body contains protein. It is an excellent source of 11 vitamins and minerals, packed full of whole grains but free from artificial flavoring.
Not only is Kellogg's honey almond ancient grains a flavorful choice but the filling wholesome grains also contribute to your daily value of fiber; eating a bowl in the morning will help you to feel fuller for longer and reduce the insatiable need for unhealthy snacks.
Okay, the not-so-great… This cereal gets its delicious flavor from real almonds (good) and 9g of sugar (not good). Yes, that super-sweet honey taste takes up 18% of your daily sugar intake in just one serving. Compared to some competing cereals, that's practically nothing but compared to plain, non-flavored options it's 9g of extra sugar.
If protein is your priority then yes, this cereal is a pretty healthy option. However, if you are looking to maintain a balanced diet and give your day the very best start you can, you might consider finding a plainer base cereal and adding your own fruit and nuts.
Is Special K Protein Honey Almond Ancient Cereal Gluten-Free?
No, no it is not. With base ingredients including whole wheat, wheat gluten, and wheat bran, Kellogg's honey almond ancient grains are not gluten-free.
Kellogg's makes one gluten-free Special K breakfast cereal.
Is Special K Protein Honey Almond Ancient Cereal Vegan?
This kind of depends on how strict a vegan you consider yourself. While Kellogg's Honey Almond Ancient Grains does not contain milk or dairy products and can be enjoyed with nut milk for a delicious, dairy-free breakfast cereal it does contain a couple of ingredients that might not be considered strictly vegan.
Vitamin D3 is most often produced from the grease of sheep wool. Furthermore, this cereal contains 9g of sugar which, in the US, is often filtered with animal bone char.
Is Special K Protein Honey Almond Ancient Cereal Keto?
No, Kellogg's Special K Protein, almond and honey flavor cereal is not recommended for the keto diet. The ketogenic 'keto' diet relies on limiting your daily carbohydrate intake. This breakfast cereal contains 38g of carbohydrate per serving, which equates to 13% of an average daily intake or the entire daily intake of a person following the keto diet.
Is Special K Protein Honey Almond Ancient Cereal High in Protein?
Kellogg's Special K Protein… it's right there in the name. Containing more than double the protein of the classic Special K; Kellogg's delicious protein breakfast cereal boasts 15g of protein per serving. That's about 14% of the recommended intake for your daily diet.
Kellogg's special ancient grains is a favorite cold cereal for the whole family but it also ranks among the highest hitting, protein-boosting breakfast options contributing more to your daily value than most competing cereals.
Is Special K Protein Honey Almond Ancient Cereal High in Fiber?
Just one serving of Kellogg's Special K Protein breakfast cereal contains 4g of fiber – that's 14% of your average daily intake.
Okay, so there are fiber-rich cereals out there that would put 4g to shame but since the average per breakfast cereal is 2-3g, Kellogg's honey almond ancient grains is a pretty good choice.
Special K Protein Honey Almond Ancient Cereal Store Brand Alternatives
Kellogg's Special K is available in a wide range of delicious flavors and inspired products:
Brown sugar cinnamon
Chocolatey dipped flakes with almond
Blueberry
Red berries
Fruit and yogurt
Vanilla almond
Chocolatey delight
Cinnamon brown sugar crunch protein cereal
Cinnamon pecan
Touch of honey granola
Try your Special K in a different form: 'calorie conscious' bars; protein bars; and keto-friendly snack bars, available in a range of flavors.
Where You Can Buy Special K Protein Honey Almond Ancient Cereal
Unfortunately, this great cereal has been discontinued so you will struggle to find it at the grocery store. If you do want to try out Kellogg's Honey Almond Ancient Grains Cereal for yourself, try looking online at Amazon or even eBay for retailers selling off old stock.
Famous Special K Protein Honey Almond Ancient Cereal Commercials
Kellogg's Special K Protein Honey Almond Ancient Grains does not seem to have qualified for its own, specific commercial. Take a look at some of the other ads from Kellogg's, highlighting the focus on boosting protein through breakfast cereal:
Kellogg's Special K Protein Range (2019)
Classic Special K commercial – this advert focuses on the importance of protein before Kellogg's had begun to launch their specific protein range.
User Reviews
Review Summary
0 out of 5 stars (based on 0 reviews)
Recent Reviews
There are no reviews yet. Be the first one to write one.
Submit a Review