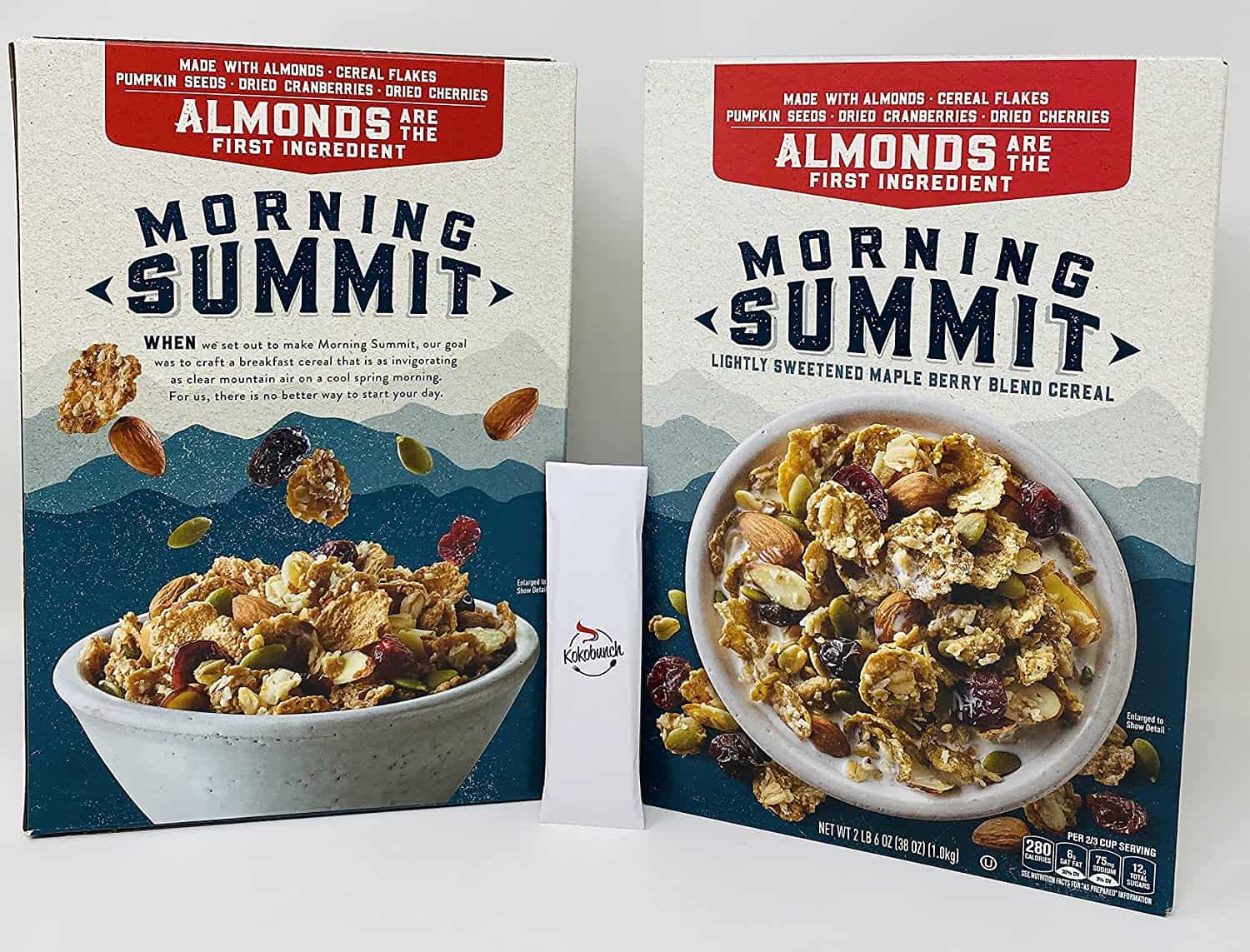 Morning Summit was first released in February 2020, in the wake of a number of other supposedly healthy – and expensive – cereals, such as Magic Spoon. Morning Summit caused the most significant stir due to its high supermarket price of $13 a box – very expensive, considering the average price of a cereal box in the U.S. is just $3.27.
General Mills, the classic cereal brand who are behind Morning Summit cereal, justifies the price by suggesting that this cereal has a high nutritional value, with an ingredient list that includes pumpkin seeds and organic coconut oil. But how healthy is Morning Summit really? Let's find out!
Nutrition Facts

General Mills makes up for the significant price of the cereal by offering it in a large 38 oz box, which is enough for 19 servings in total.
The nutritional value of a 2/3 cup (55 gram) serving – without milk – is as follows:
Calories – 280
Cholesterol – 0mg (o% daily value)
Total fat – 15 grams (19% DV)
Saturated fat – 6 grams (30% DV)
Trans fat – 0 grams
Potassium – 260mg (7% DV)
Sodium – 75mg (3% DV)
Total carbohydrates – 29 grams (11% DV)
Total sugars – 12 grams
Dietry fiber – 5 grams (18% DV)
Protein – 6 grams
Potassium – 260mg (6% DV)
Calcium – 60mg (4% DV)
Vitamin D – 0mcg (0% DV)
Iron – 1.9mg (10% DV)
Ingredients
These crunchy clusters contain the following ingredients:
Whole almonds
Organic maple syrup
Whole grain wheat
Whole grain oats
Dried coconut
Sugar
Organic coconut oil
Pumpkin seeds
Dried sweetened cherries
Dried sweetened cranberries
Corn bran
Vanilla extract
Brown sugar syrup
Vitamin E
Salt
Is Morning Summit Cereal Healthy?
Morning Summit cereal has undeniably healthy qualities, mainly thanks to its key ingredients: almonds, organic coconut oil, and pumpkin seeds. Almonds are the first ingredient in this cereal, which guarantees consumers a rich dose of vitamin E, magnesium, and dietary fiber.
Coconut oil is linked to a number of health benefits, from improving cognitive function to skin health. Pumpkin seeds provide you with a host of antioxidants, can fight bacteria in your body, and can help with dietary deficiencies – an all-round healthy addition to breakfast cereal.
The rest of the ingredient list is made up of familiar healthy additions, including dried cranberries, cherries, and whole grain oats. However, the added sugar count does decrease the cereal's overall health value, and the addition of genetically modified organisms (GMOs) may cause harm to your health, according to some sources.
Plus, if you're calorie conscious, this cereal may be best avoided – with a significant 280 calories per serving.
Is Morning Summit Cereal Gluten-Free?
Morning Summit cereal is made using whole grain wheat, so it cannot be considered a gluten-free cereal. Currently, General Mills does not offer a gluten-free Morning Summit option, so you should avoid the product if you have a gluten allergy or intolerance.
Is Morning Summit Cereal Vegan?
Morning Summit is generally considered vegan as it contains no direct animal products and is made with natural ingredients such as oats and fruits. However, it does contain sugar, which may have been refined alongside bone char, potentially rendering this product unsuitable for strict followers of veganism.
Is Morning Summit Cereal Keto?
Morning Summit isn't a good option if you're following a keto lifestyle, as it contains added sugar and whole-grain wheat. Both of these ingredients, as well as some of the others found in this cereal, could impact your ketosis.
Is Morning Summit Cereal High in Protein?
Although it cannot be classed as a high-protein cereal, a serving of Morning Summit does provide you with a healthy dose of it. In a 2/3 cup serving, you'll get 6 grams of protein, which is higher than most standard cereals.
However, to be classed as a high-protein breakfast cereal, the product needs to have roughly 10 grams or higher. This means that if you need your breakfast to be protein-rich, you'd be better off opting for the likes of Kellogg's Special K Protein Cereal or Quaker Protein Instant Oatmeal, each of which can guarantee over 10 grams of protein per serving.
Is Morning Summit Cereal High in Fiber?
Morning Summit is high in fiber, and eating it daily is an excellent way to up your fiber intake. One 2/3 cup serving of the breakfast cereal will provide you with 5 grams of dietary fiber, equating to around 25% of your recommended daily value. You can increase this value by adding bananas and other fresh fruits to your cereal bowl.
Morning Summit Cereal Varieties
Currently, there is only one variety of Morning Summit, which is titled Lightly Sweetened Maple Berry Blend Cereal. The cereal is defined by its key ingredient of almonds, which General Mills highlights on the front of the box.
The tasty cereal flakes are created by blending whole grain oats, wheat, and corn bran, with brown sugar syrup, organic maple syrup, and coconut oil added to this mix. After baking tasty cereal flakes, dried sweetened cherries, dried sweetened cranberries, and almonds are added to the mix, giving the cereal its distinct healthy makeup.
Given that Morning Summit was only introduced in 2o20, there's still a good chance that General Mills will unveil more varieties of the cereal flakes in the future.
Where Can You Buy Morning Summit Cereal?
According to the Morning Summit website, you can buy the product from Costco. However, Costco isn't the only place where the tasty cereal flakes are available: you can pick them up on Amazon and Walmart.
Given the product's high price, you may not find it in-store as easily as other cereals in the General Mills range.
Famous Morning Summit Cereal Commercials
Given that the cereal has only been out for a short while, General Mills are yet to release any significant commercial linked to the product. As it stands, there has been no commercial campaign for the cereal.
User Reviews
Review Summary
4.4 out of 5 stars (based on 5 reviews)
Recent Reviews
Wonderful one of kind cereal leaves others in the weeds
I love this cereal ! It is what it is not like every other product u set the sun. Wish it had a zip lock seal for the money ! But I didn't give it a chance to go stale . The cereal isn't worth $13.00 what is wrong with people ? You don't get four times the normal box . You get huge box you could build a house with ! I wish good things for the human being can't eat and not get cancer wish it was was economical. Can't eat I can't bake so when I got the box for free from a food pantry I looked it up to buy it . No box of mass produced anything is worth $13.00 I forgot this cereal already lol
Love this cereal
I'm very disappointed when my mom pointed out that it was bioengineered. I am so disappointed. I won't buy this cereal anymore.
Excellent Cereal
I like the combination of the different grains. It taste delicious. It's excellent for breakfast or as a snack in between meals.
Delicious
I buy it at Costco. It's a bit pricey but I'm the only person in the house that eats cereal. The crunchy almonds, cherries cranberries along with the other seeds and this becomes a taste sensation and now my favorite cereal. Fills me up for a long time.
Submit a Review