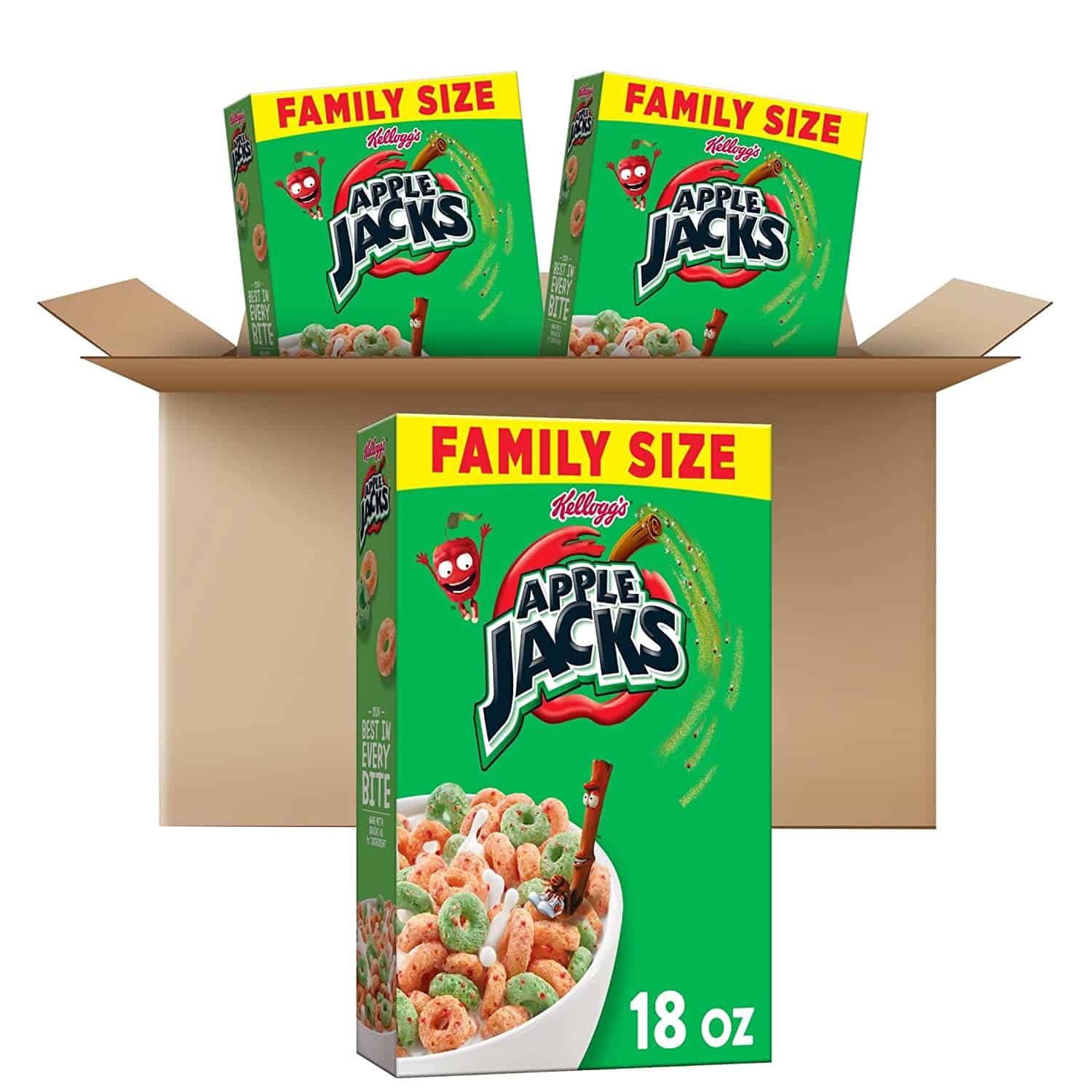 Kellogg's Apple Jacks is a brand of breakfast cereal aimed primarily toward children since 1965. Apple Jacks have a delicious apple and cinnamon taste that pairs well with milk. Kellogg's also recommends the morning cereal as an after-school snack or late-night snack owing to the low-calorie count per serving.
Since its introduction, Apple Jacks has added a splash of color to the orange O-shaped cereal. Kellogg's debuted Cinnamon Jacks in 2012, named after the popular cinnamon stick figure CinnaMon.
Is the family favorite Apple Jacks a nutritious and healthful morning cereal, given the lengthy ingredient list?
Nutrition Facts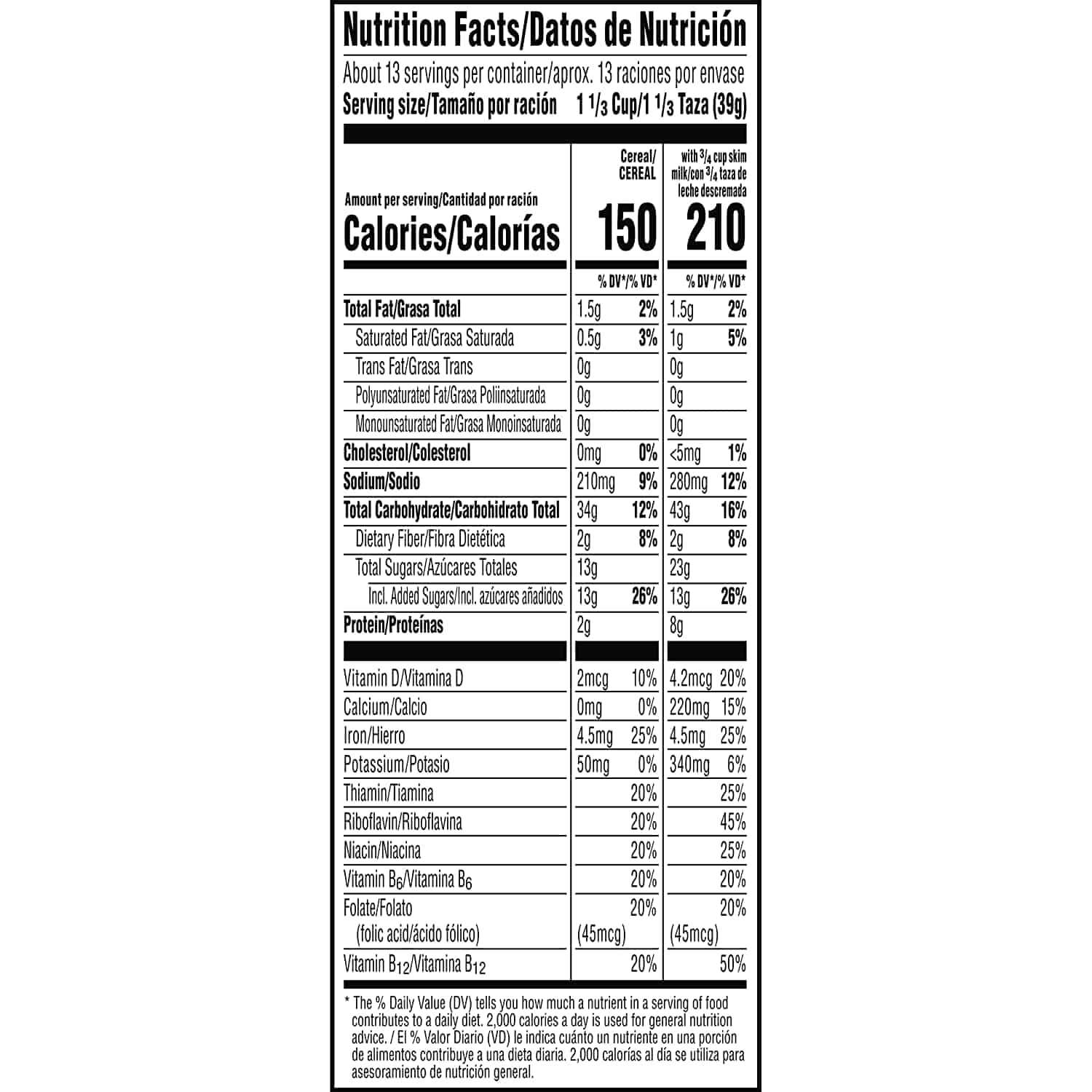 A single cup serving (28g) of Applejacks Cereal contains the following:
Calories: 110
Total Fat: 1g / 2%
Saturated Fat: 0.5g / 3%
Sodium: 130mg / 5%
Potassium: 30mg / 1%
Total Carbohydrates: 25g / 8%
Dietary Fiber: 3g / 12%
Sugars: 12g
Protein: 1g
Vitam A: 10%
Vitamin C: 25%
Iron: 25%
These percentages are based on a 2000-calorie diet and may vary dependent on your calorie consumption.
Ingredients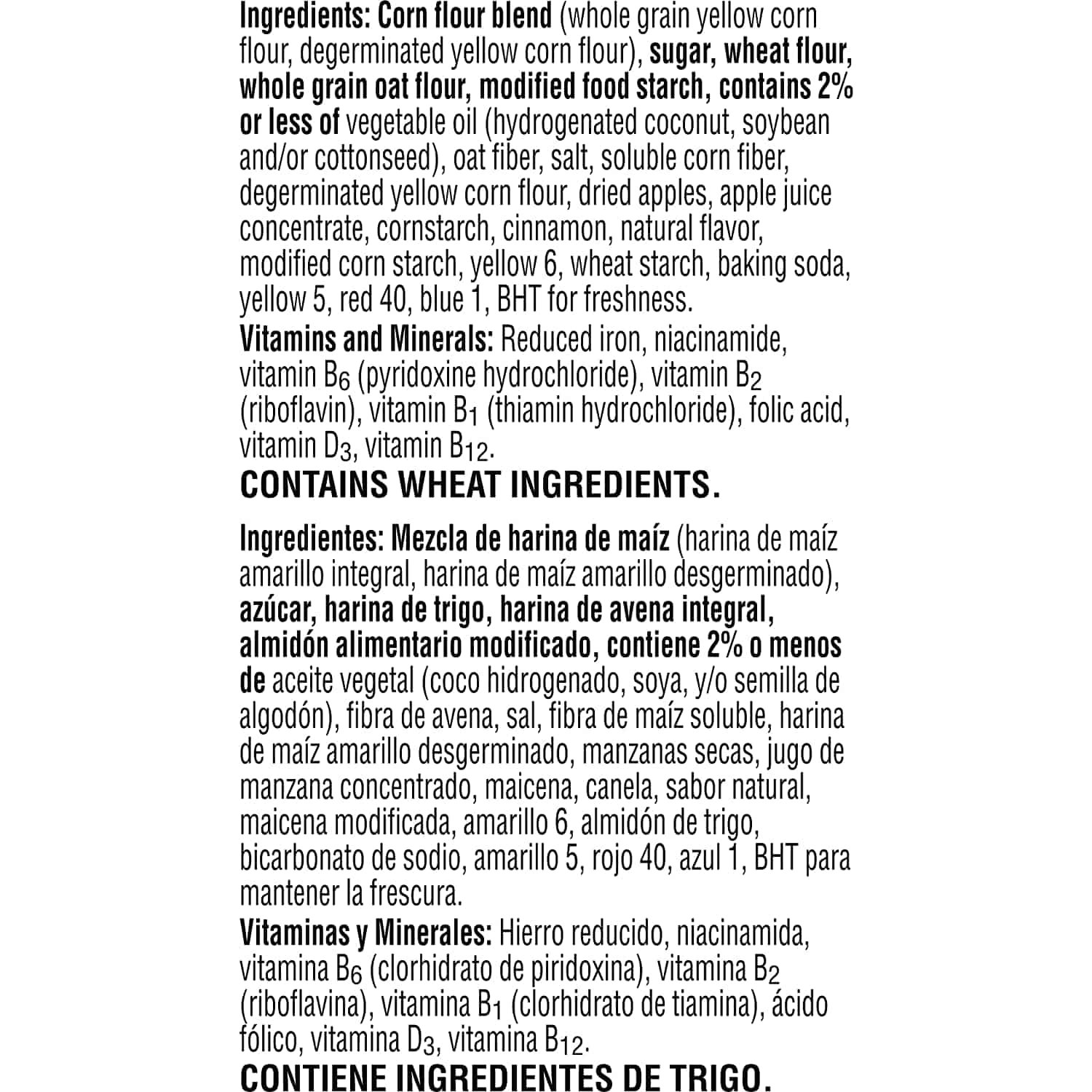 Corn Flour Blend (Whole Grain Yellow Corn Flour, Degerminated Yellow Corn Flour)
 Sugar
 Wheat Flour
 Whole Grain Oat Flour
 Modified Food Starch
Contains 2% Or Less of Vegetable Oil (Hydrogenated Coconut, Soybean Or Cottonseed, Canola)
Oat Fiber
Salt
Soluble Corn Fiber
Degerminated Yellow Corn Flour
Apple Juice Concentrate
Modified Corn Starch
Dried Apples
Cornstarch
Cinnamon
Natural Flavor
Yellow 6
Baking Soda
Turmeric Extract Color
Red 40
Blue 1
Bht for Freshness
Vitamins and Minerals: 
Vitamin C (Sodium Ascorbate and Ascorbic Acid)
Niacinamide
Reduced Iron
Zinc Oxide
Vitamin B6 (Pyridoxine Hydrochloride)
Vitamin B2 (Riboflavin)
Vitamin A Palmitate
Vitamin B1 (Thiamin Hydrochloride)
Folic Acid
Vitamin B12
Vitamin D3
Is Applejack Cereal Healthy?
Applejacks is a sugary cereal that isn't good for you. One look at the ingredient list for Apple Jacks should convince you to return it to its original location. Not only is sugar the first ingredient, but three of the four artificial food colors you should avoid are also listed.
Because Apple Jacks Cereal does not taste like apples, many people doubt whether it includes any apples. The answer is a simple yes, Apple Jacks have apples, as shocking as that may appear to some.
Although it does not include fresh apple slices, which would be ideal, the cereal does have dried apples and apple juice concentrations that contain high sugar levels, which is not entirely suitable.
Suitable dyes, such as blue 1 and 2, red 3, green 3, and yellow 6, have been related to health issues, such as bladder, adrenal, thyroid, kidney, and brain tumors. Always look for foods with the fewest artificial chemicals, even more so when shopping for your children.
Look for pharmaceuticals and natural food items that are color-free and do not include artificial colors such as these. Cereal is often promoted to children, and Applejacks is one of the cereals you should not have in a child's healthy breakfast.
Is Applejack Cereal Gluten-Free?
This cereal is not gluten-friendly. The breakfast cereal contains wheat, gluten, and whole-grain flour, and it is also manufactured in a factory that contains gluten that could easily cross-contaminate every other product. Avoid Kellogg's Apple Jacks if you have gluten sensitivity, celiac disease, or are prone to gastrointestinal issues.
Is Applejack Cereal Vegan?
They are not vegan-friendly. It includes vitamin D3 derived from lanolin. Lanolin is a byproduct of the oil found in sheep wool and the skin of fatty fish.
Is Applejack Cereal Keto?
This breakfast cereal is not suitable for a Ketogenic diet, and it's loaded with sugar and soybean oil, high-carb processed flours, and modified food starches. To stay in ketosis, you should eat 20 to 50 grams of net carbs each day.
Kellogg's apple jacks cereal also includes a lot of sugar and juice extracts, which may prevent your body from entering into ketosis by increasing your blood sugar levels.
Is Applejack Cereal High in Protein?
A high protein breakfast has been shown to help muscle health and weight reduction by boosting muscle mass, energy expenditure (calories burnt), glucose management, and the urge to eat at night.
According to a growing body of data, many nutrition experts now suggest that individuals consume 25 to 30 grams of protein at each meal — particularly at breakfast, often the least protein-dense meal.
Applejacks cereal has just 1 gram of protein, which is not optimal given the 12 grams of sugar and several additives. If you're searching for a high-protein breakfast cereal, you'd be wise to avoid Applejacks.
Is Applejack Cereal High in Fiber?
A well-balanced breakfast should include fiber. Consuming fiber daily not only helps to avoid digestive upset but also helps to keep you regular. For breakfast, the recommended fiber consumption is 5 grams, yet Kellogg's Applejacks cereal only provides 3 grams of fiber per serving.
Applejack Cereal Store Brand Alternatives
When selecting a nutritious breakfast cereal for your children, look for one with a high fiber content that will keep them satisfied until lunchtime. Because most cereals are marketed to children, choose a grain with a low sugar level.
Good store brand alternatives are Magic Spoon cereals, Kashi Go cereals, and Purely Elizabeth's Apple Cinnamon Pecan Ancient Grain Oatmeal.
Where You Can Buy Applejack Cereal
Applejack cereal is available at most stores and major retailers. You can buy a box of Apple Jacks from Amazon, Target, and Walgreens.
Famous Applejack Cereal Commercials
In 1965, Kellogg introduced us to Applejack cereal. Apple Jack, the official mascot, was a carved three-dimensional apple character that helped children overcome bullying. "A bowl a day keeps the bullies away" was a famous tagline. The mascot was quickly replaced by an apple vehicle and then by "The Apple Jacks kids" until 1992.
In the late 1990s, actress Julia Stiles starred in a Kellogg's Applejack cereal commercial. The campaign message shifted away from bullies and onto the delicious flavor of Applejacks. It was at this point that Kelloggs added color to the loops.
As of 2004, the company's marketing mascots include CinnaMon, a jolly Jamaican cinnamon stick, Bad Apple, and a clumsy apple. Most advertisements see CinnaMon outpacing Bad Apple to a dish of Apple Jacks.
User Reviews
Review Summary
0 out of 5 stars (based on 0 reviews)
Recent Reviews
There are no reviews yet. Be the first one to write one.
Submit a Review