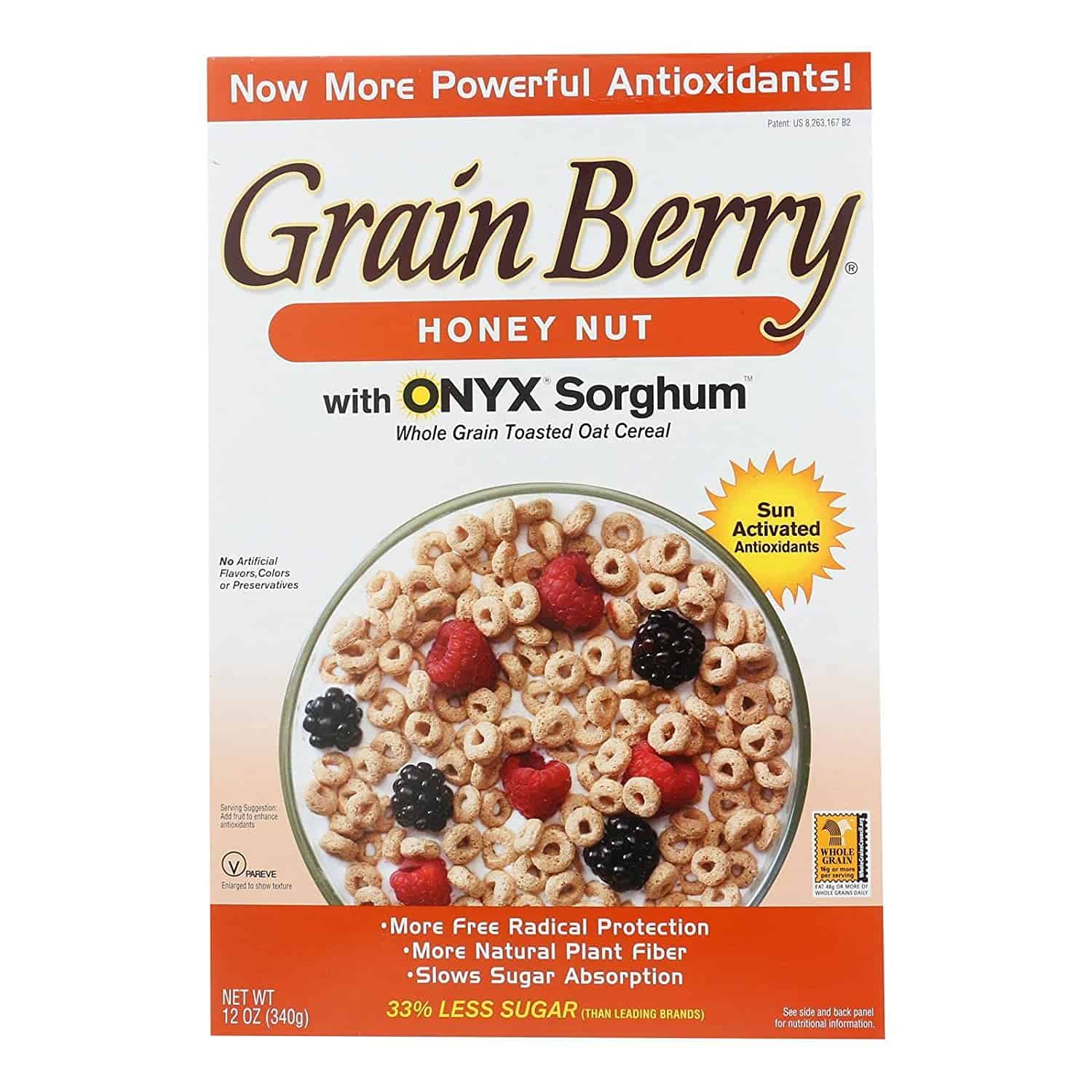 Grain Berry bran flakes are made using whole grain ingredients, enriched with healthy vitamins and minerals with no artificial flavors, preservatives, or colors.
These whole wheat flakes are combined with tasty, juicy berries for that classic fruit and bran combo.
Grain Berry bran flakes are a fantastic source of natural fiber, as they are the only cereal to include onyx sorghum in their nutritional ingredients. This richly colored grain is very high in natural fiber and has a range of other unique health benefits.
As well as a range of cereals, Grain Berry also makes pancake mixes and boosters for smoothies and wholegrain pasta high in natural antioxidant power.
Nutrition Facts
A portion size (49g) of Grain Berry Bran Flakes contains:
Calories – 180Kcal
Total Fat – 1g/1% DV
Total carbohydrate – 38g/14% DV
Dietary fiber – 5g/18% DV
Sugar – 0g
Protein -4g/8% DV
Calcium – 0mg/0% DV
Iron – 1.4mg/8%DV
Potassium – 180mg/4g
Riboflavin – 0.034mg/3% DV
Niacin – 2mg/12% DV
Vitamin B12 – 1.50mcg/62% DV
Magnesium – 59.78mg/15% DV
Ingredients
Whole Wheat
Sugar
Grain Berry Sorghum bran flakes
Wheat bran
Salt
Malt extract
Iron
Vitamin C
Calcium
Vitamin A
Vitamin E
Zinc
Niacinamide
Vitamin B6
Vitamin B12
Vitamin B1
Folic acid
Vitamin D
Vitamin B2
Is Grain Berry Cereal Healthy?
The six varieties of Grain Berry bran flakes offer a range of health benefits.
The genetically modified onyx sorghum grain blends a strong combination of powerful antioxidants to combat harmful free radicals in your body. These dark 'tannin antioxidants' give the grain a dark color, like red wine, blueberries, and dark chocolate. However, unlike these other high antioxidant foods, which contain high sugar levels, sorghum has a very clean sugar profile.
Sorghum has a much more balanced sugar profile than most breakfast cereals. High in complex sugars, the Grain Berry bran flakes are broken down over a much longer period, leaving you feeling full while your body takes its time metabolizing them into useful energy.
This healthy start to your day helps with sugar control without sacrificing the great taste you want from your breakfast cereal.
Is Grain Berry Cereal Gluten-Free?
Unfortunately, due to the whole grains in Grain Berry, it is not suitable for celiacs or those observing a gluten-free diet.
Is Grain Berry Cereal Vegan?
Grain Berry contains no animal products and is suitable for those observing plant-based, cruelty-free diets.
Is Grain Berry Cereal Keto?
In order to encourage your body into a state of ketosis, the keto diet requires you to dramatically reduce your carb and sugar intake and try to rely solely on your fat intake for energy. This results in your body producing ketones which some people argue are a much healthier form of energy.
Grain Berry is not suitable for a keto diet as it contains a very high carb content of 38g per serving. Although these are healthy sugars, you must keep your daily carb intake below 20g to achieve ketosis, so a bowl of Grain Berry would prevent this.
Further to that, it is very low in fat, which is necessary for ketosis.
Is Grain Berry Cereal High in Protein?
A bowl of Grain Berry contains 4g of protein which is 8% of your daily intake.
While not a massive amount of protein and not necessarily high in protein, when taken into account against the rest of its solid nutritional profile, this is another reason why Grain Berry is a healthy choice in the morning.
Is Grain Berry Cereal High in Fiber?
Onyx sorghum, the wonder plant used to make the Grain Berry bran flakes, is a natural superfood when it comes to fiber.
The fiber produced by this plant makes up 10% of a single bowl of Grain Berry. The FDA recommends that food contains 5% of your daily fiber to be considered high fiber, a box this cereal ticks nicely.
Foods rich in fiber are useful for flushing out cholesterol as well as the healthy digestion of sugar and preventing bloating and cramping.
Grain Berry Cereal Varieties
The six varieties of Grain Berry are all made with sorghum, and all boast sugar levels far lower than other leading brands:
Grain Berry Honey Nut – The whole grain oats in this cereal contain 33% less sugar than competitors.
Grain Berry Apple Cinnamon – This variety is 40% lower in sugar than other brands.
Grain Berry Original Toasted Oats – Rich in the soluble fiber beta-glucan.
Grain Berry Bran Flakes – This variety is mixed with blueberries and contains 70% less sugar and 40% less added salt than Raisin Bran.
Grain Berry Shredded Wheat – The cleanest variety with zero sugar and salt.
Grain Berry Cinnamon Shredded Wheat – The cinnamon adds a warm heat to this zero salt and sugar option.
If cereal isn't your thing, Grain Berry sells their onyx sorghum wonder plant as a great fiber top-up for your morning smoothie, something lots of smoothies need an extra boost of. The brand also sells fiber and antioxidant-rich pasta.
Grain Berry Cereal Store Brand Alternatives
While there are similar high fiber bran alternatives to Grain Berry, they will not be made with onyx sorghum and won't have the same sort of healthy profile.
If you are looking for an alternative, though, you might like to try:
Weetabix
Raisin Bran
Kashi Heart to Heart Honey Toasted Oat Cereal
Love Grown Berry Polar Puffs.
All of the above oat cereals are made with healthy grains that are naturally low in sugar without sacrificing taste.
Where You Can Buy Grain Berry Cereal
You can buy Grain Berry at your local grocery store or health food supermarket. Silver Palate also stocks the cereal so you can buy it online and have it delivered anywhere in the country.
Famous Grain Berry Cereal Commercials
Grain Berry does not have any famous commercials, but you can listen to the catchy jingle used to promote the cereal here.
User Reviews
Review Summary
4 out of 5 stars (based on 4 reviews)
Recent Reviews
The Grain Berry Multi-Bran Flakes with ONYX Sorghum Whole Wheat Cereal
This Cereal is excellent. The best I have ever tried. ❤️
Combination Treat
I am a diabetic and your cereal is what I needed to control my sugar. It was
hard to find. Not many stores had your product but I now see the cereal and your sauce in more stores.
The sauce I find gives my spaghetti a much better taste.
When I eat my cereal I always combine the Bran with the Oat. The taste is sooo good and filling.
I like to combine the Ban with the Oat and the taste is soooo good. I will never return the other cereals
Added Sugar
How can your nutrition "facts" listed in this article show 0 grams of sugar, but yet sugar is the second added ingredient in the package?? If there is sugar added to the package, then there must be more than 0 grams of sugar, no? Also, the sorghum is genetically modified.
Look at the ingredient list
I eat this cereal, it has a good taste. However, the labeling is a bit misleading to me. If you look at the list of ingredients, the sorghum is listed after the sugar. If I understand these listings correctly then there is less sorghum than sugar. So I am thnking there is not very much sorghum in the product at all.
Submit a Review