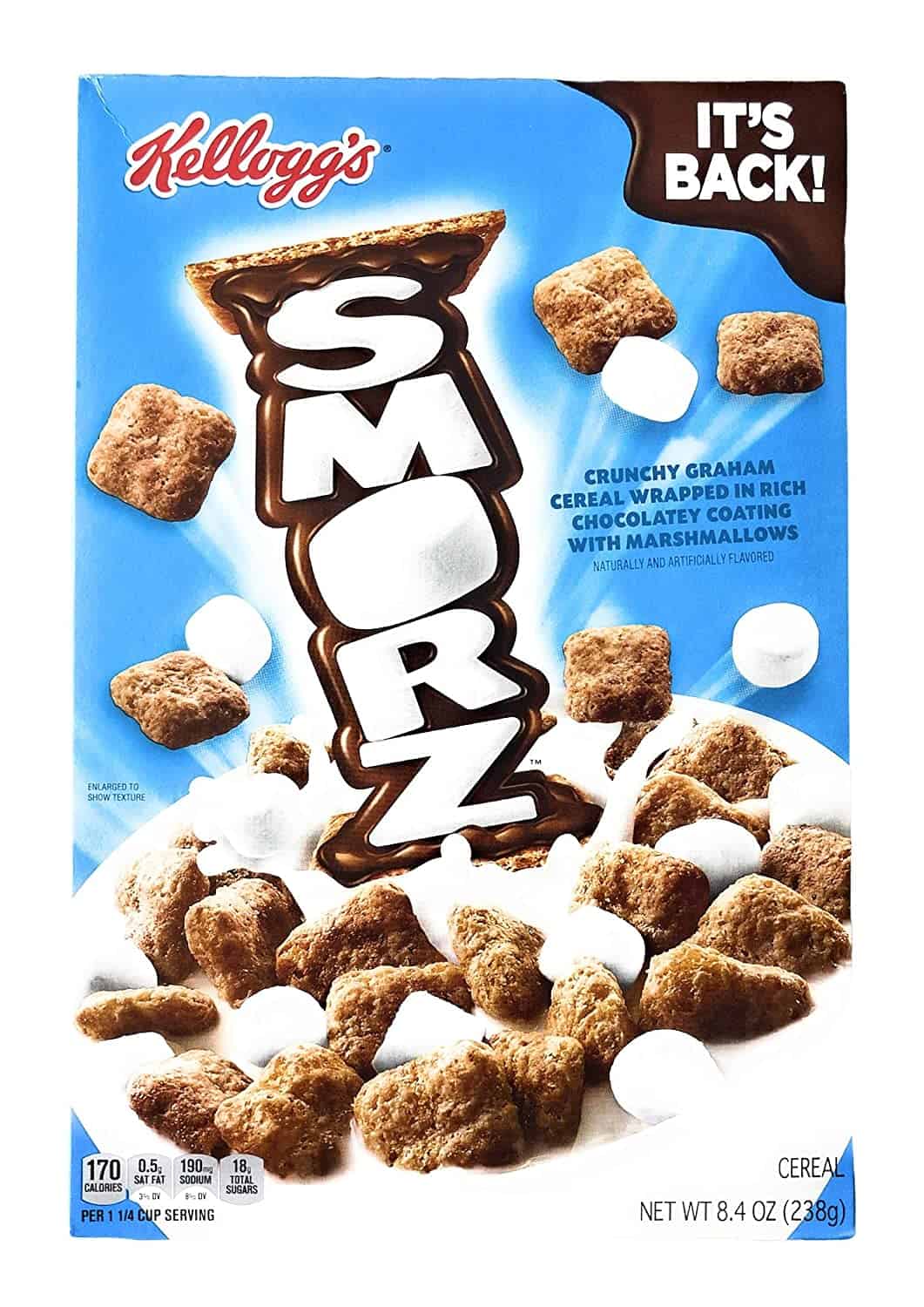 Kellogg's reintroduced Smorz cereal for the third time in December of 2020, having been last discontinued in April of 2019. Since the cereal's initial release in 2003, Kellogg's Smorz cereal has built a steady fanbase over the years thanks to its combination of graham cereal squares, marshmallows, and its chocolatey coating.
This incredibly passionate fanbase was responsible for bringing the cereal back in 2020, thanks to 2,333 supporters of the cereal signing a Change.org petition urging Kellogg's to reintroduce the family cereal once more.
Despite its frequent discontinuation, no real health concerns surround the consumption of the cereal, and it seems that Kellogg's only pulled it to make way for new products – but what kind of nutritional value does the product actually hold? Let's find out!
Nutrition Facts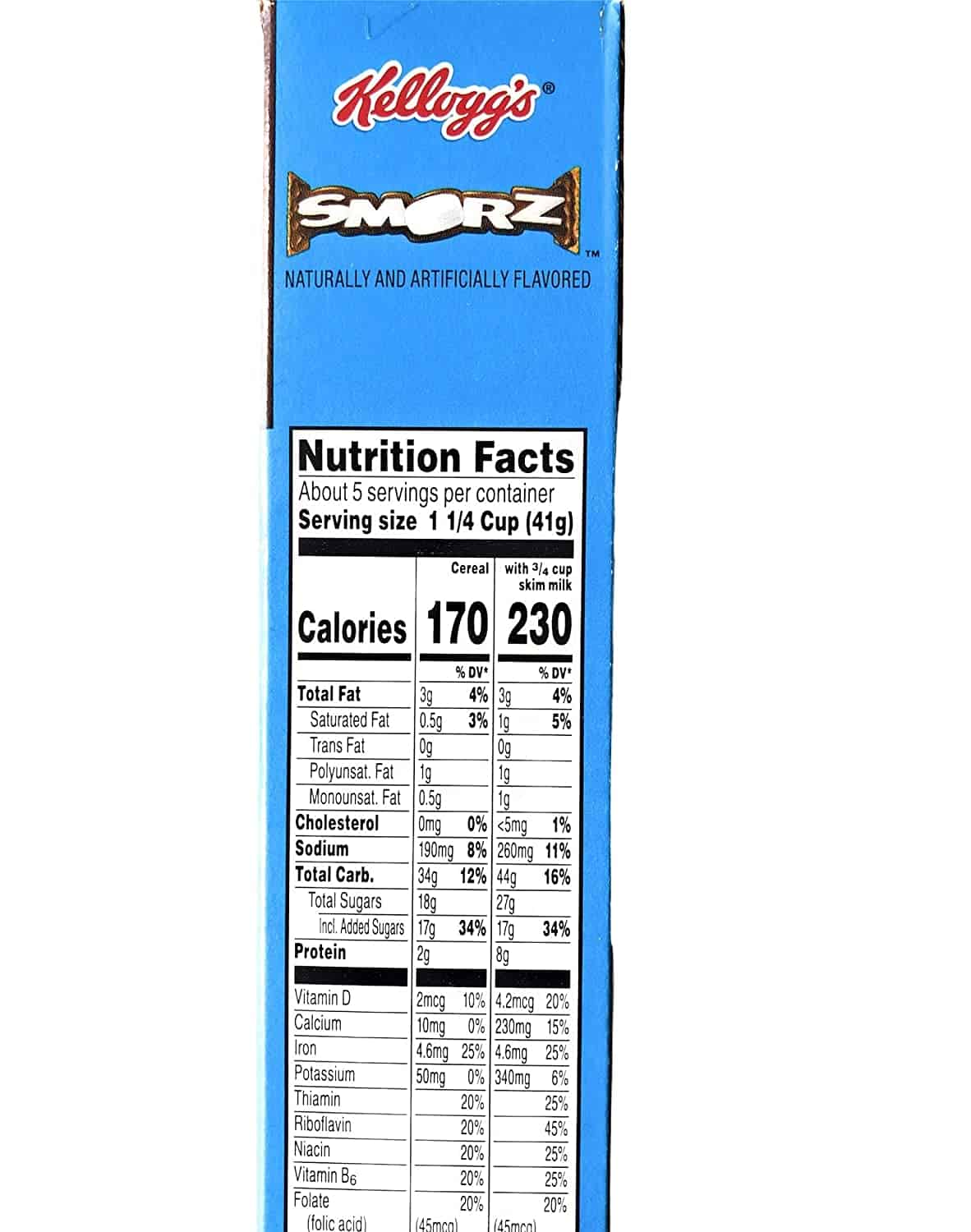 Kellogg's Smorz cereal contains the following nutritional value (based on a 1 cup, 32.8-gram serving):
Calories – 136
Total fat – 2.4 grams (4% daily value)
Saturated fat – 0.4 grams (2% DV)
Trans fat – 0 grams
Dietry fiber – < 1 gram (3% DV)
Sodium – 152mg (6% DV)
Total carbohydrates – 27.2 grams (9% DV)
Sugars -14.4 grams (27% DV)
Protein – 1.6 grams
Iron – 4mg (21% DV)
Vitamin D – 2mcg (8% DV)
Calcium – 8mg (1% DV)
Potassium – 54mg (1% DV)
Ingredients
The Kellogg Company state that Smorz contains the following ingredients:
Degerminated yellow cornflour
Marshmallows (containing sugar, corn syrup, dextrose, modified corn starch, gelatin, natural flavorings, and unnatural flavorings)
Fructose
Whole grain oat flour
Vegetable oil (palm and soybean oil)
Wheat flour
Brown sugar syrup
Salt
Cocoa
Nonfat milk
Caramel color
BHT
Soy lecithin
Iron
Niacinamide
Vitamin B1
Vitamin B2
Vitamin B6
Vitamin B12
Folic acid
Vitamin D3
Is Smorz Cereal Healthy?
Judging by the key ingredients of Kellogg's Smorz cereal alone, it's easy to tell that the product cannot be considered to be a healthy breakfast option.
One cup serving of 32.8 grams contains 14.4 grams of sugar – this means that nearly half of each helping of Smorz consists of pure sugar! Brown sugar syrup, fructose, and corn syrup each contribute to this high sugar content, and with the addition of the marshmallows and chocolate coating, sugar accounts for around 40% of each packet of Smorz by weight.
Due to this excessively high sugar content, Kellogg's Smorz cereal cannot be considered to be a healthy breakfast option.
In addition to this, Smorz cereal contains a total carbohydrate count of 27.2 grams, which equates to 9% of your recommended daily value. If you are following a low-carb diet, this is an unhealthy amount of carbohydrates to be consumed at the breakfast table.
However, Smorz cereal does have some redeeming health factors, including that it contains just 136 calories per serving. This is a lot less than some supposedly healthy cereals, including Raisin Bran, which contains 188 calories in the same sized serving. Plus, a bowl contains just 2.4 grams of fat, rendering it a low-fat option according to the American Cancer Society.
Is Smorz Cereal Gluten-Free?
Kellogg's Smorz cereal cannot be considered a gluten-free breakfast cereal, as it contains whole grain oat flour, whole grain wheat flour, wheat flour, and soy lecithin, each of which contains gluten. Therefore, if you suffer from a gluten allergy, stay clear of Smorz.
Unfortunately, Kellogg's does not offer a gluten-free alternative to this breakfast cereal. The cereal's main competitor, Honey Maid S'mores cereal, also contains wheat.
Is Smorz Cereal Vegan?
Vegans should avoid Kellogg's Smorz cereal as it contains a number of animal-derived products in its ingredients list. The cereal contains nonfat milk, which is obviously a huge no for vegans. Plus, Smorz contains ingredients that may not immediately strike you as being unsuitable for vegans, such as sugar, which is often refined alongside animal bone char.
Plus, the marshmallows found in Smorz contain gelatin, which is derived from animal body parts.
Is Smorz Cereal Keto?
Given that followers of a keto diet are recommended to have a daily carbohydrate limit of 20 grams per day, Smorz will put right over this daily allowance in just one serving. Due to this fact, Smorz cereal cannot be considered keto-friendly.
The cereal also contains fructose, high fructose corn syrup, and sugar. Each of these ingredients is classed as a high-glycemic sweetener and severely impacts your ability to reach ketosis.
There are also a handful of other elements to this cereal that should be avoided when following a keto diet, including food additives such as modified starch and BHA/BHT. Processed foods need to be avoided in order to reap the weight-loss rewards of keto.
Lastly, this cereal also contains highly refined oils, such as palm and soybean oil. These are unhealthy sources of fat that reverse the fuel-burning benefits of following a keto diet.
Is Smorz Cereal high in Protein?
Smorz cereal is not high in protein, as it contains just 1.6 grams of it, which is a relatively low amount for a family cereal. The Kellogg Company has released cereals with far more protein contents, such as Kellogg's Special K Protein, which contains an impressive 15 grams of protein per serving.
Is Smorz Cereal High in Fiber?
These crunchy graham cereal squares contain less than 1 gram of fiber per serving, which is very low for a family cereal. If you opt for Smorz, it would be a good idea to add some fruit to your breakfast table to help top up the low fiber numbers provided by the cereal.
Smorz Cereal Varieties
Given how regularly the Kellogg Company has removed and reintroduced Smorz cereal to its available range of products, the company hasn't had any time to introduce any varieties of the product.
Plus, considering the incredibly passionate fanbase that supports this family favorite cereal, it's unlikely that varieties of the product will ever be necessary – this cereal is liked just the way it is.
Where You Can Buy Smorz Cereal
You can buy Kellogg's Smorz cereal from most stores nationwide, including Walmart and Kroger. You can also pick it up at such online retailers as Amazon.
Famous Smorz Cereal Commercials
The Kellogg Company has introduced a number of cereal commercials for these crunchy graham cereal squares over the years. Initial commercials in 2003 highlighted Kellogg's Smorz cereal as being as good as real s'mores enjoyed at a campfire.
User Reviews
Review Summary
0 out of 5 stars (based on 0 reviews)
Recent Reviews
There are no reviews yet. Be the first one to write one.
Submit a Review