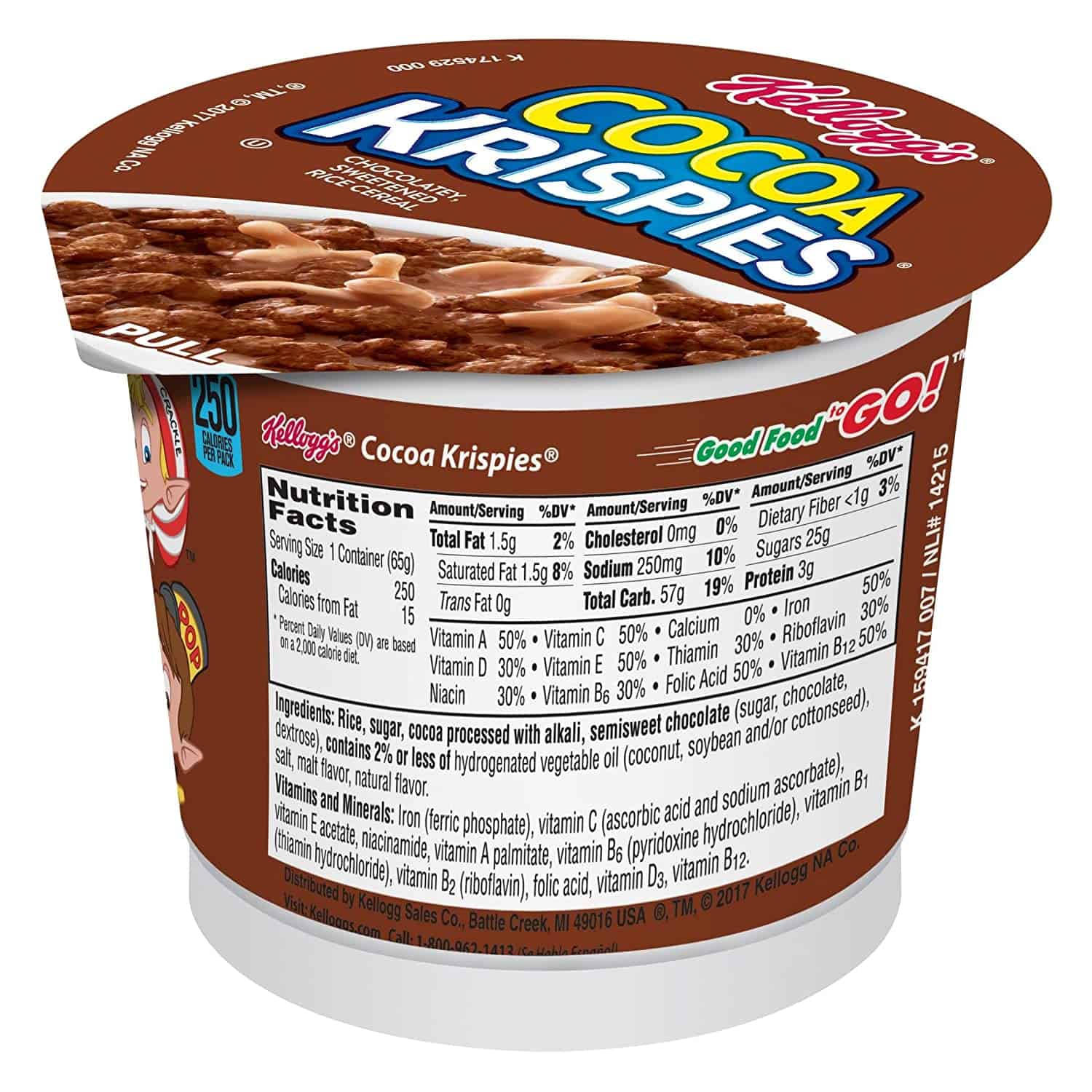 A chocolatey classic, Cocoa Krispies is a breakfast for both the kids and the adults of today's world. From America to the UK, there are plenty of variations of the Cocoa Krispies breakfast cereal, and it remains a popular choice for many.
This puffed rice cereal is smothered in chocolate and makes for a great breakfast option to kick-start the day or as a lunch box snack. Kellogg's Cocoa Krispies cereal and the Kellogg's brand have been around for a while, and as one of the leading breakfast brands, the Cocoa Krispies are legendary.
Nutrition Facts

Each box of cereal contains around 15 servings. Here are some nutritional facts when it comes to this cereal.
Calories: 120
Saturated Fat 0.5g
Trans Fat 0g
Cholesterol 0mg
Sodium 130mg
Potassium 60mg
Total Carbohydrates 27g
Dietary Fiber 0.5g
Sugars 12g
Protein 1g
Sodium 160mg
Potassium 25mg
Carbohydrates 27g
Vitamin A: 90μg
Vitamin C: 22.5mg
Calcium: 40mg
Iron: 2mg
Ingredients

Compared to some processed cereals, there seems to be a lot less in this sweetened rice cereal. Here are the ingredients that you will find in this chocolate cereal.
Rice
Sugar
Cocoa processed with alkali
Semisweet chocolate
Hydrogenated vegetable oil
Salt
Malt flavor
Natural flavor
Vitamins and Minerals: Iron (ferric phosphate)
Niacinamide
Vitamin B6 (pyridoxine hydrochloride),
Vitamin B2 (riboflavin),
Vitamin B1 (thiamin hydrochloride),
Folic acid,
Vitamin D3
Vitamin B12
Are Cocoa Krispies Healthy?
Kellogg's Cocoa Krispies cereal is made with real chocolate and consists of oven-toasted puffed rice cereal. They have a great chocolate flavor and make for a delicious breakfast, especially with the leftover chocolate milk that it leaves behind.
When it comes to the health benefits of this cereal, it is a great source of vitamins and minerals. It's also low in fat, making it a fairly healthy breakfast dish.
In comparison to other processed alternatives, Kellogg's Cocoa Krispies is a great choice.
Are Cocoa Krispies Gluten-Free?
Unfortunately, the cocoa Krispies breakfast cereal isn't gluten-free. This is due to the malt flavor which comes from barley. As such, they are not gluten-free and sadly can't be enjoyed by those that have a gluten intolerance or allergies to gluten.
There are many gluten-free alternatives out there, and Kelloggs offers a number of gluten-free cereals.
Are Cocoa Krispies Vegan?
If you're vegan, then your luck is in! They are generally considered to be vegan because they don't contain any animal ingredients. However, depending on your veganism, you may wish to avoid them as they do contain sugar, natural flavorings, and Vitamin D3.
These are considered to be somewhat grey areas for some vegans. This is something that may be decided upon individually.
Are Cocoa Krispies Keto?
Despite them being a healthier option than most, this family favorite cereal is not keto-friendly. This is due to the high levels of carbs and that it's processed food. It also contains an unhealthy amount of ingredients like sugar, dextrose, and soybean oil, all of which are frowned upon in this diet.
If you're a strict dieter when it comes to keto, then you'll want to avoid Kellogg's Cocoa Krispies.
Are Cocoa Krispies High in Protein?
There are 3g of protein in Cocoa Krispies. These are particularly high in protein, and when it comes to processed foods, you're not likely to see many of them containing high levels of protein.
For breakfast cereal, this might not be much of a big deal to some, but if you're looking for a high protein breakfast, you may wish to bulk this cereal up with some nuts and seeds or peanut butter.
Are Cocoa Krispies High in Fiber?
If you're buying real cocoa Krispies, you get 0.5g of fiber in your breakfast bowl, including that chocolate milk that you get to wash your cereal down with.
When buying cereal, high in fiber options will likely be made up of granola or wheat. For those looking for high fiber sources, you're not going to really find it with these Krispies. You'd need to have multiple bowls before you reach a good fiber intake.
However, you may end up overdoing it on the sugar front as a result!
Cocoa Krispies Varieties
There are a number of varieties available when it comes to this type of cereal. These are:
Coco Pops Chocos – These are chocolate flavored, crunch wheat cereal. Great for those who want to boost their fiber intake.
Coco Pop Rocks – Soft and classic crunch chocolate tastes. It's made up of many big pieces in comparison to the Krispies, and they contain wheat.
Coco Pops Jumbos – Extra crunch chocolate maize cereal that is the biggest in size compared to all the varieties.
Cocoa Pebbles – Another variation of the Cocoa Krispies, but they look like pebbles!
Cocoa Krispies Store Brand Alternatives
When shopping in-store or online, there are plenty of places that will offer alternatives to the Kellogg's brand of Krispies. However, we've got a few suggestions, whether that's a keto-friendly option to higher fiber, low-carb options.
Kashi Go Dark Cocoa (Keto-friendly)
Mom's Best Cereals Crispy Cocoa Rice
Wholesome Provisions
Gefen Crispy-Os
Where You Can Buy Cocoa Krispies
Craving some chocolate goodness? Perhaps you fancy making your own chocolatey homemade rice Krispies treats? Here are a few outlets where you can purchase this cereal from:
Walmart
Amazon
Target
Instacart
As a popular Kellogg's choice, you won't find it difficult to find them stocked in most grocery stores local to you.
Famous Cocoa Krispies Cereal Commercials
Kelloggs is one of the most popular brands of cereal, and therefore, there are a number of cocoa Krispies commercials that have made an impression over the years. Here are a few worth mentioning:
This commercial features the cereal mascot, Coco the Monkey, swinging through the jungle and singing the theme tune of the cereal brand.
This commercial from the 1970s features two young kids enjoying a bowl of cereal whilst a chocolate animated cartoon sings to them.
Coco the monkey, has featured in many advertisements and tends to be the catchier due to the theme song.