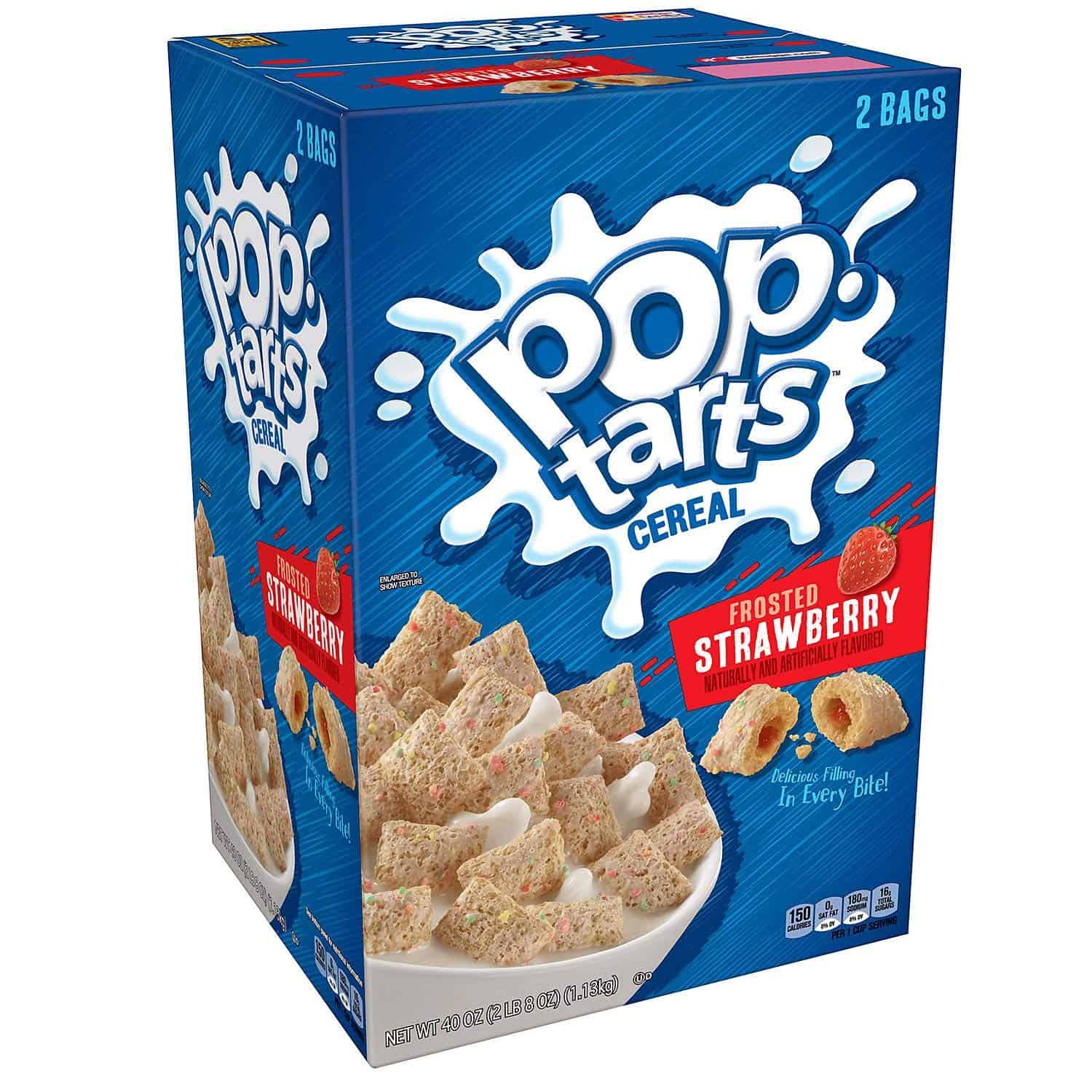 For those a fan of Kellogg's Pop-Tart treats, you'll be glad to know that they've only gone and got their own cereal. Those who usually eat a Pop-Tart for their breakfast snack will now be able to enjoy it in a cereal bowl instead.
Bite-sized pieces of Pop-Tart that taste just like the real thing, Kellogg's Pop-Tarts cereal is a crunchy cereal with a frosted strawberry flavoring injected into the center.
Pop-Tarts are a staple treat in many households across America and their popularity has since spread to other parts of the world, so it's only right we now get to enjoy it in a cereal form.
Nutrition Facts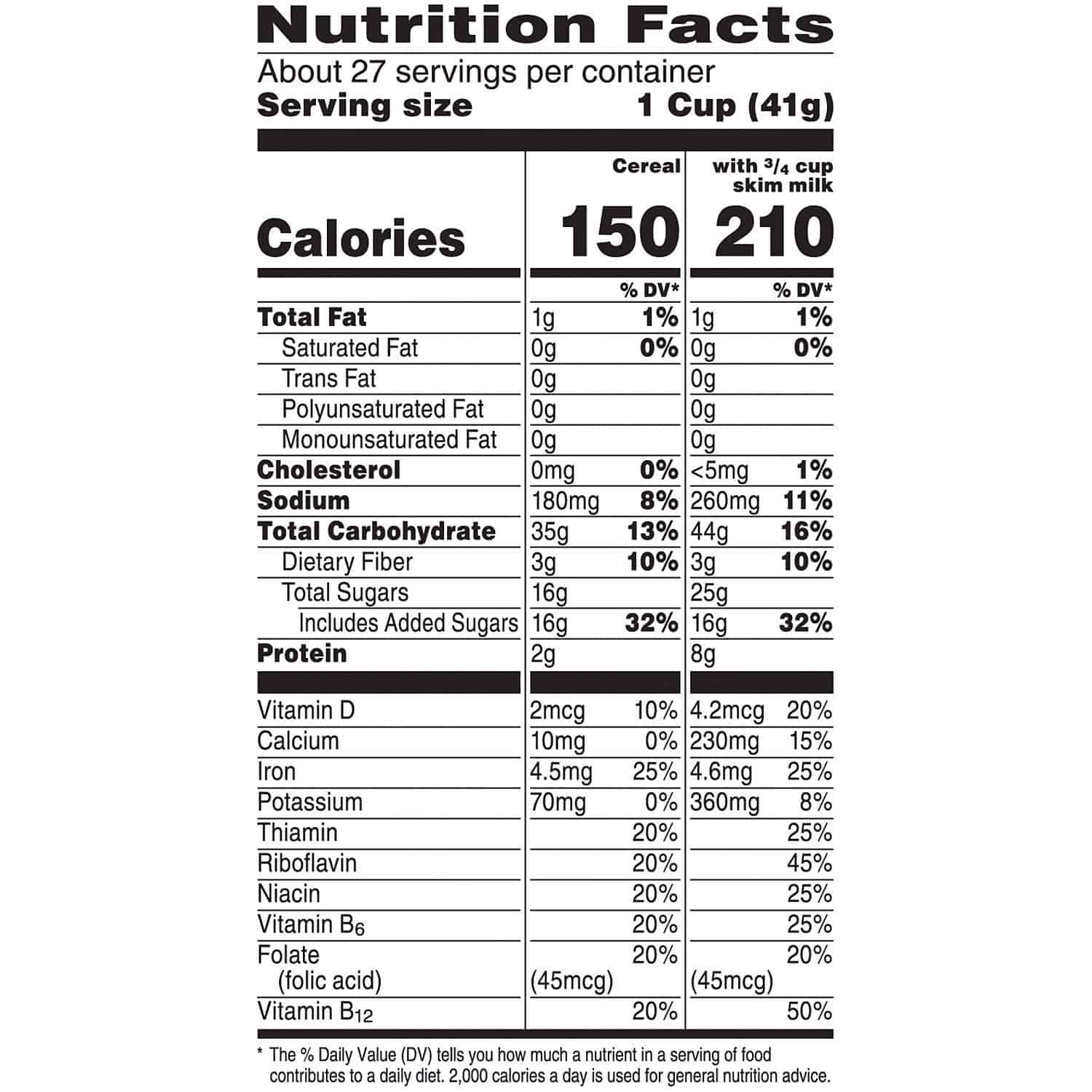 There are only seven servings per container which isn't a considerable amount compared to some other cereals. This is likely due to the size of the cereal pieces individually. Here are some nutritional facts worth knowing about Pop-Tarts cereal:
Calories: 150
Saturated Fat: 0.0g
Trans Fat: 0.0g
Polyunsaturated Fat: 0.0g
Monounsaturated Fat: 0.0g
Cholesterol: 0.0mg
Sodium: 180.0mg
Total Carbohydrate: 35g
Dietary Fiber: 3.0g
Sugars: 16.0g
Includes Added Sugars: 16g
Protein: 2g
Calcium: 10.0mg
Potassium: 70.0mg
Iron: 4.5mg
Vitamin D: 2.0mcg
Thiamin
Riboflavin
Niacin
Vitamin B6
Folic Acid: 45.0mcg
Vitamin B12
Ingredients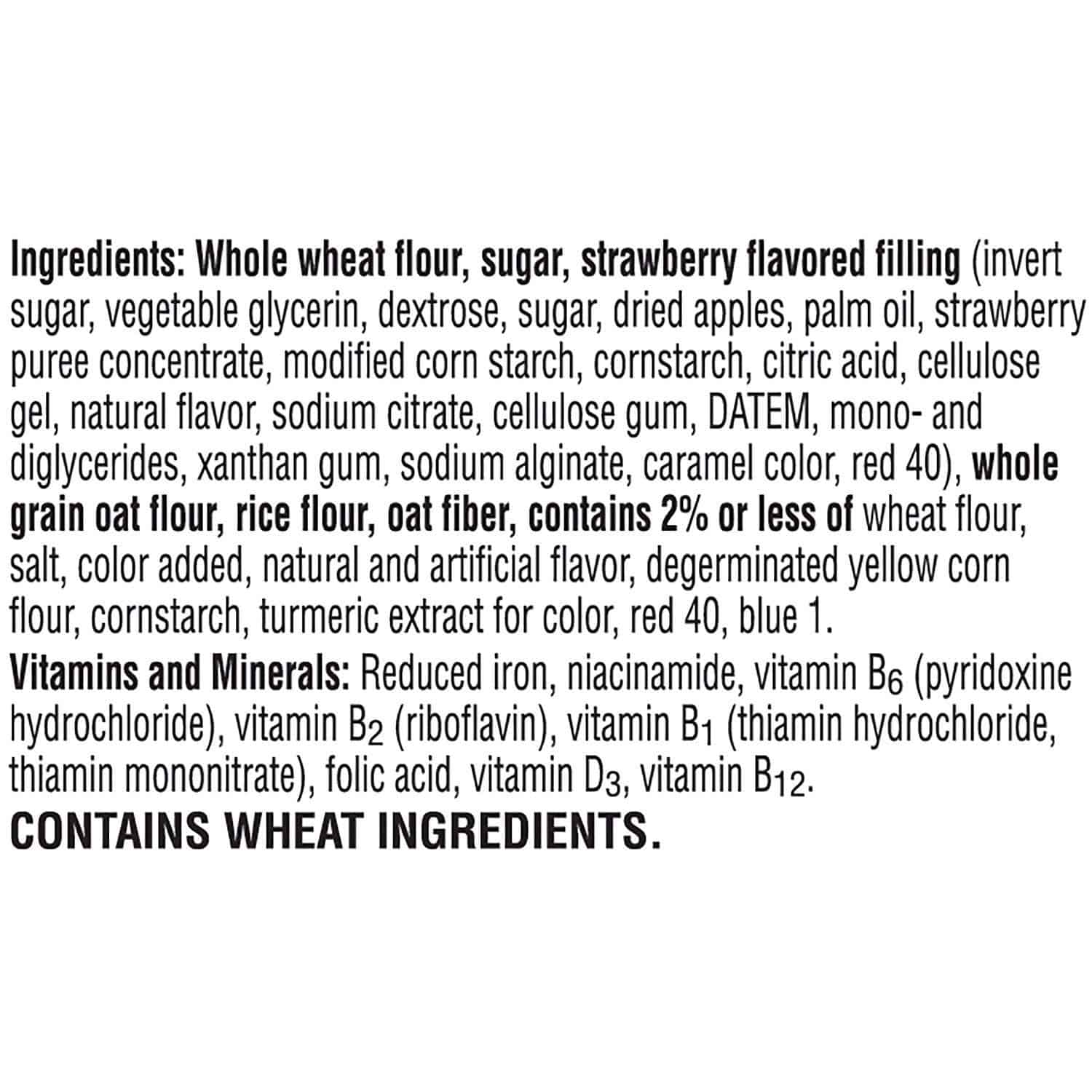 As you would probably assume, the Pop-Tart crunch cereal isn't exactly the healthiest on the market. Here are all of the ingredients you can expect to find in this delicious cereal:
Whole wheat flour
Sugar
Strawberry flavored filling (invert sugar, vegetable glycerin, dextrose, sugar, dried apples, palm oil, strawberry puree concentrate, modified corn starch, cornstarch, citric acid, cellulose gel, natural flavor, sodium citrate, cellulose gum, DATEM, mono- and diglycerides, xanthan gum, sodium alginate, caramel color, red 40)
Whole grain oat flour
Rice flour
Oat fiber
Contains 2 % or less of wheat flour
Salt
Added color
Natural and artificial flavor
Degerminated yellow cornflour
Cornstarch
Turmeric extract for color
Red 40
Blue 1
Vitamins and Minerals: Reduced iron, niacinamide, vitamin B6 (pyridoxine hydrochloride), vitamin B2 (riboflavin), vitamin B1 (thiamin hydrochloride, thiamin mononitrate), folic acid, vitamin D3, vitamin B12.
Is Pop-Tart Cereal Healthy?
Kellogg's Pop-Tarts are certainly a popular breakfast choice and snack which many enjoy whether it's in the mornings or throughout the day. Whilst they are popular, they're really not the best option for a healthy breakfast cereal. Despite them being a little different from the actual full-sized Kellog's Pop-Tarts, they are no different when it comes to their ingredients.
This cereal is loaded with a lot of sugar and carbohydrates that to some extent can be good for the body, this contains a slight overload that's likely going to leave you in a sugar crash mid-morning. They're a very high-calorie food and so if you're looking for healthy options, this isn't the most suitable option for you.
Is Pop-Tart Cereal Gluten-Free?
Kellogg's Pop-Tarts are an iconic sugary treat with the frosted brown sugar cinnamon being a particular favorite. When it comes to these Pop-Tarts, they are a favorite Kellogg's cereal for many families across the USA. However, the primary ingredient for this cereal is wheat, meaning it's not going to be any good for those with a gluten intolerance or Coeliac disease.
Whilst they have a tasty and nutritious addition of vitamins and minerals, for those with a gluten sensitivity, it's worth looking elsewhere.
Is Pop-Tart Cereal Vegan?
Kellogg's Pop-Tarts may be vegan in some people's eyes, but for other vegans, the frosted strawberry pop tarts flavorings as well as the other 'gray area' ingredients, might not be the right choice.
The Pop-Tarts cereal contains similar ingredients to the classic, larger strawberry Pop-Tarts that you might have had previously. It has the same classic taste and similar ingredients, meaning that vegans who choose to avoid these sugary snacks will likely avoid the cereal version too.
Is Pop-Tart Cereal Keto?
For those on a keto diet, Pop-Tart cereal isn't going to be something you can add to your shopping list. Just like the frosted brown sugar cinnamon favorites, this cereal contains some hefty carbs and sugar – a big no-no for keto dieters.
A keto diet involves consuming a minimal amount of carbs and sugar, and Kellogg's Pop-Tarts are far from meeting the guidelines set by the keto diet. This isn't the only cereal that's crossed off when it comes to the keto diet, as many classic kinds of cereal tend to be high in sugar and carbs.
Is Pop-Tart Cereal High in Protein?
With just 2g of protein, even the strawberry Kellogg's Pop-Tarts don't contain enough protein to get enough of your daily intake. Therefore, Kellogg's Pop-Tarts crunch cereal may not be the best choice for providing a protein-rich breakfast.
Is Pop-Tart Cereal High in Fiber?
Kellogg's Pop-Tart cereal does contain 3g of fiber, which is a couple of grams more than what most processed cereals offer. However, it's still not the best for fiber intake.
Pop-Tart Cereal Varieties
There are two varieties of Pop-Tart cereal, the classic Frosted Strawberry and the Frosted Brown Sugar Cinnamon.
Pop-Tart Cereal Store Brand Alternatives
If you're looking for some store brand alternatives, then you'll want something that's frosted and that has a similar fruity flavored filling. Here are a few alternatives you might want to try out:
Kellogg's Frosted Mini-Wheats
Mashups Frosted Flakes & Fruit Loops
Fruit Loops Marshmallows
Kellogg's Frosted Mini-Wheats with Cinnamon flavor
Uncle Tobys Fruity Bites
Where You Can Buy Pop-Tart Cereal
There are a number of places where you can get your hands on this Pop-Tart cereal. These include:
Famous Pop-Tart Cereal Commercials
The Pop-Tarts cereal has been around since the 1990s and there have been a number of Pop-Tart-themed commercials over the years which highlight its status as a family favorite. When it comes to the cereal, here are some iconic adverts we found:
This one shows a young boy in his garage making up a song about the cereal.
This one shows a young girl writing in her diary and talking about the Pop-Tart cereal.
User Reviews
Review Summary
0.0 out of 5 stars (based on 0 reviews)
Recent Reviews
There are no reviews yet. Be the first one to write one.
Submit a Review