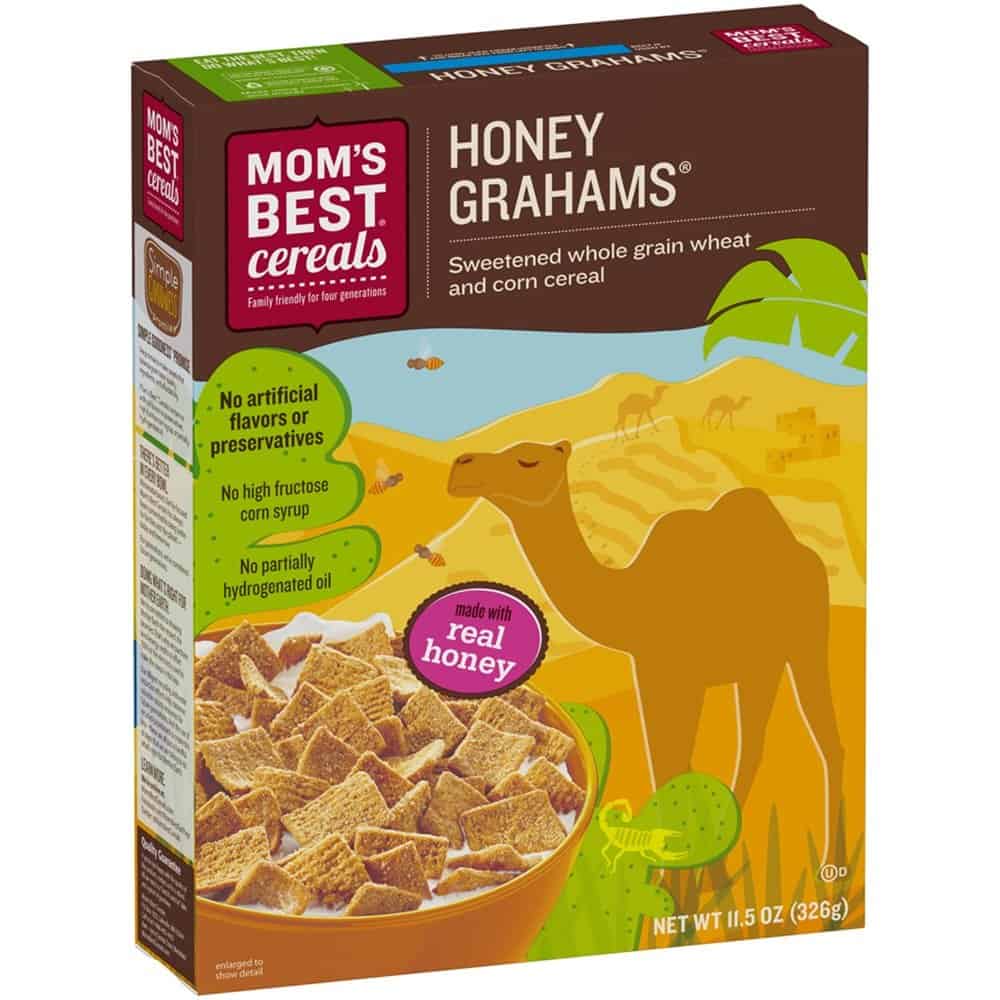 For anyone who's a fan of Grahams crackers, you'll certainly like the sound of Honey Grahams Cereal. It's a family favorite across America and has certainly stood the test of time with a lot of customers over the years keeping this cereal in distribution!
It's made with no high fructose corn syrup and instead, is made with real honey, providing a delicious natural flavor along with whole-grain graham crisp pieces. With no artificial flavors or preservatives, the Honey Grahams cereal is certainly a good one for those looking for a somewhat healthy and tasty breakfast bowl.
Nutrition Facts
There are around eighteen servings per cereal box, making this a great value for money option. The boxes are also made out of 100% recycled paperboard, making it a good option for those who are conscious of their environmental impact. Here are some nutrition facts for this cereal:
Calories: 110
Saturated Fat: 0g
Trans Fat: 0g
Polyunsaturated Fat: 0g
Monounsaturated Fat: 0.5g
Cholesterol: 0mg
Sodium: 230mg
Potassium: 70mg
Total Carbohydrate: 25g
Dietary Fiber: 1g
Sugars: 9g
Other Carbohydrate: 15g
Protein: 2g
Vitamin A
Vitamin C
Calcium
Iron
Vitamin D
Thiamin
Riboflavin
Niacin
Vitamin B6
Folic Acid
Vitamin B12
Phosphorus
Magnesium
Zinc
Ingredients
Honey Grahams has a fairly typical ingredients list that can be expected with most processed cereals. Here's the ingredients content for this particular cereal:
Whole grain wheat
Cornmeal
Sugar
Brown sugar syrup
Canola oil
Dextrose
Baking soda
Salt
Natural flavor.
Contains wheat ingredients
Calcium Carbonate
Iron and Zinc (mineral nutrients)
Vitamin C (sodium ascorbate)
A B Vitamin (niacinamide)
Vitamin B6 (pyridoxine hydrochloride)
Vitamin B2 (riboflavin)
Vitamin B1 (thiamin mononitrate)
Vitamin A (palmitate)
A B Vitamin (folic acid)
Vitamin B12
Vitamin D3
Are Honey Grahams Healthy?
Honey Grahams are nutritionally beneficial in that they don't contain any artificial dyes or flavors that are often found in other varieties of processed cereals.
However, this isn't the healthiest of breakfast cereals on the market and if you're looking for something healthier, you might want to consider something without the higher sugar content that this cereal contains. There's also a fair amount of sodium in this cereal, adding up to about 20% of your daily salt intake, which is quite a significant amount for breakfast alone.
Are Honey Grahams Gluten-Free?
Honey Grahams are sadly not a gluten-free cereal. This is due to the use of whole-grain wheat which of course, contains gluten.
There are plenty of cereals that will use whole grain wheat or oats and barley that will contain gluten but you will also find plenty that doesn't have gluten incorporated into the cereal. As the food world becomes more aware of allergies and intolerances to food types, there are certainly more accommodations being made for those with gluten allergies or coeliac disease.
Are Honey Grahams Vegan?
Generally speaking, the Honey Grahams cereal is considered vegan. However, there is some speculation about whether this type of cereal is completely vegan, due to versions of the cereal that contain real honey, which is a controversial ingredient which some consider vegan whilst others do not.
As there are some gray areas surrounding the natural flavorings, such as sugar, there are some vegans that will avoid it due to it being processed through animal-derived sources. Ultimately, it's up to the individual to decide whether they consider Honey Grahams cereal to be vegan or not.
Are Honey Grahams Keto?
Whilst it doesn't contain high fructose corn syrup, there are plenty of unhealthy ingredients in the cereal that many keto dieters try to avoid. These include sugar, honey, and canola oil.
As well as the high sugar content, there are also a lot of carbs that for keto dieters, are a no-go. For example, on a keto diet, you're only allowed 20-30g of carbs daily. However, this whole-grain wheat cereal contains 71.43g of carbs per 100g serving.
Canola oil is also a no-go as it's a highly refined oil that may cause inflammation in the body. Keto diets like fats that come from healthy sources instead.
Are Honey Grahams High in Protein?
There are two grams of protein within this cornmeal cereal. Whilst this might seem like a small amount, it's probably an average amount for most cereals, particularly ones that are processed.
If you're looking to bulk up this meal with protein, then adding in a few nuts and seeds may help with that. You could also combine it with greek yogurt rather than milk.
Are Honey Grahams High in Fiber?
Honey Grahams only contain one gram of fiber, which doesn't amount to much when it comes to your daily intake. It's therefore not the best option if you're looking to improve the state of your digestive system through an increased fiber intake.
Honey Grahams Varieties
What varieties of Honey Grahams cereals can you get? Well, many different brands and stores offer their own version of this popular breakfast choice, including options such as Aldi's version, Post's O-shaped variety, as well as this option from Mom's Best.
Honey Grahams Store Brand Alternatives
The natural flavor of the honey is what makes this cereal one of the best. There are a lot of different ingredients in the cereal though like baking soda and calcium carbonate that some may want to avoid. If you're looking for cereals similar to this but with less of the ingredients, here are some suggestions.
Where You Can Buy Honey Grahams
There are several places where you can buy the Honey Grahams cereal. These include:
Famous Honey Grahams Cereal Commercials
Honey Grahams Cereal is one that's loved by many and therefore has seen a number of commercials feature on our television screens over the years. Here are a few famous examples:
This one features the Golden Grahams version with a catchy theme tune that promotes the cereal as being perfect for the whole family.
This one from the late 80s is a classic and has the classic song 'Happy Together' playing over the top of kids hugging and enjoying a bowl of cereal.
Finally, this commercial features both the honey Golden Grahams cereal and the cinnamon alternative where the two are battling out to be the best.
User Reviews
Review Summary
0.0 out of 5 stars (based on 0 reviews)
Recent Reviews
There are no reviews yet. Be the first one to write one.
Submit a Review