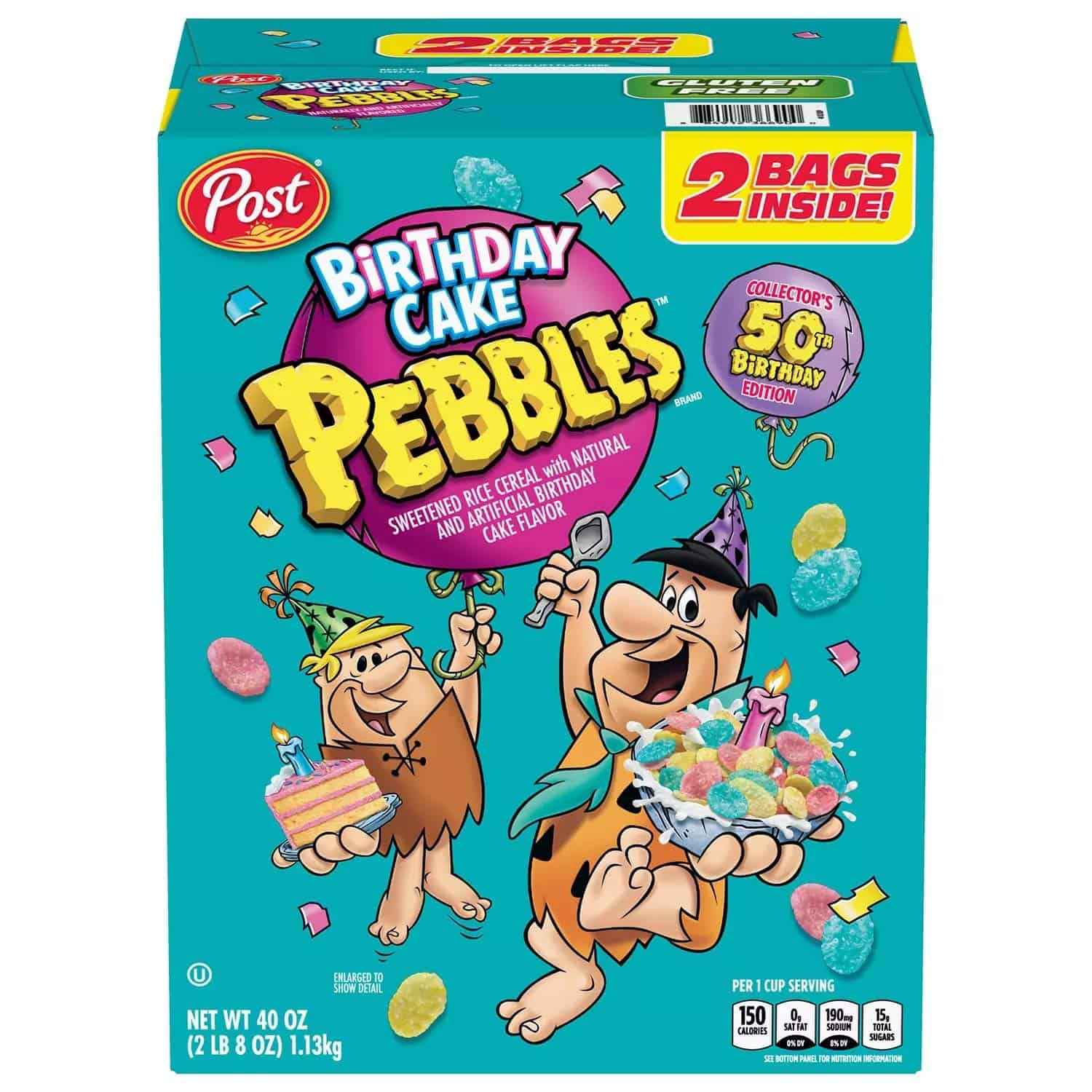 In April 2021, Post added a new cereal variation to the much-beloved product line of Pebbles cereal, Post birthday cake pebbles. What better addition to Fruity Pebbles and Cocoa Pebbles than the traditional birthday cake? This cereal highlighted the birthday cake flavor of a classic vanilla birthday cake with a fun and delicious twist.
Post Birthday Cake Pebbles was a birthday cake for breakfast. The cereal and its colorful flakes looked very much like America's favorite cakes that sit on kitchen tables around the country for countless birthdays a year.
With this new member of the Fruity Pebbles and Cocoa Pebbles family, Post Consumer brands made an already difficult cereal aisle decision even harder, if only momentarily.
Nutrition Facts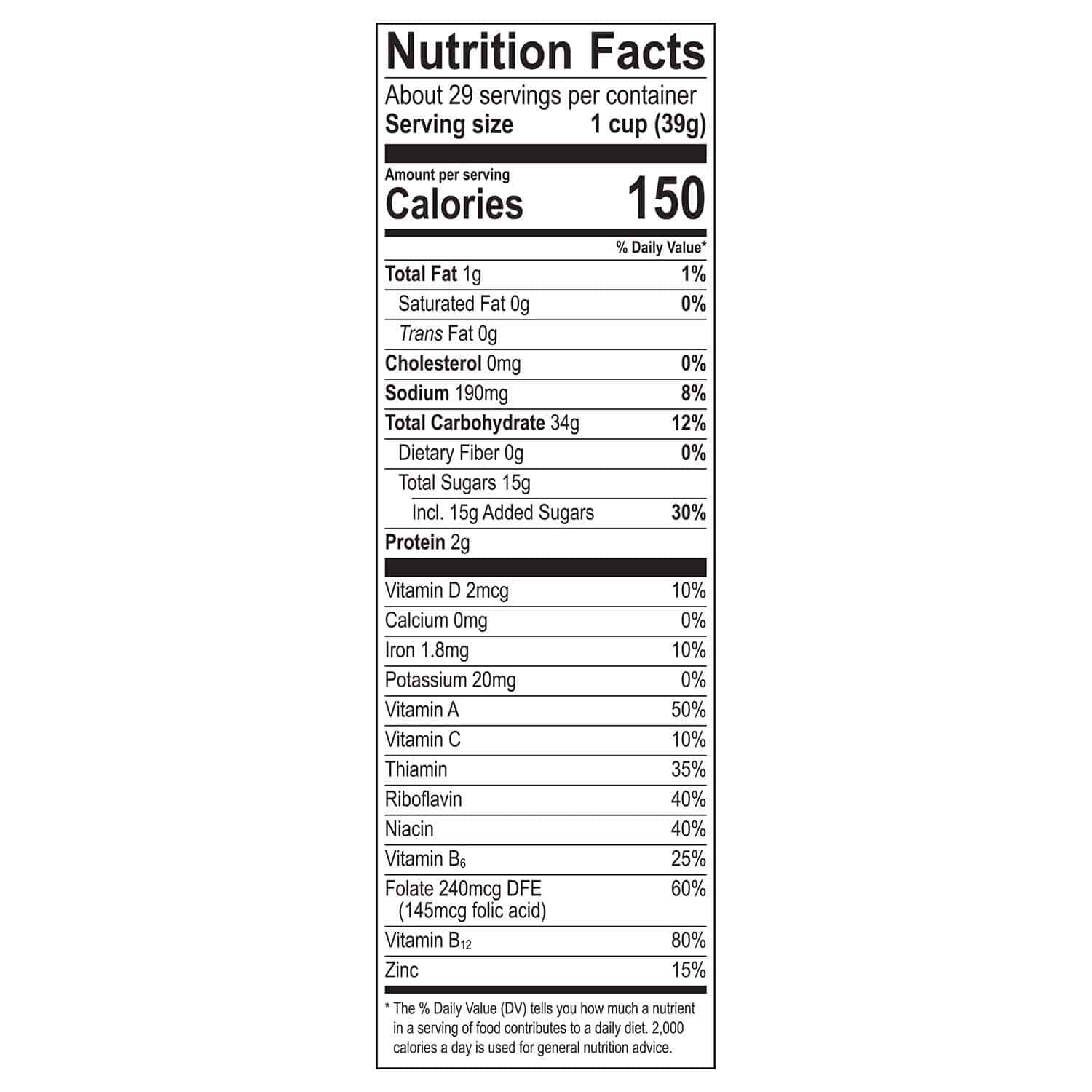 For one serving (39 grams) of Birthday Cake Pebbles cereal, it contains the following nutrition:
Calories – 150
Fat – 1 grams / 1% DV

Saturated fat – 0 mg
Trans fat – 0mg
Polyunsaturated fat – 0mg
Monounsaturated fat – 0mg

Cholesterol – 0mg
Sodium – 190mg / 8% DV
Total carbohydrates – 34 grams / 12% DV

Total sugars – 15 grams (all added sugars) / 30% DV
Other carbohydrates – 19 grams
Dietary fiber – 0 grams / 0%

Protein – 2 grams / 0% DV
Vitamin A – 60% DV
Vitamin B1 (Thiamin) – 35% DV
Vitamin B2 (riboflavin) – 40% DV
Vitamin B3 (Niacin) – 40% DV
Vitamin B6 (Pyridoxin) – 25%
Vitamin C – 10% DV
Vitamin D – 2mcg / 10% DV
Folate – 240 mcg DFE / 60% DV
Vitamin B9 (Folic acid) – 145 mcg
Vitamin B12 – 80% DV
Potassium – 20 mg / 0% DV
Calcium – 0 mg / 0% DV
Iron – 1.8 mg / 10% DV
Zinc – 15% DV
The above Daily Value (DV) percentage is based on a diet of 2,000 calories per day.
Birthday Cake Pebbles cereal is sold in a 538 grams box that contains around 14 servings.
Birthday Cake Pebbles cereal contains 0 grams of whole grains.
Ingredients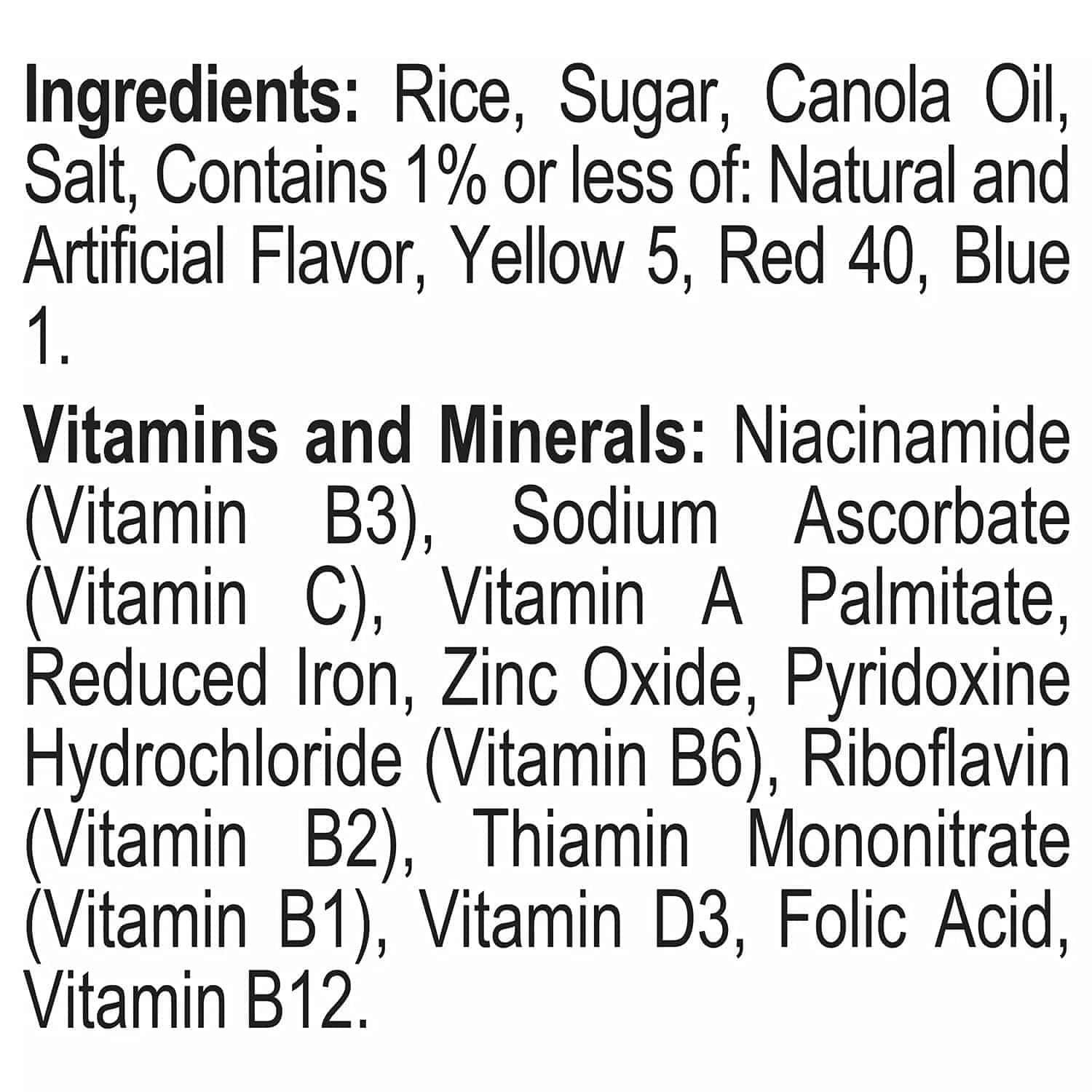 This is the complete ingredients list of Birthday Cake Pebbles cereal:
Rice
Sugar
Canola Oil
Salt
Natural and artificial flavor
Yellow 5
Red 40
Blue 1
Niacinamide (Vitamin B3)
Vitamin A palmitate
Reduced iron
Zinc oxide
Pyridoxine Hydrochloride (Vitamin B6)
Riboflavin (vitamin b2),
Thiamin Mononitrate (vitamin b1),
Vitamin D3
Folic Acid
Vitamin B12
Are Birthday Cake Pebbles Healthy?
A bowl of Birthday Cake Pebbles cereal is not a portion of healthy food in your daily diet. There are several ingredients that simply do not make this cereal healthy.
To begin with, it is full of sugar. Sugar is second on the ingredient list because it is the second most prolific ingredient in this cereal. Essentially, a bowl of Birthday Cake Pebbles in nearly 50% sugar. It is like eating a slice of birthday cake!
Secondly, the cereal is full of other unhealthy additives, such as artificial flavoring and color additives, to give it a colorful cake appearance. Specifically Yellow 5, Red 40, and Blue 1.
Are Birthday Cake Pebbles Gluten-Free?
Yes, though this is not a healthy cereal, it is a gluten-free cereal. There is no wheat in Birthday Cake Pebbles cereal. Its main ingredient is Rice which is a gluten-free food.
Are Birthday Cake Pebbles Vegan?
This cereal cannot be considered vegan by someone who adheres to a strict interpretation of what a vegan diet is. This cereal contains additives that a strict vegan diet will not accept. Specifically, there is Vitamin D3 and Vitamin B12 in this cereal.
There are no known plant-based sources for these vitamins, which means that they are produced from some form of the production process that involves animals. Thus, for a strict vegan diet, this cereal is not acceptable either.
Are Birthday Cake Pebbles Keto?
Birthday Cake Pebbles cereal will definitely not be accepted as part of a Keto diet. Those who adhere to a Keto diet typically limit their daily intake of carbohydrates to 20 -30 grams of carbohydrates at most per day. One bowl of Birthday Cake Pebbles is already above that limit.
Are Birthday Cake Pebbles High In Protein?
No, this cereal is also not a good source of protein, more or less being considered high in protein. Foods that can be called high in protein must provide around 10 grams of protein per individual serving.
Birthday Cake Pebbles only provides 2 grams of protein per serving. While that is not high in protein, it is very typical of sweet breakfast cereal.
Are Birthday Cake Pebbles High In Fiber?
As with protein, this cereal is also not a good source of dietary fiber. In order for any food to be considered high in dietary fiber, it needs to provide much more than that.
Bear in mind that the FDA has determined that an individual should be consuming 25 grams of dietary fiber each and every day. As this cereal contains no dietary fiber at all, it contributes nothing to your daily diet.
Birthday Cake Pebbles Varieties
There are no Pebbles variations of Birthday Cake flavor. This is a variation within the Pebbles line of cereal.
Birthday Cake Pebbles Store Brand Alternatives
To the best of this site's knowledge, there are no real alternatives to Birthday Cake Pebbles. This is most likely due to the fact that it was slated for a limited run and was not intended to generate any real market share or competition.
Where You Can Buy Birthday Cake Pebbles
The cereal was a limited edition for the 50th birthday of Pebbles and was produced in a limited run. It launched in April 2021 and was only available while supplies lasted.
Famous Birthday Cake Pebbles Cereal Commercials
Prior to the launch date for Post Birthday Cake Pebbles, the Post Consumer brands made sure that media outlets all around the country knew about the up-and-coming launch date.
So, Post only ran some basic birthday-oriented commercials, typically around the theme of Barney's birthday as they did with the Birthday Sprinkles cereal, but really relied upon the free marketing for other outlets.
User Reviews
Review Summary
0.0 out of 5 stars (based on 0 reviews)
Recent Reviews
There are no reviews yet. Be the first one to write one.
Submit a Review