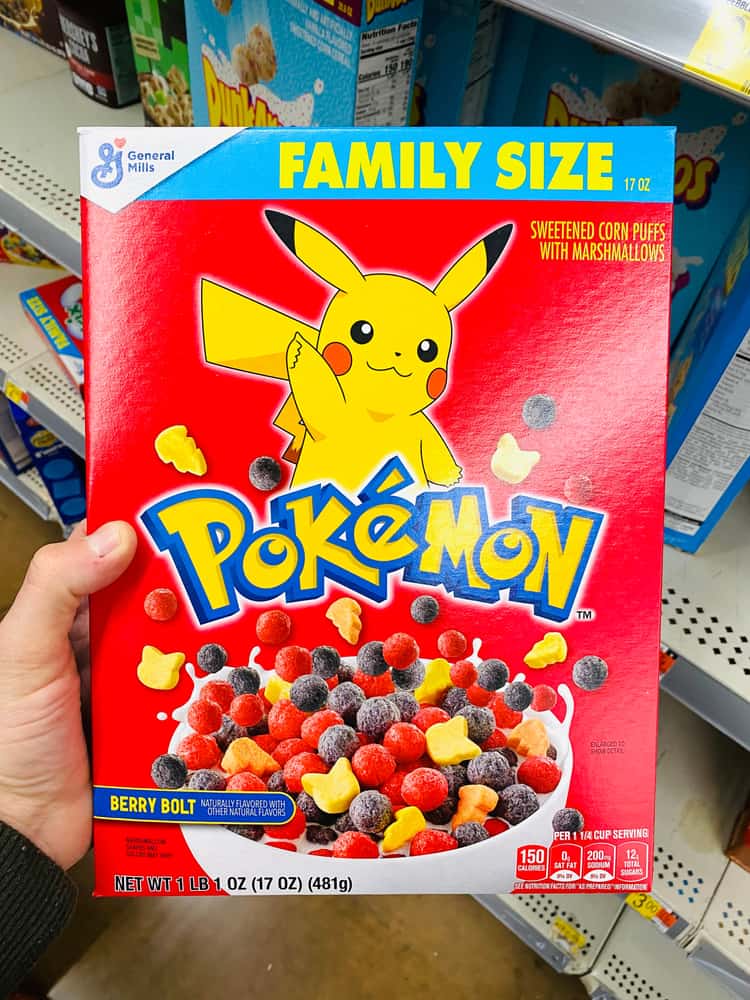 Many 90s kids will remember filling their cereal bowls with Pokémon-themed cereal in the morning before donning their backpacks and rushing to catch the school bus. After a long hiatus, Pokémon cereal is back by popular request, this time with a new Berry Bolt flavor!
General Mills manufactures a huge range of fun and nostalgic cereals, including Lucky Charms, Cheerios, Trix, and many more. Now, they're bringing Pokémon fans all over the country a new breakfast delicacy. A box of this delicious breakfast treat is filled with vibrant and tasty red and blue berry-flavored puffs as well as Pikachu-shaped marshmallows.
The Pokémon media franchise surrounding them has been a source of entertainment and nostalgia for years. Although it initially started out as a video game series, adorable Pokémon creatures like Pikachu and Bulbasaur have been the subject of various novelty items and products trading cards, toys, stationery kits, and —of course— cereal!
Although it might provide consumers with a sentimental trip down memory lane, is a box of the new General Mills Pokémon Berry Bolt cereal a healthy way to start the day? Keep reading to find out more about the nutritional info and which dietary requirements it's suitable for.
Nutrition Facts
One serving (1.25 cup) of flavor-filled Pokémon Cereal contains 150 calories. Additional nutritional information:
Total Fat: 1g/2% DV
Saturated Fat: 0g
Trans Fat: 0g
Cholesterol: 0mg
Sodium: 200mg/9% DV
Total Carbs: 34g/12% DV
Dietary Fiber: 1g/ 4% DV
Total Sugars: 12g
Added Sugars: 12g/24%
Protein: 2g/4%
Vitamin D: 2mcg (80iu)/ 10%
Calcium: 130mg
The Daily Value (DV) percentage above is based on an average daily intake of 2000 calories.
Ingredients
Here's the full list of ingredients that a box of Pokémon Berry Bolt contains:
Whole Grain Corn
Sugar
Corn Meal
Corn Syrup
Modified Corn Starch
Dextrose
Canola and/or Sunflower Oil
Salt
Tricalcium Phosphate
Red 40, Yellow 5 & 6, Blue 1
Gelatin
Trisodium Phosphate
Natural And Artificial Flavor
Calcium Carbonate
Vitamin C
Iron
Zinc
Niacinamide
Vitamin B6
Vitamin B
Vitamin A
Vitamin B2
Vitamin B12
Folic Acid
Vitamin D3.
Is Pokemon Cereal Healthy?
Although Pokémon Berry Bolt Cereal isn't the healthiest option out there, it certainly isn't the most unhealthy.
Pokémon Cereal contains quite a high sugar content to give it its sweet taste and berry flavor, which means it's not the ideal option to have with your morning coffee every day. That being said, it's important to be aware that many "healthy" kinds of cereal also boast a high sugar content, so be sure to check the package before choosing any alternative.
Pokémon Berry Bolt Cereal is on par with many similar General Mills options when it comes to healthiness, such as Lucky Charms, Cinnamon Toast Crunch, and Reese's Puffs.
Each serving contains 12g of sugar, which is 24% of the recommended daily intake. In addition to having a high sugar content, Pokémon Cereal also contains 200mg of sodium. Reading the back of the box is always a good idea to ensure you know exactly what it is you're consuming.
Pokemon-themed cereals have always been particularly appealing for kids who are big Pokemon fans, and some parents will be put off by the idea of sending their kids to school on a stomach full of sugar. Although it's not the best option for everyday consumption, keeping a box of Pokémon Cereal in the cupboard for special occasions is a fantastic treat.
Is Pokemon Cereal Gluten-Free?
Pokémon Berry Bolt is gluten-free as it doesn't contain any wheat, rye, barley, oats, or other ingredients with gluten. In fact, General Mills made many of its cereals gluten-free by simply removing these ingredients.
Is Pokemon Cereal Vegan?
No, Pokémon Berry Bolt isn't vegan as one thing each box contains is gelatin (in the Pikachu marshmallows).
Gelatin is made from ground-up animal parts and is found in many candy products, such as gummy bears, gummy worms, and Starburst.
Is Pokemon Cereal Keto?
No, Pokémon Berry Bolt is not strictly keto-friendly as it contains 34g of carbohydrates per serving. Those following a keto diet typically consume between 20-30 grams of carbs per day, spread across their meals. One bowl would take you over that limit. So, if you're on a keto diet, it's a good idea to search for keto breakfast alternatives.
Is Pokemon Cereal High In Protein?
A serving of Pokémon Berry Bolt Cereal contains 2g of protein, which is just 2% of your daily value recommended protein intake of roughly 56g per day for men and 45g per day for women. This is much lower than other, healthier, options that can add much more protein to your diet.
Is Pokemon Cereal High In Fiber?
Pokémon Berry Bolt contains just 1g of fiber per serving.
This means it's not high in fiber. According to the FDA, a food product must contain 20% or more of the daily recommended value to be considered "high" in fiber and 10-19% to make a "good source of fiber" claim.
There are plenty of other cereals that are high in fiber, although most of them don't offer the sweet sugary taste and marshmallows that many people love about a box of Pokémon Berry Bolt Cereal. So if you'd like to add more fiber to your diet, this cereal isn't the best option out there.
Where You Can Buy Pokemon Cereal
If you're in search of this delicious Pikachu-themed breakfast treat, you'll be happy to know it's easy to get your hands on a box.
You can buy Pokémon Berry Bolt Cereal on the Amazon site and have it delivered straight to your door in no time at all, or you can also find it in all good Walmart stores.
Famous Pokemon Cereal Commercials
Since Pokémon Berry Bolt Cereal is a new take by General Mills on the nostalgic 90s cereal, there aren't any famous commercials to date.
However, if you want a taste of true 90s nostalgia, check out this kitschy and hilarious commercial produced by Kelloggs to market the original Pokémon Cereal and pop tarts!
User Reviews
Review Summary
0 out of 5 stars (based on 0 reviews)
Recent Reviews
There are no reviews yet. Be the first one to write one.
Submit a Review