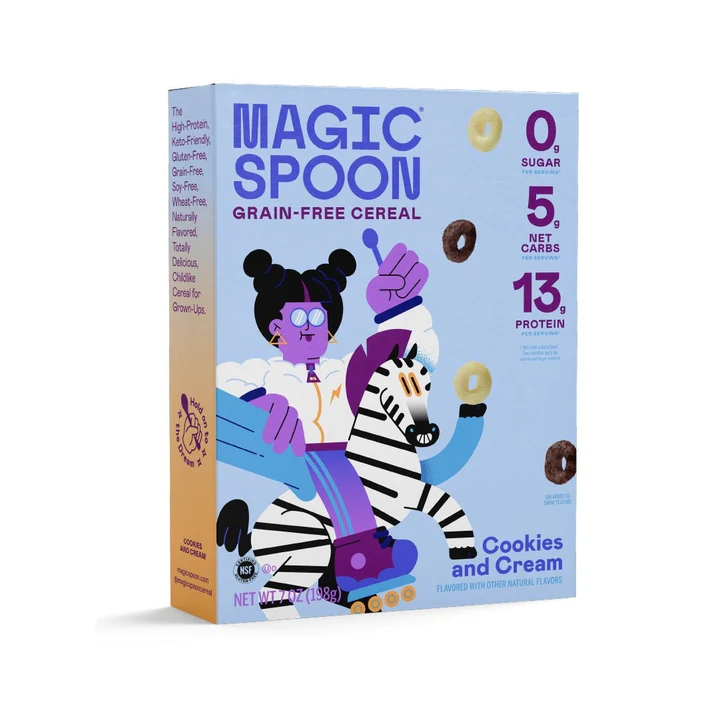 Cookies and cream is an incredibly popular flavor across a range of products, including breakfast cereals. One such cereal is the Magic Spoon Cookies and Cream variety, an extremely delicious snack perfect for your morning routine.
But is it a healthy choice, and how does it measure up to similar cereals on the market?
Read on to find all the additional information you need to know about this tasty cookie-based cereal!
Nutrition Facts
Knowing how much a nutrient adds to your daily diet and whether or not your chosen cereal offers everything you need is important. We have all heard the saying that breakfast is the most important meal of the day after all – and it's true!
Here are all the nutrients this breakfast food contributes to your daily diet per average serving (37 grams):
Calories – 150Kcal
Total Fat – 8g
Saturated Fat – 1g
Trans Fat – 0g
Cholesterol – 10mg
Sodium – 180mg
Total Carbs – 14g
Dietary Fiber – 1g
Total Sugars – 0g
Added Sugars – 0g
Protein – 13g
Vitamin D – 0mcg
Calcium – 20mg
Iron – 2mg
Potassium – 24mg
Breakfast food contributes a mix of nutrients, so it's always a good idea to check the nutrition facts found in your breakfast cereals box. You can also usually find a rough percentage, which lets you know how much a nutrient contributes to your daily diet!
Ingredients
The ingredients contained in your chosen breakfast cereal are incredibly important, especially if you are allergic to a specific ingredient or following a strict diet. The ingredients contained in this cookies and cream cereal are as follows:
milk protein blend (casein, whey protein concentrates)
sweetener blend (allulose, monk fruit extracts)
oil blend (high oleic sunflower oil, avocado oil)
tapioca starch
inulin (from chicory root and agave)
natural flavors
cocoa powder
salt
Is Magic Spoon Cookies & Cream Cereal Healthy?
Magic Spoon Cookies and Cream contains low amounts of carbs, such as sugar and fiber, whilst still offering a fairly high amount of proteins. This means it is a surprisingly healthy breakfast option, especially when paired with fruit.
Sugary cereals tend to be slightly less unhealthy than non-sugar variants, which is why this sugar-free option is an excellent breakfast cereal.
Another great way to check whether or not a cereal option is healthy is to check the list of nutrition facts found on the back or side of the box for additional information. Always check how much a nutrient contributes to your daily allowance to see if it's worth adding to your basket!
Is Magic Spoon Cookies & Cream Cereal Gluten-Free?
All products that use grain will contain gluten of some form, which isn't ideal if you are celiac or looking to avoid gluten where possible. Thankfully, this Cookies and Cream cereal are completely grain-free.
Grain-free options are perfect for anyone on a gluten-free diet, so be sure to check out grain-free cereals to cut down on your gluten intake!
Is Magic Spoon Cookies & Cream Cereal Vegan?
Any foods that contain animal products are not vegan-friendly. This grain-free cereal contains dairy protein, which contains cow milk. Sadly, this does mean it isn't suited to anyone who is on a vegan diet.
To ensure that your chosen cereal is vegan, be sure that you are using an alternative milk option such as soya or oat milk!
Is Magic Spoon Cookies & Cream Cereal Keto?
Surprisingly, although this cereal packs in a lot of flavor, it contains minimal amounts of sugar. As a keto diet aims to cut down on the number of carbs you have per day, ideally less than 50 grams of carbs a day, cereals with small amounts of sugar are an excellent option.
This tasty breakfast food contributes a range of nutrients to your diet without the need to add sugar to its recipe!
Is Magic Spoon Cookies & Cream Cereal High in Protein?
Protein is a vital nutrient in any diet, which is why it is constantly included in any general nutrition advice. The general nutrition advice is that we should ideally consume around 0.75 grams per kilogram of body weight.
Fortunately, Magic Spoon Cookies and Cream offers a high amount of this essential nutrient per serving, 13 grams, which is great news.
Is Magic Spoon Cookies & Cream Cereal High in Fiber?
Protecting your gut from potential infection and problems is incredibly important, especially as we get older. This is why the general nutrition advice for fiber is that we consume around 21 to 38 grams of fiber a day.
A typical bowl of Magic Spoon Cookies and Cream offers 1 gram of fiber, which is sadly lacking when compared to similar cereals on the market.
Magic Spoon Cookies & Cream Cereal Store Brand Alternatives
If you're struggling to find this cereal in stores or you are just looking for more options, then don't worry, as we have got you covered. One of the most popular types of cookies and cream cereal available today is Hershey's Cookies'n'Creme.
Post also offers a popular Cookies and Cream cereal option in the form of their Malt-o-Meal Cookies and Cream snack. There are more options out there, so finding a flavor to suit your tastes shouldn't be too much of an issue!
Where You Can Buy Magic Spoon Cookies & Cream Cereal
As cookies and cream is such a popular flavor of cereal, it is thankfully fairly easy to find in most high street stores. You can generally find this grain-free cereal on the shelves in Walmart, Target, and even Costco.
If you prefer to shop online, then be sure to check your chosen store's online selection. You can even find the many flavors of Magic Spoon cereal on sites such as Amazon!
Famous Magic Spoon Cookies & Cream Cereal Commercials
Magic Spoon tends to advertise its many cereal products online through social media. However, they do have a couple of popular TV ads.
A recent commercial shows how Magic Spoon grain-free cereal contributes just as much protein to your diet as an egg whilst still offering great taste. It then ends by showing that they have more options than your usual cereal brand, so there is truly something for everyone!
User Reviews
Review Summary
0 out of 5 stars (based on 0 reviews)
Recent Reviews
There are no reviews yet. Be the first one to write one.
Submit a Review