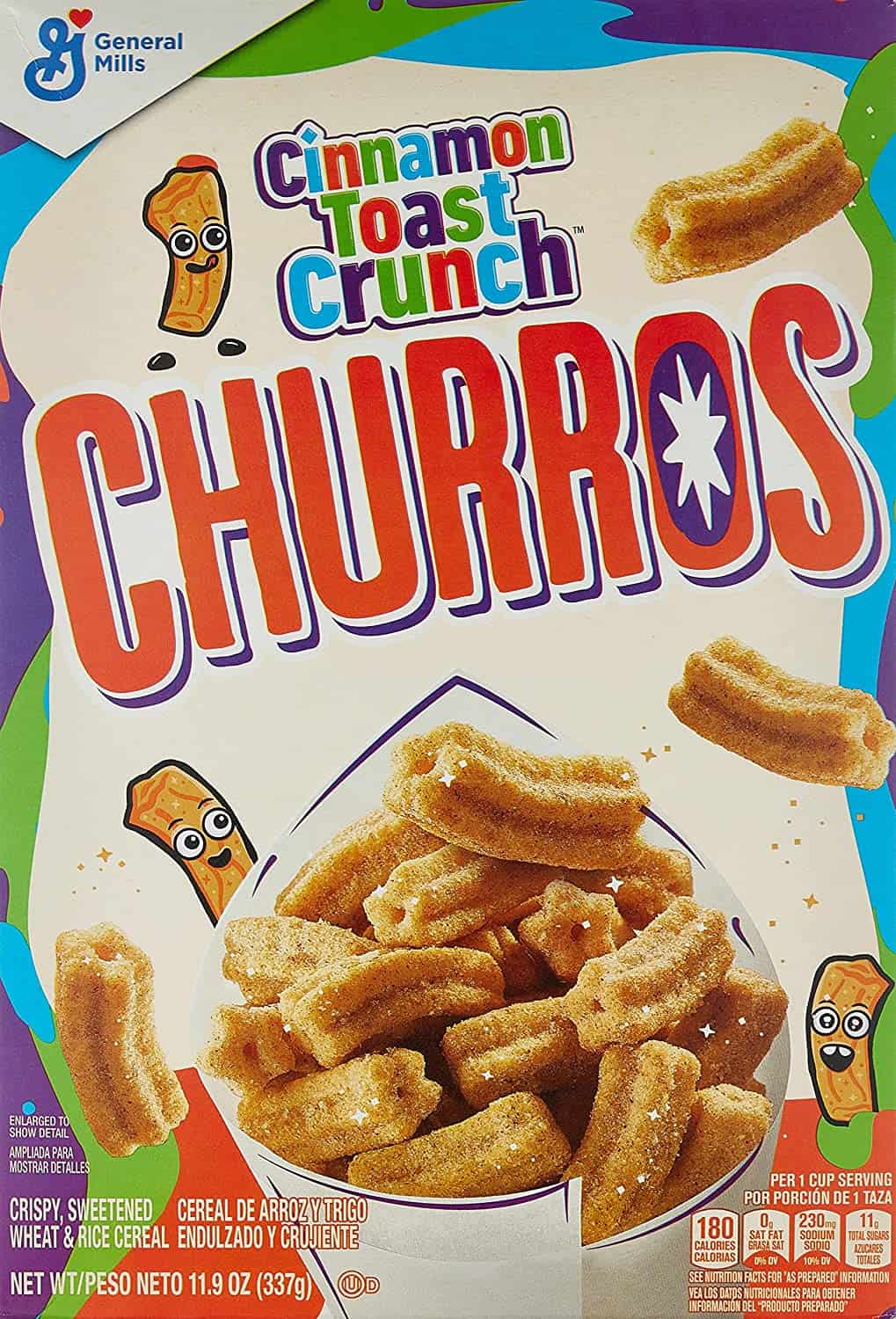 Just when you thought Cinnamon crunch cereal couldn't get any better, they go ahead and throw churros into the mix! A pantry staple for anyone that loves the sweet and savory spice of natural cinnamon. Enjoyed by itself or with milk, it's a go-to breakfast cereal for little kids and big kids!
It's a popular choice for those who love a sweet kick in the mornings, and with these churros, it's a pure indulgence that you'll never get bored of. As a proud supporter of schools and teachers, it's naturally popular with most children.
As a well-rounded meal or snack, here are some helpful answers to questions about this tasty cereal's nutritional value and ingredients.
Nutrition Facts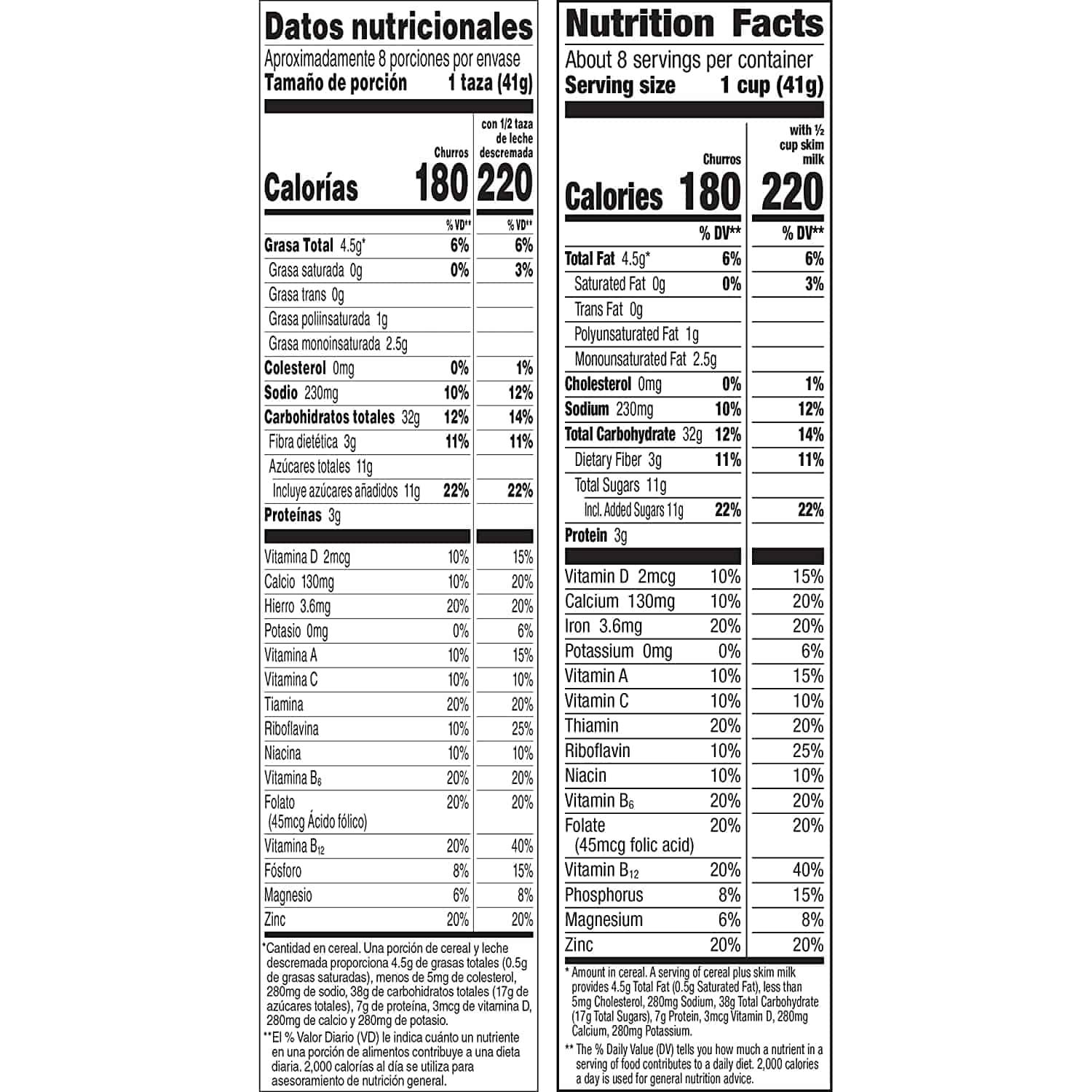 This breakfast cereal contains 18 servings per box, with a serving size suggestion of 1 cup or 41g. Here are some other nutritional facts for the Cinnamon Toast Crunch Churros.
Calories: 80
Total Fat: 4.5g
Saturated Fat: 0g
Trans Fat: 0g
Polyunsaturated Fat: 1g
Monounsaturated Fat: 2.5g
Cholesterol: 0mg
Sodium: 230mg
Total Carbohydrate: 32g
Dietary Fiber: 3g
Sugars: 11g
Protein: 3g
Vitamin A: 90mcg
Vitamin C: 9mg
Calcium: 130mg
Potassium: 0mg
Iron: 3.6mg
Vitamin D: 2mcg
Thiamin0: 2mg
Riboflavin: 0.1mg
Niacin: 25%
Vitamin B: 60.3mg
Folic Acid: 45mcg
Vitamin B: 120.5mcg
Phosphorus: 100mg
Magnesium: 25mg
Zinc: 2.2mg
Ingredients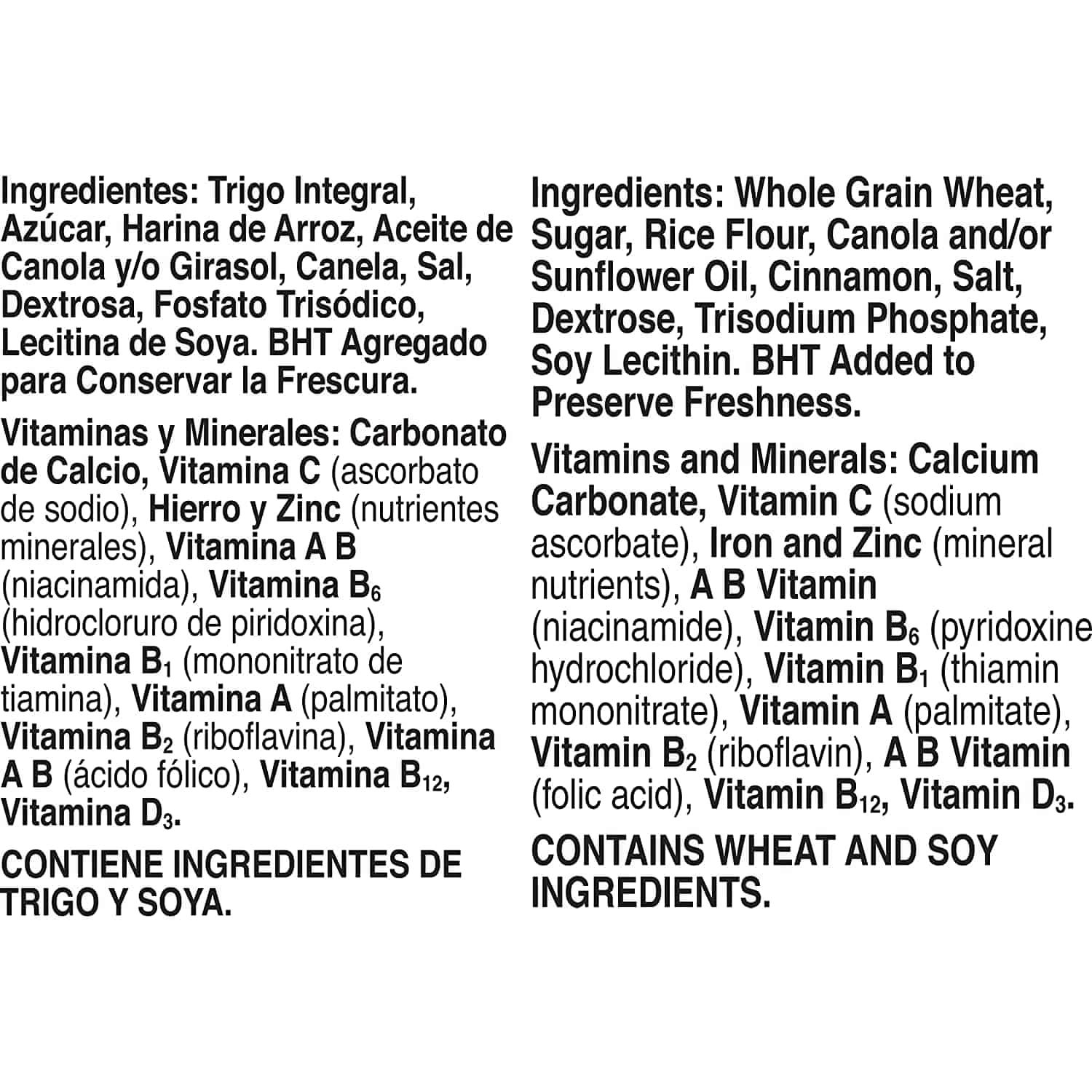 Here is a list of ingredients that make up this delicious breakfast cereal:
Whole Grain Wheat
Sugar
Rice Flour
Canola Oil
Cinnamon
Salt
Dextrose
Trisodium Phosphate
Soy Lecithin
BHT Added to Preserve Freshness.
Vitamins and Minerals: Calcium Carbonate, Vitamin C (sodium ascorbate), Iron and Zinc (mineral nutrients), A B Vitamin (niacinamide), Vitamin B6 (pyridoxine hydrochloride), Vitamin B1 (thiamin mononitrate), Vitamin A (palmitate), Vitamin B2 (riboflavin), A B Vitamin (folic acid), Vitamin B12, Vitamin D3.
Is Cinnamon Toast Crunch Churros Cereal Healthy?
They are made with whole grains, making them a great source of nutrition. They contain twelve vitamins and minerals and are ideal as a quick snack or breakfast time with the kids.
If you're after a breakfast cereal that's pretty average health-wise, then you'll find this one to be a suitable option. However, it should be noted that it's pretty high in sugar content, and the calories that come with each serving are higher than most cereals.
For children especially, the level of sugar content might not be something you want them to be eating. However, it's a good morning meal for keeping them energized at school.
Is Cinnamon Toast Crunch Churros Cereal Gluten-Free?
As a cereal, the Cinnamon Toast Crunch Churros are sadly not gluten-free. The grain is made with whole wheat and soy for anyone who may have a gluten intolerance or doesn't choose to eat gluten.
It's also worth noting that this cereal is produced in a non-gluten-free facility, adding to the risk that other gluten is found within the product.
Is Cinnamon Toast Crunch Churros Cereal Vegan?
As a sweet cinnamon sugar snack, this cereal is generally considered vegan friendly. However, it's somewhere in the gray area due to the content of sugar and Vitamin D3 that this cereal contains. Strict vegans may want to consider something else instead.
Vitamin D3 comes from an animal product, and General Mills uses lanolin, a wool wax. This might mean that you avoid the brand altogether, but this preference depends on your vegan diet.
Is Cinnamon Toast Crunch Churros Cereal Keto?
Cinnamon Toast Crunch Churros is not a keto-friendly breakfast. For many kinds of cereal, they can tend to be high in carbohydrates and be processed for the most part.
For anyone on a Keto diet, these are two big no-no's, and in addition, this cereal contains unhealthy ingredients like canola oil and sugar.
Is Cinnamon Toast Crunch Churros Cereal High in Protein?
Cinnamon Toast Crunch Churros are not that high in protein, with just 3g per serving. As a breakfast cereal, you might not get a lot of protein in this meal. However, it might be too tiny a percentage to justify eating it for some.
Is Cinnamon Toast Crunch Churros Cereal High in Fiber?
Despite being churros and thinking they are high in fiber, this cereal contains the same amount of fiber as protein – 3g. As a breakfast cereal, you might look for something familiar with a cinnamon sugar flavor but with added fiber.
Fiber is great for aiding your digestive system, and when it comes to breakfast, it can be a handy source of fiber for your body.
Cinnamon Toast Crunch Churros Cereal Varieties
There are a couple of varieties in the Cinnamon Toast Crunch Churros range. Both are great when looking for familiar cinnamon sugar treats.
Cinnamon Toast Crunch Churros Original
The original is mentioned in this article and is a tasty breakfast snack. With great taste, it's a go-to for those who love authentic churros.
Cinnamon Toast Crunch Chocolate Churros
The Chocolate Churros variety still has that unmistakable crunch but with an added sweet kick for those looking to try something a little different.
While chocolate isn't the best ingredient to add to a breakfast item, it'll provide plenty of energy that some need in the morning to get up and go!
Where You Can Buy Cinnamon Toast Crunch Churros Cereal
You can buy Cinnamon Toast Crunch Churros cereal from several stores and online. Here are a few suggestions of where to shop for this breakfast cereal.
These sites and stores will stock both the original and chocolate varieties.
Famous Cinnamon Toast Crunch Churros Cereal Commercials
Here is the most recent commercial. It's a bunch of mini cartoon cinnamon squares celebrating their love of this crunchy cereal in a giant parade party with the aid of friends and colossal cinnamon square floats.
And a few years before this, we had the fantastic, funny commercial of kid-like cinnamon squares devouring their cereal at all times of the day.
User Reviews
Review Summary
0 out of 5 stars (based on 0 reviews)
Recent Reviews
There are no reviews yet. Be the first one to write one.
Submit a Review