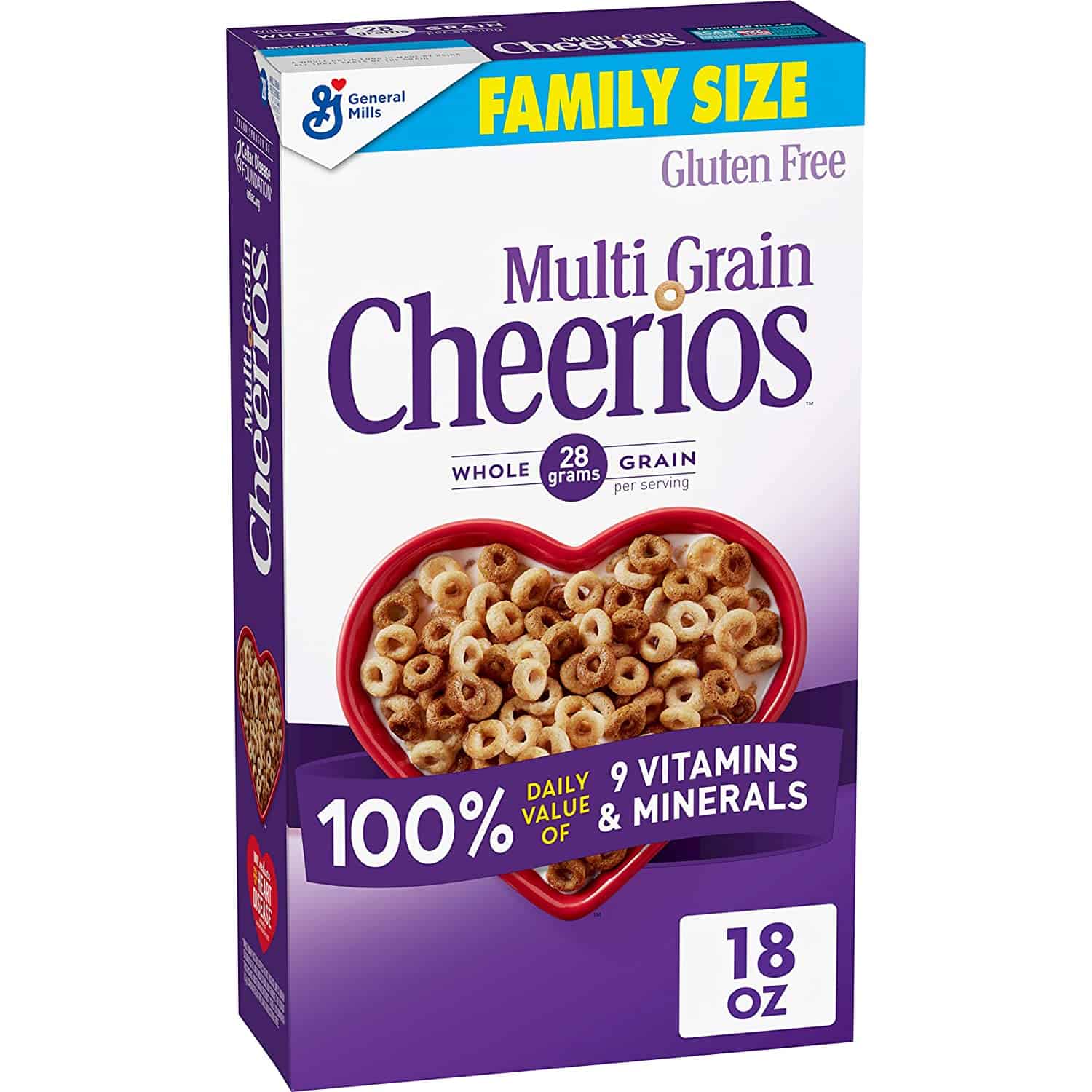 Crunchy and tasty, Multi-Grain Cheerios could be just what you need to start off your day the right way! An excellent source of calcium with no artificial flavors or colors, Multi-Grain Cheerios can be enjoyed by the whole family.
This Cheerio variety was actually known as the original Cheerios in the UK when released in 1992. It was enjoyed so much that it was relaunched in the United States in 2009.
Made from pulverized oats and crafted into a classic 'O' shape, this cereal has been manufactured by General Mills for over 81 years now.
Nutrition Facts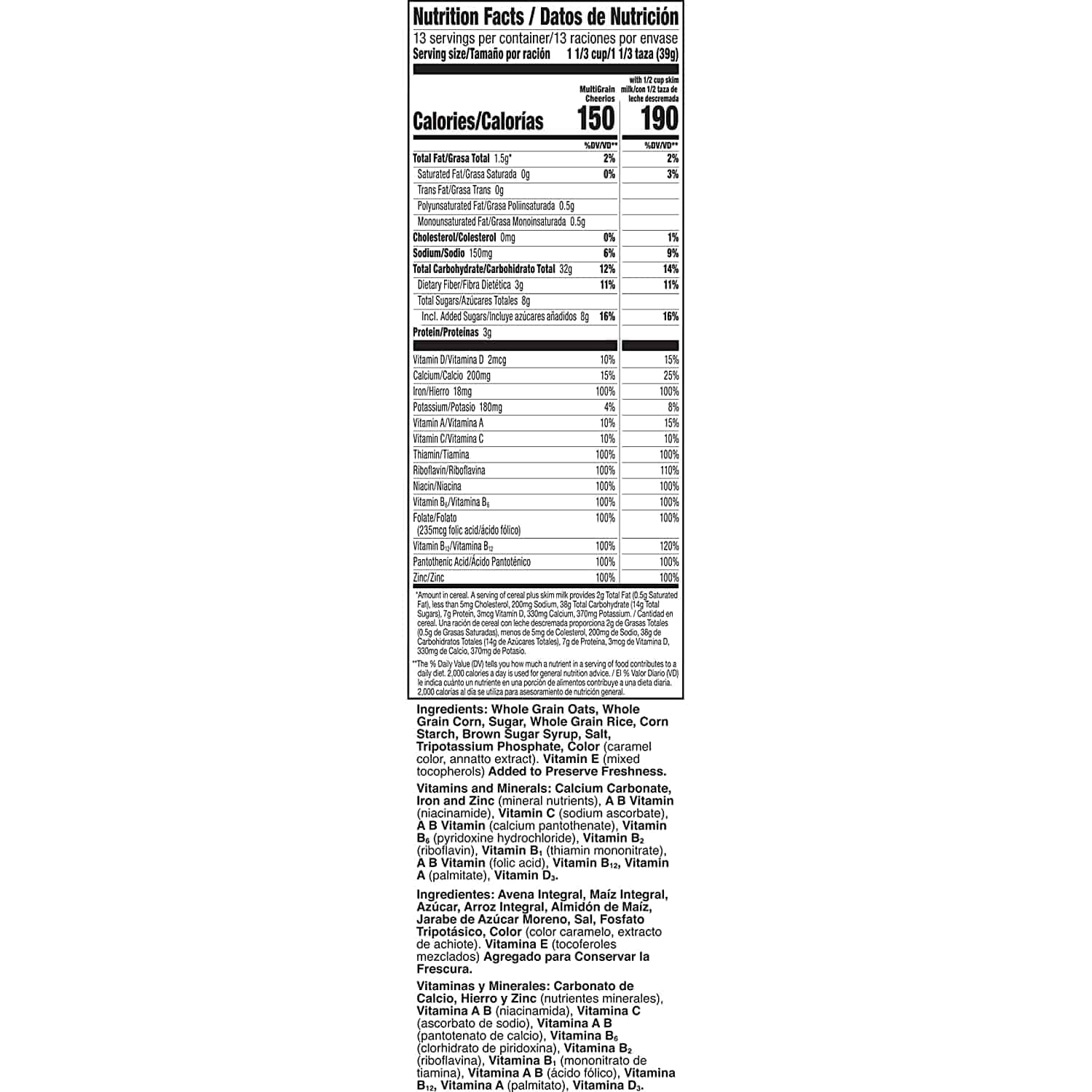 One service size of Cheerios is one cup and one-third (39g). There are six serving sizes in a standard box of Multi-Grain Cheerios. There are 150 calories from one serving.
Total fat = 1.5g
Saturated fat = 0g
Cholesterol = 0mg
Sodium = 150mg
Protein = 3g
Total Carbohydrate = 32mg
Sugars = 8g
Dietary Fiber = 3g
Potassium = 170mg
Ingredients
There are five different types of whole grain used in Multi-Grain Cheerios, including Whole Grain Millet, Whole Grain Sorghum, Whole Grain Rice, Whole Grain Corn, and Whole Grain Oats.
Other ingredients found in this cereal include Vitamin E (mixed tocopherols), which is added to preserve the freshness of the cereal and color (annatto extract and caramel color), and Tripotassium Phosphate, Salt, Brown Sugar Syrup, Sugar, Corn Bran, and Corn Starch.
Are Multi-grain Cheerios Healthy?
Multi-Grain Cheerios are certainly one of the healthier cereals on the market today, as it is moderate in fiber and low in fat. However, this is not considered a diet product, as sugars are present. Nevertheless, you can enjoy Multi-Grain Cheerios as part of a healthy diet.
Are Multi-grain Cheerios Gluten-Free?
Yes, you will be pleased to know that Multi-Grain Cheerios are now gluten-free. This was not always the case. However, back in 2015, General Mills made the decision to make their five top sellers gluten-free. Not only did this include Multi-Grain Cheerios, but also Apple Cinnamon, Frosted, Honey Nut, and Original Cheerios.
Are Multi-grain Cheerios Vegan?
There has been a lot of discussion as to whether this lightly sweetened breakfast cereal is vegan or not. The ingredients on the surface seem vegan, yet the inclusion of Vitamin D3 has been a concern for a lot of people.
The good news is that General Mills has confirmed that both Multi-Grain and Original Cheerios are vegan, as they contain D3 that has been produced synthetically, meaning no fish oil or animal skin has been used to create this product.
Are Multi-grain Cheerios Keto?
Generally speaking, sweetened cereals are not suitable for Keto diets. While there are a couple of products that may have been specifically created to cater to this market, most cereals contain concentrated syrup and sugar, which means they are not Keto-friendly.
Are Multi-grain Cheerios High In Protein?
You will find 2.8g of protein in one serving of Cheerios. To give you some perspective, you require approximately 0.8 grams of protein every day for each kilogram of body weight. Of course, if you are an active individual, you may need more than this.
Are Multi-grain Cheerios High In Fiber?
In terms of fiber, there is a moderate amount in this multi-grain cereal. While there is more fiber when compared with the likes of Frosted Flakes from Kellogg's, this cannot be considered a high-fiber product because it does not contain 5g of fiber or more. Per serving, there is around 3g of dietary fiber.
Multi-grain Cheerios Varieties
There are not any varieties available today, as the Multi-Grain product is a variety in itself. The flagship product is the Original Cheerios cereal, and there have since been many different varieties, with the Multi-Grain version being one of the most popular.
However, it is worth pointing out that Multi-Grain Cheerios Plus was brought onto the market over two decades ago, with the product containing ten extra vitamins and minerals.
Multi-grain Cheerios Store Brand Alternatives
Multi-Grain cereal represents any type of uncooked breakfast cereal that is made from multiple grains, such as cracked rye, flax, barley, oats, rice, and corn. As such, any type of cereal that contains more than one grain is considered multi-grain.
This means that there are a lot of different alternatives to Multi-Grain cereal products on the market today. This includes the following:
Basic 4 Multigrain Breakfast Cereal
Cascadian Farm Organic Multi-Grain Squares Cereal
Kellogg's Special K Protein Multi-Grain Touch of Cinnamon
Nature's Path Heritage Flakes Organic Cereal
Quaker Life Cinnamon Multigrain Cereal
Where You Can Buy Multi-grain Cheerios?
You should not struggle to find Multi-Grain Cheerios on the shelves in the United States, no matter what state you live in. You can purchase this popular cereal from the likes of Target and Walmart. From small corner stores to big supermarkets, Multi-Grain Cheerios are widely stocked so that everyone can enjoy this tasty breakfast cereal.
Famous Multi-grain Cheerios Cereal Commercials
There have been a number of great commercials over the years for this popular whole-grain cereal.
Recently, in 2021, we saw a mom do an award speech for losing weight after she managed to fit into her daughter's jeans. Of course, she thanked Multi-Grain Cheerios for the weight loss!
Another famous commercial for the brand came when they brought out Multi-Grain Plus in 1997. The advert saw another mom who seemed skeptical when Cheerios changed their original Multi-Grain Cheerios to Multi-Grain Cheerios Plus, worried that they had changed the flavor. She was told they taste better; she tried one, agreed, and finished with, "Now, don't you go changing!"
User Reviews
Review Summary
0.0 out of 5 stars (based on 0 reviews)
Recent Reviews
There are no reviews yet. Be the first one to write one.
Submit a Review