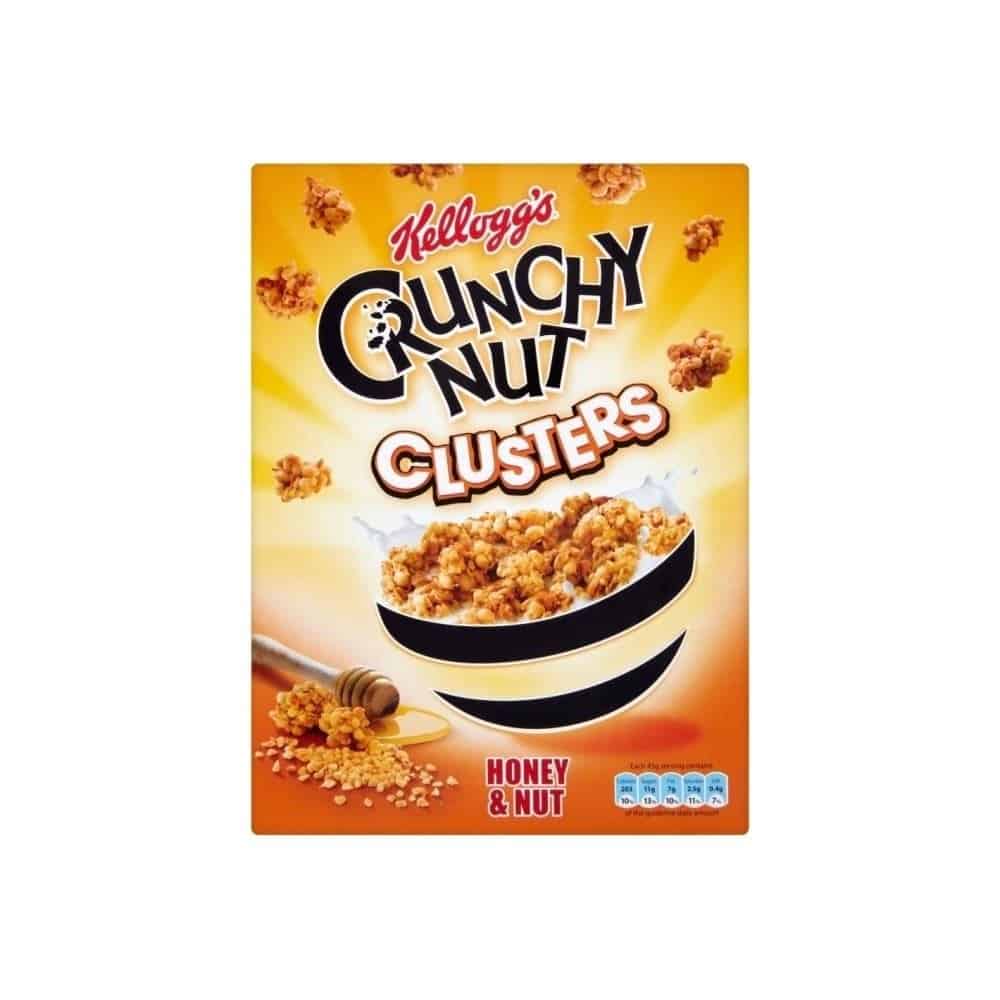 Kellogg's Crunchy Nut Clusters Honey & Nut is one of the most adored varieties of the Crunchy Nut family. Made with crunchy multi-grain cereal and sweet, honey clusters it's been a popular choice for breakfast for decades.
There are many different versions now of the classic Crunchy Nut recipe, but few have the kind of cult status amongst cereal connoisseurs that this cereal does.
But, does it also work as part of a healthy, balanced diet? Or is this much-loved cereal all taste over substance?
Nutrition Facts
One serving (45g) of this cereal contains:
Calories – 201
Fat – 6.8g/10%
Saturated fat – 1.4g/7%
Carbohydrate – 31g
Sugar – 12g/13%
Fiber – 1.8g
Protein – 3.6g
Salt – 0.43g/7%
For full nutritional information always read the product label on the side of the cereal box.
Ingredients
The ingredients in this cereal include:
Wheat flour
Maize
Sugar
Rolled oats
Vegetable oil (palm, sunflower)
Barley malt extract
Peanuts
Honey
Glucose syrup
Invert sugar syrup
Salt
Antioxidants (ascorbyl palmitate, alpha-tocopherol)
Soy lecithin
Skimmed milk powder
For any allergens please see the ingredients highlighted in bold.
Is Crunchy Nut Clusters Honey & Nut Cereal Healthy?
Crunchy Nut Clusters Honey & Nut is a bit of a mixed bag when it comes to healthiness. It has a pretty high sugar content, packing 12 grams into a single serving, which constitutes 13% of your daily reference intake for an average adult. This may be because it contains invert sugar syrup and glucose syrup.
So, if you eat them for breakfast you'll have to be pretty careful with the number of sugary treats you have for the rest of the day.
However, it's not too heavy on saturated fat and salt, with one serving containing 7% of your daily reference intake for both of these.
Sodium (salt) is present in many of the foods we eat, and most Americans eat too much of it. Our bodies don't require very much sodium to function, and having too many increases the risk of heart disease.
If you're trying to reduce the amount of sodium in your diet, this cereal could be a good way for you to start the day.
Is Crunchy Nut Clusters Honey & Nut Cereal Gluten-Free?
This variety of Kelloggs Crunchy Nut Clusters cereal is not suitable for those who need to avoid gluten as it contains wheat flour and barley malt extract. As with many other kinds of cereal containing multi-grains, this cereal should not be eaten by those suffering from celiac disease or who have gluten intolerance.
Is Crunchy Nut Clusters Honey & Nut Cereal Vegan?
This cereal is not vegan as it is made using skimmed milk powder which is a dairy product.
The yummy, honey clusters are also made using real honey which is an animal product. Many people may not be aware that honey is considered non-vegan, as no animals are killed as part of the production process. However, the bees are smoked out of their hives so vegans don't consider it to be cruelty-free.
Is Crunchy Nut Clusters Honey & Nut Cereal Keto?
Kellogg's Crunchy Nut Clusters Honey & Nut is a crunchy, multi-grain cereal. On the keto diet, grains generally need to be avoided as they're not compatible with this low-carb diet plan.
The maximum daily intake of carbs whilst on a keto diet is 30 grams, and this cereal has a massive 31 grams in each serving. This means that just one bowl would prevent your body from staying in ketosis.
Another ingredient you're supposed to keep to a minimum on keto is sugar. As we've seen, this cereal packs a sugary punch. So, if you're on keto you should avoid this product.
Is Crunchy Nut Clusters Honey & Nut Cereal High in Protein?
How much protein you need to consume in a day depends on how many calories you require, but for the average adult, it's recommended that between 10% and 35% of your daily calories should be from protein.
That's about 50 to 175 grams for a 2,000-calorie diet, so it does vary quite significantly. But, whatever your activity levels protein is a very important part of anyone's diet.
Kellogg's Crunchy Nut Honey & Nut offers 3.6 grams of protein in each serving, which isn't a lot but is better than some other cereals that aren't made using multi-grains. You'll still need to make sure you balance out your diet with other healthy sources of protein.
Is Crunchy Nut Clusters Honey & Nut Cereal High in Fiber?
It's estimated that only about 5% of Americans eat the required daily amount of fiber. The reference intake for women is 21 to 25 grams and the reference intake for men is 30 to 38 grams daily.
Fiber is vital as it helps maintain a healthy gut and can also reduce the risk of health conditions, such as type 2 diabetes and heart disease.
This cereal contains 1.8 grams of fiber per serving, which is pretty low. This is slightly surprising as the cereal contains rolled oats, and oats are a good source of fiber. But, the amount is too low to have much of an effect.
Crunchy Nut Clusters Honey & Nut Cereal Store Brand Alternatives
If you're looking for a cheaper, store-brand alternative to this cereal, there aren't currently many options. The main alternative available at the moment is Walmart's Honey Nut O's.
Where You Can Buy Crunchy Nut Clusters Honey & Nut Cereal
You can purchase Kellogg's Crunchy Nut Clusters Honey & Nut from many grocery stores, and also from online retailers such as Amazon.
Famous Crunchy Nut Clusters Honey & Nut Cereal Commercials
The main focus of the marketing for Kellogg's Crunchy Nut line of products has always been on how irresistibly tasty they are. Their commercials usually feature a crazy situation, which nobody has noticed because they're too busy eating the cereal.
In this classic commercial from 1996, a family's RV is taken on a joyride by a squirrel, but they are completely unaware as they're enjoying their Crunchy Nut Clusters too much.
User Reviews
Review Summary
0.0 out of 5 stars (based on 0 reviews)
Recent Reviews
There are no reviews yet. Be the first one to write one.
Submit a Review