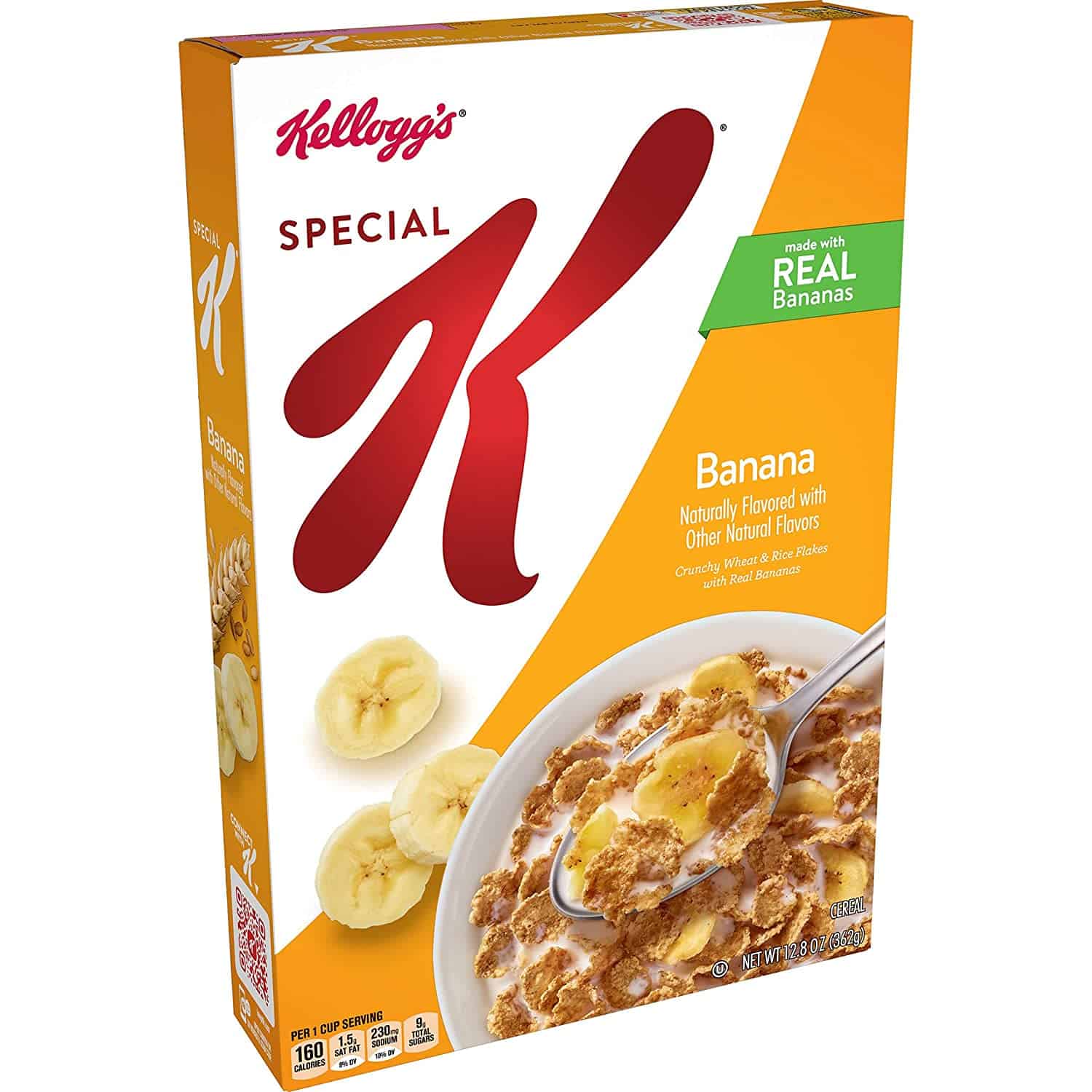 Kellogg's Special K Banana is the same, whole grain breakfast cereal as classic Special K… just with real banana chips mixed in. Kellogg's Special K is a delicious breakfast the whole family will enjoy and it claims to be a good source of important vitamins and minerals. Packed full of tasty ingredients, serve it up with your favorite yogurt, nut milk… or even more bananas!
Special K Banana is the same, familiar recipe of classic Kellogg's Special K rice flakes paired with delicious real bananas and natural flavor. Enjoy this cereal in the morning time, or pick up a bowl as a late-night snack, a sweet between meal treat, or go ahead and add it to your trail mix recipe!
Nutrition Facts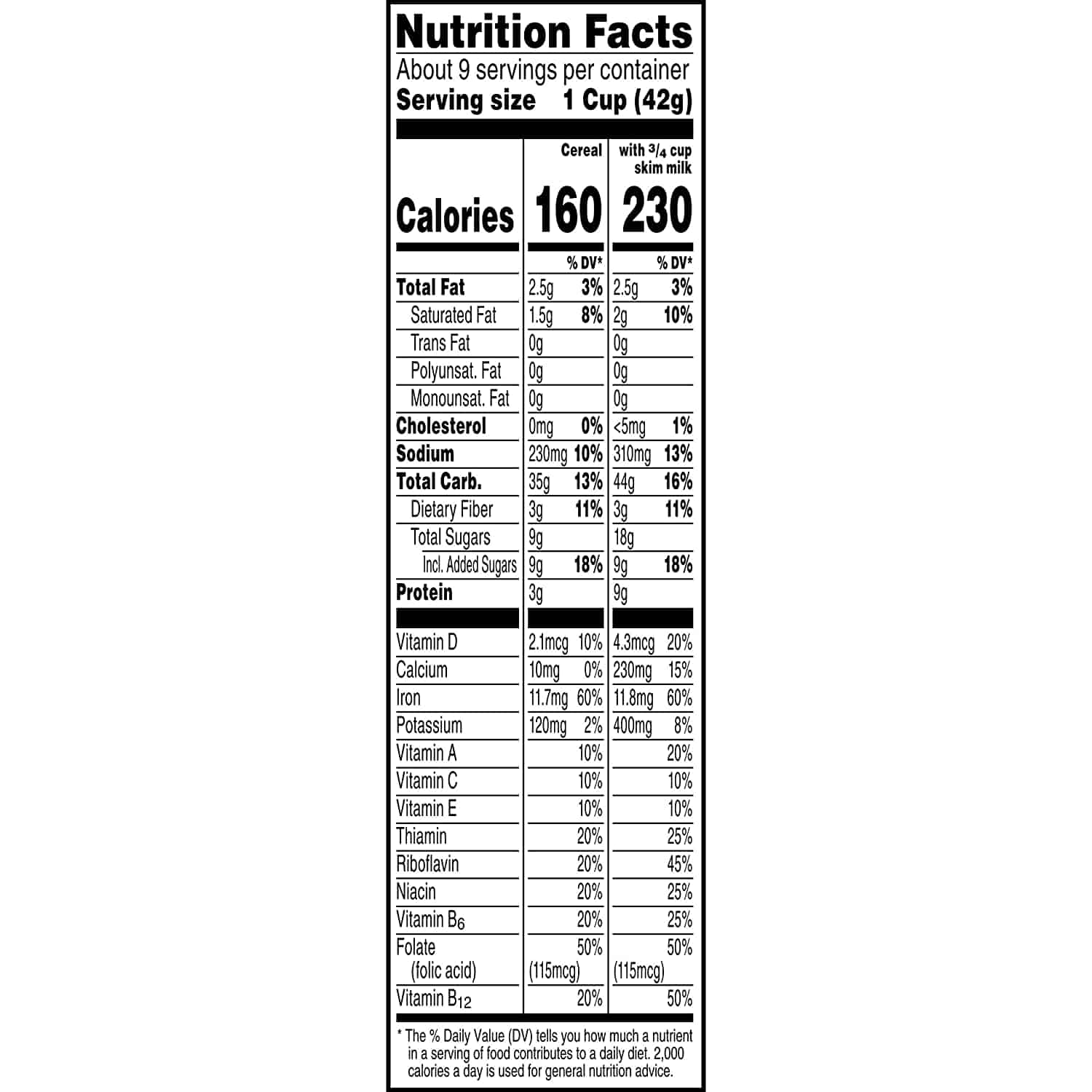 About 9 servings per container
Serving size 1 cup (42g)
Calories (per serving) 160
Total Fat 2.5g 3%
Saturated Fat 1.5g 8%
Trans Dat 0g
Cholesterol 0mg 0%
Sodium 230mg 10%
Potassium 120mg 2%
Total Carbohydrate 35g 13%
Dietary Fiber 3g 11%
Total Sugars 9g
Added Sugars 9g 18%
Protein 3g
Calcium 10mg 0%
Vitamin D 2.1mcg 10%
Vitamin E 0 10%
Niacin 0 20%
Folic Acid 115mcg 50%
Vitamin A 0 10%
Vitamin B12 0 20%
Thiamin 0 20%
Iron 11.7mg 60%
Kosher 0
Folate 0 50%
Vitamin C 0 10%
Vitamin B6 0 20%
Riboflavin 0 20%
Ingredients
Whole Grain Wheat, Rice, Sugar, Banana Chips (Bananas, Coconut Oil, Sugar, Natural Flavor), Wheat Bran, Contains 2% or Less of Salt, Malt Flavor, Brown Sugar Syrup, Natural Flavors, Vitamins and Minerals, Vitamin C (Ascorbic Acid), Reduced Iron, Beta-Carotene, Vitamin E Acetate, Niacinamide Vitamin B6 (Pyridoxine Hydrochloride), Vitamin B2 (Riboflavin), Vitamin B1 (Thiamin Hydrochloride), Folic Acid, Vitamin D3, Vitamin B12.
Is Special K Banana Cereal Healthy?
This low-fat breakfast cereal is a good source of vitamins and minerals, including vitamin C, vitamin D, and vitamin E, and because it contains real banana slices it does not seem to rely solely on sugar to retain its great taste.
This breakfast cereal contains several wheat ingredients which make for a healthy, crunchy base; with real bananas… If you don't think there are enough bananas in a box, go ahead and add some more to boost those natural flavors!
However, it does contain coconut oil and brown sugar syrup, as well as 9g of added sugars to make sure it remains a sweet, flavorful choice. It is a well-balanced cereal containing average amounts of protein and fiber, without being quite so high in sugars as competing cereals that are filled with artificial colors.
Ultimately Special K Banana is no more nutritious than any other cereal, it just isn't worse either. If you are hoping for a healthy start to the day or an extra boost of goodness, you might fare better with a plain, sugar-free base and add fresh fruit yourself!
Is Special K Banana Cereal Gluten-Free?
No. Whole grain wheat and wheat bran are both key ingredients, so this cereal is not suitable for the gluten-free diet.
Is Special K Banana Cereal Vegan?
This breakfast cereal does not contain dairy ingredients, so you could enjoy it dry or serve it with nut milk for a delicious dairy-free breakfast.
However, it does contain a few ingredients which might make it unsuitable for the vegan diet, depending on how strict a vegan the consumer is:
Vitamin D3 is typically gleaned from the grease in sheep wool
Vitamin B12 most often comes from dairy, meat, fish, or eggs… not plant sources
Sugar is often filtered through animal bone char (in the US)
Is Special K Banana Cereal Keto?
At 35g of carbohydrates per serving, Kellogg's Special K with banana cereal is not ideal for the ketogenic 'keto' diet. Keto hinges on keeping your daily carbohydrate intake low, ideally between 25-50g. Just one serving of this could be all of your allowed carbs for that day.
Is Special K Banana Cereal High in Protein?
Kellogg's Special K breakfast cereal with banana contains just 3g of protein per serving… which is hardly anything. Protein is an important part of a healthy diet and while it can be difficult to glean much from crunchy wheat and whole grains, as cereals go, this one is not high in protein.
Is Special K Banana Cereal High in Fiber?
Fiber is an important part of any diet and vital for maintaining a healthy gut. Kellogg's Special K contains 3g of fiber per serving. 2-3g is about average for a breakfast cereal and equates to approximately 11% of daily fiber required to maintain a healthy diet.
Toasted wheat, corn flakes and wheat ingredients are all good sources of fiber, so eating a bowl of this cereal for breakfast is not a bad choice… but if you want to add a little extra fiber to your diet, look for a higher fiber cereal.
Special K Banana Cereal Store Brand Alternatives
Kellogg's Special K Banana is just one twist on Kellogg's classic cereal. Many have been discontinued but you should still be able to find:
Brown sugar cinnamon
Chocolatey dipped flakes with almond
Blueberry
Red berries
Fruit and yogurt
Vanilla almond
Chocolatey delight
Protein cereal
Cinnamon brown sugar crunch protein cereal
Cinnamon pecan
Touch of honey granola
Or try Special K 'calorie conscious' bars; protein bars; and keto-friendly snack bars, available in a range of flavors.
Where You Can Buy Special K Banana Cereal
If you are desperate to try this banana cereal for yourself, then online retailers are likely your best bet! You can buy Special K Banana from Instacart.
Famous Special K Banana Cereal Commercials
Like many of their new flavors, Kellogg's Special K Banana does not seem to have had its own, specific commercial. Take a look at some other Kellogg's Special K ads to see how the advertising has changed over the years:
Special K (1991) – a somewhat dated, Australian ad where a high heeled show turns into the iconic "K"
Special K (2001) – advertising the red berries variety. This ad would have worked well for the banana too…
User Reviews
Review Summary
0 out of 5 stars (based on 0 reviews)
Recent Reviews
There are no reviews yet. Be the first one to write one.
Submit a Review