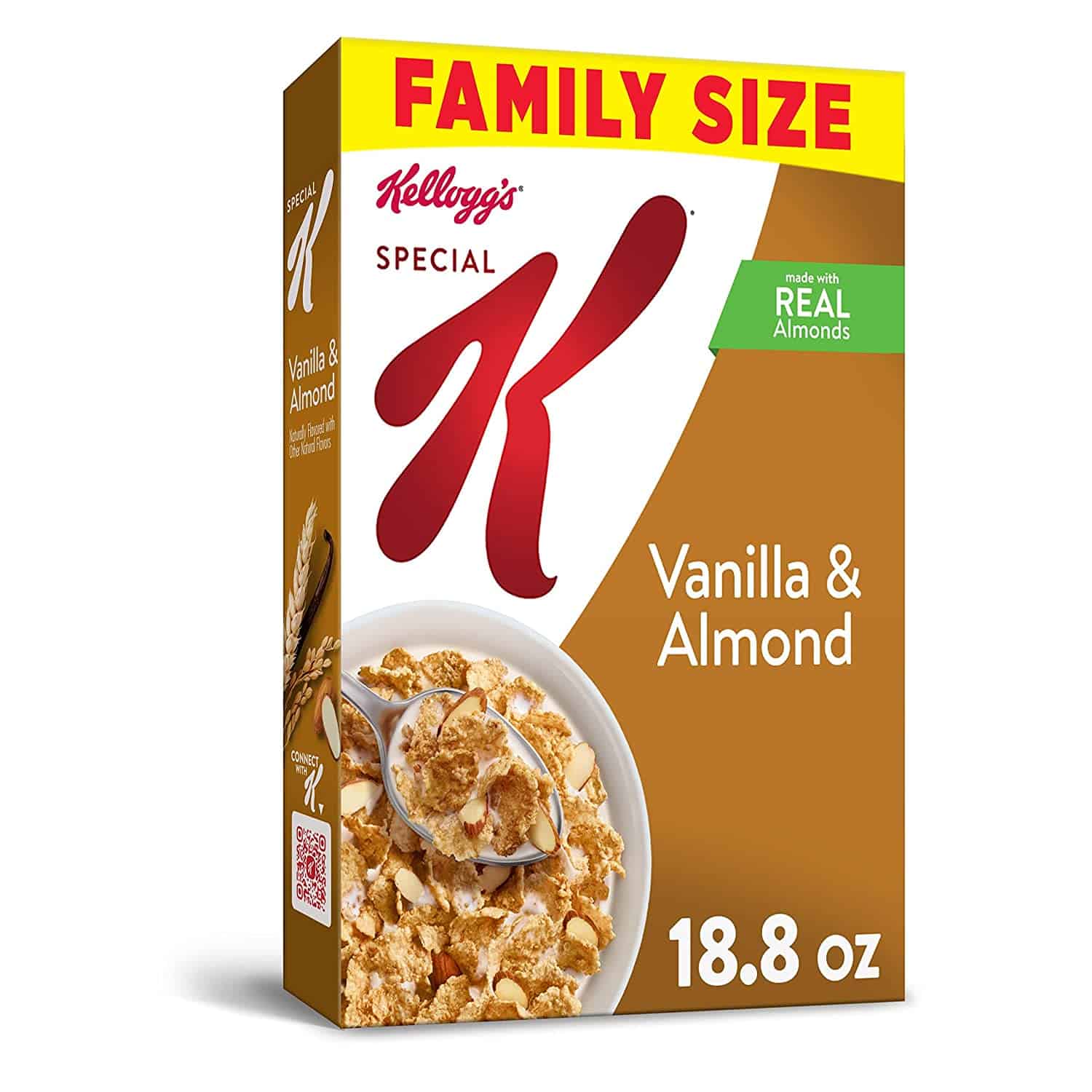 For big fans of Special K and lovers of a smooth vanilla flavor anything, Kellogg made this cereal for you.
This is the much-loved crunchy wheat of Special K with a dose of nutty almonds and a vanilla taste. It's not just a nut lover cereal, but the sweet smell of this vanilla cereal made for a delicious blend the whole family loves.
A great-tasting cereal with a great crunchy texture, amazing taste, real almonds, and more vanilla flavor to give it a sweet taste, all you need to do is add milk to complete a wholesome breakfast cereal experience.
Nutrition Facts
40 grams of Special K Vanilla Almond cereal contains:
Calories – 150
Calories from fat – 13
Fat – 1.5 grams / 3% DV

Saturated fat – 0 mg
Trans fat – 0 mg
Polyunsaturated fat – 0 mg
Monounsaturated fat – 1 mg

Cholesterol – 0 mg
Sodium – 220 mg / 10% DV
Total carbohydrates – 33 grams / 12% DV

Total sugars – 11 grams (all added sugars) / 22% DV
Other carbohydrates – 22 grams
Dietary fiber – 3 grams / 10% DV

Protein – 3 grams / 0% DV
Vitamin A – 10% DV
Vitamin B1 (Thiamin) – 20% DV
Vitamin B2 (riboflavin) – 20% DV
Vitamin B3 (Niacin) – 20% DV
Vitamin B6 (Pyridoxin) – 20% DV
Vitamin C – 10% DV
Vitamin D – 2mcg / 10% DV
Vitamin E – 10% DV
Folate – 200 mcg DFE / 50% DV
Vitamin B9 (Folic acid) – 115 mcg
Vitamin B12 – 20% DV
Potassium – 100 mg / 2% DV
Calcium – 10 mg / 0% DV
Iron – 10.8 mg / 60% DV
The above Daily Value (DV) percentage is based on a diet of 2,000 calories per day.
A 359 grams box of SpK Vanilla Almond cereal contains around 27 servings.
In total, this cereal contains at least 10 grams of whole grains in each bowl.
Ingredients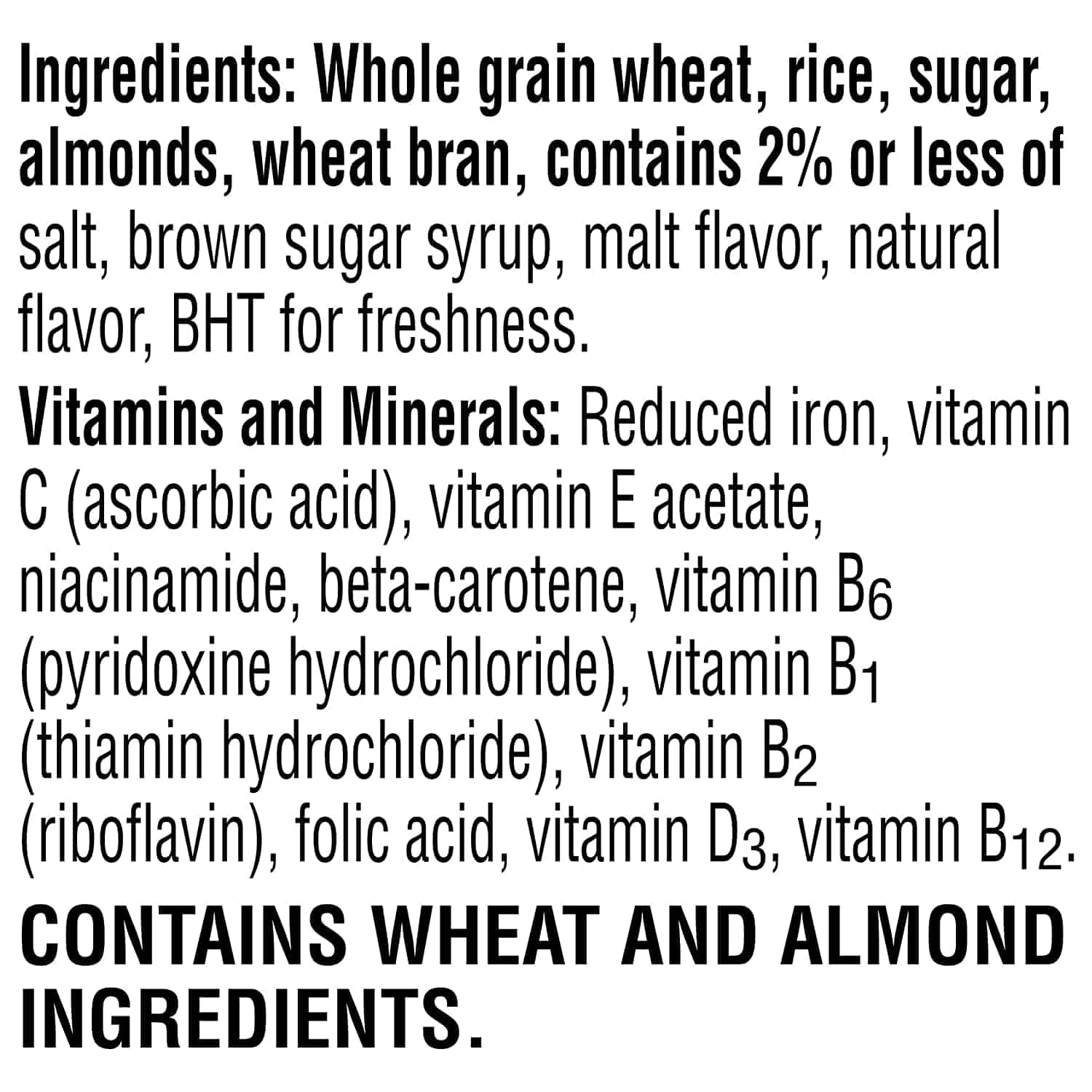 The ingredients list of Special K Vanilla Almond cereal includes:
Whole Grain Wheat
Rice
Sugar
Almonds
Wheat Bran
Salt
Brown Sugar Syrup
Malt Flavor
Natural flavor
BHT Added to Preserve Freshness
Reduced Iron
Vitamin C (Ascorbic Acid)
Vitamin E Acetate
Vitamin B3 (Niacinamide)
Beta-Carotene
Vitamin B6 (Pyridoxine Hydrochloride)
Vitamin B1 (Thiamin Hydrochloride)
Vitamin B2 (Riboflavin)
Folic Acid
Vitamin D3
Vitamin B12
Is Special K Vanilla Almond Cereal Cereal Healthy?
Kellogg's Special K Vanilla and Almond cereal, like all the Special K cereals, is billed as a healthy breakfast cereal. And there is some nutritional fact.
This cereal provides 10 or more grams of whole wheat. Also, there is no cholesterol, low fat, low in sodium, and provides some necessary fiber and protein along with being fortified with essential vitamins and minerals.
However, the cereal is high in carbohydrates, and a significant amount of those carbs come from added sugars. Also, there are preservatives in this cereal, including BHT, which are not the best thing to eat.
With that said, this cereal makes for some healthier treats. Eat vanilla almond Special K as a topping on your favorite yogurt and it makes a good trail mix recipe that you can add to your morning yogurt.
Is Special K Vanilla Almond Cereal Cereal Gluten-Free?
As with any and every wheat and rice flakes cereal on the market, though rice is a gluten-free food, wheat is not. Thus, as this cereal is wheat-based, it cannot be considered appropriate for a gluten-free diet.
Is Special K Vanilla Almond Cereal Cereal Vegan?
Whether or not most breakfast cereal can be considered vegan is a gray zone. Some are completely vegan-friendly foods. Most are a matter of interpretation.
For someone with strict compliance with the vegan lifestyle, this cereal may not be appropriate. For starters, sugar is commonly processed along with animal by-products and has the possibility for cross-contamination.
This cereal is fortified with Vitamin D3. This vitamin can only be found in an animal-based source, and thus its presence typically means food does not comply with a strict vegan interpretation.
Is Special K Vanilla Almond Cereal Cereal Keto?
Breakfast cereal and Keto are not a natural match, unfortunately. As breakfast is a power meal designed to provide energy and to start the day. It is typically a carb-heavy meal.
Those on a Keto diet regulate their carb intake to 20 -30 grams of carbohydrates a day. One serving of this cereal equals 33 carbohydrates. So, this cereal would not be considered Keto-friendly.
Is Special K Vanilla Almond Cereal Cereal High in Protein?
As breakfast is a high-carb meal, it is also an important source to start your daily intake of protein. With that said, breakfast cereal is not typically where that protein is found. This cereal does very little to change that fact.
To be considered high in protein, a cereal should provide between 5 to 10 grams of protein per bowl. While the 3 grams which this cereal provides isn't bad, it is not high enough to be called a high in protein food.
Is Special K Vanilla Almond Cereal Cereal High in Fiber?
Breakfast is also an important meal to begin your daily consumption of necessary dietary fiber. According to the FDA, a person's recommended dietary fiber intake should be around 25 grams. As such, a food called high in fiber should provide at least 5 grams of fiber per serving. This cereal only provides 3 grams.
Special K Vanilla Almond Cereal Cereal Store Brand Alternatives
Special K is well special. There are numerous generic and alternative wheat flake cereals on the market, such as Total and Wheaties, but none can genuinely be called a real alternative to this cereal.
Where You Can Buy Special K Vanilla Almond Cereal Cereal
Kellogg's Special K in all of its variations is one of the most popular lines of breakfast cereal on the market. You can find them basically anywhere breakfast cereal is sold.
Famous Special K Vanilla Almond Cereal Cereal Commercials
When it comes to marketing and advertising, Kelloggs has not only been a giant but a bit edgy. One of the most famous Special K commercials dates back to 1971. 1971 was a big year for their Special K ads, using the famous, Look for the Big Red K slogan.
So, as Kelloggs expanded the Special K line with more variety, it could rely solely on brand recognition and a loyal fan base to do most of the advertising for them.
User Reviews
Review Summary
0.0 out of 5 stars (based on 0 reviews)
Recent Reviews
There are no reviews yet. Be the first one to write one.
Submit a Review