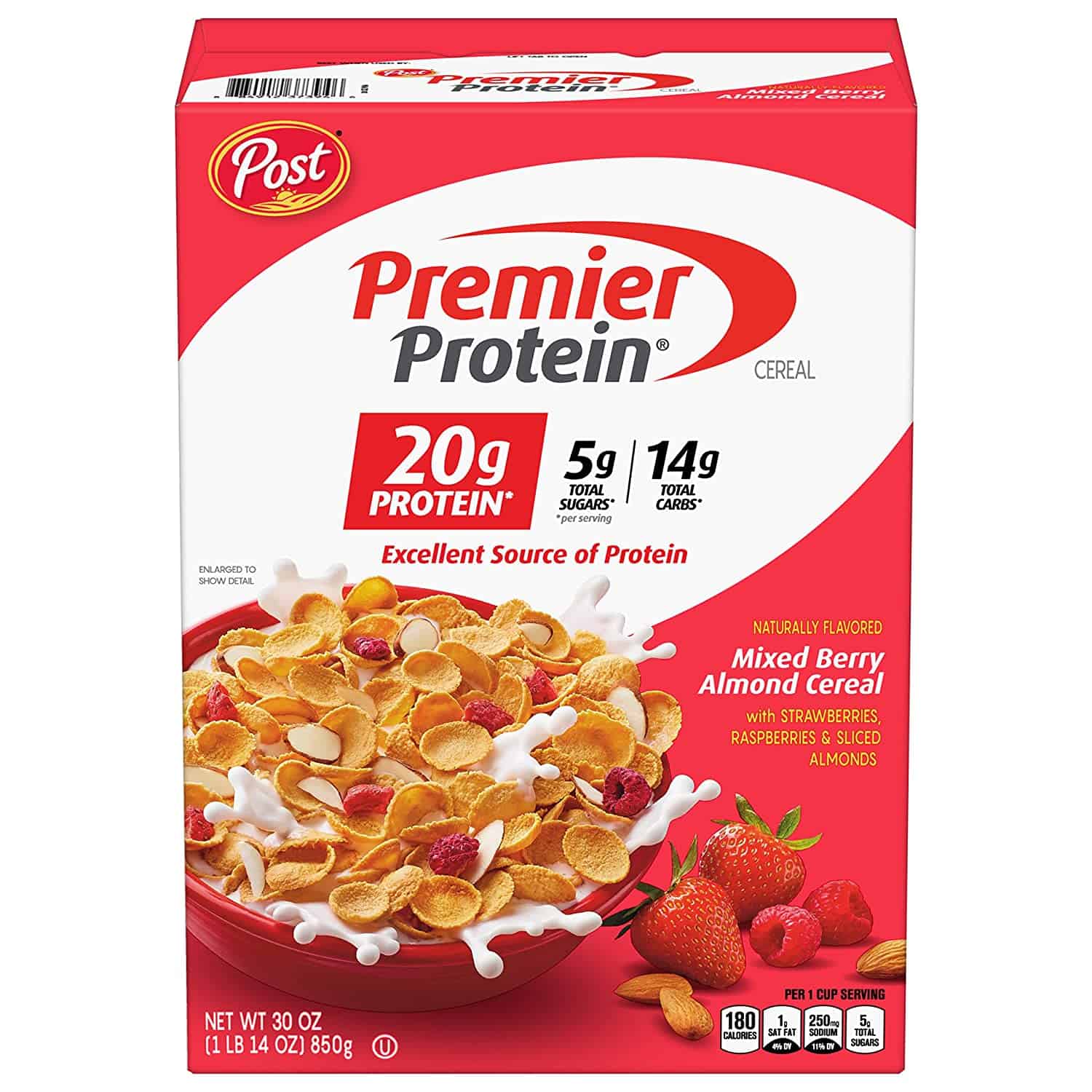 Premier Protein Cereal is breakfast stalwart Post's offering for those who seek to maximize their morning protein intake without sacrificing taste. To that end, Post produces two flavors of their popular morning snack, Chocolate Almond and Mixed Berry Almond cereal, and both boast high protein content.
So, if you're keen to make gains while making breakfast, this protein-rich breakfast bowl could be the answer. But what other nutritional value does the protein-packed cereal contain? Are the gains in protein offset by the fat and sugar content, or is this cereal truly as nutritious as it sounds?
Well, in a bid to unpack the protein, here at Cereal Secrets, we've taken a closer look to see whether Premier Protein is the perfect breakfast recipe for your active lifestyle.
Nutrition Facts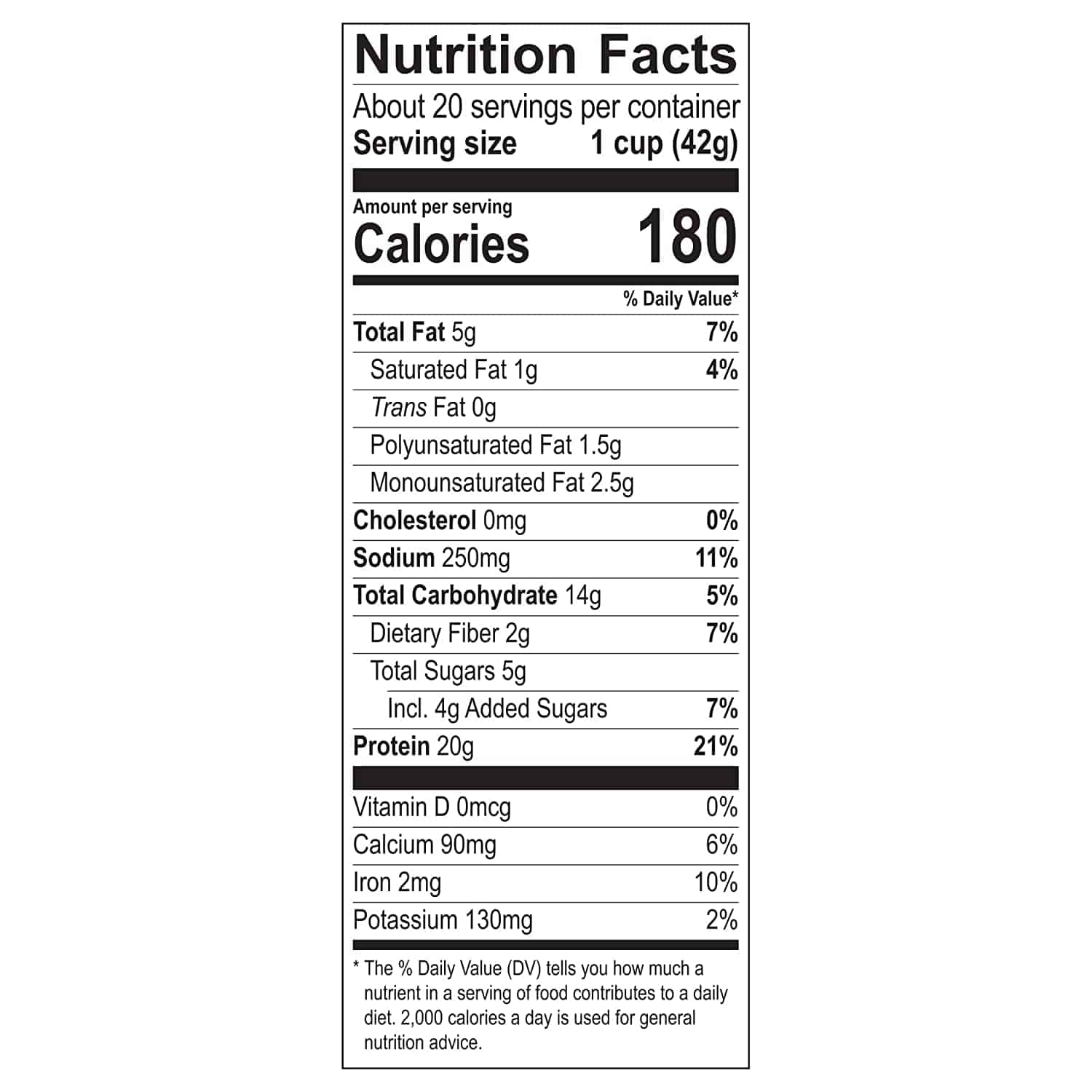 One cup (42 grams) of Premier Protein Mixed Berry Almond cereal contains:
[% of Daily Value based on 2000 calorie diet].
Calories: 180
Total Fat: 5g (7%)
Saturated Fat: 1g (4%)
Trans Fat: 0g
Polyunsaturated Fat: 1.5g
Monounsaturated Fat: 2.5g
Cholesterol: 0g
Sodium: 250mg (11%)
Total Carbohydrate: 14g (5%)
Total Sugars: 5g
Added Sugars: 4g (7%)
Protein: 20g (21%)
Vitamin D: 0mcg
Calcium: 90mg (6%)
Iron: 2mg (10%)
Potassium: 130mg (2%)
Ingredients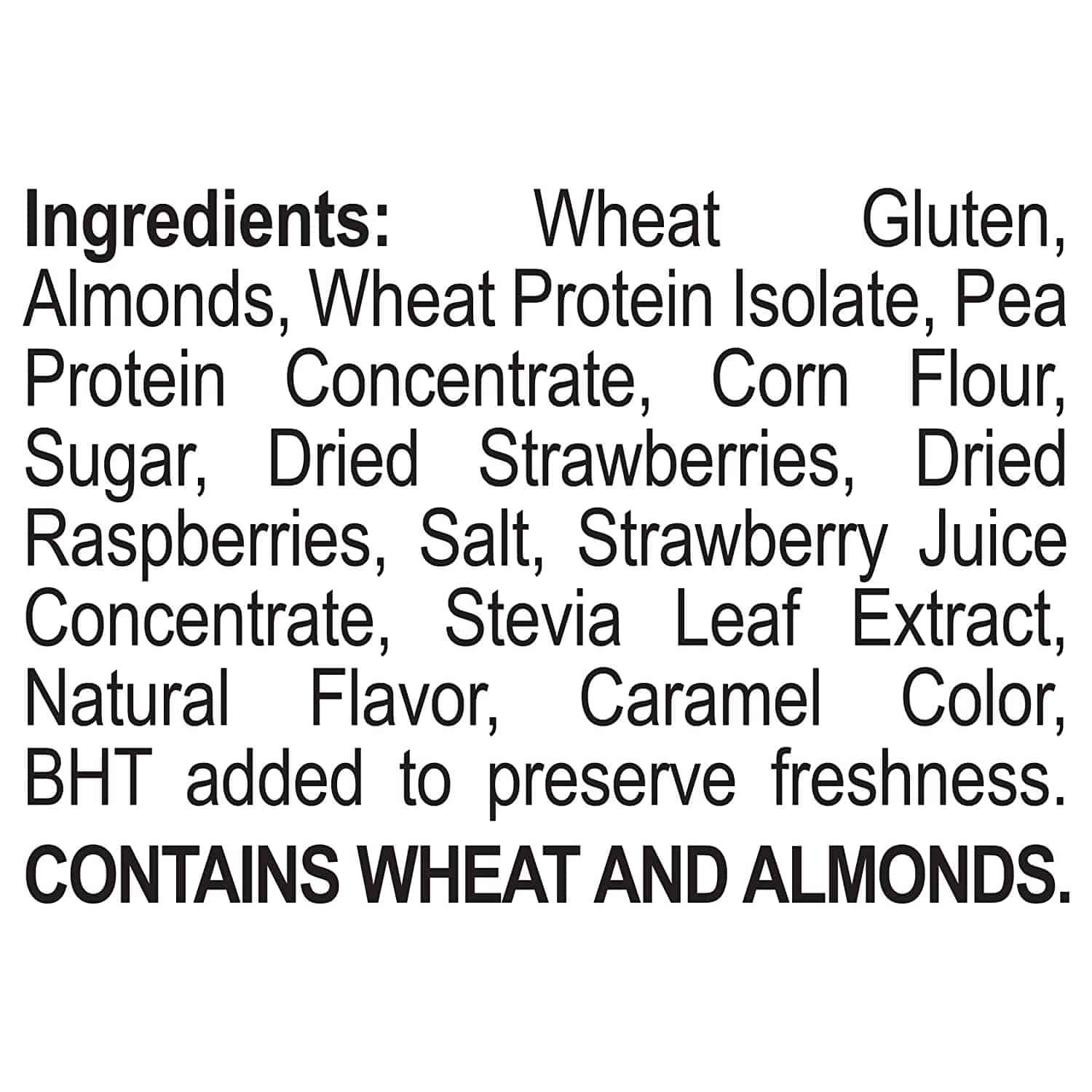 Wheat Gluten
Wheat Protein Isolate
Pea Protein Concentrate
Corn Flour
Sugar
Almonds
Dried Strawberries
Dried Raspberries
Salt
Strawberry Juice Concentrate
Stevia Leaf Extract
Natural Flavor
Caramel Color
*Contains wheat and almonds. May also contain: brazil nuts, cashews, coconut, hazelnuts, macadamia nuts, pecans, walnuts, sesame seeds, milk, and soy.
Is Premier Protein Cereal Healthy?
Premier Protein Mixed Berry Almond cereal is clearly marketed as the perfect partner to a healthy, active lifestyle. With that in mind, it does fulfill its purpose as one of the healthier cereals that we have reviewed to date.
First and foremost, at 20g per serving, this high-protein cereal does deliver a substantial proportion of your recommended daily intake of protein. More specifically, for the average, sedentary adult male, it is recommended that he consumes about 56g of protein a day. Likewise, for the average sedentary adult female, the recommended daily intake is 46g.
Furthermore, compared to other popular American cereals, Premier Protein Mixed Berry Almond cereal represents a major decrease in added sugar content. While other more whimsical cereals, such as Eggo, contain almost a third of one's daily recommended added sugar intake, Premier contains just 7%.
Additionally, Premier Protein also contains a modest amount of saturated fat, at 7% of your daily allowance, and also contains few preservatives and additives.
As a result, the only real heath setback for the Mixed Berry Almond cereal is its sodium content. At 11%, while this isn't quite an eye-watering proportion of your daily intake, it does represent a significant amount as you move forward towards lunch and dinner time, two meals that inherently contain larger amounts of salt.
Ultimately, then, we would recommend Premier Protein Mixed Berry Almond cereal as one of the more nutritious, protein-rich breakfast snacks available.
Is Premier Protein Cereal Gluten-Free?
Unfortunately, Premier Protein Mixed Berry contains both wheat gluten and wheat protein isolate. As a result, no, this particular cereal can not be classed as gluten-free.
Is Premier Protein Cereal Vegan?
We've been unable to verify whether or not Premier Protein Mixed Berry Almond cereal is vegan-friendly. That said, despite being sited at 0mcg, the presence of Vitamin D on the cereal's list of ingredients suggests that it might not be suitable for vegans as a variation of the supplement (Vitamin D3) is often derived from animal products such as sheep's wool.
Is Premier Protein Cereal Keto?
The keto diet requires one to restrict their daily intake of carbohydrates to between 20g and 50g. Due to this fact, Premier Protein Mixed Berry Almond cereal's 14g per portion carbohydrate content doesn't lend itself to being a recommended constituent of a keto diet.
This is because, while not enormous, its carbohydrate content represents a significant volume of a keto dieter's daily low carb allowance.
Is Premier Protein Cereal High In Protein?
Absolutely. At its most base level, Premier Protein is designed to pack a protein punch for those who need to add extra protein to their diet.
As stated above, therefore, the Mixed Berry Almond cereal contains 20g of protein per average 42g serving. At almost 50% of each serving's proportional content, this is a significant amount of protein. Thus, it can certainly be classed as high in protein.
Is Premier Protein Cereal High In Fiber?
The recommended daily dietary fiber intake for the average American is about 38g for males and 25g for females. Premier Protein Mixed Berry Almond contains approximately 2g of dietary fiber in each 42g bowl and thus, can't be said to have a high fiber content.
Premier Protein Cereal Varieties
Chocolate Almond cereal
For active Americans who would like to combine their love of chocolate and sliced almonds with a much-needed protein hit in the morning, Post's Premier Protein Chocolate almond cereal is just the ticket.
With that in mind, while this cocoa-rich breakfast cereal has great taste, it still contains the same level of added sugar as the Premier Protein Mixed Berry Almond alternative, making it an energy-rich, healthy option for the most important meal of the day.
Mixed Berry Almond cereal
Yes, the Premier Protein Mixed Berry Almond cereal is one for protein fiends who like to pack the most important meal of the day with the refreshing taste of summer berries. In particular, its combination of high protein and great taste ensures that making breakfast is a pleasure, not a chore.
Where You Can Buy Premier Protein Cereal
You can buy Premier Protein breakfast cereal from a multitude of online and physical stores, including the Premier Protein website and Walmart.
Famous Premier Protein Cereal Commercials
Unfortunately, our highly trained researchers have been unable to locate any Premier Protein cereal commercials.
However, we feel sure that they're out there somewhere, so if you happen to stumble across a memorable Premier Protein cereal commercial in between your weight-lifting sessions, get in touch!
User Reviews
Review Summary
4.7 out of 5 stars (based on 3 reviews)
Recent Reviews
Chocolate premier is great tasting.. I really like It!!
No Title
Ate it today for first time. Very crunchy and maintained that crunch to the last bite. Ate the one with the berries. Flavor was a little strange. May have been the pea protein ingredient. But flavor ok because the delivery of that much protein is what is important.
No Title
As a healthier alternative to other cereals, my son who is 16 likes the Mixed Berry Cereal very much. I like to mix the chocolate and mixed berry for a treat on occasion.
Submit a Review