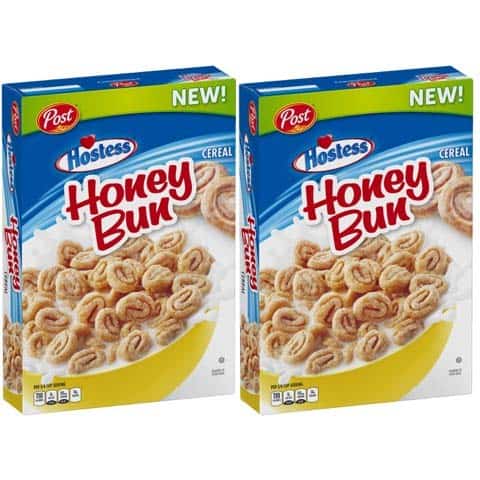 The variety of food available at breakfast time makes it the best meal of the day. One of the highlights is getting to eat pastries at the start of your day. Dessert for breakfast? Sounds good to us!
Then when it comes to cereals, there isn't much more exciting than an unexpected team-up. So when Post cereals announced they would be teaming up with beloved cake company Hostess, there was plenty to be excited about.
Not just one but two of Hostess' classic cakes are getting the cereal treatment. Beloved, bite-sized powdered donuts are now available as Donettes and Honey Buns. Post Hostess Honey Bun Cereal captures the sweet taste of America's favorite breakfast pastry in a delicious whole-grain cereal.
The little bitesize honey glazed pastry-shaped pieces are made with whole-grain oat flour, and with sweet glazing of their own, these cereal pieces capture the sweet taste of fresh honey buns. The glazing ensures that Hostess Honey Bun Cereal remains crunchy throughout your breakfast, so you can take your time while you enjoy all that classic flavor.
Today, we will break down the ins and outs of this tasty cereal that duplicates America's favorite breakfast pastry perfectly.
Nutrition Facts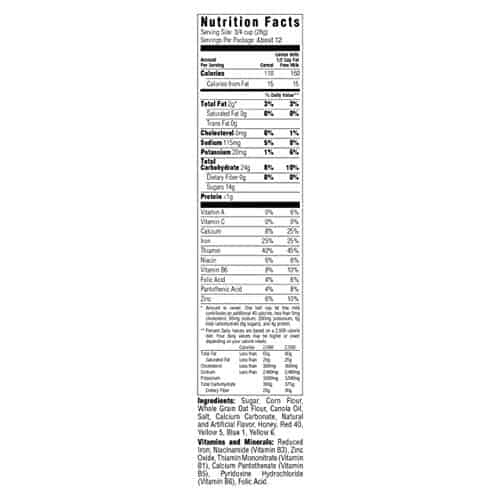 A 3/4 cup (28g) serving size of Post Hostess Honey Bun Cereal contains:
Calories – 110%
Total Fat – 2g/3% RDA
Saturated fat – 0g
Trans fat – 0g
Cholesterol – 0mg
Sodium – 115mg/5% RDA
Total carbohydrate – 24g/9% RDA
Dietary Fiber – 0g
Sugars – 14g
Protein – 1g
Ingredients
Post Hostess Honey Bun cereal is made with:
Sugar
Corn flour
Whole grain oat flour
Canola oil
Salt
Calcium carbonate
Natural and artificial flavor
Honey
Red 40
Yellow 5
Blue 1
Yellow 6
Is Honey Buns Cereal Healthy?
Honey Buns cereal is not a healthy choice for your cereal bowl. Any cereal trying to capture the sweet taste of America's favorite honey-covered pastry isn't being made to deliver a healthy, well-rounded breakfast.
The nutritional values for Honey Bun Cereal sit at zero for all standard vitamins and minerals included on a cereal box, so this cereal has no nutritional value. This is rare for cereals to contain 0g of any vitamins popularly included in grains.
If you're looking for a well-rounded breakfast, Post Hostess Honey Buns isn't the one for you, but if you want this for your cereal bowl, you're more concerned with that sweet taste than a plain, well-rounded cereal.
Is Honey Buns Cereal Gluten-Free?
Unfortunately, if you're on a celiac or a gluten-free diet, Honey Bun cereal is not suitable due to its ingredients' whole grain oat flour.
Wheat, rye, and barley flour should all be avoided if you are on a gluten-free diet.
Is Honey Buns Cereal Vegan?
This question depends on how committed you are to your veganism. Post Hostess Honey Bun cereal includes honey among its ingredients. Honey is an animal product, so it shouldn't be permitted under a vegan diet.
However, some relaxed vegans don't mind eating honey because an insect produces it. So, in this case, technically, this cereal is not vegan, but the choice comes down to your take on veganism.
Is Honey Buns Cereal Keto?
Ketogenic diets require minimal carbohydrate intake and a high intake of fat.
Looking at the nutrition facts for Post Hostess Honey Bun cereal, we can see it contains 24g of carbohydrates per serving. On a keto diet, it's recommended to stay below 20g of carbs a day to encourage your body not to use it as an energy source and create ketones, an alternative form of energy.
Further to this, there is no fat in this cereal at all. Fat is crucial to helping your body achieve ketosis and produce ketones effectively. With high sugar levels that would immediately take you out of ketosis and no fat, Honey Bun cereal is not suitable for a keto diet.
Is Honey Buns Cereal High in Protein?
Post Hostess Honey Bun cereal contains only 1g of protein in a serving, making it very low in protein and is unsuitable for those looking to start a high protein diet. It may also be inappropriate for children who need protein to fuel their morning meals, so some parents prefer it as a snack/treat rather than eating it at the breakfast table.
Is Honey Buns Cereal High in Fiber?
The FDA says that any food serving fiber higher than 5g should be considered a high fiber breakfast. Post Hostess Honey Bun cereal contains no valuable vitamins, minerals, or nutrition of any kind and contains 0g fiber.
It's essential to keep in mind that Honey Bun cereal is made for taste and a delightful breakfast, not for achieving a balanced breakfast.
Honey Buns Cereal Store Brand Alternatives
If the idea of a breakfast cereal doing your favorite breakfast pastry right is exciting for you, you might also be interested in PostHostess' Donette cereal. With Donettes, Hostess joins a long line of family favorite donut-themed cereals. These bite-sized crunchy pieces are covered in powdered sugar, bringing the classic taste of frosted donuts to your cereal bowl.
Cap'n Crunch is an excellent replacement if it's just the crunch and honeyed taste that's doing it for you. Also made with corn and oat flour, these honey-glazed, crunchy cereal bites are a dead ringer for Honey Bun cereal.
Where You Can Buy Honey Buns Cereal
You can buy Honey Buns cereal at your local grocery store or any store with a good cereal aisle, such as Walmart. Or you can purchase them online with retailers such as Amazon and Instacart.
Famous Honey Buns Cereal Commercials
In this commercial, we see a charming, Willy Wonka-esque factory where the geniuses have been at work while tiny honey buns make their down conveyor belts right into your cereal bowl.
User Reviews
Review Summary
0 out of 5 stars (based on 0 reviews)
Recent Reviews
There are no reviews yet. Be the first one to write one.
Submit a Review