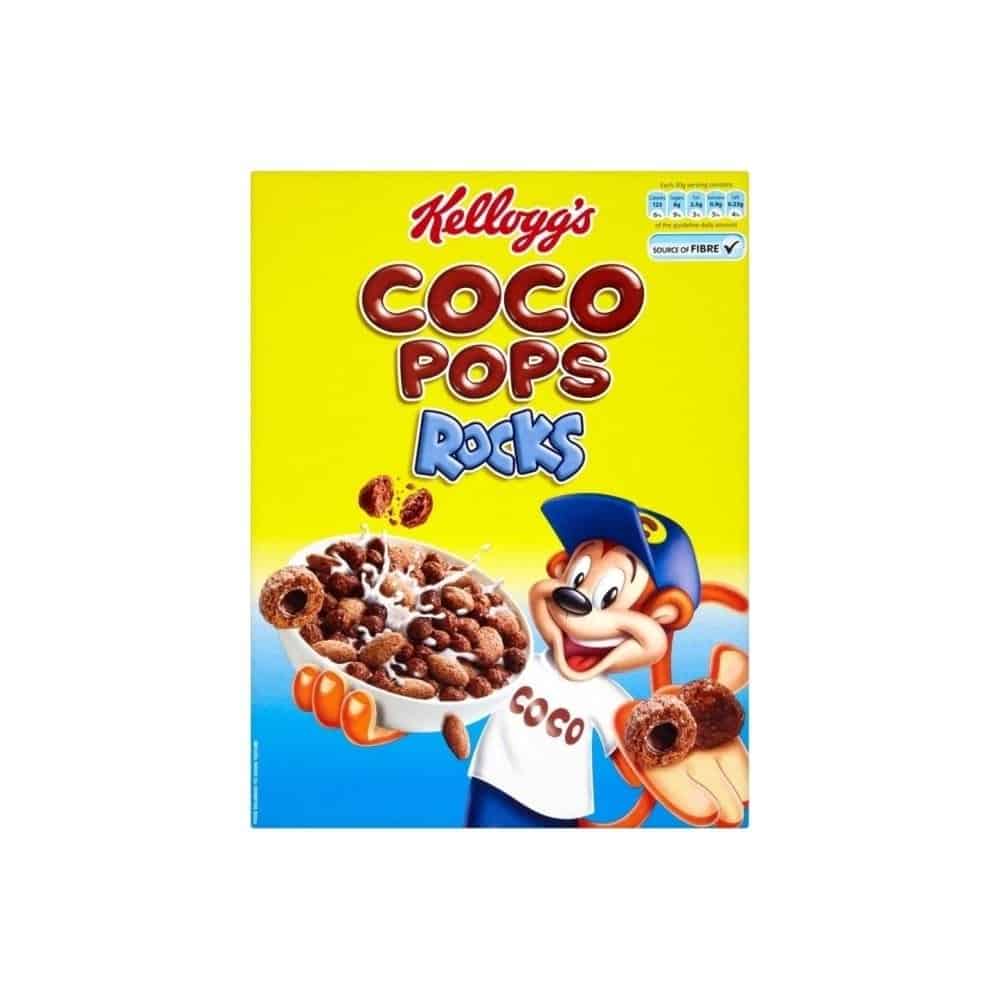 Kellogg's Coco Pops Rocks breakfast cereal is one of the most popular products in the Kellogg's line-up. It's an inventive twist on the classic Coco Pops formula. It still features the same chocolatey taste but has multi-grain cereal pillows filled with creamy chocolate as well.
Considering how good they taste, they do well against their competitors when it comes to fat and sugar content. So, you and your kids can enjoy this sweet treat for breakfast relatively guilt-free.
Nutrition Facts
One serving (32g) of this cereal contains:
Calories – 122
Fat – 2.3g/3%
Saturated fat – 0.8g/5%
Carbohydrates – 23g
Sugar – 7.5g/9%
Fiber – 1.7g
Protein – 2g
Salt – 0.22g/4%
Vitamins and Minerals:
Vitamin D – 1.5ug/30%
Thiamin – 0.28mg/25%
Riboflavin – 0.35mg/25%
Niacin – 4mg/25%
Vitamin B6 – 0.35mg/25%
Folic acid – 50ug/25%
Vitamin B12 – 0.63ug/25%
Iron – 2.4mg/17%
For full nutritional information always read the product label on the side of the cereal box.
Ingredients
The ingredients in this cereal include:
Cereal flours (rice, maize, oat, wheat)
Chocolate flavor filling (sugar, vegetable oil, palm, sunflower, rapeseed)
Sugar
Inulin
Fat reduced cocoa powder
Starch
Milk whey powder
Skimmed milk powder
Cocoa mass
Bulking agent
Hazelnuts
Soy lecithin
Glucose syrup
Salt
Tricalcium phosphate
Sodium hydrogen carbonate
Calcium carbonate
Natural flavoring
For any allergens see items highlighted in bold.
Is Coco Pops Rocks Cereal Healthy?
For such a sweet, chocolatey breakfast cereal Kellogg's Coco Pops Rocks are actually relatively healthy. One serving contains 7.5 grams of sugar, which is 9% of the daily reference intake for an average adult.
It also only contains 5% of your reference intake of saturated fat for the day. This is because the chocolate flavor filling is made using fat-reduced cocoa powder.
As well as being low-fat and low-sugar, this breakfast cereal also provides a commendable amount of vitamins and minerals in each serving. It provides you with 30% of your daily Vitamin D and 25% of your Vitamin B6. There's a pretty good amount of iron in there, too.
Is Coco Pops Rocks Cereal Gluten-Free?
Kellogg's Coco Pops Rocks breakfast cereal is not gluten-free as the multi-grain cereal pillows are made with wheat and oats. Although wheat always contains gluten, natural oats do not. But, as the oats in this cereal have been processed alongside wheat, they are contaminated with gluten.
People who suffer from celiac disease or have gluten intolerance should avoid this cereal.
Is Coco Pops Rocks Cereal Vegan?
Kellogg's Coco Pops Rocks breakfast cereal is not vegan-friendly as it contains skimmed milk powder and milk whey powder, which are dairy products. They're both used, along with cocoa powder, to make the signature chocolatey taste of Coco Pops Rocks.
Vitamin D has also been used to fortify this cereal. The most common form of this vitamin is D3, which is sourced from lanolin. This is an animal product as it is extracted from sheep. So, unfortunately, anyone who keeps to a vegan diet will have to avoid this cereal.
Is Coco Pops Rocks Cereal Keto?
Those on a keto diet will know that, in general, you pretty much have to avoid cereal. This is because the majority of them contain grains, which are healthy but don't fit in with the keto approach.
Coco Pops Rocks are a crispy, cocoa maize cereal and so do contain grains. They pack 24 grams of carbohydrates into one serving as well. For the body to stay in ketosis it's recommended that you never exceed 30 grams of carbs in one day. So, if you're on the keto diet this cereal is not for you.
Is Coco Pops Rocks Cereal High in Protein?
Kellogg's Coco Pops Rocks breakfast cereal is pretty low in protein when compared to other multi-grain cereals. They only give you around 2% of your daily reference intake of protein. You could try combining this cereal with other sources that are rich in protein, such as almonds, to give it a boost.
You must consume a good amount of protein during the day, as it's a healthy source of energy and is used to repair and build your body. The daily protein intake of an average adult should be between 46 and 56 grams.
So, Coco Pops Rocks may have plenty going for it, but you shouldn't be relying on it for your protein needs.
Is Coco Pops Rocks Cereal High in Fiber?
Most cereals that are made using grains are a good source of fiber. Unfortunately, when grains are refined and processed for use in certain products their nutritional value can often be lessened as a result.
It appears that Coco Pops Rocks breakfast cereal has been affected by this, as each serving only offers 1.7 grams of fiber.
Fiber is an important part of a balanced diet as it helps maintain a healthy digestive system, and keeps you feeling full for longer after you've eaten. As long as your other meals contain plenty of fiber, then this cereal can still be enjoyed for breakfast.
Where You Can Buy Coco Pops Rocks Cereal
Kellogg's Coco Pops Rocks can be purchased from many grocery stores. You can also buy it from retailers' websites such as Amazon.
Famous Coco Pops Rocks Cereal Commercials
Kellogg's has created many fun commercials for the Coco Pops brand over the years. They tend to appeal to children, and usually feature cartoon animals in crazy situations that are solved using a Coco Pops product.
Coco Pops Rocks has had its fair share of these commercials as well, such as this one from 2012.
As with all Coco Pops commercials, it features the mascot Coco the Monkey, who this time is drilling with his friends for Coco Rocks. His arch-nemesis, the crocodile, arrives to try and steal their precious bounty.
The day is saved when Coco uses one of the crunchier rocks and catapults it at the crocodile. This knocks him out of the mine, and Coco and his friends celebrate with a bowl of Coco Rocks.
User Reviews
Review Summary
0 out of 5 stars (based on 0 reviews)
Recent Reviews
There are no reviews yet. Be the first one to write one.
Submit a Review