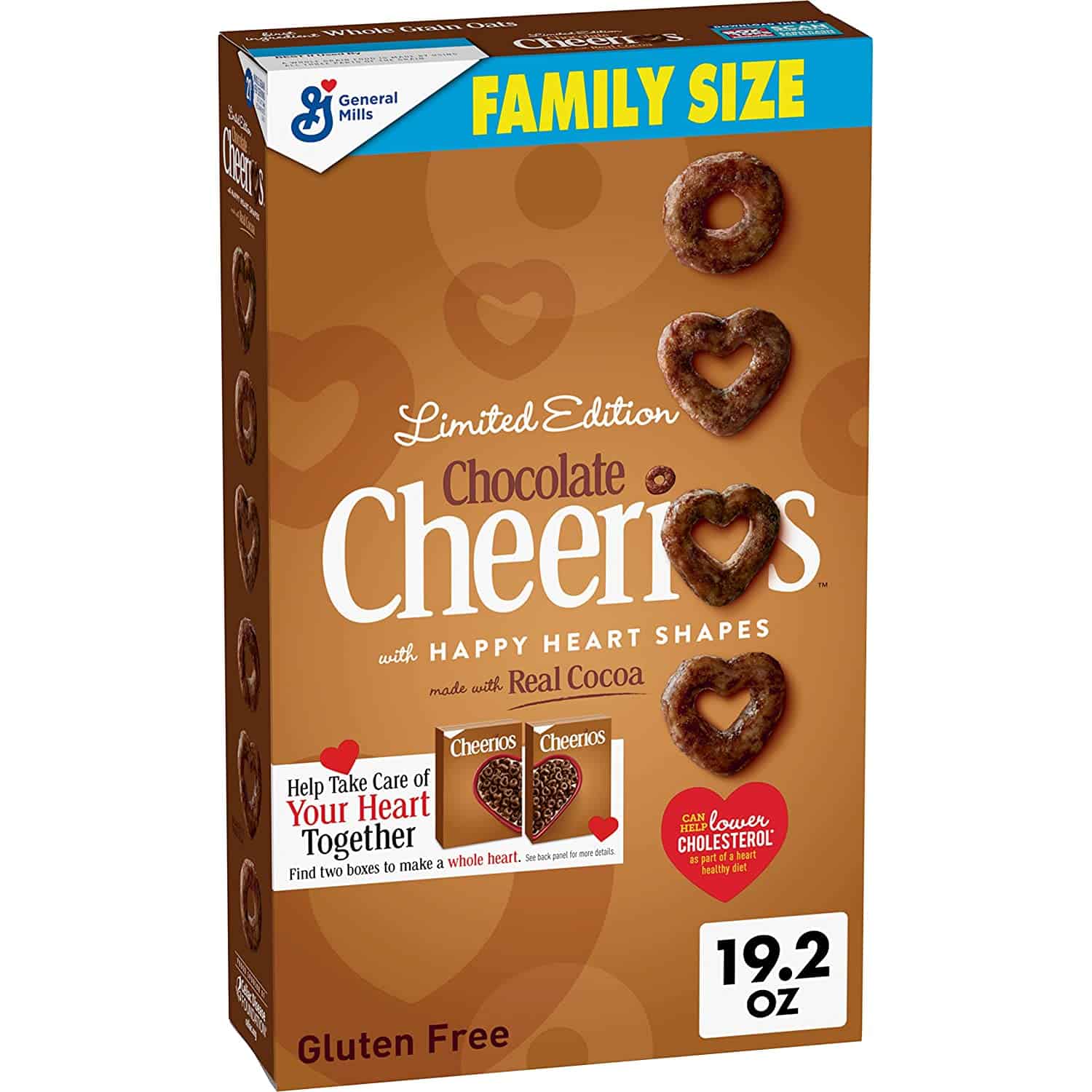 Introduced in 2010, Chocolate Cheerios have become a breakfast table favorite for many people; after all, who wouldn't love chocolate for breakfast each day? But is a bowl of this chocolatey crunchiness the best way to start the day?
If you're wondering whether this chocolate cereal is healthy or not, you're in the right place! We'll look at whether this cereal is suitable for vegans and keto dieters and whether it can provide enough fiber and protein.
Want to know more about this breakfast cereal? If so, simply scroll down for more information.
Nutrition Facts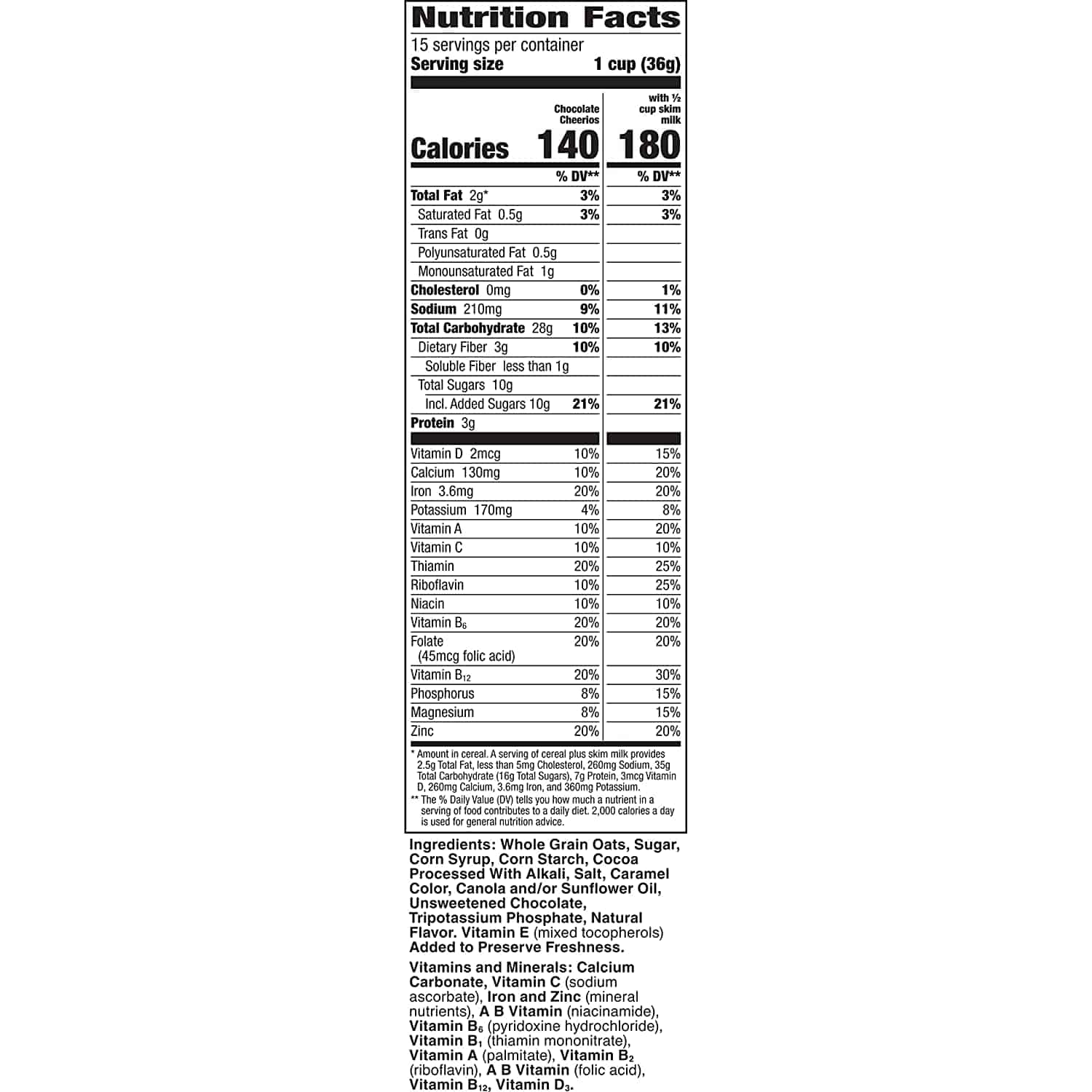 Chocolate Cheerios is a breakfast cereal whose base ingredient is whole grain oats. The ingredient label also claims that it's fortified with important vitamin and mineral nutrients such as iron, folic acid, and vitamin D3.
However, these nutrients are only provided in very small quantities, and they're also artificially added; they're not present naturally as they are in unprocessed "clean" foods. Let's take a look at the nutritional facts of this chocolate-flavored cereal:
Total fat: 2g 3% DV
Sodium: 210mg 9% DV
Carbohydrates: 28g 10% DV
Fiber: 3g 10% DV
Sugar: 11g 10% DV
Protein: 3g
Potassium: 170mg 4% DV
Vitamin D3: 2mcg 10% DV
Folate: 45mg 20% DV
Iron: 3.6mg 4% DV
Calcium: 130mg 10% DV
Ingredients
One serving of Chocolate Cheerios contains:
Whole grain oats
Sugar
Oat bran
Corn syrup
Cocoa processed with alkali
Caramel color
Salt
Natural flavor
Unsweetened chocolate
Canola oil
Are Chocolate Cheerios Healthy?
We all know the importance of having a healthy and balanced diet, but can Chocolate Cheerios be considered healthy? Unfortunately, no, it can't. Although it claims to be a good source of vitamins and minerals, the name alone suggests that this cereal is not healthy.
Chocolate is inherently bad for us, so having a chocolatey cereal to start the day isn't the best idea if you're trying to lead a healthier lifestyle. Cheerios claims that their cereals can help reduce cholesterol, but a quick look at the label will reveal some undesirable ingredients.
The second ingredient listed is sugar, and with 11 grams per serving, this isn't a cereal that can be called healthy. To make matters worse, it also contains other unhealthy ingredients such as corn starch and syrup and even caramel coloring.
According to an American Board of Internal Medicine certified doctor, caramel coloring can potentially cause cancer and reduce your white blood cell count if eaten in large quantities.
Are Chocolate Cheerios Gluten-Free?
If you're following a gluten-free diet or you have any intolerances, you'll know the importance of checking food labels before you consume them.
These chocolatey Cheerios are gluten-free, as stated on the front of the box. This is because it only contains oats – no barley or wheat. So if you do suffer from gluten intolerance and are looking for a tasty treat, Chocolate Cheerios should satisfy your craving.
Are Chocolate Cheerios Vegan?
Being a vegan involves avoiding anything that contains animal products. Unfortunately, this whole-grain oat cereal can't be considered vegan friendly. Although there's nothing obvious that jumps out as nonvegan, there are a few ingredients that will be a no-go for vegans.
This includes chocolate because it contains milk and, surprisingly, white sugar. This is because sugar gets its signature white color by being mixed with animal bone char.
Are Chocolate Cheerios Keto?
If you're following a keto diet, you'll know it revolves around keeping your carb intake low. Unfortunately, Chocolate Cheerios are very high in carbohydrates, so they can't be considered keto-friendly.
Although it doesn't contain any artificial flavors, it's still a highly processed food packed with sugary ingredients. These sweeteners are well known for raising blood sugar levels, which means you may not be able to stay in ketosis if you eat them.
This variety of Cheerios also contains canola oil, which is highly refined and tends to cause inflammation. Refined oils are typically sourced using chemicals and high heat, which strips away any nutrients and are replaced with potentially harmful chemicals.
Are Chocolate Cheerios High In Protein?
Protein is an essential nutrient for everyone, and a good way of reaching your daily needs is to include protein-rich food at each meal. Sadly, with only 3g of protein per serving, Chocolate Cheerios is a very poor source of this essential nutrient.
For this reason, Cheerios should ideally be seen as a dessert or an occasional snack rather than a daily breakfast.
Are Chocolate Cheerios High In Fiber?
Fiber is one of the most important nutrients, and starting the day with a high fiber breakfast is one of the best things you can do for your body. Although whole-grain oat foods are usually a great source of this nutrient, these chocolate flavor Cheerios only offer 3g of dietary fiber with a serving.
This means you shouldn't rely solely on a bowl of Cheerios to contribute towards your daily roughage needs.
Chocolate Cheerios Varieties
Although there aren't any other varieties of Chocolate Cheerios, there are a few similar flavors. These include Chocolate and Peanut Butter, Frosted, and Chocolate and Strawberry.
If you have an extra sweet tooth and are in search of a tasty snack, you'll probably enjoy the Honey Nut Cheerios.
Chocolate Cheerios Store Brand Alternatives
If you're looking for a chocolatey store brand alternative cereal, Kroger sells their own Cocoa Crispy Rice. There's also similar Cheerios flavors, including delicious Chocolate and Peanut Butter or Chocolate and Strawberry.
Where You Can Buy Chocolate Cheerios?
Chocolate flavor Cheerios can be found in the majority of stores across the United States. If you do your shopping online, they can be ordered from sites such as Amazon, Target, and Walmart.
Famous Chocolate Cheerios Cereal Commercials
Chocolate Cheerios don't seem to be as popular as some of the other varieties, and because it was only introduced in 2010, there aren't any famous commercials for it. However, we did find some clips you may enjoy!
To Celebrate Chocolate Cheerios, General Mills released this short teaser for the cereal at the end of a Honey Nut Cheerios commercial in 2010.
This commercial found on YouTube shows Cheerios upping their Gluten-Free cereal A-Game when they introduced Chocolate Cheerios.
User Reviews
Review Summary
0 out of 5 stars (based on 0 reviews)
Recent Reviews
There are no reviews yet. Be the first one to write one.
Submit a Review