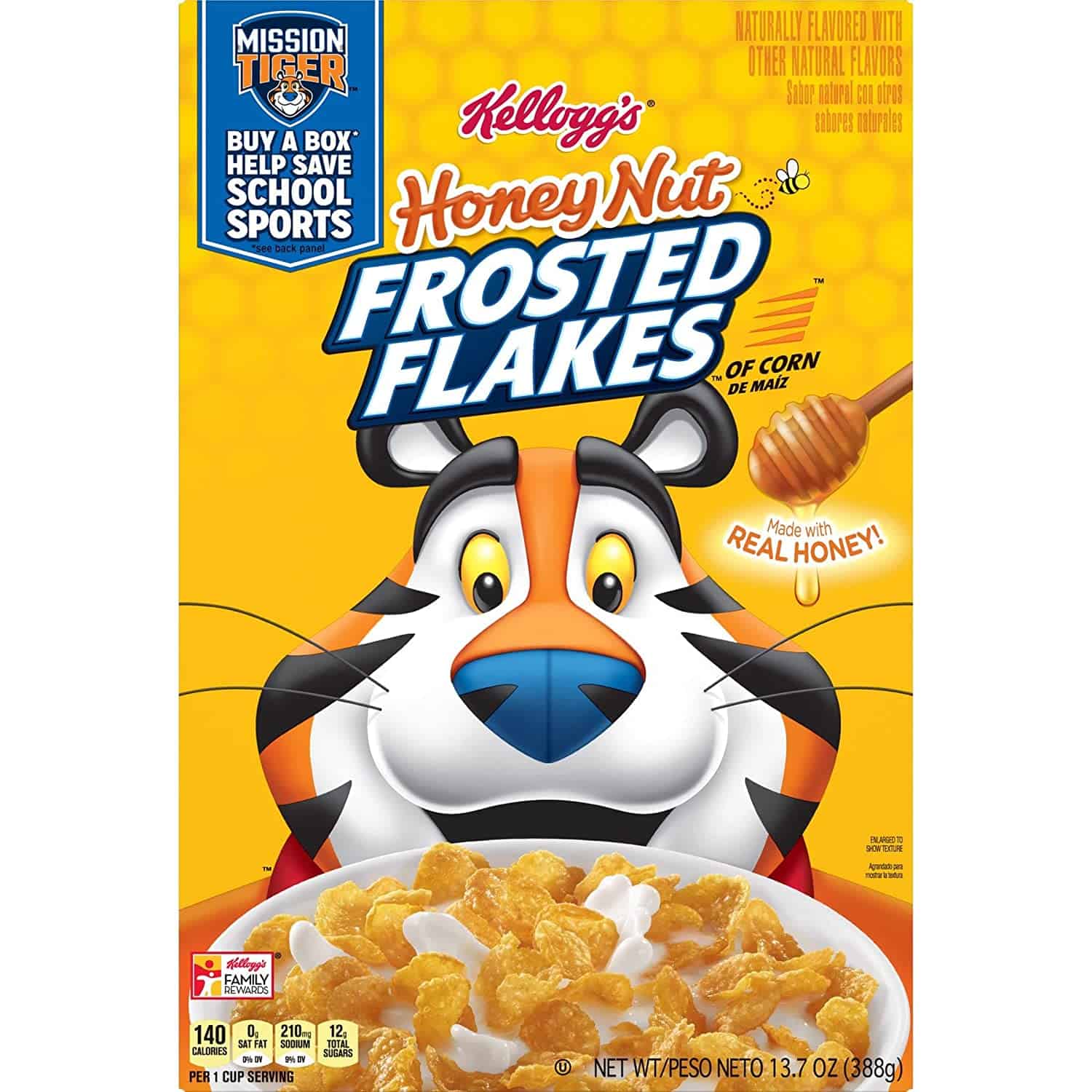 There's something about the crunch of Kellogg's Honey Nut Frosted Flakes that makes having a second bowl too easy.
The blend of sweet, treacly honey Frosted Flakes with just a hint of nut is a modest mix of flavors but one that will leave you wondering why it took so long for Kellogg's to make.
There are no chocolate chunks or little marshmallows but if you're looking for a simple sweet cereal that still provides all the vitamins and minerals as a bowl of regular Frosted Flakes, one that turns the milk into a delicious sweet treat with a slight maple taste, these Honey Nut corn flakes will do the job.
Let's take a closer look at this honey nut cereal.
Nutrition Facts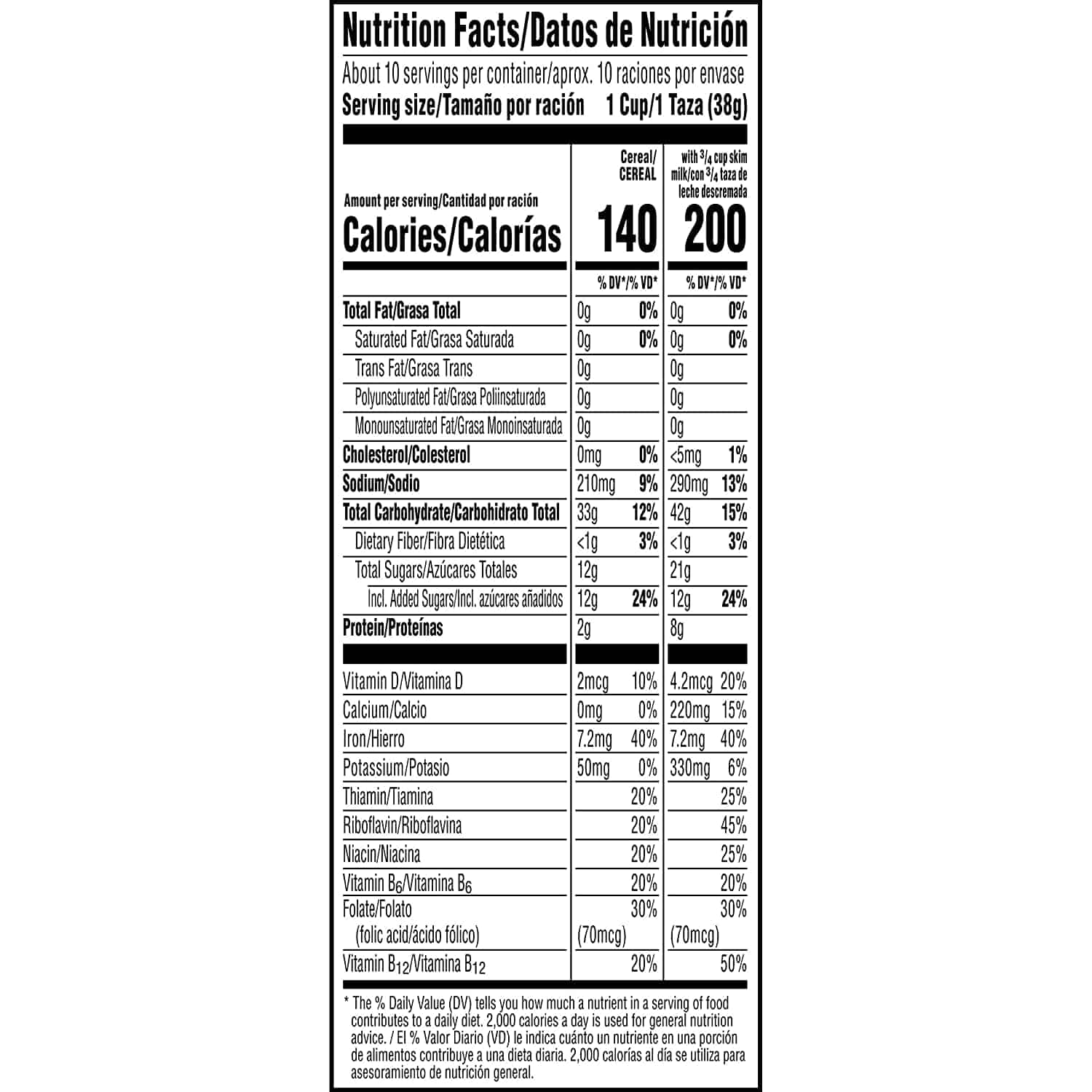 One 38g serving of Kellogg's Honey Nut Frosted Flakes contains:
Calories 140
Total Fat 0 g/0% DV
Saturated Fat 0 g/0% DV
Trans Fat 0 g
Polyunsaturated Fat 0g
Monounsaturated Fat 0g
Cholesterol 0 mg/0% DV
Sodium 210mg/9% DV
Total Carbohydrate 33 g/12% DV
Dietary Fiber <1 g/3%
Total Sugars 12 g
Includes 12g Added Sugars 12 g/24% DV
Protein 2 g
Vitamin D 2 mcg/ 10% DV
Calcium 0 mg/0% DV
Iron 7.2 mg/40% DV
Potassium 50 mg/0% DV
Thiamin 20% DV
Riboflavin 20% DV
Niacin 20% DV
Vitamin B6 20% DV
Folate (70 mcg Folic Acid) 120 mcg/30% DV
Vitamin B12 20% DV
Ingredients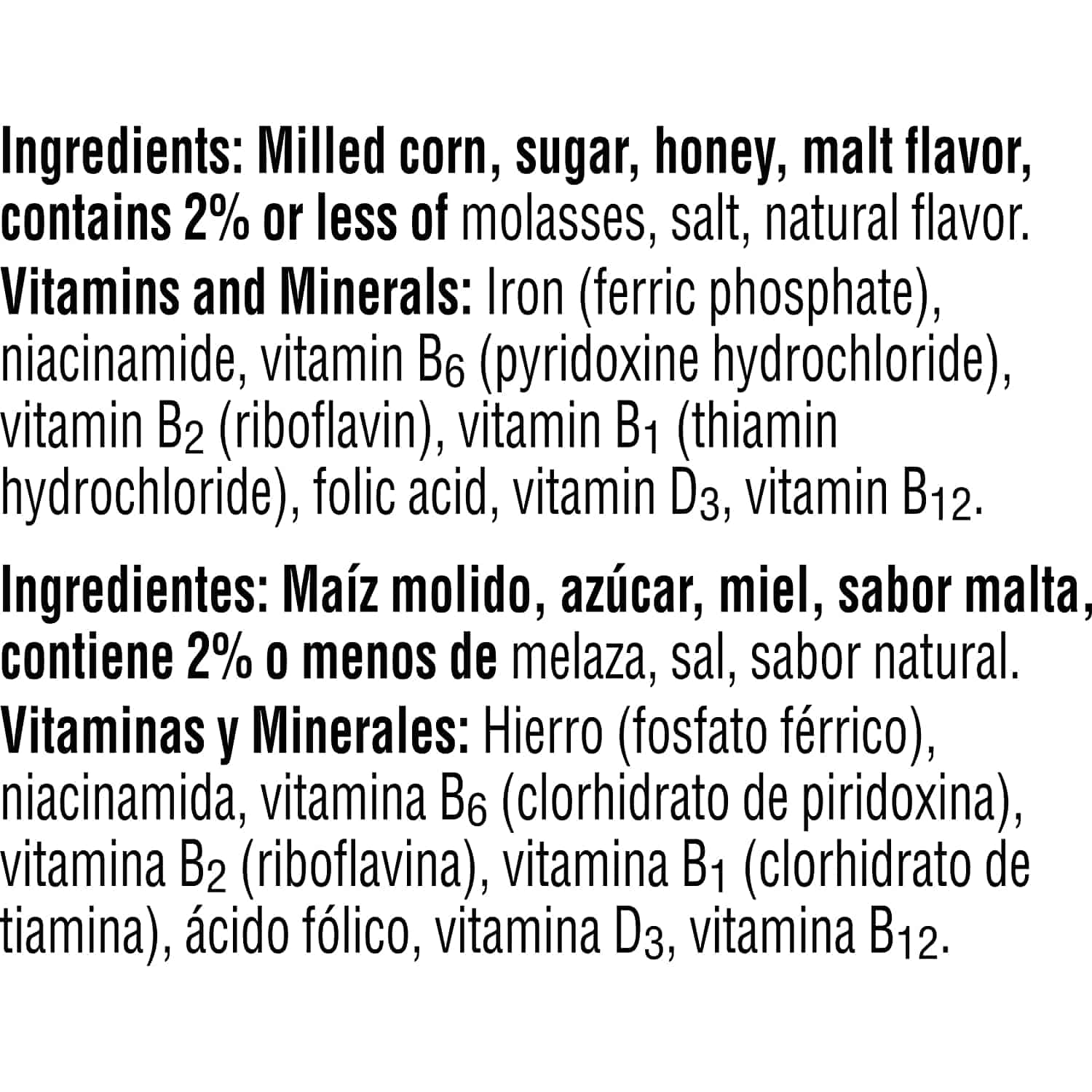 Milled corn
Sugar
Honey
Malt flavor
Contains 2% or less of molasses
Salt
Natural flavor
Iron (ferric phosphate)
Niacinamide
Vitamin B6 (pyridoxine hydrochloride)
Vitamin B2 (riboflavin)
Vitamin B1 (thiamin hydrochloride)
Folic acid
Vitamin D3
Vitamin B12
Are Honey Nut Frosted Flakes Healthy?
A bowl of this Frosted Flake cereal contains zero fat and zero cholesterol. So if you're looking for a breakfast or a snack anytime, these could fit that bill. They also contain zero artificial colors or flavors, which have been shown to cause hyperactivity in children.
Then there's the generous dose of 10 vitamins and minerals to help boost your body's function and defenses at the start of the day.
However, this cereal is very high in sugars, with 33g of 38g being made up of carbohydrates, and we can safely assume these aren't slow burn complex carbohydrates.
So with 33g of carbs making up the majority of a 140 calorie serving, the energy from this cereal will be short-lived, and you'll soon find yourself craving a second bowl. This makes them great for a snack anytime but not a filling breakfast to keep you going until lunch.
Are Honey Nut Frosted Flakes Gluten-Free?
The honey nut flavor in this cereal is complemented by the classic malt of original Frosted Flakes, a flavor that's acquired from barley, a gluten-containing grain, which unfortunately makes them off-limits for people following a gluten-restricted diet.
Are Honey Nut Frosted Flakes Vegan?
Luckily, the simple nature of this delicious twist on one of our favorite cereals requires no animal products so that vegans can enjoy them too.
Are Honey Nut Frosted Flakes Keto?
Keto diets are very popular nowadays and are more than just a fad diet. They involved restricting the body's carb intake to an absolute minimum, no more than 20g a day, while increasing fat intake.
This creates a state called ketosis, where the body begins manufacturing ketones, a long-lasting energy source, from the fat instead of the carbohydrates it is no longer getting.
One serving of Frosted Flakes Honey Nut variety contains 33g, which will stop your body from being able to enter ketosis, as it will use carbohydrates as an energy source instead.
As well as this, it contains no fats at all, which are crucial to the production of ketones.
Are Honey Nut Frosted Flakes High In Protein?
This honey flavor cereal is very low in protein, with only 2g of protein in a 38g serving.
Are Honey Nut Frosted Flakes High In Fiber?
If we're going by the FDA guidelines, which require foods to contain 5g of fiber per serving to qualify as high fiber, then no. Corn is a very low fiber grain, and this cereal contains less than 1g of soluble fiber.
Honey Nut Frosted Flakes Varieties
There were no variations made on this particular theme, but we do have a couple of alternatives if you've got a craving for maple syrup cereal in the morning.
Honey Nut Cheerios – The original, and some may say best, a combination of nuts and honey in a cereal, this has been America's most popular cereal for years. Unlike Frosted Flakes, these are gluten-free, and they name almond flavor in their ingredients, so the nuttiness is a little stronger.
They are made with whole grain and have low cholesterol, which is great for lowering cholesterol levels and reducing the risk of heart disease, and containing 12 of your daily minerals and vitamins.
Crunchy Nut Cornflakes – These won't be easily got as they're from the UK, where they are one of the nation's favorite Kellogg's cereals. The Brits figured out that this blend was the best flake cereal before us, and it's been at the top of the charts ever since.
Unlike Honey Nut Frosted Flakes, the glaze is a little lighter but no less sweet and is specked with crunchy slithers of almonds. If you want an international taste of Honey Nut Cornflakes, why not order a box from overseas so you can see how the British version compares.
Honey Nut Frosted Flakes Store Brand Alternatives
A honey nut flavor on our cereals is universally loved, so finding an alternative to this delicious cereal combination won't be difficult. A couple of popular brands are Post's Honey Bunches of Oats, Simple Truth's Sweet Nut Cluster and Flake Granola, and those on a keto diet will be happy to try Incredi-Bowl's Keto Friendly Frosted Flakes.
Where You Can Buy Honey Nut Frosted Flakes?
This cereal only got a limited release across stores, so it might be hard to find in the cereal aisle, but you may have more luck trying online retailers.
Famous Honey Nut Frosted Flakes Commercials
In the Honey Nut Frosted Flakes TV Spot "Mission Tiger" commercial, you will see a range of kids enjoying the great taste of this cereal while it gives them the energy to tackle a long day at school.
User Reviews
Review Summary
0 out of 5 stars (based on 0 reviews)
Recent Reviews
There are no reviews yet. Be the first one to write one.
Submit a Review