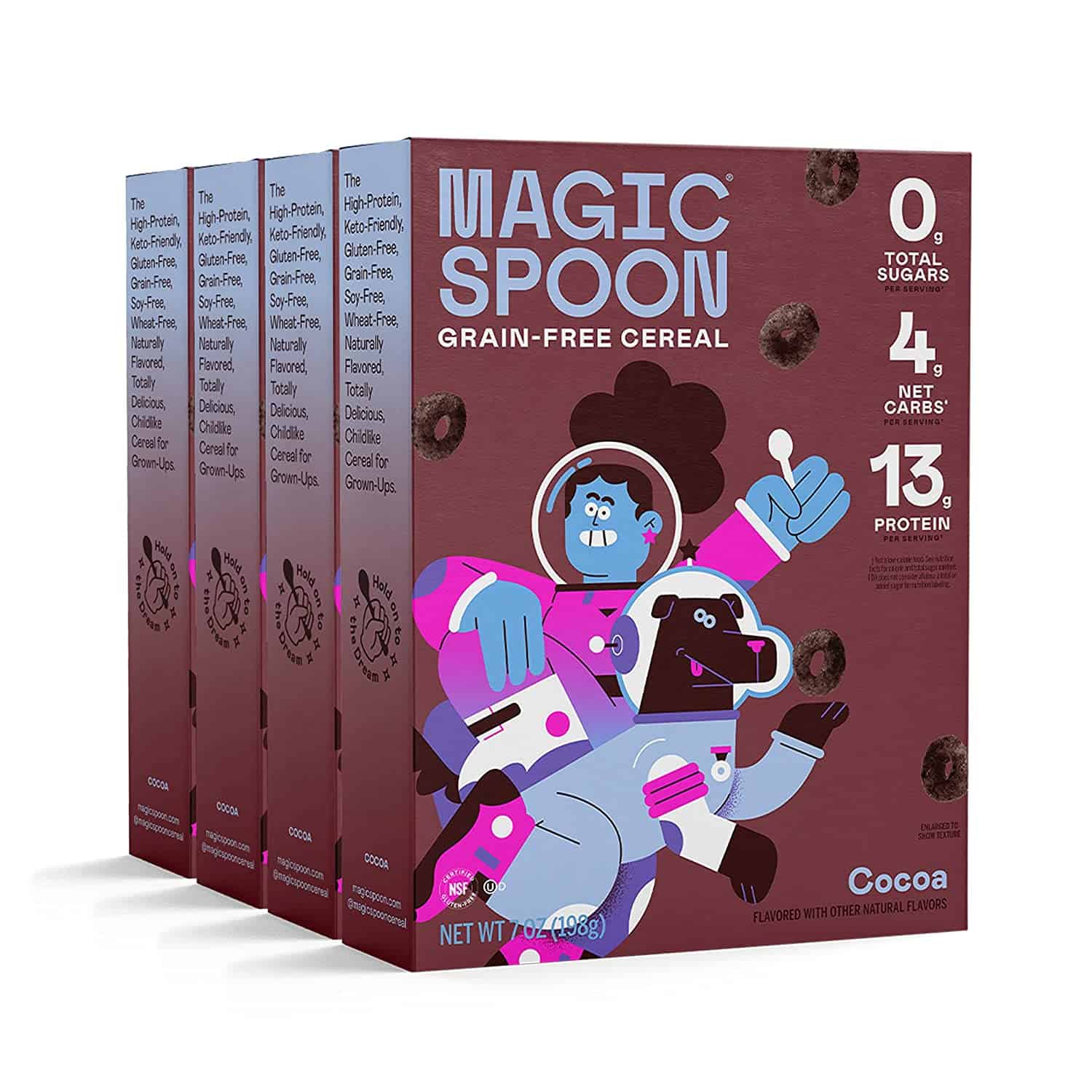 Magic Spoon Cocoa cereal has all the flavors that your beloved chocolatey cereal has without all the added sugar and is full of protein and low carb. This Magic Spoon cereal is keto-friendly with low net carbs and magically contains no sugar whatsoever.
Magic Spoon cereal manages to achieve its delicious taste by using specially crafted sweeteners that are all-natural flavors. This makes it the perfect breakfast option for those that want a sweet bowl of goodness without all of the unhealthy side effects that usually come with them, such as raised blood sugar and high caloric intake.
Nutrition Facts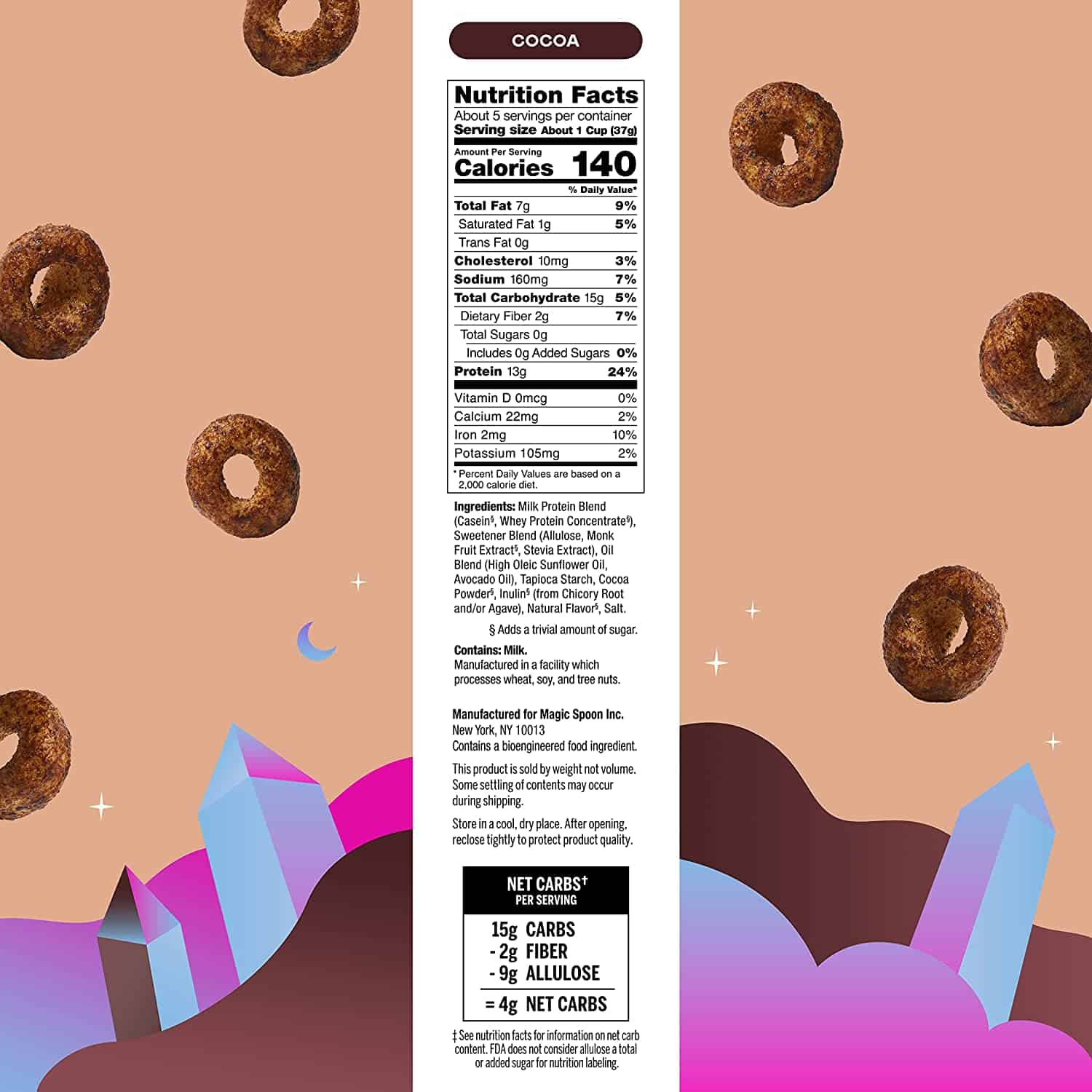 One portion (56g) of Magic Spoon Cocoa Cereal contains:
Calories – 220
Total fat – 9 grams/12% DV
Trans fat – 0 grams/0% DV
Saturated fat – 1 grams/5% DV
Cholesterol – 10mg/3% DV
Total carbohydrates – 20 grams/7% DV
Total sugars – 0 grams/0% DV
Dietary fiber – 2 grams/7% DV
Protein – 22 grams/44%DV
Vitamin D – 0mcg/0% DV
Calcium – 500mg/38% DV
Iron – 0.7mg/4% DV
Potassium – 0% DV
Sodium 150mg/7% DV
Vitamin A – 0% DV
Vitamin C – 0% DV
A 198g box of Magic Spoon Cocoa Cereal contains 4 servings.
Ingredients
The ingredients list of Magic Spoon Cocoa Cereal contains:
milk protein blend made from whey protein concentrate and milk protein isolates
sweetener blend made from monk fruit extracts, allulose, and steviol glycosides
oil blend made with high oleic sunflower oil, vitamin E, and avocado oil
Tapioca starch
cocoa powder
Chicory Root fiber – inulin
natural flavors
salt
Is Magic Spoon Cocoa Cereal Healthy?
Like all Magic Spoon cereals, the Cocoa flavor can also be considered a healthy cereal due to its low total carbs and absence of any sugars, including cane sugar, sugar alcohols, or corn syrup. It contains a protein blend that increases the amount of protein per serving by using protein concentrate.
It also has very low net carbs and is grain-free. So, with this cereal's high protein content, low net carbs, no sugar, and no artificial flavors, it is safe to say that it qualifies as a healthy breakfast option.
Is Magic Spoon Cocoa Cereal Gluten-Free?
Yes, this cereal is suitable for those that avoid gluten in their diet. Magic Spoon Cocoa cereal is also grain-free and contains no wheat, soy, or rice. For those that are gluten intolerant, you will be happy to find out that all of Magic Spoon's products have no gluten-containing ingredients.
This means you can try all of the different products on offer and choose which one you prefer the most.
Is Magic Spoon Cocoa Cereal Vegan?
Magic Spoon cereal is not considered vegan friendly because the main ingredient used is a dairy protein. This is the case for the cocoa cereal as well as all of the other flavors offered by Magic Spoon.
For those that are vegan, you may have to find an alternative vegan option from a different brand. Magic Spoon has said that although they don't currently have a vegan cereal or are in the process of making one, they aren't excluding it as a possibility in the future.
Is Magic Spoon Cocoa Cereal Keto?
This Magic Spoon cereal has around 22 grams of carbs per a 56-gram serving which equates to around 8% of your daily intake. This makes the cereal most definitely keto-friendly and suitable for those following a keto diet.
The cereal being grain-free allows this cereal to remain low net carbs and therefore acceptable for following a diet that is keto. Normally the intake of carbs should be less than 50 grams daily to be considered keto, which makes this an acceptable breakfast option as one of your 3 meals.
Is Magic Spoon Cocoa Cereal High in Protein?
Yes, Magic Spoon has made one of their goals for all of their cereals to contain a high content of protein. This cocoa flavor is no different, with 22 grams of protein per serving. This equates to around 44% of your daily intake of protein.
This makes the cereal a great option for those trying to increase their daily intake of protein by providing almost half of the recommended amount in just one bowl of cereal. If you plan to go to the gym, then this is the perfect breakfast for a burst of energy and protein to build muscle.
Is Magic Spoon Cocoa Cereal High in Fiber?
In a 56-gram serving of this cereal, there are about 2 grams of dietary fiber, which equates to around 7% of your daily fiber intake. The reason fiber content is relatively low is that the cereal is grain-free.
If you are looking to increase your fiber intake, then you can try adding foods such as fruits and whole grain bread alongside your bowl of cereal. This will drastically increase your daily fiber intake as well as net carbs and will help you maintain a healthy gut.
Magic Spoon Cocoa Cereal Store Brand Alternatives
There are a number of different flavors of cereal offered by Magic Spoon that delivers much of the same tastes that your favorite brands do without being so unhealthy.
Try Magic Spoon's Peanut butter cereal which has similar tastes to Post Nutter Butter cereal but has 0 sugar and much more protein per serving. It is also made with real peanut oil to deliver that authentic peanut flavor.
If you do not like the taste of peanut butter, then perhaps try Magic Spoon's Blueberry cereal which gives the same fruity burst of flavor that the childhood favorite Boo Berry cereal by General Mills but contains almost 7 times more protein and 6 times fewer carbs.
Where You Can Buy Magic Spoon Cocoa Cereal
Walmart is the main supermarket giant that sells Magic Spoon cereal; however, you can also purchase it straight from the Magic Spoon's website. Other places you can purchase the cereal are on Amazon, where you can find some good deals on bulk buying a variety pack.
Famous Magic Spoon Cocoa Cereal Commercials
Magic Spoon is somewhat of a new company, only being founded in 2018, and as a result, they haven't published a huge amount of commercials. Two of the more memorable ones include "Unbelievable" and "Healthy & Happy."
These commercials both have a similar goal of promoting the cereal's delicious taste whilst reminding customers that they are also very healthy.
User Reviews
Review Summary
0.0 out of 5 stars (based on 0 reviews)
Recent Reviews
There are no reviews yet. Be the first one to write one.
Submit a Review