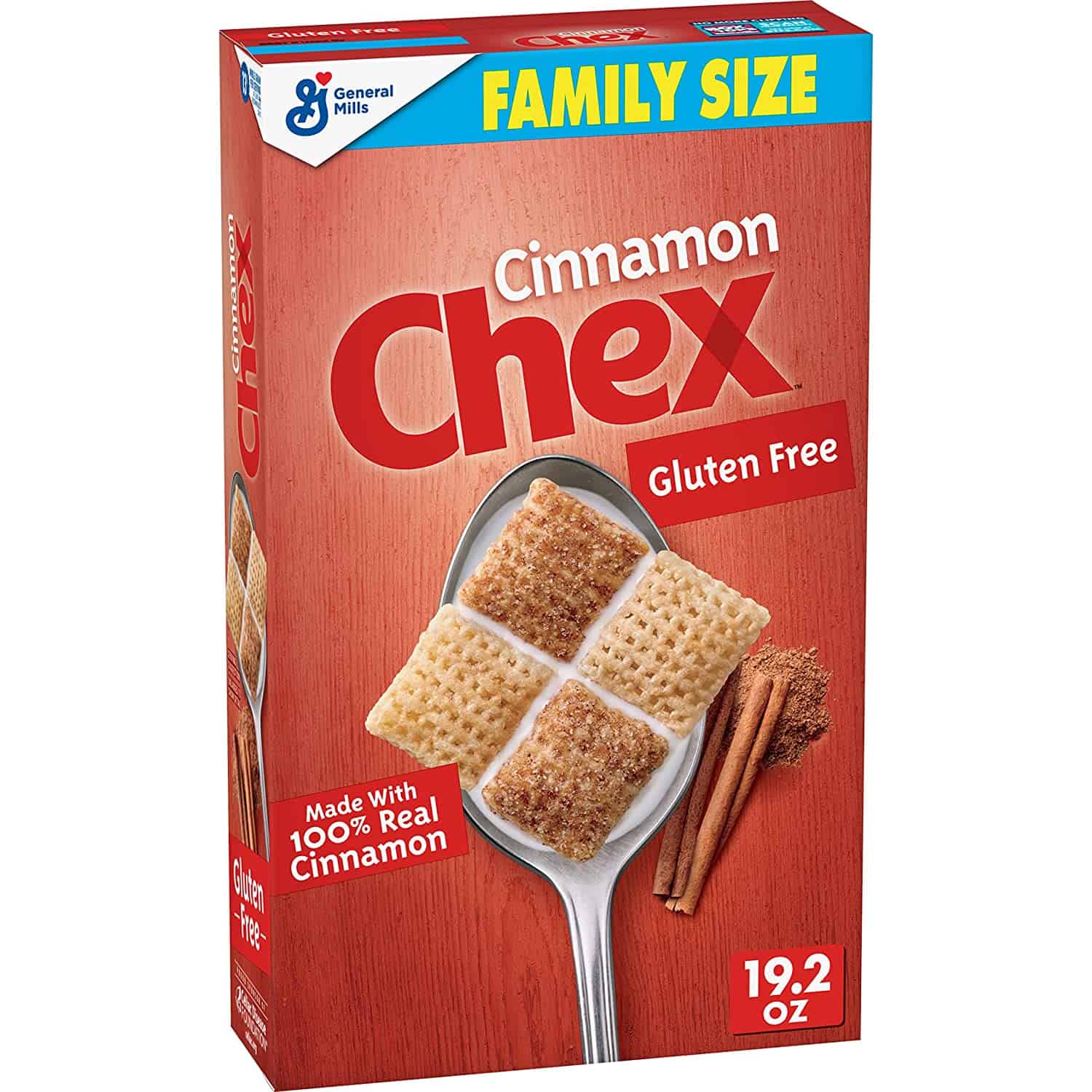 If you love the spicy taste of cinnamon, you'll love Cinnamon Chex gluten-free breakfast cereal. These crunchy squares have a sweet dusting of real cinnamon spice and sugar flavors to make this gluten-free cereal a delicious treat for breakfast time.
Start your day with a bowl of this breakfast cereal and a splash of fresh milk, or mix it with some Greek yogurt and sliced fruit – perfect for the summer.
Cinnamon Chex can also be a key ingredient in many of the nation's favorite snack mix recipes, savory snacks, and desserts such as Snickerdoodle Chex trail mix. You can also add Chex into your favorite baking recipes to make delicious cookies or cakes that'll go down a treat with the rest of the family.
Cinnamon flavor Chex, like all other flavors in the Chex range, is gluten-free and has no artificial flavors and colors or high fructose corn syrup. They're also a good source of calcium and contain 13 grams of whole grain rice per serving – making this gluten-free crunchy breakfast cereal a wholesome breakfast treat.
Nutrition Facts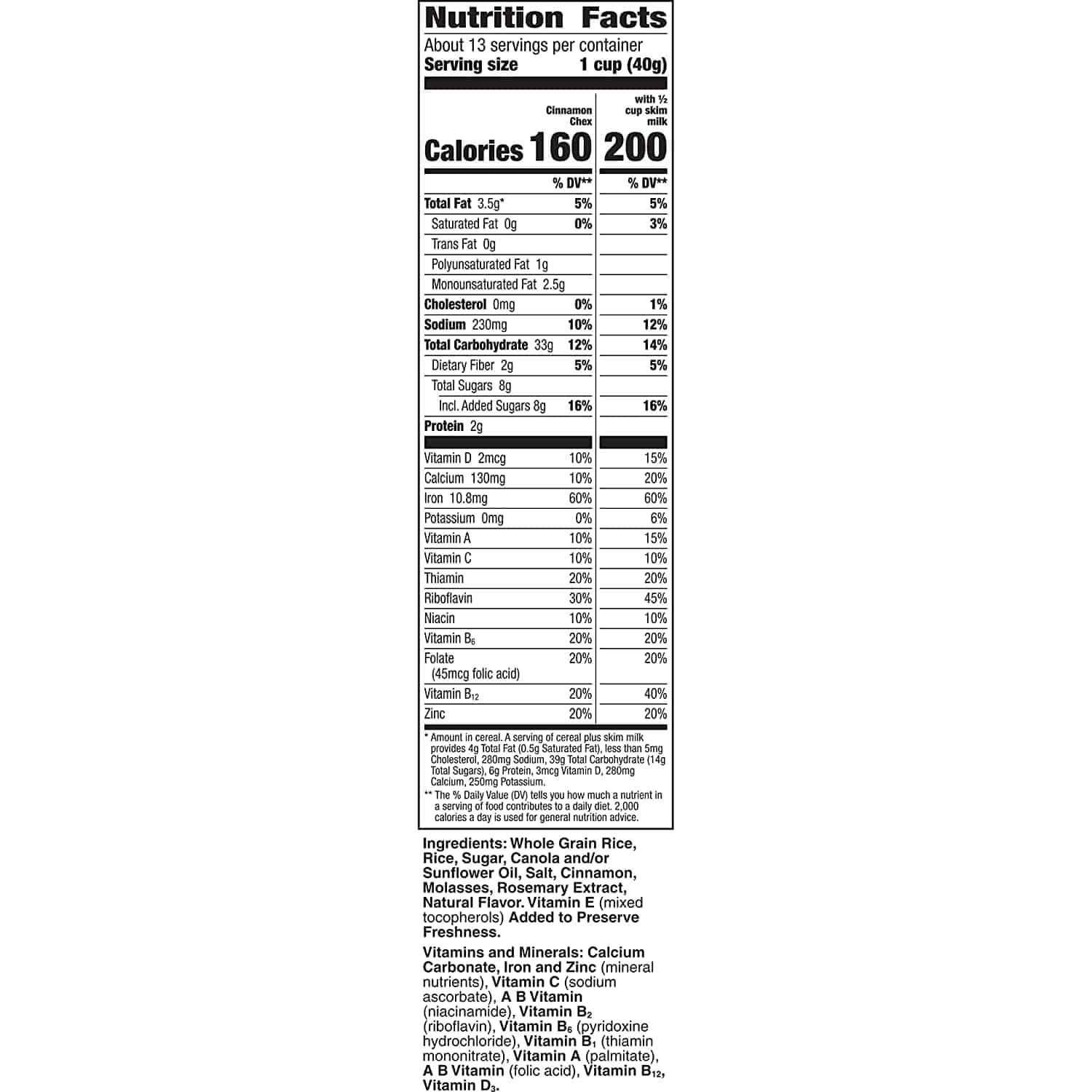 A typical serving size of Cinnamon Chex is 1 cup, approximately 40 grams. There are 8 servings per box.
Each serving contains 170 calories. The Daily Value percentage is based on a daily diet of 2000 calories. It's important to note that this recommendation will vary depending on your individual diet, metabolism, and exercise regime.
Total Fat: 4g / 5% DV
Saturated Fat: 0g / 0% DV
Trans Fat: 0g
Polyunsaturated Fat: 1g
Monounsaturated Fat: 2.5g
Cholesterol: 0mg / 0% DV
Sodium: 250mg / 11% DV
Total Carbohydrate: 33g / 12% DV
Dietary Fiber: 2g / 7% DV
Total Sugars: 8g
Incl. Added Sugars: 8g / 16% DV
Protein: 2g
Vitamin D: 2mcg / 10%
Calcium: 130mg / 10%
Iron: 10.8mg / 60%
Potassium: 0mg / 0%
Vitamin A: 10%
Vitamin C: 10%
Thiamin: 20%
Riboflavin: 30%
Niacin: 10%
Vitamin B6: 20%
Folate (45mcg folic acid): 20%
Vitamin B12: 20%
Phosphorus: 4%
Magnesium: 4%
Zinc: 20%
Ingredients
Whole Grain Rice, Rice, Sugar, Canola and/or Sunflower Oil, Salt, Rice Fiber, Cinnamon, Molasses, Natural Flavor. Vitamin E (mixed tocopherols) Added to Preserve Freshness.
Vitamins and minerals
Calcium Carbonate, Iron and Zinc (mineral nutrients), Vitamin C (sodium ascorbate), A B Vitamin (niacinamide), Vitamin B2 (riboflavin), Vitamin B6 (pyridoxine hydrochloride), Vitamin B1 (thiamin mononitrate), Vitamin A (palmitate), A B Vitamin (folic acid), Vitamin B12, Vitamin D3.
Is Cinnamon Chex Cereal Healthy?
Cinnamon Chex gluten-free breakfast cereal doesn't contain any artificial colors or flavors and has no high fructose corn syrup like many other packaged cereals on the market. Each Cinnamon Chex cereal square is coated with real cinnamon and made with whole grain rice.
Each serving contains just 4 grams of fat and 8 grams of sugar, which is much healthier than many other sweet cereal options out there.
They also contain a variety of essential nutrients, vitamins, and minerals to keep you energized throughout the day. This is the reason why many people use Chex gluten-free breakfast cereal as part of trail mixes to sustain them throughout the day.
Is Cinnamon Chex Cereal Gluten-Free?
Yes, this breakfast cereal is gluten-free and, therefore, a suitable option for people who suffer from a gluten intolerance.
Every flavor in the Chex range is gluten-free, apart from the obvious exception of Wheat Chex. Cinnamon Chex cereal shines as one of the best gluten-free cereal options on the market that kids and adults alike will love.
Is Cinnamon Chex Cereal Vegan?
Yes, all Chex products are vegan as they don't have any dairy or gelatin ingredients. However, they do contain sugar and vitamin D3, which some vegans try to avoid.
Is Cinnamon Chex Cereal Keto?
No, each serving of Cinnamon Chex contains 33 grams of carbohydrates, making it unsuitable for a keto diet. People who follow a keto diet tend to consume fewer than 20-50 grams of carbs per day and stick to high-fat and nutrient-dense foods such as meat, dairy, eggs, and certain vegetables.
Is Cinnamon Chex Cereal High in Protein?
Each serving contains 2 grams of protein, meaning that Cinnamon Chex isn't particularly high in protein when compared to other cereal options on the market.
Is Cinnamon Chex Cereal High in Fiber?
No, this cereal isn't high in fiber and contains just 2 grams per serving, which equates to just 7% of the daily recommended intake.
If you're looking for high-fiber cereal to start the day, you'll be better off choosing Wheat Chex, which contains 8 grams of fiber per serving (a whopping 29% DV), or another cereal such as Cheerios or All Bran.
Cinnamon Chex Cereal Store Brand Alternatives
There are plenty of cinnamon-flavored cereals on the market, all offering something a little different in the way of flavor, nutrients, and texture.
Some examples include Cinnamon Shreddies, Nestle Curiously Cinnamon, and Cinnamon Toast Crunch.
However, it's important to be aware that some of these alternatives can be much higher in sugar and artificial flavors, which you might want to avoid.
Where You Can Buy Cinnamon Chex Cereal
You can buy Cinnamon Chex at various supermarkets and stores around the country. You'll find Chex on the shelves in Target, Safeway, and Walmart.
To find out which stores near you have the flavor of Chex you want in-store, visit the official Chex website, where you can enter your postcode to find the nearest Chex store point in your area.
Famous Cinnamon Chex Cereal Commercials
The Chex brand has been around since 1950, so there's a huge repertoire of TV commercials and print advertisements to see.
Although we couldn't find any commercials specific to Cinnamon Chex, there are plenty of general Chex commercials out there. For instance, this TV advertisement from 1983 features a catchy tune and the slogan "You can hear how hearty it is!"
User Reviews
Review Summary
0.0 out of 5 stars (based on 0 reviews)
Recent Reviews
There are no reviews yet. Be the first one to write one.
Submit a Review