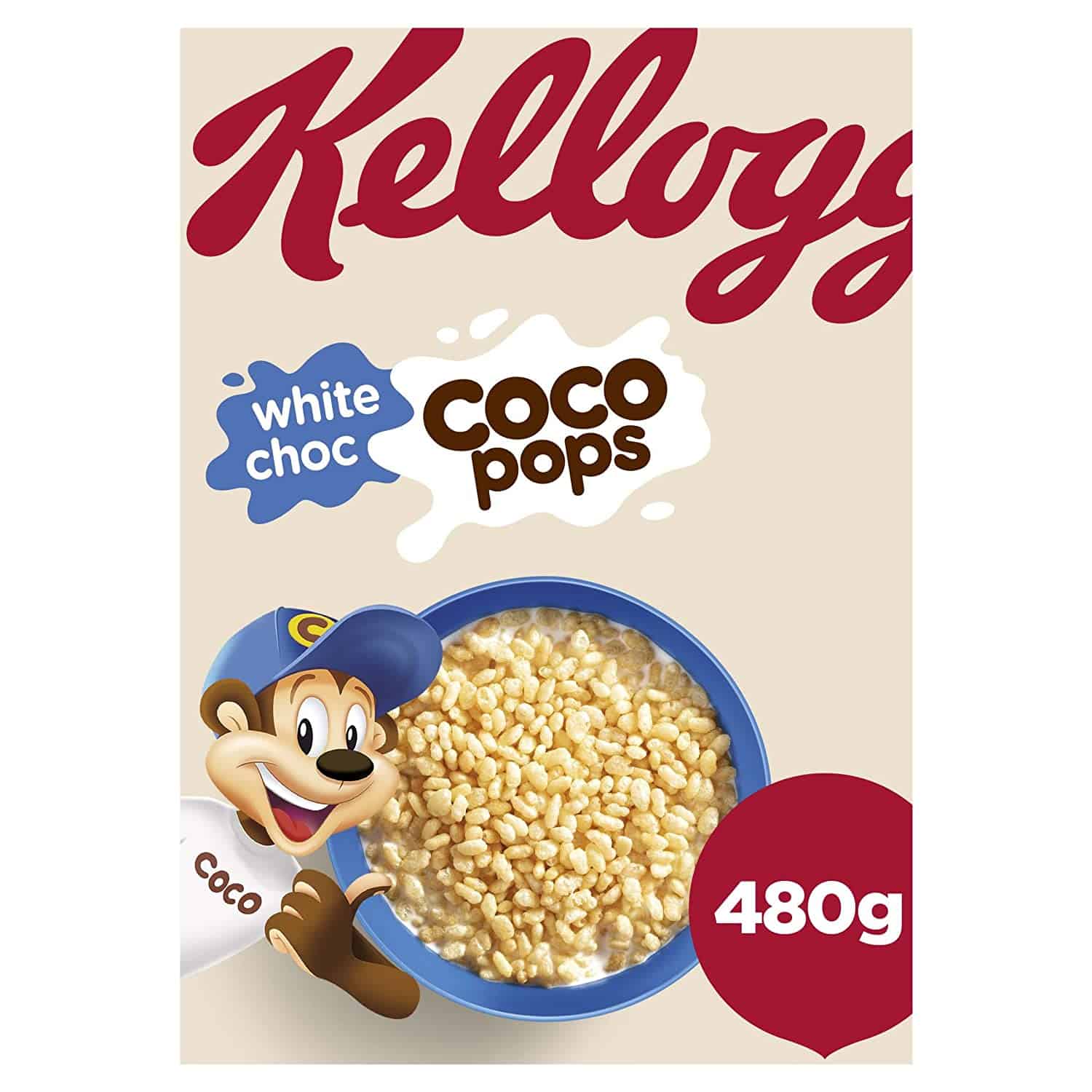 Coco Pops has been a firm, family favorite ever since they were launched in 1958. Kids and adults love the chocolatey taste and the texture of the toasted rice puffs.
In 2019, Kellogg's created a new white chocolate variety of this much-loved cereal, and understandably there was a lot of excitement about it.
White chocolate is often difficult to get right in cereal, and Kellogg's opted to create theirs using all-natural flavors and colors. They also tried to keep the total sugar content fairly low, which means White Choc Coco Pops may be healthier than you'd expect.
So, is Kellogg's new twist on an old classic a success? Or, has white chocolate got the better of them, as it has with other cereal producers in the past?
Nutrition Facts
One serving (32g) of this cereal contains:
Calories – 116/6%
Fat – 1.0g
Saturated Fat – 0.5g/2%
Carbohydrates – 24g
Sugar – 5.1g/6%
Fiber – 1.2g
Protein – 1.8g
Salt – 0.2g/3%
Vitamins and Minerals:
Iron – 2.4mg/17%
Vitamin B12 – 0.63ug/25%
Folic Acid – 50.0ug/25%
Vitamin B6 – 0.35mg/25%
Niacin – 4.0mg/25%
Riboflavin – 0.35mg/25%
Thiamin – 0.28mg/25%
Vitamin D – 2.5ug/50%
The best way to stay informed when purchasing any cereal is to always read the product label for the full nutritional information about the product. You can also contact the Kellogg Europe Trading Limited consumer service line for additional information.
Ingredients
The ingredients in this cereal include:
White chocolate (cocoa butter, whole milk powder, sugar, emulsifier, soy lecithin, natural vanilla flavoring)
Rice
Glucose syrup
Inulin
Natural flavoring
Barley malt extract
Salt

For any allergens please see the ingredients highlighted in bold.
Is White Choc Coco Pops Cereal Healthy?
Usually, if you saw that cereal was made with white chocolate you would assume that it must be unhealthy. But, surprisingly, White Choc Coco Pops contain a relatively low amount of sugar in each serving, at 5.1 grams.
They're also low in saturated fat, and a serving only has 2% of your daily reference intake.
One of the best aspects of this cereal is that it is made using no artificial colors or artificial flavorings. Instead, Kellogg's has used whole milk powder and cocoa butter to achieve an authentic white chocolate taste and appearance.
Another reason this cereal is pretty healthy, when compared to other cereals, is the fact that each serving contains a good amount of your daily vitamin needs. Each bowl will provide you with 50% of the Vitamin D that you need, which is a vital vitamin for maintaining healthy, normal bones.
One downside is that White Chocolate Coco Pops contain glucose syrup, which can lead to spikes in insulin. But, overall this is quite a healthy cereal that can be enjoyed as part of a balanced diet.
Is White Choc Coco Pops Cereal Gluten-Free?
This white chocolate cereal is unfortunately not gluten-free, as it contains barley malt extract. It should certainly be avoided by those who have gluten intolerance or suffer from celiac disease.
Is White Choc Coco Pops Cereal Vegan?
This cereal is not vegan as it contains milk, which is a dairy product. This ingredient is used to create the white chocolate flavor and creamy appearance.
White Choc Coco Pops are also fortified with Vitamin D, which usually means they contain Vitamin D3. This is extracted from lanolin, which is an animal product, as it comes from sheep.
Is White Choc Coco Pops Cereal Keto?
White Choc Choco Pops are not keto-friendly as they contain 24 grams of carbohydrates in each serving. When you're on a keto diet it's recommended that you don't eat more than 30 grams of carbs each day, so after one bowl of this cereal, you wouldn't be able to have any more carbs for the rest of the day.
White Choc Coco Pops aren't that high in sugar, but a serving would still make your blood sugar level go up. This will stop you from entering ketosis.
Is White Choc Coco Pops Cereal High in Protein?
It's recommended that the average adult eats between 46 and 56 grams of protein every day. This is the ideal amount to make sure that our bones and muscles stay strong, and that we can live a healthy lifestyle.
White Choc Coco Pops contain quite a low amount of protein, with each serving only providing 1.8 grams.
Oatmeal, buckwheat, and other natural grains are high in protein, but this cereal doesn't have these ingredients. It's made with rice and therefore doesn't contain a great deal of protein.
So, don't rely solely on this product as a source of protein in the morning. You'll need to make sure that the rest of your daily diet contains protein-rich foods.
Is White Choc Coco Pops Cereal High in Fiber?
As White Choco Coco Pops are made using toasted rice, the fiber content of this cereal is pretty low. Each serving will only give you 1.2 grams of fiber which is much less than other grain-based cereals.
You could try pairing this cereal with other fibrous foods, such as wholemeal toast. Or, simply increase your fiber intake during the rest of the day.
Where You Can Buy White Choc Coco Pops Cereal
Currently, White Choc Coco Pops are only available in the UK market. They can be purchased at online retailers such as Amazon.
Famous White Choc Coco Pops Cereal Commercials
To market their new cereal, Kellogg's launched an advertising campaign in the UK which focussed on the novelty of this variety of Coco Pops being white chocolate.
In this commercial from 2019, the Coco Pops mascot, Coco the Monkey, is confused as to why the river of milk chocolate Coco Pops is turning white. He is surprised to find a white dolphin swimming in the river and realized this is why the chocolate in the river has turned white.
After trying the new flavor, Coco is very excited, and the marketing slogan 'new white chocolate Coco Pops, magically delicious' can be heard at the end.
User Reviews
Review Summary
0 out of 5 stars (based on 0 reviews)
Recent Reviews
There are no reviews yet. Be the first one to write one.
Submit a Review