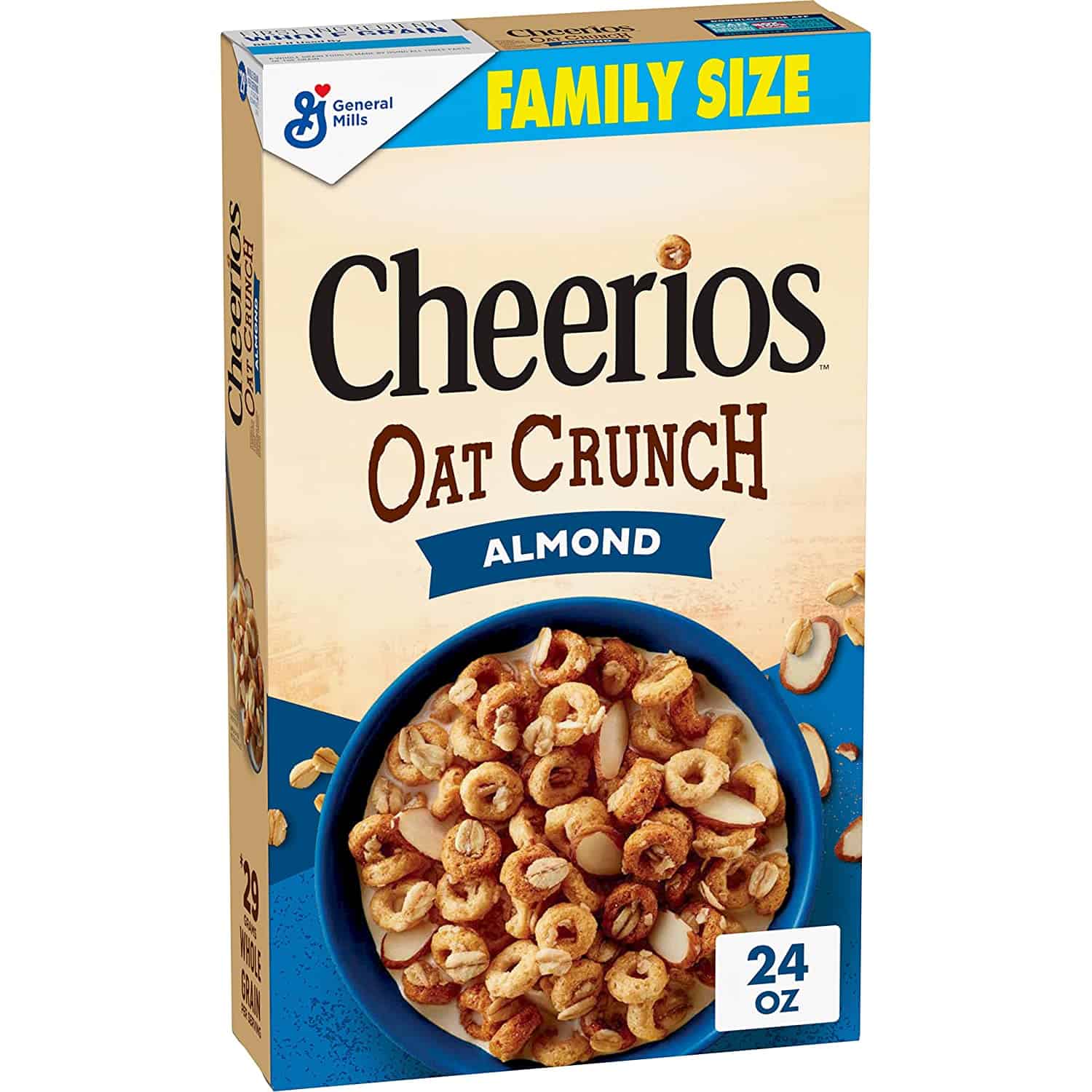 By 2019 Cheerios had a huge variety of flavors to suit every taste at the breakfast table, each one a major hit. So it was no surprise that when Cheerios released Oat Crunch Almond, it would be a success.
Similar to Honey Nut Cheerios, only this variety packs a punch of actual crushed almonds and toasted oats into the mix for maximum crunch. Those extras make for a filling and hearty cereal, containing more than half of your daily requirements of whole grain with no artificial colors or flavorings.
So if you were already a fan of Honey Nut, then the sweet taste of the real honey-glazed multi-grain cheerios combined with the genuine crunch of nuts and oats is just what you're looking for.
Let's have a look inside the box of this tasty breakfast cereal.
Nutrition Facts

A serving of Cheerios Oat Crunch Almond breakfast cereal (36g) contains:
Calories – 220
Saturated fat – 0.5g/4% RDA
Trans fat – 0g
Polyunsaturated fat – 1.5g
Monounsaturated fat – 3.5g
Cholesterol – omg
Sodium – 220mg/10% RDA
Total carbohydrate – 41g/11% RDA
Dietary fiber – 3g/11% RDA
Total sugars – 15g
Incl. added sugars – 14g/28% RDA
Protein – 4g
Vitamin D – 2mcg/10% RDA
Calcium – 130mg/10% RDA
Iron -10.8mg/60% RDA
Potassium – 180mg
Vitamin A – 10%RDA
Vitamin C – 10% RDA
Thiamin Mononitrate- 60% RDA
Riboflavin – 60% RDA
Niacin – 60% RDA
Vitamin B – 60% RDA
Pantothenic acid – 60%RDA
Folate (45mgc folic acid) – 20% RDA
Phosphorus – 10% RDA
Magnesium – 8% RDA
Zinc – 60%
Ingredients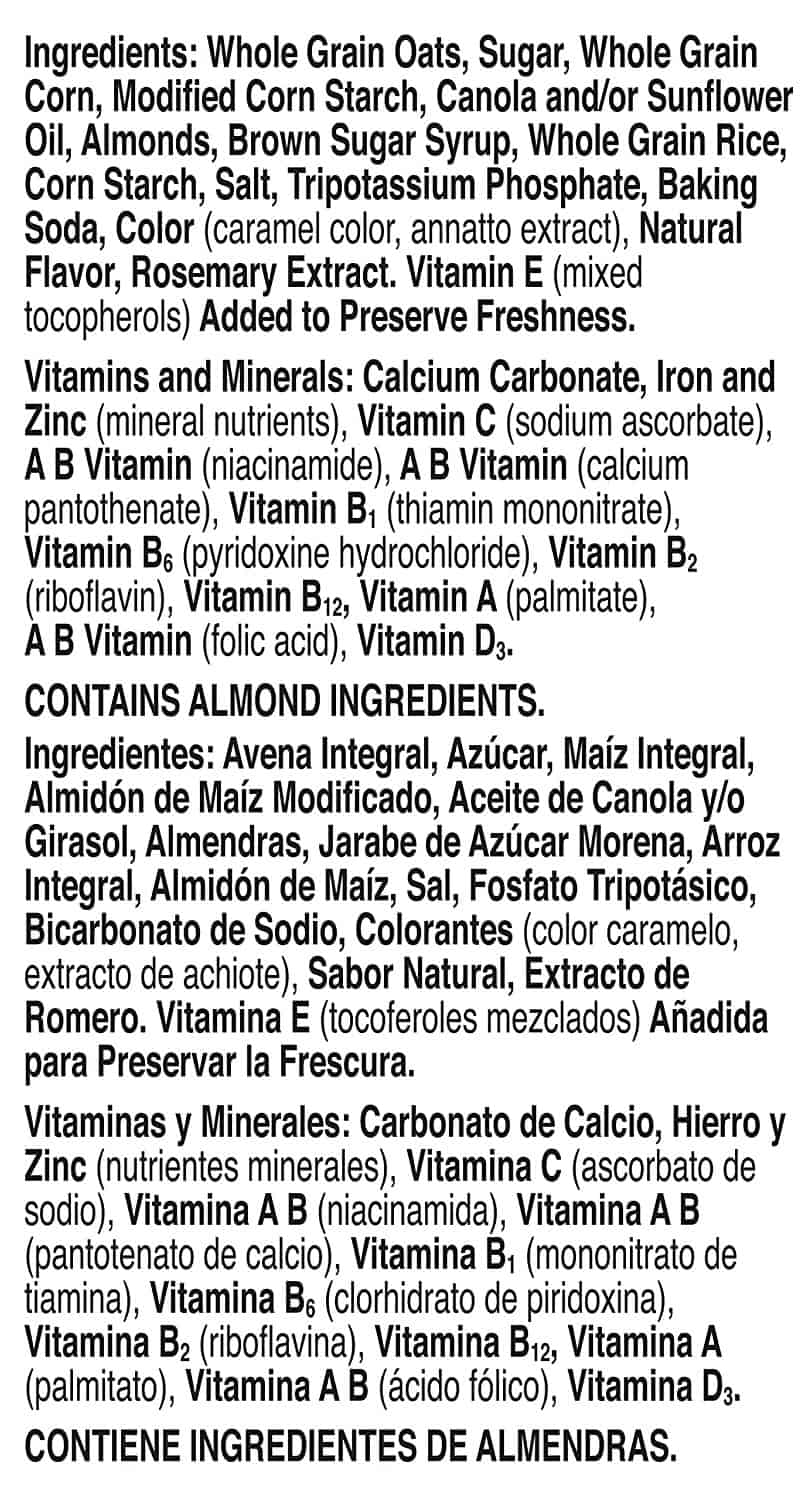 Whole Grain Oats
Sugar
Whole Grain Corn
Modified Corn Starch
Canola and/or Sunflower Oil
Almonds
Brown Sugar Syrup
Corn Starch
Whole Grain Rice
Whole Grain Sorghum
Whole Grain Millet
Salt
Tripotassium Phosphate
Baking Soda
Color (caramel color, annatto extract)
Natural Flavor
Vitamin E (mixed tocopherols) Added to Preserve Freshness.
Is Cheerios Oat Crunch Almond Healthy?
All varieties of Cheerios are made with a big dose of whole grain oats and Oat Crunch Almond is no exception; with each bowl containing 29g, one serving will meet your daily requirements of soluble fiber from a single source.
It's been shown that combining a high fiber diet with low cholesterol and low fat can lead to improving heart health. The five different kinds of grain in this breakfast cereal, including millet, sorghum, and oats, are a great way to know you're eating the right stuff to keep your heart healthy.
These Cheerios are naturally low in fat, though a little bit higher than normal because of the inclusion of almonds. These are healthier, natural monounsaturated fats through good forms of lasting energy.
The total sugar is 15g, which makes up 28% of your daily intake, which isn't terrible but will take a big chunk out of how much sugar you should be consuming every day.
Is Cheerios Oat Crunch Almond Gluten-Free?
Cheerios are sponsors of the Celiac Foundation and are proud to display the gluten-free label on many of their products. However, this particular variety does not display this label.
This means the product is tested for gluten or contains more than 20ppm (parts per million) of gluten in a serving and cannot be labeled gluten-free.
There are no ingredients that contain gluten, so it's probable that the production process shares machinery and equipment with processes that use grains that contain gluten.
Is Cheerios Oat Crunch Almond Vegan?
Cereals that contain white sugar are a bit of a grey area for vegans.
Lots of sugar that goes into cereals has been whitened using bone char, the final product of burning down bones from cattle.
This is not technically an ingredient, and it is not definitely used in the process, so it is not listed on the box. However, it is common practice for cereals, so it's basically up to the individual vegan to decide whether they can eat this cereal or not.
Is Cheerios Oat Crunch Almond Keto?
A ketogenic diet encourages the body into a state of ketosis by cutting out sugar and increasing fat intake, which makes the body produce ketones as an alternative energy source.
To maintain ketosis, 20g of sugar is suggested as a maximum level. Oat Crunch contains 15g in a serving, which is very high for ketosis and will stop you from being able to eat much more throughout the day.
It's also very low in fats which are crucial to the creation of ketones. For these reasons, other cereals or breakfast alternatives are much more suited to a ketogenic diet.
Is Cheerios Oat Crunch Almond High In Protein?
This breakfast cereal is not a strong source of protein. 4g of protein in Oat Crunch, while in the medium to high range for a standard cereal, is still very low for food generally.
Is Cheerios Oat Crunch Almond High In Fiber?
While a good source of healthy whole grains, Oat Crunch sits at 3g of fiber, 11% of your daily intake, narrowly missing out on the 5g high fiber label but still a good way to help you reach your requirements.
Cheerios Oat Crunch Almond Varieties
If it's a sweet, nutty taste combined with the crunch of multigrain Cheerios you're after, here are some alternatives –
Honey Nut Cheerios – Think Oat Crunch without the nuts, and you've got this cereal. Made with real golden honey and reinforced with 12 essential vitamins and minerals.
Apple Cinnamon Cheerios – Made with apple puree, whole grains, and real cinnamon. This is a subtle and warm breakfast alternative with 14g of whole grain and 12 minerals and vitamins in every serving.
Cheerios Oat Crunch Almond Store Brand Alternatives
The combination of nuts and sugar or honey has proven itself to be a winner at virtually every breakfast table, so if you're looking for a store brand alternative, you can be sure your grocery store will have a similar option.
Where You Can Buy Cheerios Oat Crunch Almond?
Cheerios Oat Crunch can be found either online at Amazon or Target, or at many local reputable grocery stores with a good cereal aisle.
Famous Cheerios Oat Crunch Almond Cereal Commercials
Cheerios didn't make a specific commercial for Oat Crunch Almond, but this commercial gives a breakdown of what the cereal variety offers while giving you a closer look at it.
User Reviews
Review Summary
1.0 out of 5 stars (based on 1 review)
Recent Reviews
You forgot to mention the fact that it contains bioengineered food ingredients.
Submit a Review