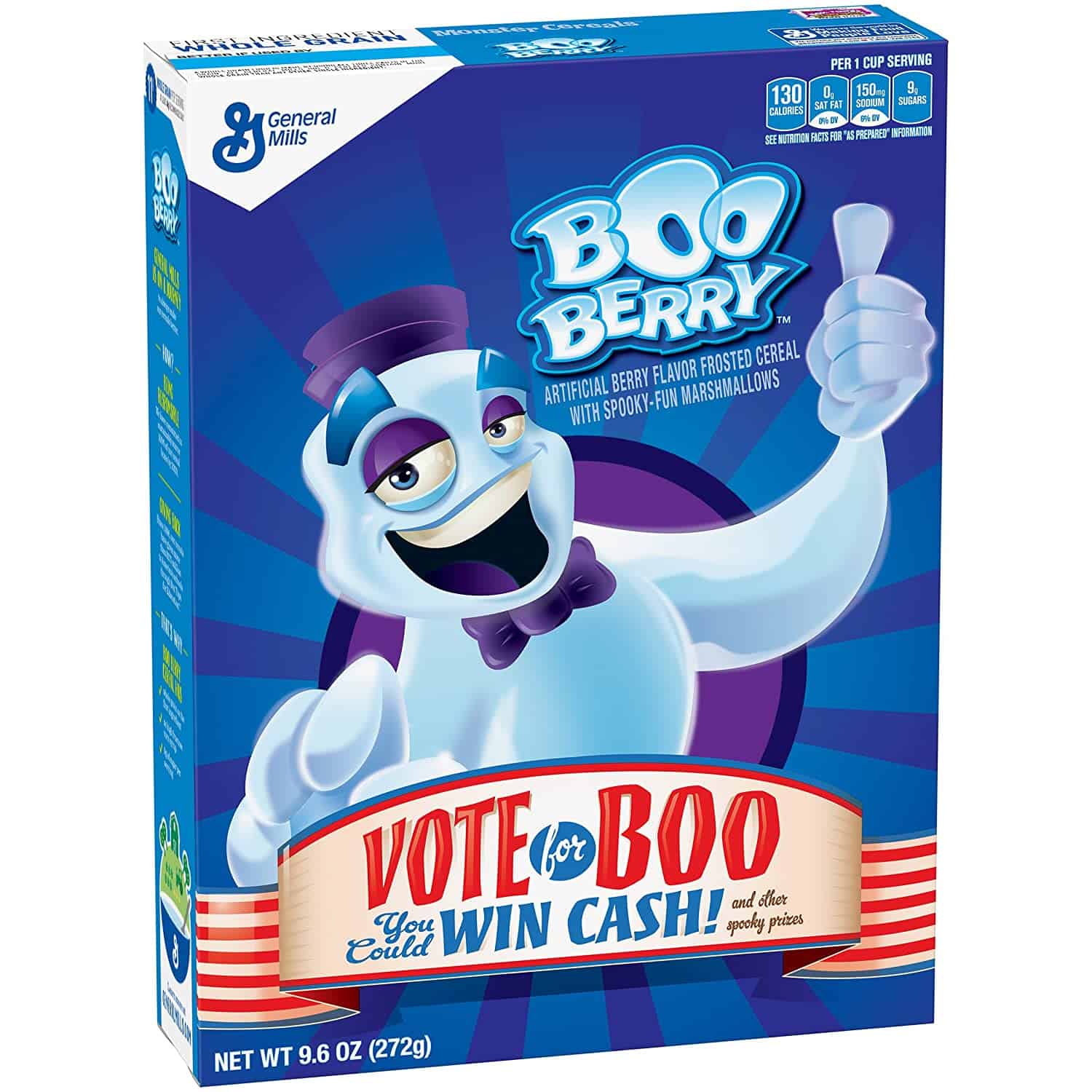 Part of the spooky series brought to you by General Mills, Boo Berry cereal is a delicious berry-flavored mix of Halloween shapes. With frosted shapes, berry flavoring, and fluffy marshmallows, this is well suited for anyone that has a major sweet tooth.
The Boo Berry Cereal features alongside two other bowls of cereal made by General Mills, which you'll discover further down the page. This is a cereal that you can enjoy during the spooky month of the year or as an odd treat every now and then.
Let's look at what the Boo Berry flavor frosted cereal has to offer!
Nutrition Facts

The cereal contains 12 servings of cereal which is a reasonable amount for those looking for value for money. Here are some nutritional facts about the cereal:
Calories: 130
Saturated Fat: 0.0g
Trans Fat: 0.0g
Polyunsaturated Fat: 0.5g
Monounsaturated Fat: 0.5g
Cholesterol: 0.0mg
Sodium: 150.0mg
Total Carbohydrate: 28g
Dietary Fiber: 1.0g
Sugars: 9g
Other Carbohydrate: 18.0g
Protein: 2g
Vitamin A
Vitamin C
Calcium
Potassium: 50.0mg
Iron
Vitamin D10
Thiamin
Riboflavin
Niacin
Vitamin B6
Folic Acid
Vitamin B12
Phosphorus
Zinc
Ingredients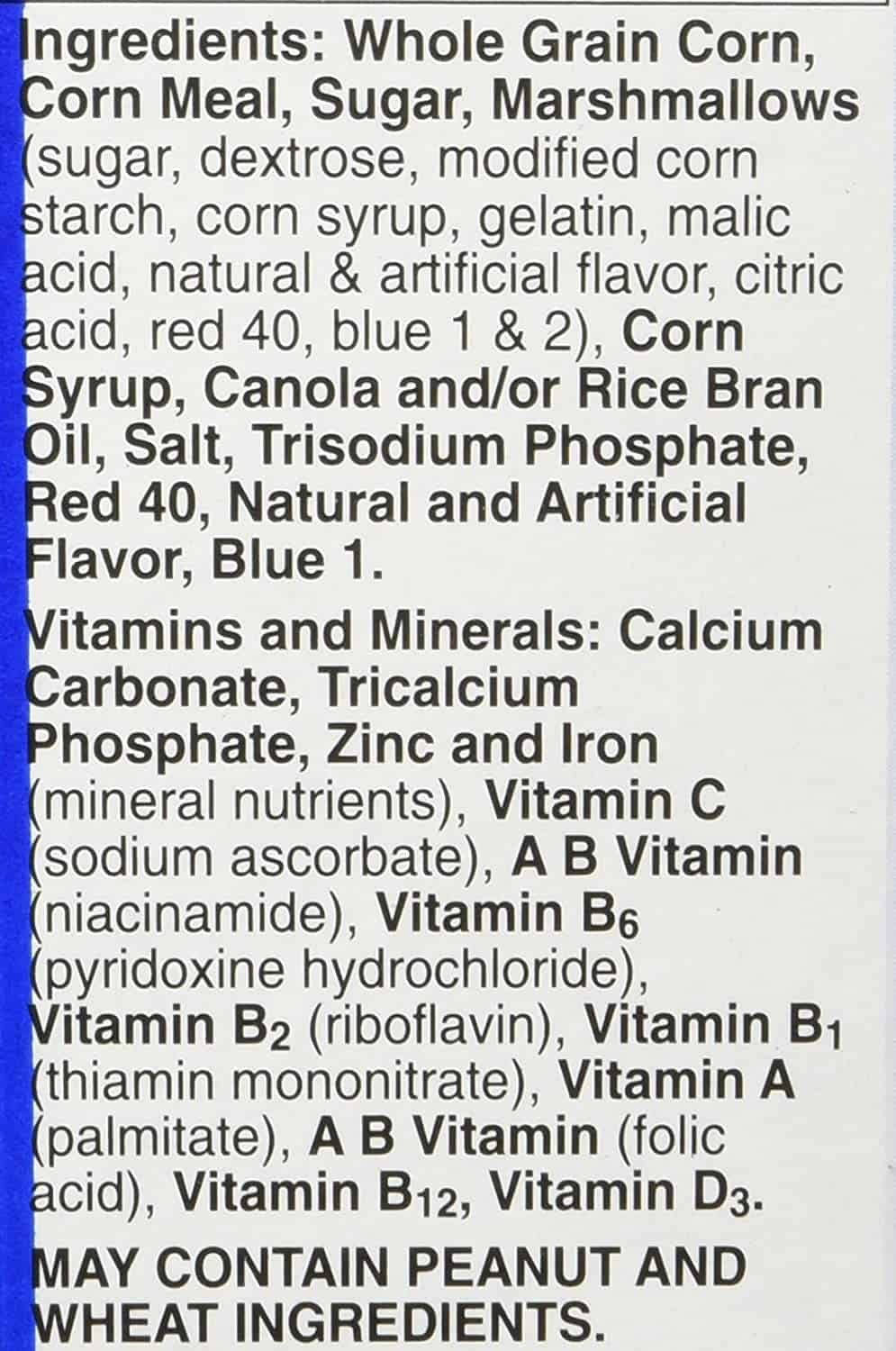 When it comes to this breakfast cereal, you will likely be shocked at the amount of information displayed when it comes to the contents of the ingredients. However, compared to other natural cereals, these monster cereals are jam-packed due to them being highly processed. Here are the ingredients that are in this breakfast cereal:
Whole grain corn
Cornmeal
Sugar
Marshmallows (Sugar, Dextrose, Modified Corn Starch, Corn Syrup, Gelatin, Malic Acid, Natural & Artificial Flavor, Citric Acid, Red 40, Blue 1 & 2)
Corn syrup
Canola oil
Salt
Trisodium phosphate
Red 40
Natural and artificial flavor
Blue 1
Vitamins and Minerals: Calcium Carbonate, Tricalcium Phosphate, Zinc and Iron, Vitamin C, A B Vitamin, Vitamin B6, Vitamin B2, Vitamin B1, Vitamin A, Folic Acid, Vitamin B12, Vitamin D3.
Is Boo Berry Cereal Healthy?
Boo Berry is certainly a colorful delight when it enters the bowl, even more so when you pour in the milk and see it turn a pinkish hue.
The daily value of this cereal tells you how many nutrients each serving contains. The pros are that the cereal is low in fat and contains no saturated fat or cholesterol, two important things to avoid when it comes to looking after your body.
It's also a great source of whole grains, as well as calcium which helps young bones grow stronger. There's also a variety of essential vitamins and minerals available in this cereal too.
Is Boo Berry Cereal Gluten-Free?
The Boo Berry cereal is sadly not gluten-free. Whilst General Mills does make the odd cereal gluten-free, a lot of the cereals under this brand do typically contain wheat. This is mainly because all their cereals are made and manufactured in the same facility.
As a result, this breakfast cereal is not gluten-free certified and so you may find a disclaimer on the actual product packaging that will indicate that this cereal isn't guaranteed to be gluten-free.
Is Boo Berry Cereal Vegan?
As a breakfast cereal, due to its marshmallows and flavorings/vitamins, Boo Berry cereal cannot be considered a vegan product. The marshmallows contain gelatin which means that it' contains an animal-derived product. Whilst there can be plant-based gelatins, this isn't the case with this cereal.
In addition, the flavorings used and the presence of certain animal-derived vitamins also make this cereal a questionable option for vegans. If you're a vegan, it's a cereal you'll probably want to avoid.
Is Boo Berry Cereal Keto?
The Boo Berry cereal is not keto-friendly as this breakfast option contributes heavily towards the daily carbohydrates and sugar content that's allowed on this type of diet.
Many keto dieters will also find that this breakfast cereal contains way too much sugar and other unhealthy ingredients that are frowned upon when it comes to the keto diet.
Is Boo Berry Cereal High in Protein?
A small 2g worth of protein is found in this cereal and whilst that might be an average rating value for most processed cereals, it's not a great amount. As a result, you may be looking to find a more protein-rich option when shopping for cereals online or in-store.
Is Boo Berry Cereal High in Fiber?
The Boo Berry cereal isn't going to be providing much in the way of a healthy digestive system as it only contains 1g of fiber. You can always get your fiber intake with your other meals during the day but this 1g isn't going to contribute much to your overall intake.
Boo Berry Cereal Varieties
There are a couple of varieties that the Boo Berry cereal is part of. They make up a spooky trio that has been around for some time now. These include Franken Berry and Count Chocula.
This spooky threesome of cereal has been satisfying many generations of kids for decades now and continues to be a popular cereal, despite it being a cereal that's typically only bought out around the Halloween season.
Boo Berry Cereal Store Brand Alternatives
As well as trying out the Franken Berry and Count Chocula options, there are a few alternative store brands that you might want to check out when it comes to similar cereals to this blueberry and marshmallow cereal.
Berry Colossal Crunch
Blueberry Cheerios
Marshmallow Mateys
Fruit Loops
Super Mario Cereal
Where You Can Buy Boo Berry Cereal
There are several places where you can get the Boo Berry cereal. These include the following:
Famous Boo Berry Cereal Commercials
The Boo Berry Cereal has been around for a long time and so there have been a few commercials over the years. Here are a couple worth mentioning:
This one features Franken Berry and Count Chocula meeting Boo Berry for the first time.
In another commercial, Count Chocula shared the screen again with Boo Berry to try and outperform one another when it came to their cereal.
User Reviews
Review Summary
5.0 out of 5 stars (based on 1 review)
Recent Reviews
Submit a Review