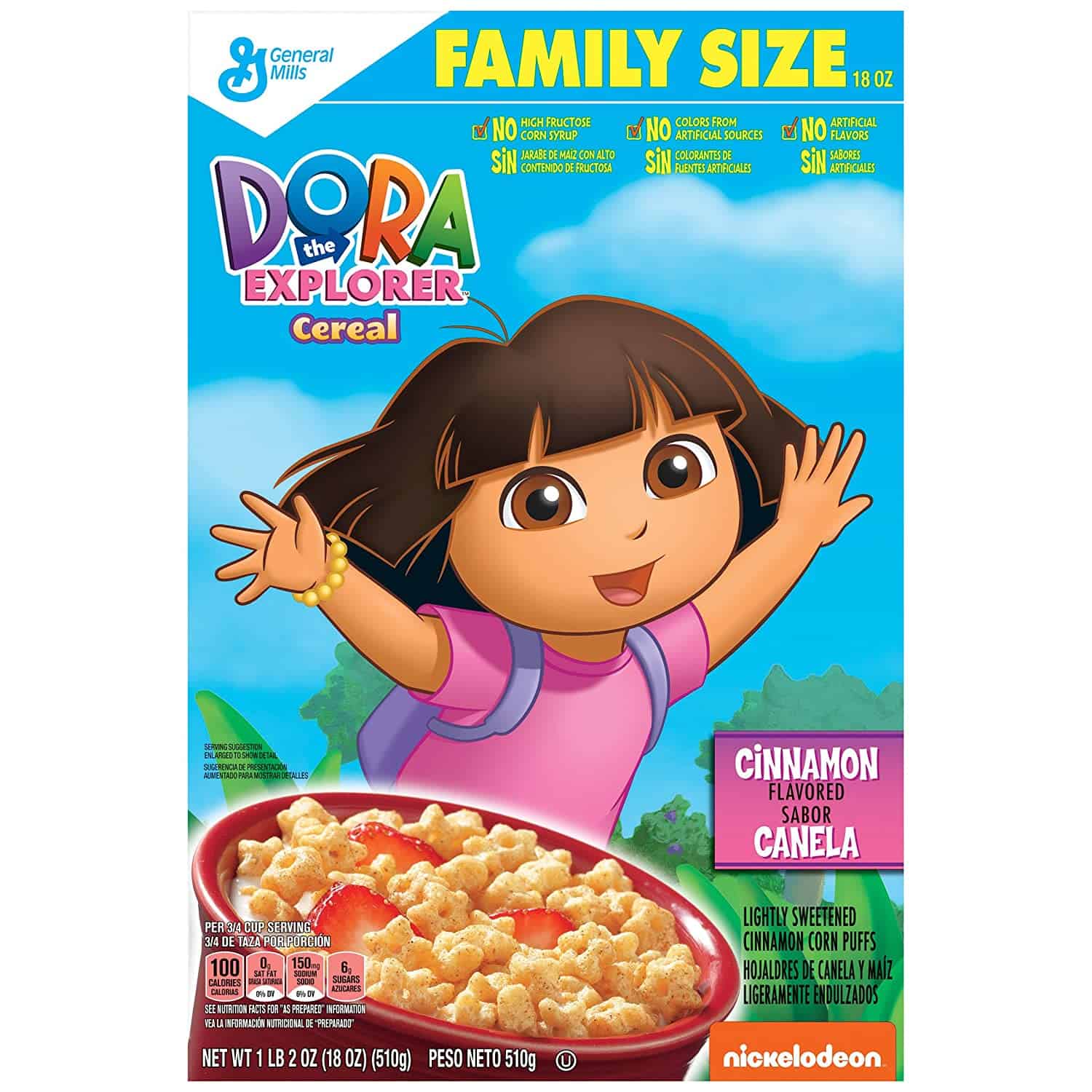 A box of Dora the Explorer cereal will go down as a real treat for breakfast cereals in your household. If your child is an avid follower of Dora, they'll undoubtedly benefit from these lightly sweetened corn puffs.
General Mills Dora the Explorer cereal is one of many cereal variations that the brand produces, and this one is just as popular as any of the others available. Enjoy this family-sized box, whether for the kids or the whole household to enjoy in the mornings.
See below for all of the nutritional facts, ingredients, and common questions asked about the Dora the Explorer cereal.
Nutrition Facts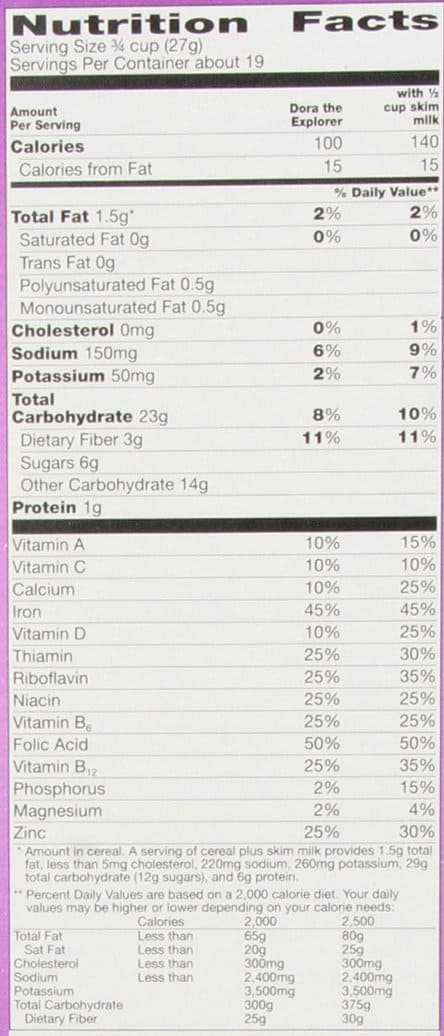 There are around 19 servings in this box, and the serving size suggested is 0.75 cups. Here are some nutritional facts regarding this cereal:
Calories: 100
Total Fat: 1.5g
Saturated Fat: 0g
Trans Fat: 0g
Polyunsaturated Fat: 0.5g
Monounsaturated Fat: 0.5g
Cholesterol: 0mg
Sodium: 150mg
Total Carbohydrate: 23g
Dietary Fiber: 3g
Sugars: 6g
Protein: 1g
Ingredients

Here is a complete list of ingredients found in the Dora the Explorer cereal:
Whole Grain Corn
Corn Meal
Sugar
Corn Bran
Canola and Rice Bran Oil
High Fructose Corn Syrup
Salt
Cinnamon
Trisodium Phosphate
Natural And Artificial Flavor
Vitamin E (Mixed Tocopherols)
BHT Added to Preserve Freshness
Vitamins and Minerals: Calcium Carbonate, Iron and Zinc (Mineral Nutrients), Vitamin C (Sodium Ascorbate), a B Vitamin (Niacinamide), Vitamin B6 (Pyridoxine Hydrochloride), Vitamin B2 (Riboflavin), Vitamin B1 (Thiamin Mononitrate), Vitamin A (Palmitate), a B Vitamin (Folic Acid), Vitamin B12, Vitamin D3.
Is Dora The Explorer Cereal Healthy?
Compared to other cereals, this is one of the healthier alternatives. It teaches your kids to make healthier food choices for their food.
This cereal contains all the necessary ingredients for growing little ones, from fiber to whole grain corn and corn bran, and essential vitamins like folic acid, calcium carbonate, and mineral nutrients. Ingredients are critical for your children to have as part of their daily diet. However, there are some artificial flavors.
Is Dora The Explorer Cereal Gluten-Free?
For those needing a gluten-free option for their diet, Dora the Explorer is a gluten-free cinnamon flavored treat.
This is an excellent option for those who have an aversion to gluten or are looking for something to help settle their stomach. Whether it's an afternoon snack or a morning meal, this is an excellent option for all those who can't consume gluten in their diet.
Is Dora The Explorer Cereal Vegan?
Yes, Dora the Explorer cereal is considered vegan. Still, like some other General Mills cereals, it can often be avoided by strict vegans who think sugar and canola oil are problematic.
It's a personal preference, but for the most part, General Mills Dora the Explorer cereal doesn't include any milk or dairy products, making it suitable for most vegans who want to try it out.
Is Dora The Explorer Cereal Keto?
Many of these cereals that we see on the market are generally processed, so that isn't typically welcome on a keto diet.
There are also 23g of carbohydrates in a bowl of this cereal, whereas keto diets allow for only 50g of carbohydrates. This might be too much of your daily allowance to have in one meal, and lastly, the cereal contains a lot of added sugars, like the high fructose corn syrup and artificial flavors.
For that reason, it's best to look elsewhere for a more appropriate cereal when on keto.
Is Dora The Explorer Cereal High in Protein?
Unsurprisingly, this cereal offers very little protein within each serving. You'll only get a measly 1g of protein. This is very low in comparison to other grain or breakfast options. However, you may not be looking for much protein within your breakfast meal anyway.
There are plenty of alternatives that you can choose to boost your protein intake, or you can add ingredients to this cereal to bring the protein content levels up.
Is Dora The Explorer Cereal High in Fiber?
Dora the Explorer cereal, offers more than 12% of your daily fiber intake. That's a fairly substantial amount for a breakfast cereal, which means it will benefit digestion.
It's a cereal type that will keep you fuller for longer and provide plenty of your much-needed nutrients and minerals daily.
Dora The Explorer Cereal Store Brand Alternatives
There are few alternatives for cereal store brands for Dora the Explorer cereal. However, there are certainly some great options from other cereal providers that have created a similar cinnamon corn cereal. Here are a few suggestions to try out:
General Mills Cinnamon Toast Cereal
Kellogs Frosted Flakes with Cinnamon Balls
Kellogs Cinnamon Sugar Krispies
The above cereals offer the same great taste that the Dora the Explorer cereal provides. The cinnamon flavor and the sweet corn syrup and crunch of the corn puffs. It's a taste that many bowls of cereal have and has become very popular.
Where You Can Buy Dora The Explorer Cereal
Sadly as of 2021, General Mills announced they would be discontinuing the cereal due to a lack of distribution in sales. However, you may still be able to find a few knocking about at the various locations:
You may also find it in your local grocery stores every so often as the last of the distributed cornmeal cereal is sold.
Famous Dora The Explorer Cereal Commercials
Of course, with the popularity of Dora the Explorer on television, many would expect there to be some commercials made. However, there doesn't seem to be one in existence. Other General Mills commercials promoted similar breakfast options like Dora the Explorer Cereal.
This one celebrates the variety of cereals that are the ultimate flavor flashback for fans of the General Mills cereal.
User Reviews
Review Summary
0 out of 5 stars (based on 0 reviews)
Recent Reviews
There are no reviews yet. Be the first one to write one.
Submit a Review