Quaker Oats is registered as the first trademark for a breakfast cereal dating back to the 1800s. That's over one hundred years of serving up delicious, nutritious breakfast to the whole family.
Starting your day the right way with Quaker Oats Cereal couldn't be any easier or more delicious. Perfect for fans of old-fashioned oats and cold cereal lovers alike; enjoy Quaker instant oatmeal, Quaker oatmeal squares, and a wide range of other Quaker Oats cereal and snacks that will keep you going all morning long.
Nutrition Facts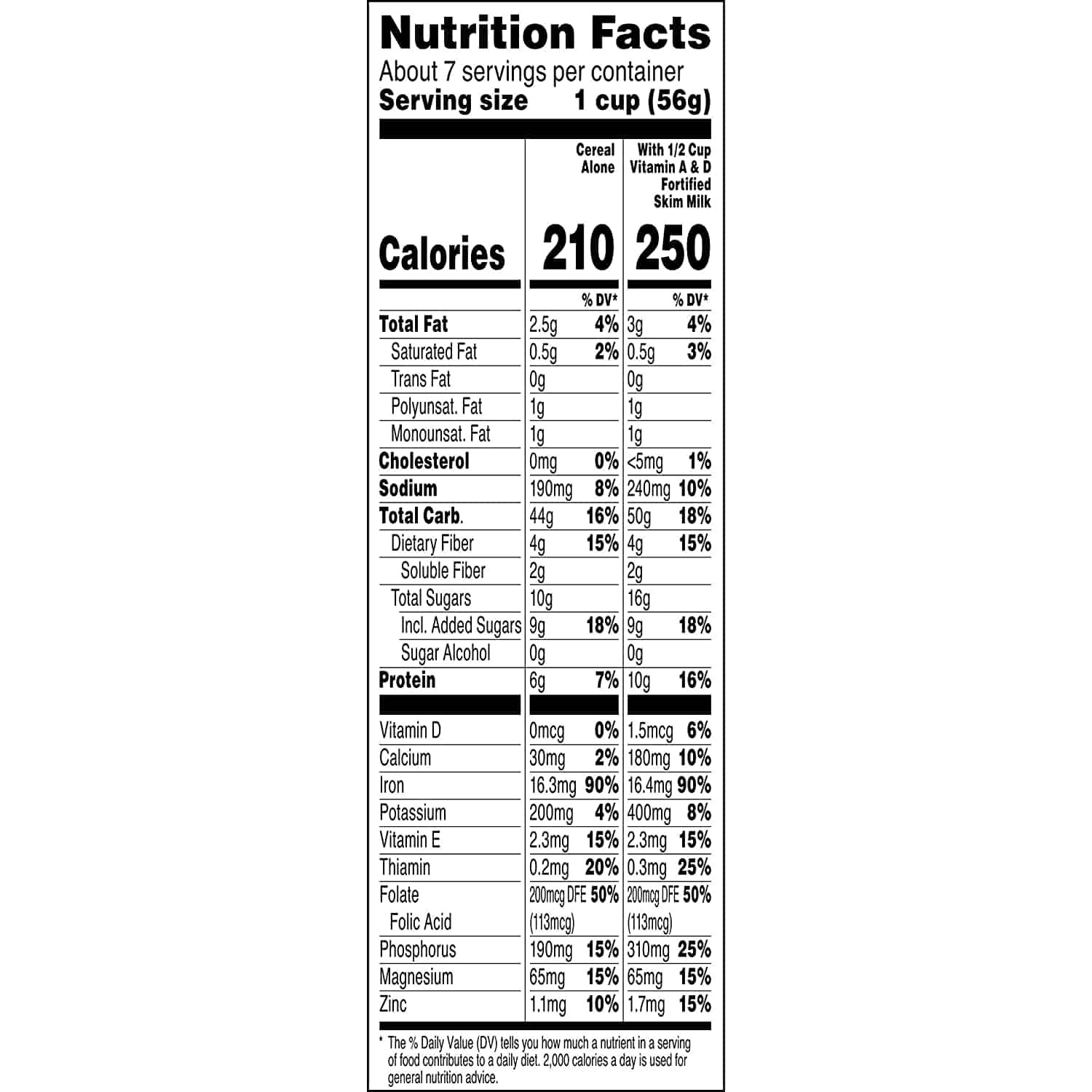 About 13 servings per container
Serving Size: 1/2 Cup Dry (40 g)
150 calories per serving
Total Fat 3g 4%
Saturated Fat 0.5g 3%
Trans Fat 0g
Polyunsaturated Fat 1g
Monounsaturated Fat 1g
Cholesterol 0mg 0%
Sodium 0mg 0%
Total Carbohydrate 27g 10%
Dietary Fiber 4g 13%
Soluble Fiber 2g
Total Sugars 1g
Includes 0g Added Sugars 0%
Protein 5g
Vitamin D 0mcg 0%
Calcium 20mg 0%
Iron 1.5mg 8%
Potassium 150mg 2%
Thiamine 0.2mg 15%
Phosphorus 130mg 10%
Magnesium 40mg 10%
*The % Daily Value (DV) tells you how much a nutrient in a serving of food contributes to a daily diet. 2,000 calories a day is used for general nutrition advice.
Nutrition Information listed pertains to Quaker 100% whole grain old-fashioned oats. For information regarding similar Quaker products, please click here.
Ingredients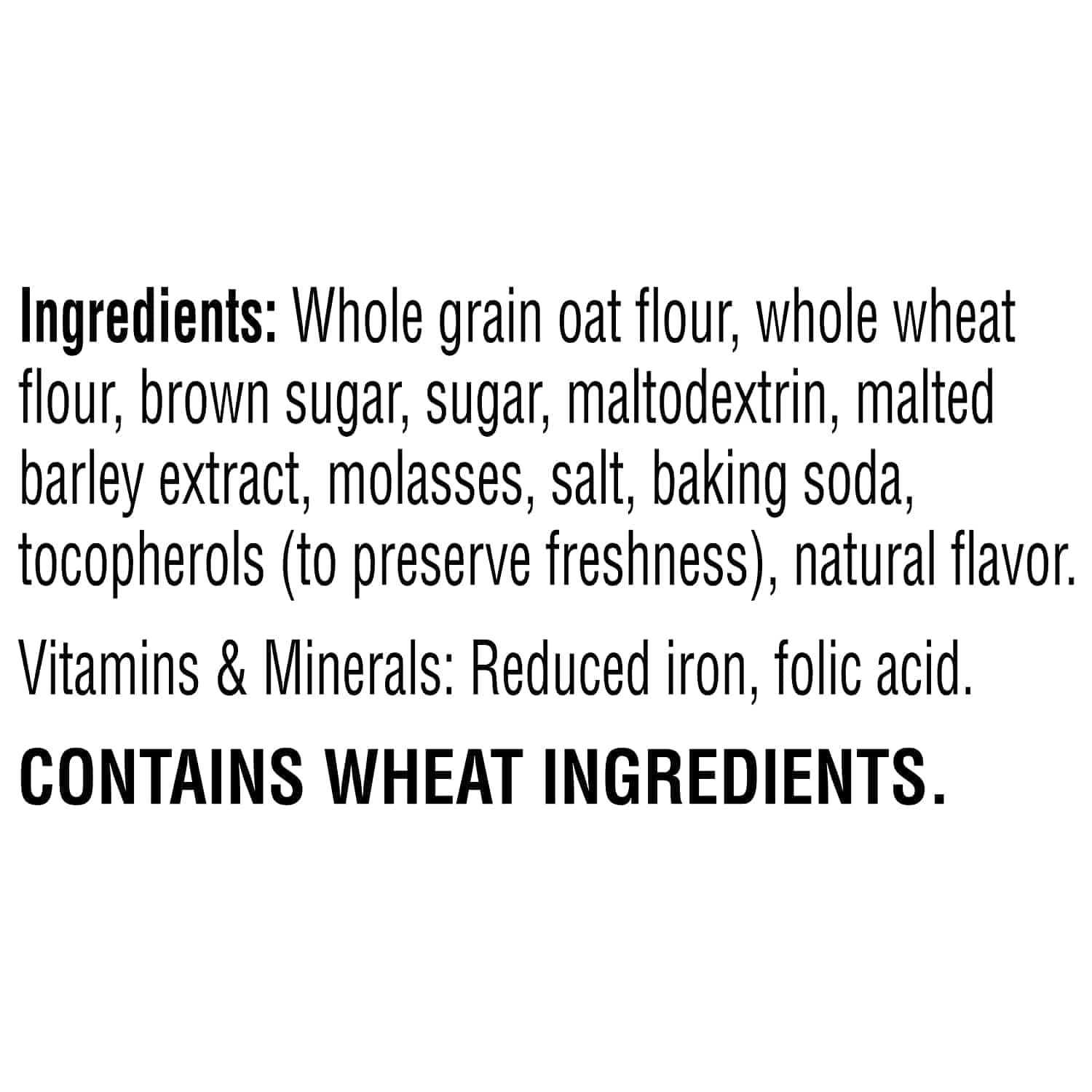 The key ingredient in all Quaker products is whole grain oat flour.
For further information regarding the ingredients in specific Quaker products, please click here.
Is Quaker Oats Cereal Healthy?
Oats are good for you. For 145 years, Quaker Oats has been dedicated to providing a breakfast cereal low in saturated fat and cholesterol. However you like them, Quaker Oats are packed full of nutritional benefits.
A bowl of oatmeal at breakfast breaks down slowly and is absorbed by the body. Packed full of heart-healthy whole grains and proteins, Quaker Oats provide you with energy all day long.
That's not all, either: the fiber your body gleans from whole grain Quaker Oats contributes to maintaining excellent digestive health. Not only is it a delicious start to the day, but it also keeps things moving.
However, the plainer the cereal is, the healthier it is. Sorry folks.
This means that while oats are intrinsically healthy, some of the tastier varieties offered by Quaker and other cereal brands rely on too much sugar and artificial colors. That rich sweetness that makes breakfast the best time of the day? The tang of golden maple? Yeah, those are all artificial flavors that are not doing your body any good.
Is Quaker Oats Cereal Gluten-Free?
Quaker Oats Cereal does offer a range of gluten-free products, including Instant Oatmeal; Brown Sugar Oatmeal; Old-Fashioned Oats, and 1-Minute Oats. Look for the Quaker Oats gluten-free range next time you're grocery shopping!
Is Quaker Oats Cereal Vegan?
Oats are intrinsically vegan. The old-fashioned oats and old-fashioned oatmeal are free from dairy and animal products.
Some of the ingredients used to preserve freshness or other flavors mixed in for great taste may not be vegan, so check the product details on the side of the box to be sure.
Is Quaker Oats Cereal Keto?
The ketogenic or 'keto' diet is low in carbohydrates and high in fat. Quaker Oats Cereal is not keto-friendly because it is too high in carbohydrates.
Is Quaker Oats Cereal High In Protein?
Yes, Quaker Oats are high in protein. Oats are believed to contain more protein than any other grain, meaning that Quaker oats, Quaker oatmeal squares, and Quaker instant oats are all packed full of powerful protein. Their key ingredient is oats, after all… it's right there in the name.
Is Quaker Oats Cereal High in Fiber?
Quaker Oats, instant oatmeal, and similar Quaker cereals are all whole grain-based food that is a good source of fiber. Oats contain both soluble fiber, which helps maintain a healthy blood sugar level, and insoluble fiber, promoting healthy digestion.
Quaker Oats Cereal Varieties
Oh, Quaker Oats has a great tasting cereal selection! This is hardly surprising for a company with over one hundred years of cereal cultivating experience.
Old Fashioned Oats:
Original and quick, 1-minute oats.
Instant Oatmeal:
Maple & brown sugar; cinnamon swirl; banana nut; original and original – gluten-free.
Steel Cut Oats:
Hearty traditional oats; quick 3-minute oats; brown sugar cinnamon and blueberries & cranberries.
Real Medleys Oatmeal+:
Summer berry; peach almond; maple pecan raisin; apple walnut, and blueberry hazelnut.
Instant Oatmeal Cups:
Apples & cinnamon; apples & cranberries; honey & almonds; maple & brown sugar; cranberry almond; strawberries & cream and blueberry strawberry.
Organic:
Original; maple & brown sugar; steel cut and wholesome organic multigrain cereal.
Quaker Life:
Original; vanilla, cinnamon, and chocolate.
Oatmeal Squares:
Brown sugar oatmeal squares, cinnamon oatmeal squares, golden maple oatmeal squares, and honey nut oatmeal squares.
Granola:
Apple, cranberry & almonds; oats, honey & almonds; honey, raisins & almonds, and chocolate & almonds.
Quaker Quisp
Crunchy corn cereal.
Quaker has also transformed your favorite cereals into baked oatmeal squares and deliciously crunchy, chewy granola bars in all the best cereal flavors kids love.
Where You Can Buy Quaker Oats Cereal
From all good cereal retailers, of course! Look out for a wide range of Quaker products next time you're grocery shopping – or head online, find all the Quaker products your family loves available from Amazon, Target, or similar and get them delivered straight to your door.
Famous Quaker Oats Cereal Commercials
This classic Quaker Oats Vintage Commercial – 1960 shows a mother preparing her young son's breakfast of classic oats, setting him up for the day ahead.
This Quaker Oats Cereal Commercial- 1979 emphasizes the natural goodness of Quaker oatmeal. This commercial focuses on the original, the plain, and the timeless.
Quaker Oats' "Always a Good Call" commercial demonstrates the continued family focus of the company while showcasing additional flavors.
User Reviews
Review Summary
0.0 out of 5 stars (based on 0 reviews)
Recent Reviews
There are no reviews yet. Be the first one to write one.
Submit a Review