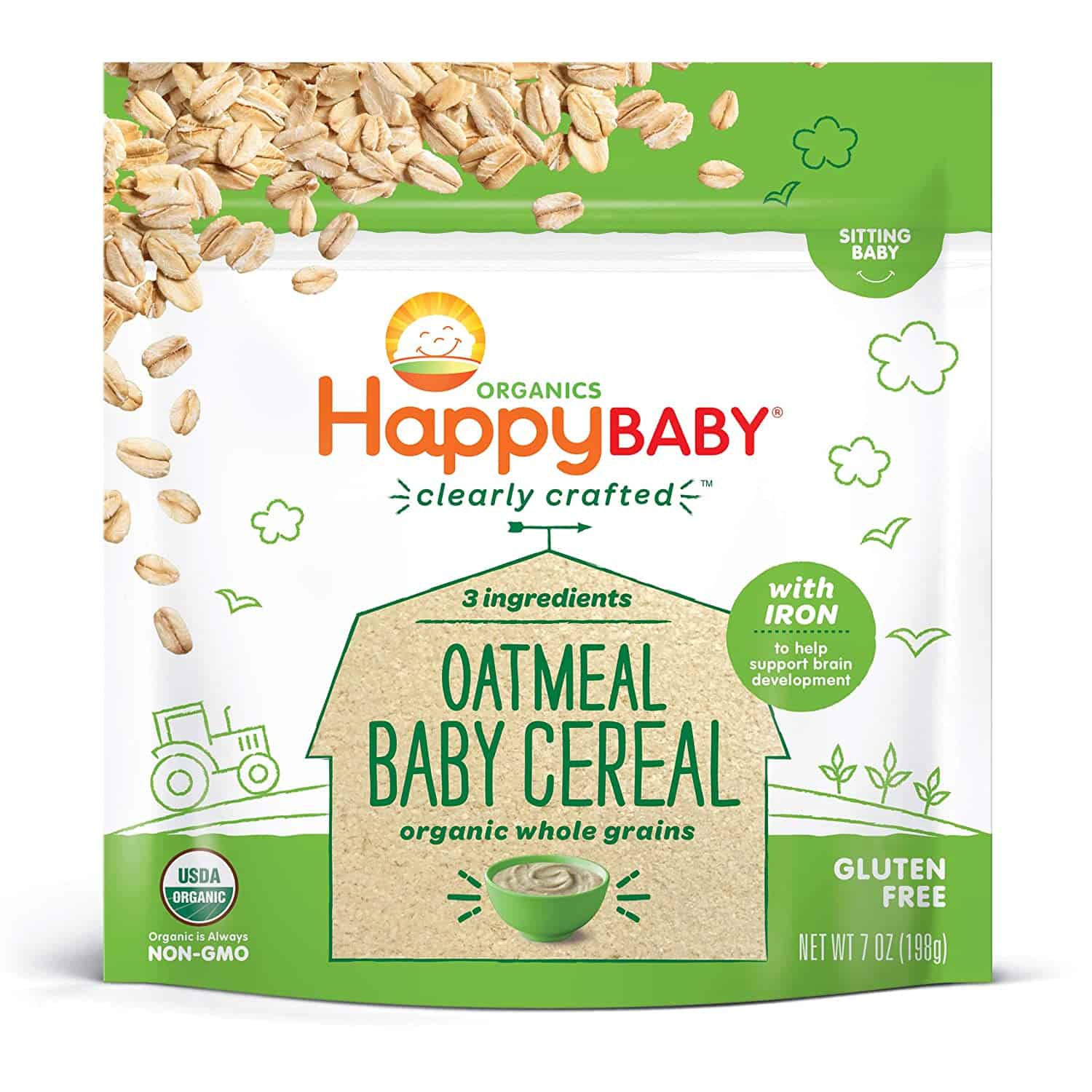 Making sure your children eat healthy from the beginning is important. It's essential to help build them a natural immune system and a healthy body inside and out that they can carry with them as they grow.
The Happy Baby Oatmeal Cereal is a staple for many families looking to provide a healthy option for their children who are in the early development stages of life.
Clearly crafted for babies who may still be breastfeeding, it's a great cereal choice for healthy solids.
Nutrition Facts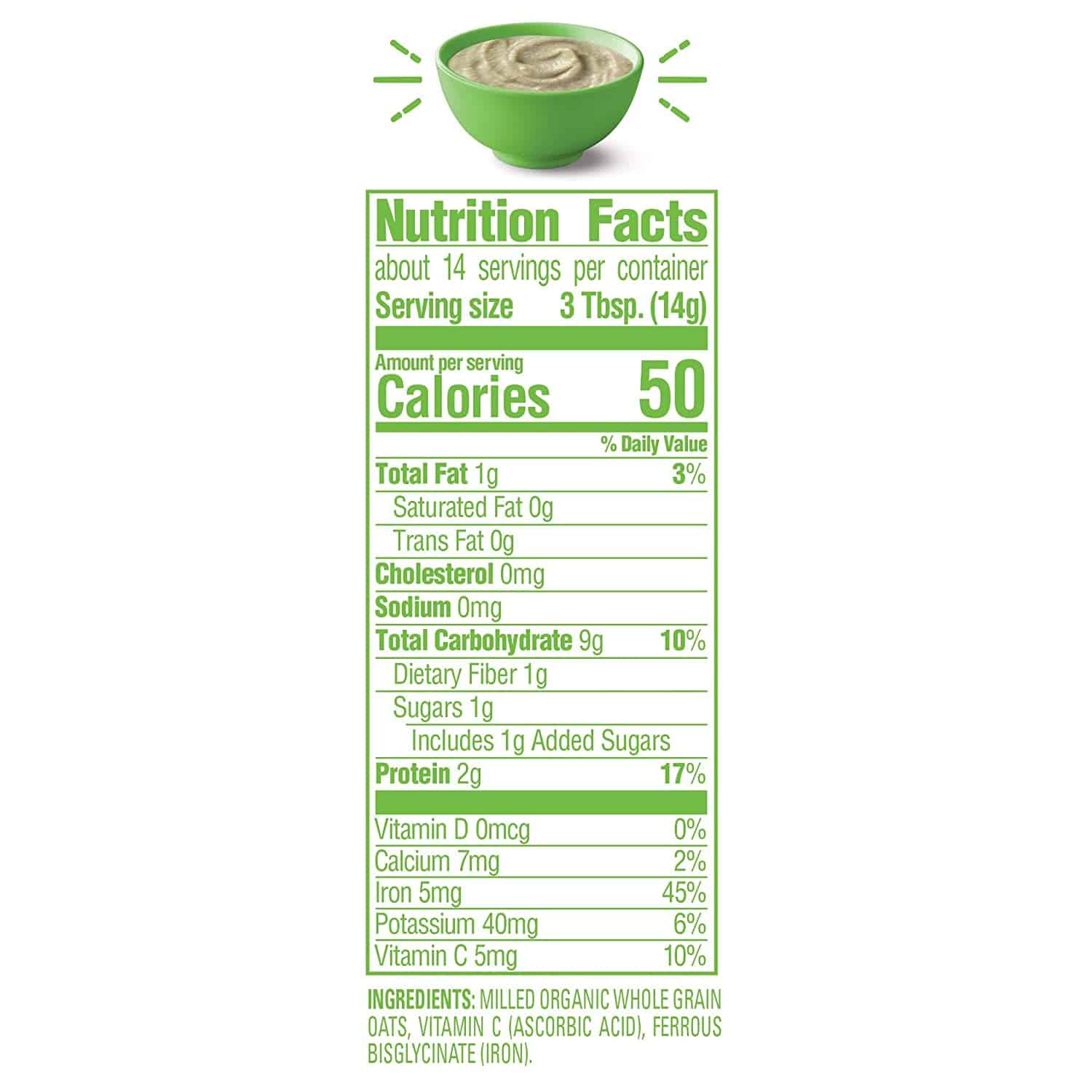 As a cereal that's been made with babies in mind, you'll find these nutritional facts to be fairly advantageous in being low for the most part in the harmful nutritional values and high in the good.
Calories: 50
Saturated Fat: 0.0
Trans Fat: 0g
Cholesterol: 0.0
Sodium: 0.0
Total Carbohydrate: 9.0
Dietary Fiber: 0
Sugars: 0
Includes Added Sugars: 1.0
Other Carbohydrates: 0
Protein: 2.0
Vitamin C: 5.0
Calcium: 7.0
Potassium: 40.0
Iron: 5.0
Vitamin D: 0.0
Ingredients
With only a few ingredients, this oatmeal baby cereal hasn't got any added and unnecessary vitamins that aren't going to benefit your baby. Here are the only ingredients you'll find in these organic oats cereals.
Milled Organic Whole Grain Oats
Vitamin C (Ascorbic Acid)
Ferrous Bisglycinate (Iron)
Is Happy Baby Oatmeal Healthy?
Organics Happy Baby's mission is to bring health and happiness to young babies. Responsible for a number of nutritious meals and snacks, the Oatmeal baby cereal is a great one for those who are looking to give their children a balanced meal every morning.
As it's a versatile food, it can be used from a young age and can also be used as a purée baby food for those that still don't have their teeth coming through.
It helps support brain development, and the food contributes to a healthy diet for your little ones. The silky smooth texture is one that's loved by many young ones that might be fussy.
Is Happy Baby Oatmeal Gluten-Free?
You'll be pleased to know that this baby cereal is gluten-free! With a lot of young babies developing allergies or intolerances from a young age, it's good to try foods that are going to keep your baby safe from any nasty reactions.
A gluten intolerance is something that certainly is common, and so while it may be bland oatmeal, it's a good foundation for providing plenty of nutrients as a gluten-free option.
Is Happy Baby Oatmeal Vegan?
As far as the clearly crafted oatmeal baby cereal goes, this is a vegan product. There's nothing in it that contains animal products or byproducts, for that matter.
However, not all of the brand's products are vegan, so it's good to check the ingredients to ensure that there are no animal-derived products in there. Typically, these would be found in the flavorings of the cereal.
Is Happy Baby Oatmeal Keto?
While it's more suited for babies who are needing a balanced diet, the same can be said for those who are on a keto diet too. This oatmeal contains the extra nutrients that many of us need to maintain a healthy diet and minimizes the number of nutrients/ingredients that can be counterproductive to staying healthy.
For those on a keto diet, they'll certainly benefit from trying out this gluten-free oatmeal. It's a natural food that doesn't have any unnecessary ingredients like folic acid, which some cereals contain.
Is Happy Baby Oatmeal High In Protein?
Checking out the nutritional and ingredients information above can tell you how much a nutrient is in each serving. When it comes to protein, there are 2g within each serving. That's a sizeable amount but nothing too major as it's meant for babies and not adults. The organic aspect is something that many love, and as an oatmeal, you can easily add extra protein to it.
From nuts and seeds to other protein-rich foods, it's good to incorporate them into your daily diet.
Is Happy Baby Oatmeal High In Fiber?
There's no fiber in this oatmeal, which might not be a good thing for everyone. Fiber is useful to have in your diet to help with your digestive system, but it's not necessarily something that's needed as much when it comes to babies within their first years.
When a baby has started solids, it will likely need some foods that are high in fiber, but this oatmeal is useful for those that don't need much fiber intake currently.
Happy Baby Oatmeal Varieties
Happy Baby only has the one oatmeal product but a range of first-feed foods from purée fruits to savory pouches. The whole range of Happy Baby foods makes for great breakfast meals or snacks, depending on what you need for your happy family.
If you're looking for some inspiration on what to buy for your little one from the Happy Baby store, then try out the clearly crafted Apples, Mango & Beets Jar or the Pears, Squash, and Blackberries Pouch.
Happy Baby Oatmeal Store Brand Alternatives
For this brand's alternatives when it comes to oatmeal baby cereal, here are a number of similar options you might find useful.
Gerber Oatmeal Cereal
Beech Nut Oatmeal
Cow & Gate Rice Cereal
Aptamil Organic Baby Rice Cereal
Where You Can Buy Happy Baby Oatmeal
Where can you buy the Happy Baby Oatmeal? Aside from the obvious, which is on the Happy Baby site itself, here are a few other places you can buy this baby cereal.
It's a popular cereal that, with its silky smooth texture, makes a delicious meal for your baby. You'll likely find it easily both online and in-store, so make sure you stock up. Whether it's for you or your family, it's a good breakfast option.
Famous Happy Baby Oatmeal Cereal Commercials
Happy Baby Oatmeal Cereal doesn't have any commercials from what we could find online, but there are some useful videos that you may find useful when it comes to this cereal.
You can watch this YouTube reviewer shares her adorable baby Carter enjoying Organics Happy Baby Cereal- Carter's Favorite Breakfast and when Carter tries Organics Happy Baby Cereal for the first time.
User Reviews
Review Summary
0.0 out of 5 stars (based on 0 reviews)
Recent Reviews
There are no reviews yet. Be the first one to write one.
Submit a Review