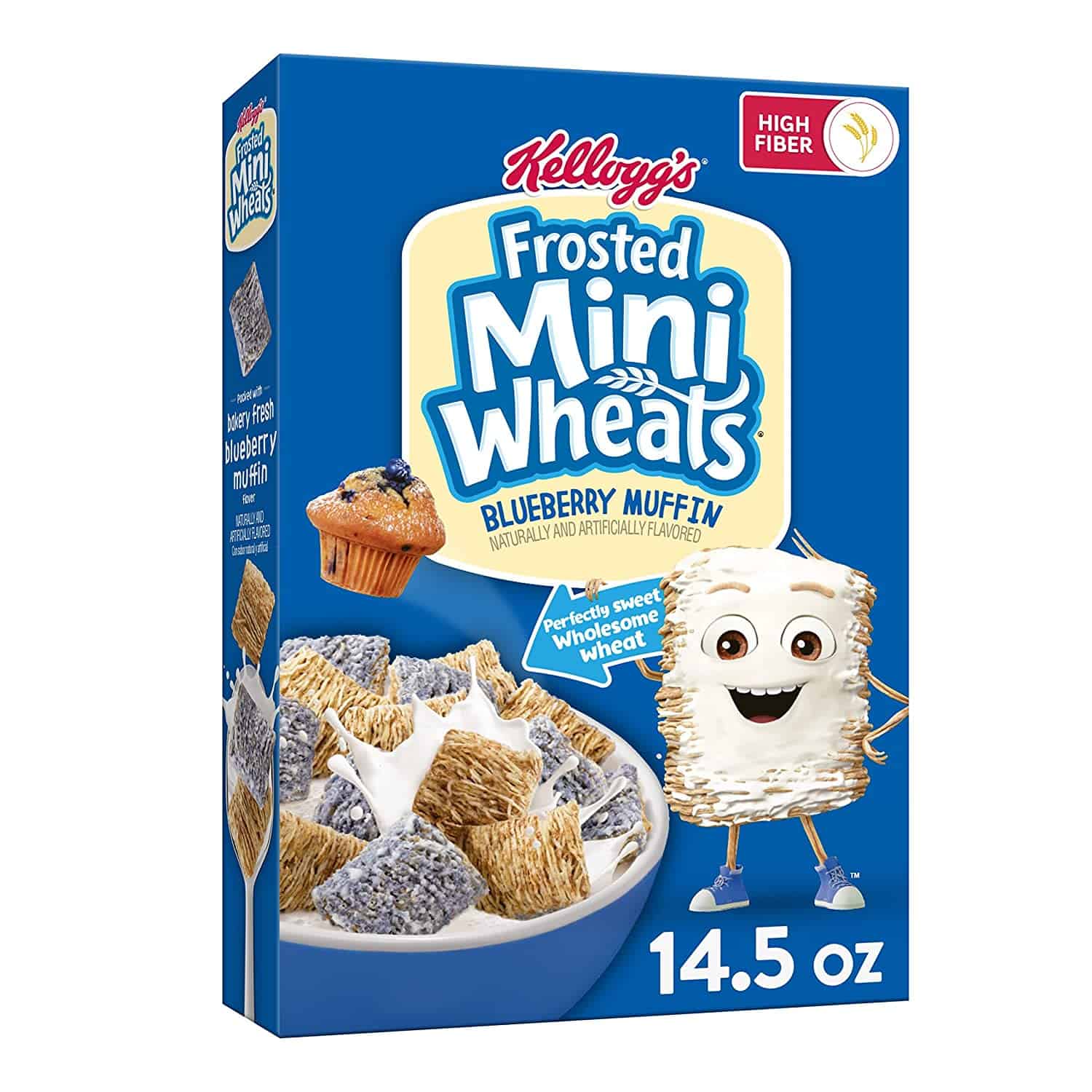 If you're looking for something to spice up your first meal of the day, check out Kellogg's Frosted Mini-Wheats Blueberry cereal! With an authentic blueberry taste, this is the perfect cereal for those looking for a fruity treat for breakfast.
But, is it a healthy cereal? Is it suitable if you're following a vegan or keto diet? Does it offer a good source of protein and fiber? Below, you'll find everything you need to know about this cereal, so read along as we take a detailed look at its nutritional value.
Nutrition Facts

Marketed as a low-fat, high-fiber breakfast cereal, Kellogg's frosted mini-wheats have a blueberry flavored frosting on each biscuit. The bite-size pieces are super crunchy with crispy wheat layers made from whole grains.
Although they claim that it contains 7 essential vitamins and minerals is true, it's important to remember that they don't occur naturally. Eating a bowl of Kellogg's frosted mini-wheats isn't the same as eating fresh fruit or vegetables, where these important nutrients are naturally present.
However, it's better than nothing and this cereal does make for a tasty snack or treat. Enjoy them in the afternoon as a pick-me-up, after a workout, or as a late-night movie snack!
Perfect for traveling, frosted blueberry mini-wheats are ideal to pack for school lunches, as an after-school snack, or whenever you're on the go! Let's take a look at the nutritional facts of this cereal:
Calories: 210
Fat: 1g 1% DV
Sodium: 10mg
Carbohydrate: 51g 19% DV
Fiber: 6g 23% DV
Sugar: 12g 24% DV
Protein: 5g 4%
Calcium: 10mg
Iron: 18mg
Potassium: 210mg
Folate: 235mcg
Zinc: 10% DV
Magnesium: 10% DV
Phosphorus: 10% DV
Ingredients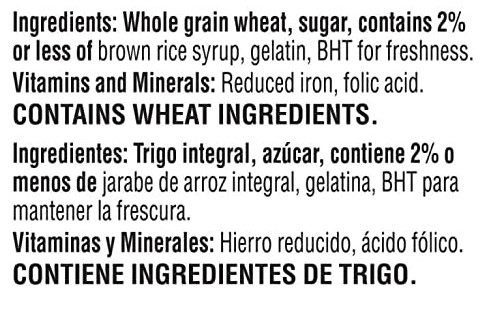 One serving of this blueberry frosted mini wheat cereal contains:
Whole grain wheat
Brown rice syrup
Sugar
Gelatin
Whole wheat flour
Fruit juice and vegetable juice – are added to provide color
Artificial and natural flavoring
BHT – this is added to maintain freshness
Is Frosted Mini-Wheats Blueberry Cereal Healthy?
Blueberry Frosted Mini-Wheats are made from 100% whole grains, which is good compared to other cereals that contain very little fiber. However, sugar is one of the first ingredients on the label, and with 12 grams per serving, it's not exactly "healthy".
It also contains rice syrup, which turns into more glucose when consumed, adding more calories but little to no nutritional value.
Is Frosted Mini-Wheats Blueberry Cereal Gluten-Free?
No, unfortunately, this Kellog's frosted mini-wheats cereal is not gluten-free because it contains whole grains. Gluten is present in whole grains and so the box doesn't feature a label stating that it's gluten-free.
If you suffer from Celiac disease or you're intolerant to gluten, always make sure you look for a gluten-free label on the food packaging.
Is Frosted Mini-Wheats Blueberry Cereal Vegan?
Sadly, no, Kellog's Mini Blueberry Wheats are not suitable for a vegan diet as they contain gelatin. This is collagen that's notoriously taken from animal cartilage, flesh, skin, and bone.
Gelatin is used to create Mini-Wheats because of its texture, nutrients, and flavor-enhancing abilities. It's a fairly uncommon ingredient in cereals, but it's used in the frosting of Kellogg's Blueberry Mini Frosted Wheats.
Is Frosted Mini-Wheats Blueberry Cereal Keto?
If you're following a ketogenic diet, you'll know the importance of limiting your carbohydrate intake each day to ensure your body stays in ketosis. This usually means only consuming up to 30 grams of carbs a day.
Unfortunately, with 51 grams per serving, this blueberry flavor cereal is extremely high in carbohydrates, making it unsuitable for a keto diet. It's also a very processed food containing unhealthy ingredients like sugar and rice syrup, which is essentially more sugar.
These high-glycemic ingredients can increase your blood sugar levels, which means your body probably won't be able to stay or even reach a state of ketosis.
Is Frosted Mini-Wheats Blueberry Cereal High in Protein?
Whether you're a regular gym-goer or completely sedentary, protein is an essential macronutrient. Not consuming enough protein can cause your body to use muscle for energy. Its benefits include:
Maintains muscle mass
Helps to keep blood sugar levels stable
Can keep you satiated for longer
Builds cartilage, skin, and muscle
Can help to regulate hormones
Helps to repair, grow, and maintain cells
Compared to other breakfast cereal brands, Blueberry Frosted Mini-Wheats are a fairly good source of protein. With 5 grams of protein per serving, it's not bad as far as cereals go.
However, if you're looking to increase your protein intake to build muscle, you may need to consider adding an extra source of protein to your breakfast, such as eggs or Greek yogurt.
Is Frosted Mini-Wheats Blueberry Cereal High in Fiber?
Fiber is another essential macronutrient that should be a part of your diet. Thanks to its whole-grain base, this blueberry flavor cereal packs 6 grams of dietary fiber in each serving.
Getting enough fiber can help prevent and relieve constipation. It can also help you to maintain a healthy weight and reduce the risk of heart disease, diabetes, and certain types of cancer.
Frosted Mini-Wheats Blueberry Cereal Store Brand Alternatives
If you can't find this delicious flavor cereal, this blueberry Cheerios the alternative is sure to please, as well as this other blueberry cereal from Kellogg's, made with whole blueberries!
If you love fruit-flavored cereal but are looking for something other than blueberries, you might like this yummy raisin bran cereal from Kellogg's!
Where You Can Buy Frosted Mini-Wheats Blueberry Cereal
This blueberry breakfast cereal from Kelloggs can be found in many grocery stores across the country, especially major stores like Fred Meyer and Walmart. If you can't get to a store, don't worry! The cereal can be bought online from Amazon.
Famous Frosted Mini-Wheats Blueberry Cereal Commercials
Although there have been TV commercials for the original Mini-Wheats, there aren't any famous commercials for the blueberry variety yet.
User Reviews
Review Summary
0.0 out of 5 stars (based on 0 reviews)
Recent Reviews
There are no reviews yet. Be the first one to write one.
Submit a Review