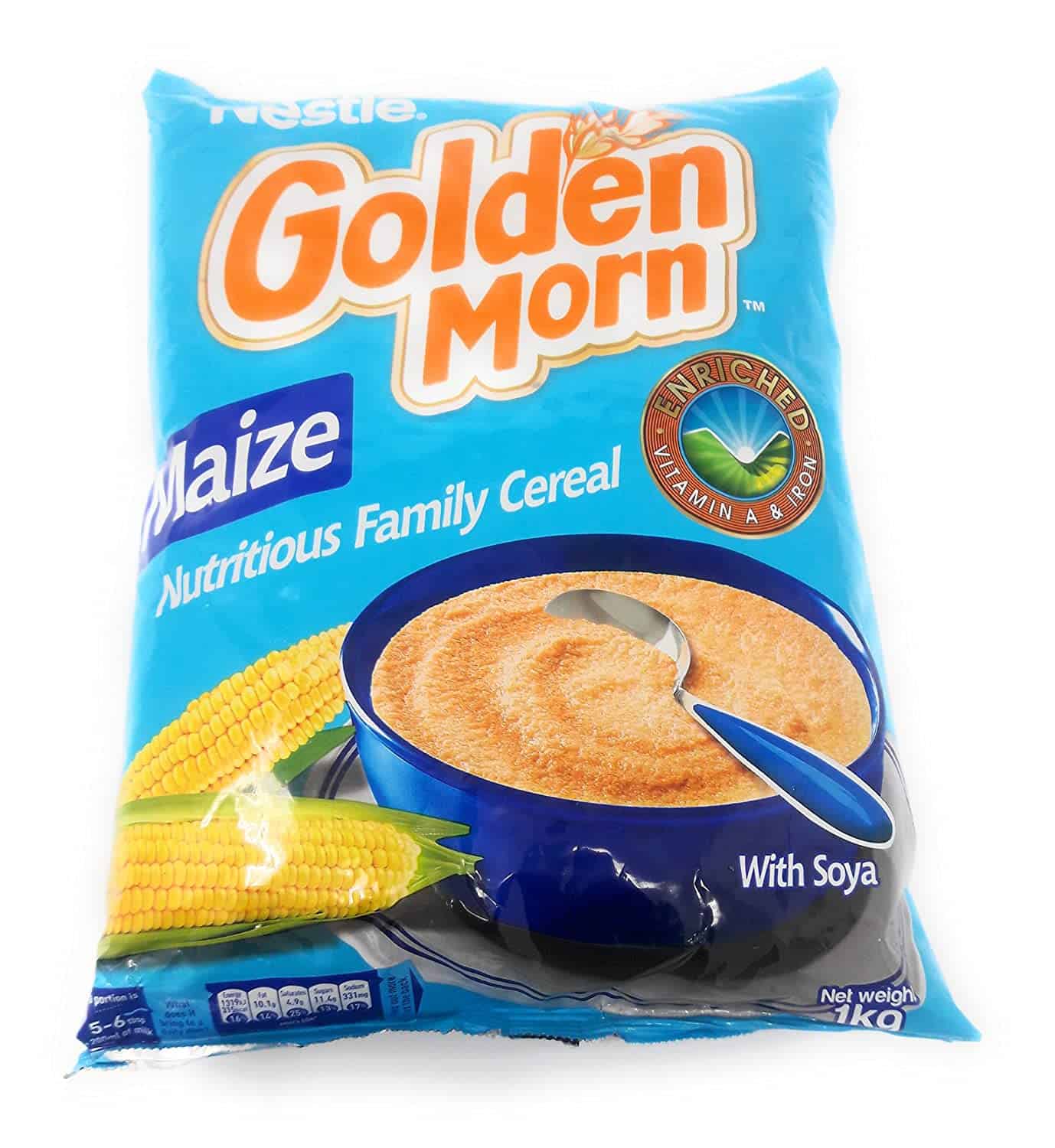 Golden Morn cereal is a tasty and easy-to-prepare breakfast cereal, originally launched in Nigeria over 30 years ago. Its quick preparation is good news for busy people – simply add milk, and you've got a delicious breakfast cereal ready to go!
Available in a family-size pack, this cereal is perfect for the whole household to enjoy on busy mornings. But is it healthy? Where can you buy it from? What ingredients does it contain?
From nutritional information to store alternatives, you'll find everything you need to know about this breakfast cereal right here.
Nutrition Facts
Made from more than 50% locally sourced whole grains, Golden Morn breakfast cereal is nutritious and filling, fortified with important vitamins and minerals. This Nestle Golden Morn maize and soya cereal will provide you with:
Energy: To help get your day off to the best start
Calcium: For solid teeth and bones
Vitamin A: To help improve eyesight
Iron: To boost red blood cell count
Fiber: For healthy digestion and longer satiation
Protein: For muscle growth and better recovery
This cereal is made from maize in the form of flour and is super easy to prepare. It's mixed with millet and soya and is then fortified with important nutrients, making it ideal for adults and children.
However, despite this, it is still high in sugar, so it should be consumed in moderation. Let's take a look at what each 50-gram serving provides:
Calories: 187
Fat: 3.3g 4% DV
Carbohydrates: 37g 13% DV
Protein: 7g 13% DV
Sodium: 290mg 13% DV
Fiber: 4g 13% DV
Vitamin A: 175mcg 19% DV
Calcium: 228mg 18%
Iron: 4.5mg 25% DV
DV stands for Daily Values – this tells you how much each nutrient in each serving contributes to your diet. This is based on a daily diet of 2,000 calories for general dietary advice.
Ingredients
Nestle Golden Morn contains:
Whole cornflour
Sugar
Peeled soy flour
Salt
Calcium carbonate
Potassium phosphate
Sodium phosphate
Iron Fumarate
Vitamin A
Vitamin B1
Vitamin B5
Vitamin C
Is Golden Morn Cereal Healthy?
Compared to other breakfast cereals, Golden Morn has a fairly short ingredient list, which is always a good sign! However, it does still contain added sugar, so it should be consumed in moderation.
Is Golden Morn Cereal Gluten-Free?
Yes, Golden Morn breakfast cereal is gluten-free as it doesn't contain any glutinous products. The main ingredients are maize and soya, so if you suffer from Celiac disease or you're intolerant to gluten, you can safely enjoy this cereal!
However, to be on the safe side, always double-check food labels before consuming the product to ensure you're not accidentally eating gluten.
Is Golden Morn Cereal Vegan?
Initially, you may think that Golden Morn breakfast cereal is vegan-friendly. But, there's a slightly gray area that you may not be aware of. This results in an argument that this cereal isn't suitable for people who don't eat anything containing or using animal products.
One ingredient that makes it a gray area is sugar. This sometimes isn't considered vegan because of how it's refined.
Animal bone char is used during the refining process, which has caused uncertainty in the vegan community. For this reason, if you're a very strict vegan, you may want to steer clear of Golden Morn.
Is Golden Morn Cereal Keto?
Sadly, no. With 33 grams of net carbs in each portion, this isn't a suitable cereal if you're on a ketogenic diet. Since you'll have to keep your net carb intake to under 30 grams each day to achieve ketosis, this cereal has too many carbs for it to be a part of your diet.
It also contains sugar which could hinder you from reaching ketosis because your blood sugar levels will rise rapidly.
Is Golden Morn Cereal High in Protein?
Although breakfast cereals, in general, aren't known for their high protein levels, Golden Morn has 7 grams in each serving, which is much more than most brands. If you do regular resistance or weight training, you'll know how essential protein is for muscle development and growth.
Even though Golden Morn provides more protein than a lot of other cereals, you may want to add an extra protein source to your breakfast if you're trying to increase your daily intake.
Is Golden Morn Cereal High in Fiber?
Fiber is an essential nutrient that helps the body to digest the food consumed. It also helps to keep blood sugar levels stable as high-carbohydrate diets can cause a rapid rise in these levels.
Whole grains and fiber can be found in many breakfast cereals. It's not only beneficial for the digestive system, but it can also help you to feel fuller for longer, which is ideal if you're trying to lose weight. In contrast, high-sugar cereals aren't very filling, leaving you feeling hungry again soon after.
Golden morn provides 4 grams of fiber in each serving, which is considered a high source of this essential nutrient.
Golden Morn Cereal Store Brand Alternatives
If you can't seem to find Golden Morn anywhere, or you can't order it online, don't worry, as there are lots of alternatives that can be found in major grocery stores! Kroger stocks a range of oatmeal options that are fairly similar to Golden Morn.
The Old Fashioned Oats are perfect for chilly mornings. However, if you don't have time in the mornings to make oatmeal, check out these instant oatmeal pouches for a quick and easy breakfast. There's also a whole grain version if that's what you prefer!
Where You Can Buy Golden Morn Cereal
Golden Morn breakfast cereal can be bought in limited grocery stores across the country, including Walmart. If you can't buy it in-store, you may have more luck ordering it online. You can find it on Amazon and various online stores such as OsiaFrik.com and Safariglobalsupermarket.com.
Famous Golden Morn Cereal Commercials
Commercials for Golden Morn cereal started airing in the 80s during its initial release, with many different ones being aired over the past 30 years!
https://www.youtube.com/watch?v=3byPsedg3pE
One of the earliest commercials was released in the mid to late 80s, depicting various families waking up to a Golden Morn breakfast.
https://www.youtube.com/watch?v=nYNHaOjzonw&ab_channel=GoldenMornNigeria
A Golden Morn heritage commercial was released to celebrate 35 years of Golden Morn!
User Reviews
Review Summary
0 out of 5 stars (based on 0 reviews)
Recent Reviews
There are no reviews yet. Be the first one to write one.
Submit a Review