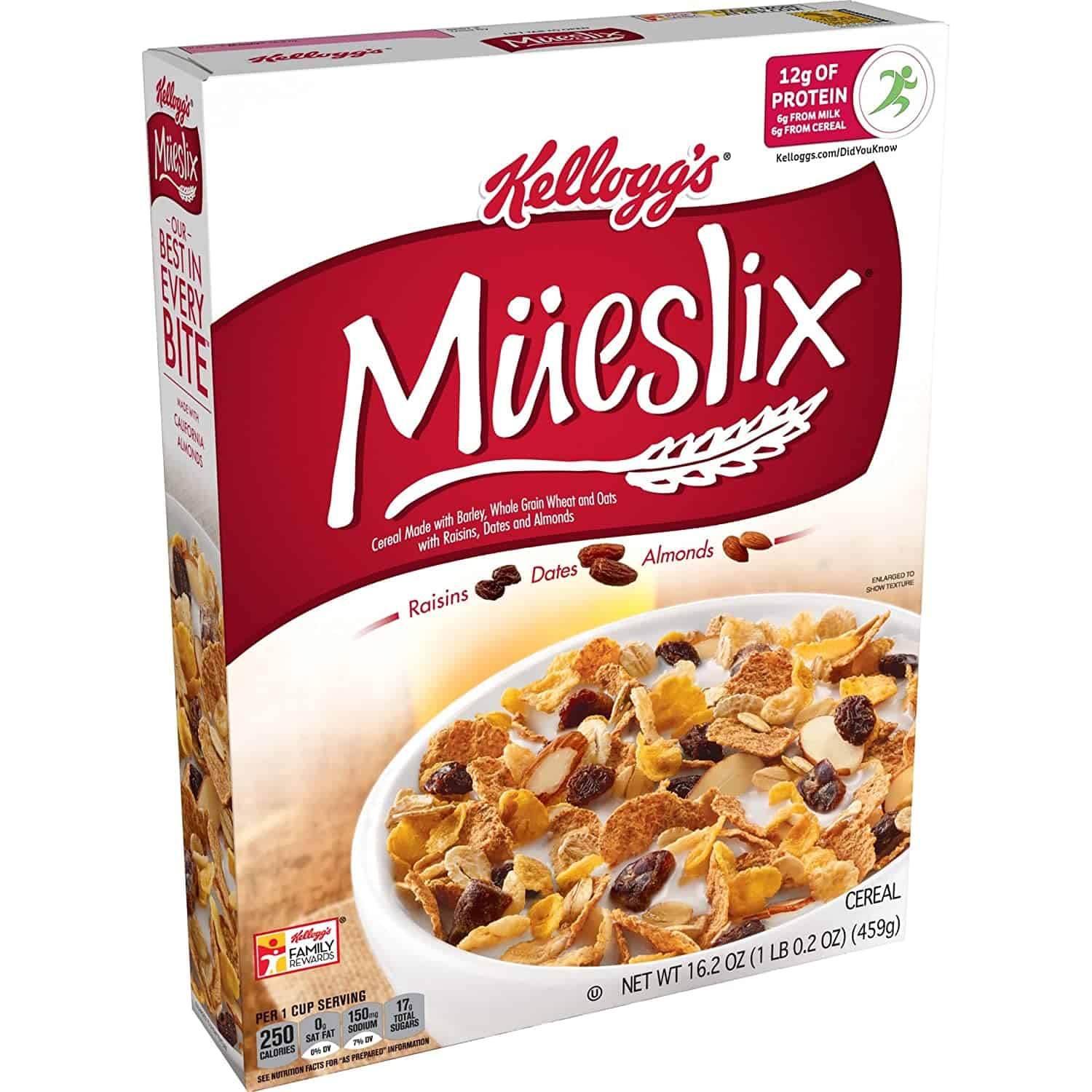 Breakfast is the most important meal of the day, and so for many, the right cereal is important to have. Starting your day off in the right way can be done when it comes to Kellogg's Mueslix cereal. Containing whole grain wheat and whole grain oats, this combination is a healthy mix that is wonderfully crunchy and full of your daily dietary fiber and protein.
Whilst Mueslix might not be for everyone; there's certainly plenty to know about this delicious cereal brand. From the nutritional facts and ingredients to who it's best suited for, let's take a look at the Mueslix cereal.
Nutrition Facts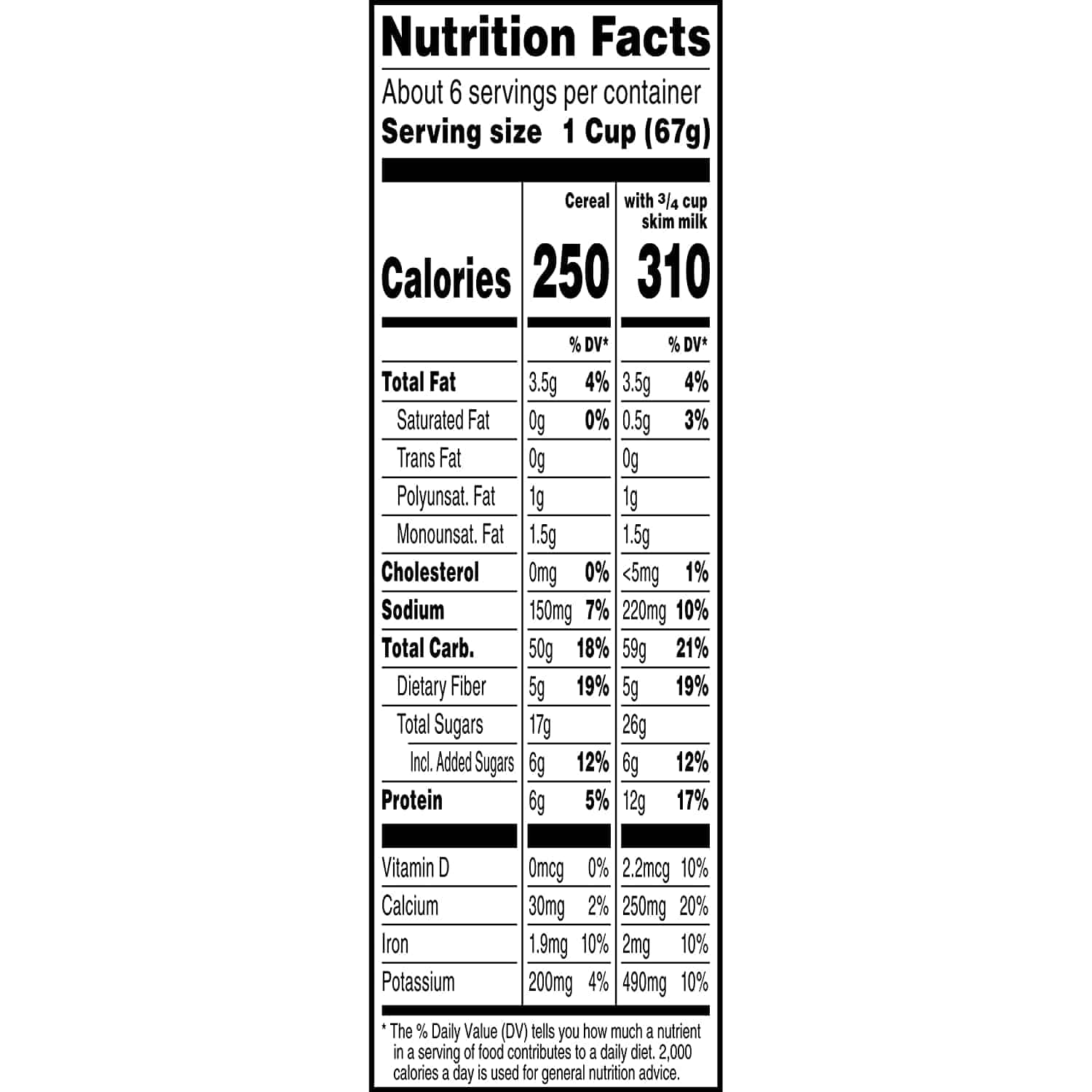 There's certainly some great nutritional value that's worth sharing with those looking to try the Kellogg's Mueslix cereal. The cereal contains around eight servings per container.
Calories – 180
Total Fat – 2.5g
Cholesterol – 0mg
Sodium – 110mg
Total Carbohydrates – 38g
Dietary Fiber – 4g
Total Sugars – 13g
Protein – 4g
With a popular average rating value, many find the cereal highly beneficial for their well-being when it comes to making healthier food choices like this one.
Ingredients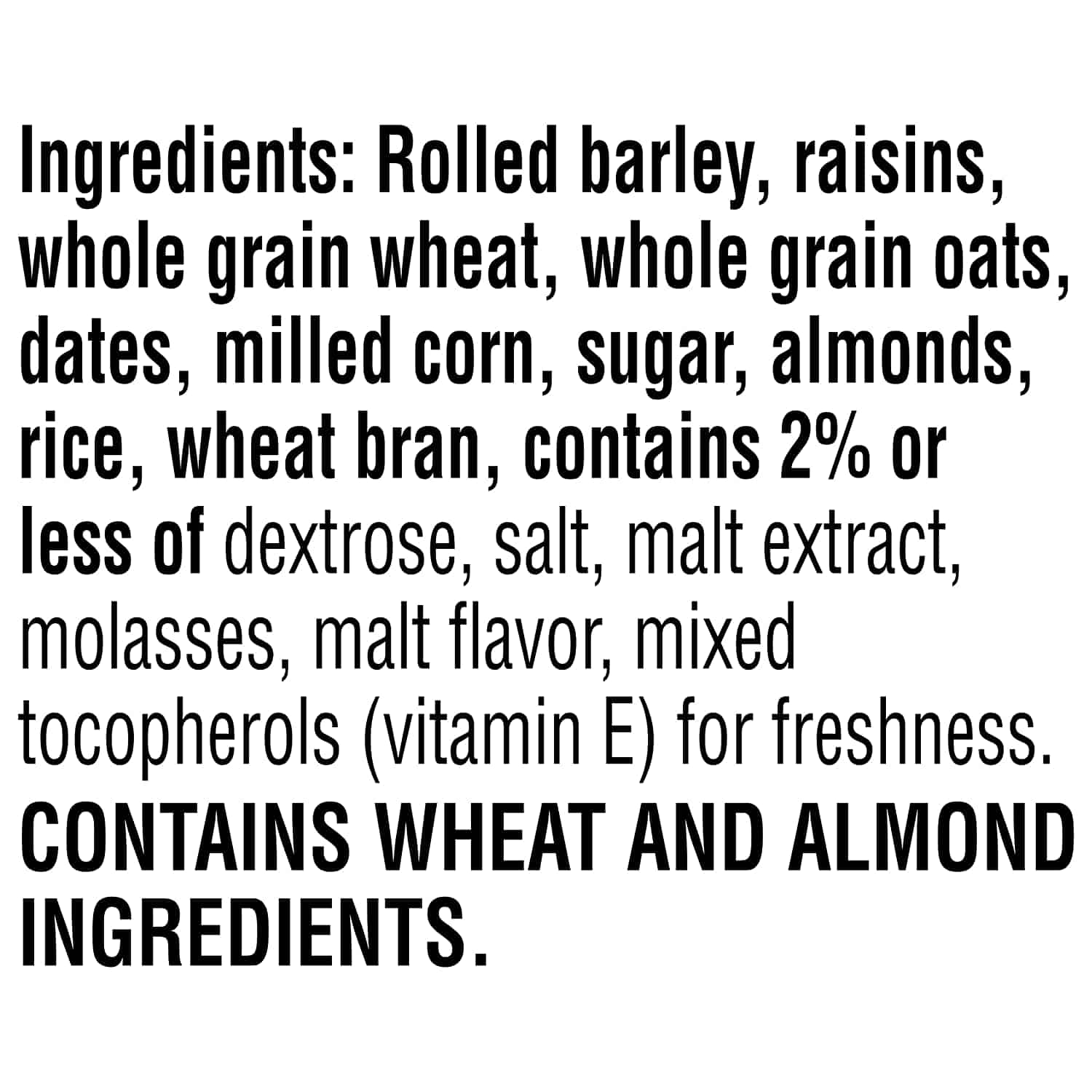 There are a number of ingredients that feature in this breakfast cereal. From tasty raisins, dates, and almonds to wheat bran and milled corn, this cereal definitely packs a lot in!
Rolled barley
Raisins
Whole grain wheat
Whole grain oats
Dates
Milled corn
Sugar
Almonds
Rice
Wheat bran,
contains 2 % or less of dextrose
Salt
Malt extract
Molasses
Malt flavor
Mixed tocopherols (vitamin E) for freshness.
Is Mueslix Cereal Healthy?
Even those with a busy lifestyle should be getting in their morning meal. Kellogg's Mueslix cereal is a favorite cereal for those who are looking to take a healthier direction with their food.
Muesli does have a lot of health benefits so long as there's not much in the way of added sugars or salt. For Kellogg's Mueslix cereal, there are 110mg of sodium and 14g of sugars, so in comparison to other breakfast cereals, it's a lot healthier.
The average customer ratings boast about how many nutrients are in each bowl and how it's low in fat and cholesterol-free. The cereal can be enjoyed as a meal, an afternoon snack, or paired up with yogurt, for example.
Is Mueslix Cereal Gluten-Free?
Mueslix is a typically healthy breakfast option that's usually made from raw oats that have been soaked. Kellogg's Mueslix cereal is a cereal that will not be gluten-free due to its combination of rolled barley, whole grain oats, and wheat.
Even if it was made out of a corn alternative, Kellogg's is known for making most of its cereal all in the same place. That means there's always a risk of cross-contamination for those who are allergic to gluten, so it can be dangerous. It's worth avoiding this cereal if you have a gluten intolerance or allergy.
Is Mueslix Cereal Vegan?
Kellogg's Mueslix cereal is considered to be vegan as it doesn't contain any animal-derived products. For some processed breakfast cereals, it's often the added ingredients that can be questionable for some vegans.
It's worth double-checking through all the ingredients when you're assessing a breakfast cereal or anything for that matter when on a vegan diet. This cereal, however, is certainly vegan friendly.
Is Mueslix Cereal Keto?
As far as breakfast cereals go, this gets closer to being keto-friendly than most other breakfast cereal alternatives get. A keto diet can be difficult to find the best cereals for this diet unless they've been made specifically with keto dieters in mind. This is due to the limits on sugar and carbohydrates.
Despite being fairly low in both, they still creep over the desired amount, so as a result, this deliciously crafted cereal is sadly not keto-friendly. It's best to look for cereals that are targeted at those specifically on a keto diet.
Is Mueslix Cereal High in Protein?
For protein, Mueslix cereal carries a sizeable amount of protein in every serving. The food contributes to your daily guidance of protein, and with 4g, that's enough for this meal in particular.
There are a few breakfast-time alternatives that will contain more protein, but for breakfast cereals, this is one of the best.
Is Mueslix Cereal High in Fiber?
The same can be said for fiber when it comes to being high in volume. The barley whole grain oats are what contribute to the fiber, so this cereal will be able to help keep your bowel movements in check!
With 4g of fiber, it's a great amount that contributes to your daily intake. If you're not a fan of muesli, then there are different options from the Kellogg's brand that can offer plenty of fiber. Look for cereals that contain a lot of wheat and bran.
Where You Can Buy Mueslix Cereal
This delicious malt flavor cereal can be found in numerous locations up and down the country, as well as online. Here are some of the places where you can purchase this cereal for yourself.
As a Kellogg's brand cereal, you're not going to find it difficult to find this one stocked at your local grocery store or market. As most foods can also be found online now, it's worth checking out what's available on the internet if you're not having much luck offline.
Famous Mueslix Cereal Commercials
Kellogg's has a great selection of cereal commercials that have encouraged customers over the years to try something new. The Mueslix cereal is one that has also seen its fair share of advertising. Here are a couple of examples of the Mueslix cereal advertised on television.
Throwing it back all the way to 1987, this commercial is a montage of where the cereal comes from and how it's come over to America.
This commercial shows a British man trying to encourage a woman to try out the Mueslix for the first time. Oddly at a toll station, the woman tries it and loves it!
User Reviews
Review Summary
0.0 out of 5 stars (based on 0 reviews)
Recent Reviews
There are no reviews yet. Be the first one to write one.
Submit a Review