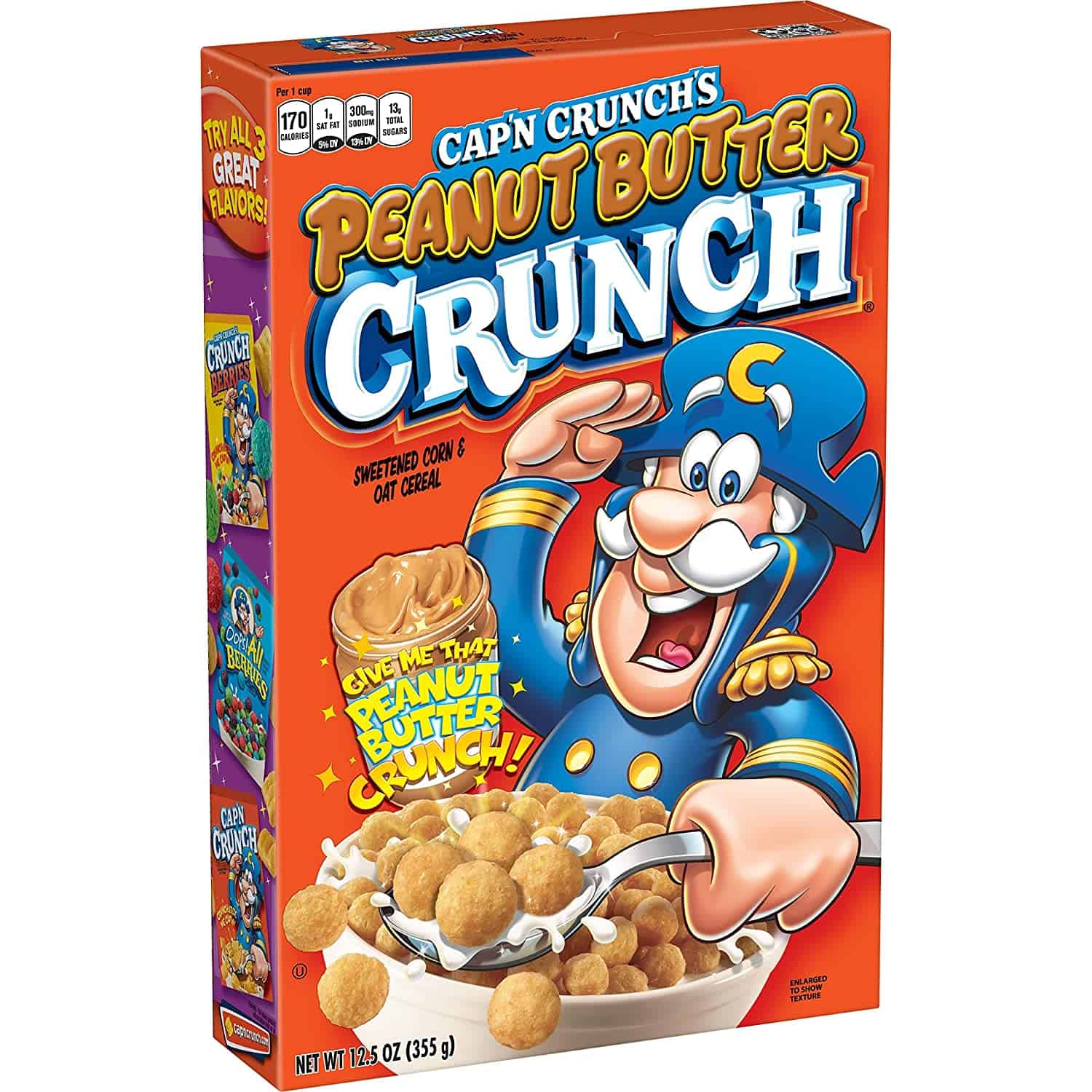 There's no denying that peanut butter is a favorite for many who are looking for a sweet and savory spread. Whether it's spread on a bagel or spooned into your morning bowl of yogurt and fruit, it's a versatile flavor that works with almost everything.
It comes as no surprise that many cereal fanatics love the taste of Cap'n Crunch Peanut Butter cereal for its rich and tasty peanut ingredients. Combined with sweetened corn and oat cereal, it's a great option for those who are fans of peanut butter and fancy trying something new.
It's been a childhood classic for many who like to load up their morning bowl with a helping of this peanut butter crunch cereal.
Nutrition Facts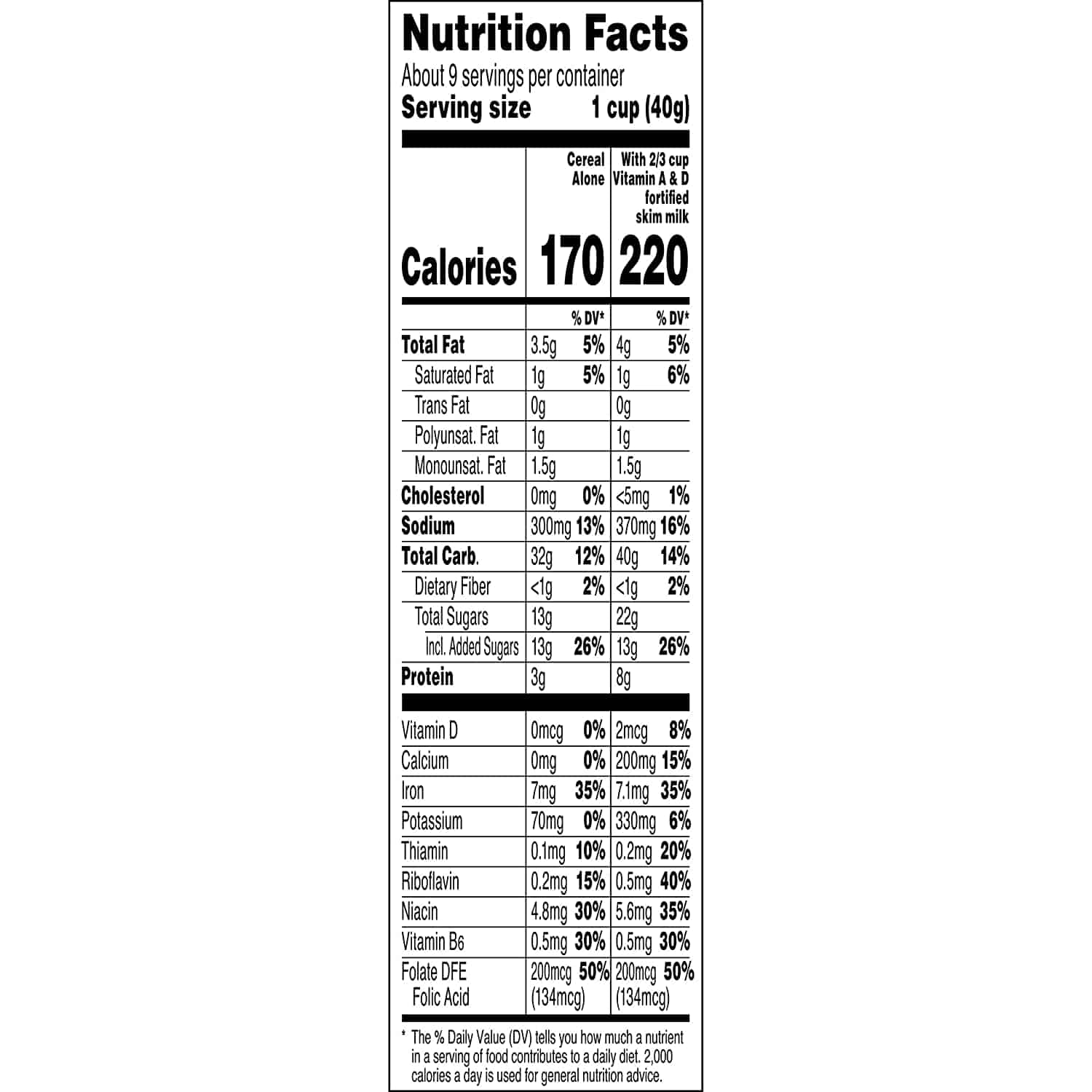 There are about 9 servings per container for this cereal. Here are some helpful nutritional facts regarding this cereal.
Calories: 110
Total Fat: 2.5g
Saturated Fat: 1g
Trans Fat: 0g
Polyunsaturated Fat: 1g
Monounsaturated Fat: 1.50g
Cholesterol: 0mg
Sodium 370mg
Total Carbohydrate 21g
Dietary Fiber: <1.00g
Sugars: 9g
Includes Added Sugars: 13g
Protein: 2g
Vitamin A, Vitamin C: 0mg
Calcium: 0mg
Potassium: 330m
Iron: 7.10mg
Vitamin D: 2mcg
Thiamin0: 20mg
Riboflavin0: 50mg
Niacin: 5.60mg
Vitamin B: 60.50mg
Folic Acid: 134.00mcg
Zinc: 25%
Ingredients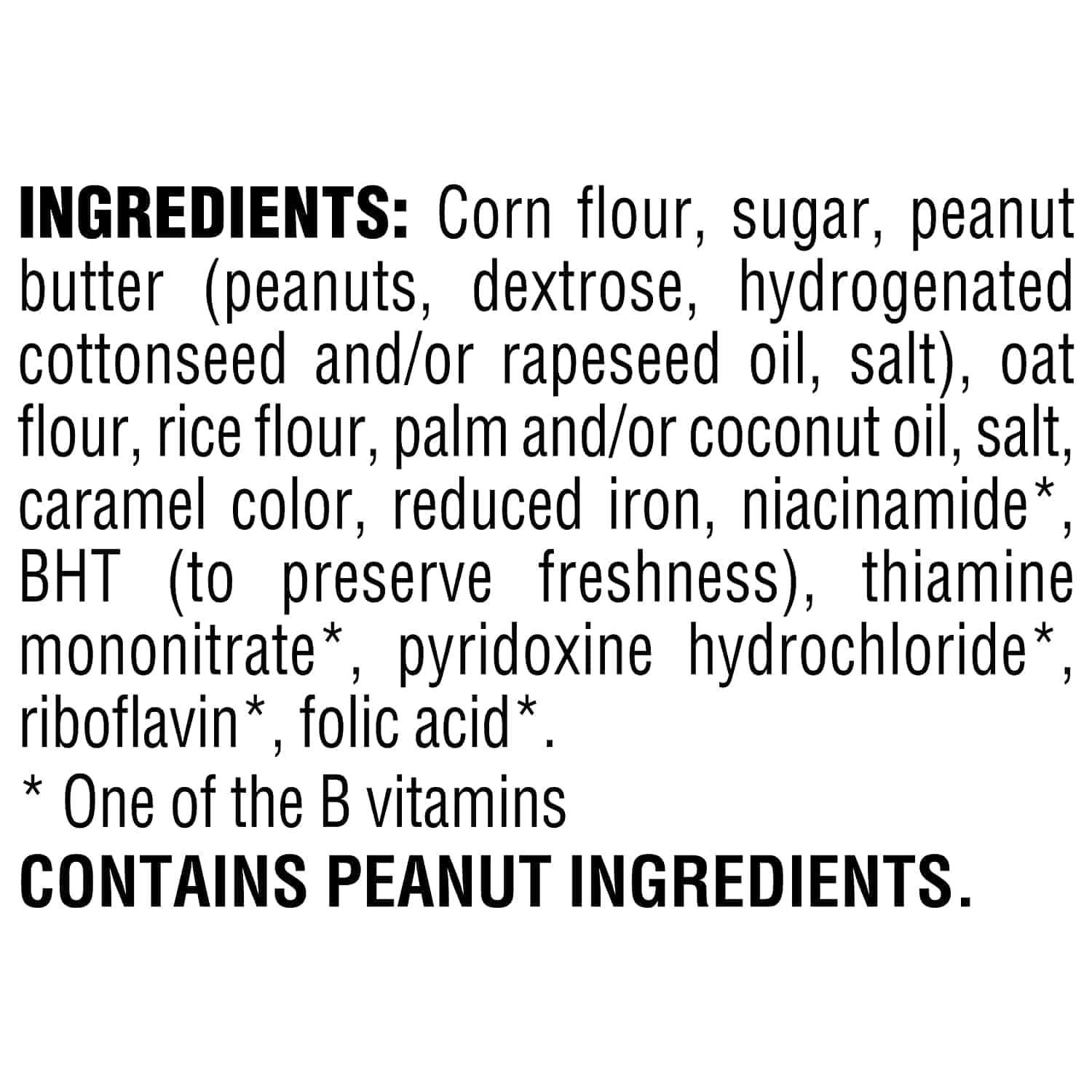 Most people are curious about the ingredients of the food that they're putting in their bodies. Here's what you'll find in this Cap'n crunch's peanut butter crunch cereal:
Corn Flour
Sugar
Peanut Butter
Oat Flour
Rice Flour
Palm and/or Coconut Oil
Salt
Caramel Color
Reduced Iron
Niacinamide
BHT
Thiamine Mononitrate
Pyridoxine Hydrochloride
Riboflavin
Folic Acid
Is Peanut Butter Crunch Healthy?
There are a lot of processed cereals that aren't very healthy. There's a certain degree of healthiness to some, but they are often considered less healthy than natural alternatives.
In the case of Cap'n crunch's peanut butter crunch, this cereal contains quite a lot of sugar, particularly with the sweetened corn and peanut butter flavoring added in. Whilst this creamy peanut butter flavor is tasty; it's going to provide you with some mid-morning sugar crashes that may not be healthy to occur regularly.
Is Peanut Butter Crunch Gluten-Free?
If you require a cereal option that's gluten-free, then sadly, you probably won't find it with Cap'n Crunch peanut butter cereal. This is due to the oat flour used, which is neither gluten-free nor a safe option for those who are celiac.
It's a shame, especially for those who are pining for that rich peanut butter flavor on offer!
Is Peanut Butter Crunch Vegan?
Cap'n crunch peanut butter cereal is made specifically for vegans! According to PETA, you can happily munch away on this delicious cereal as it contains no animal byproducts of any kind, according to official guidance.
This goes for some of the other variations that are provided by the Cap'n Crunch line.
Is Peanut Butter Crunch Keto?
If you're on a Keto diet, then, unfortunately, you'll be saddened to hear that the Cap'n crunch peanut butter cereal is sadly not keto-friendly.
The reason for this is that a keto diet is often very restrictive in what you can and can't eat. This oat cereal contains unhealthy ingredients according to keto, which includes palm oil, sugar, and BHA/BHT.
Is Peanut Butter Crunch High in Protein?
This cereal only contains 2g of protein, making it a fairly low amount of your daily allowance in this category. However, for many people, breakfast isn't always the main contributor to protein intake, so this might not affect your choice of cereal too much.
Is Peanut Butter Crunch High in Fiber?
Cap'n crunch peanut butter contains less than a gram of your daily dietary fiber. This is a lot less than most cereals have when it comes to unprocessed versions. If you're looking to better your digestive system, then fiber is a good source of nutrients.
Whilst the oat cereal is a good contributor to fiber; a bowl isn't going to give you as much as you might expect.
Peanut Butter Crunch Varieties
Whilst Cap'n Crunch Peanut Butter has only one variety in its collection; there are a number of other options to choose from in the range. These include Cotton Candy, Galatic Crunch, Red, White & Blue Crunch, as well as Cinnamon Roll Crunch.
For other cereal alternatives that have a similar peanut butter crunch effect, you could always try:
Reese's Puffs Sweet & Crunchy Corn Puffs
Kashi GOLEAN Peanut Butter Crunch
Love Crunch Dark Chocolate & Peanut Butter Cereal
Kellogg's Crunchy Nut Clusters Peanut Butter Cereal
However, there's nothing that quite beats that favorite unmistakable crunch of the Cap'n Crunch.
Peanut Butter Crunch Store Brand Alternatives
You may struggle to find peanut butter crunch store brand alternatives, but if you're looking for similar brands, then you can shop the above cereals. All of these are suitable alternatives that taste similar to Cap'n Crunch's Peanut Butter Crunch.
Where You Can Buy Peanut Butter Crunch
There are plenty of places where you can buy peanut butter crunch. These locations include:
Amazon.com
Target
Instacart
Famous Peanut Butter Crunch Cereal Commercials
As the Cap'n crunch peanut butter cereal has been kicking around for some time now, there are a couple of famous commercials that stand out.
In this commercial in which two siblings are eating the cereal, the girl says to the boy, 'if you like the cereal so much, why don't you marry it?' What follows is a funny, light-hearted dream of the boy marrying his cereal!
An earlier one back in 1989 shows a cartoon-made commercial that sees 'The Soggies' trying to steal the peanut butter crunch bird and the Captain rescuing the bird.
Finally, this commercial from 1997 has Captain helping the kids build a treehouse by giving them a bowl of cereal.
User Reviews
Review Summary
5.0 out of 5 stars (based on 1 review)
Recent Reviews
Submit a Review