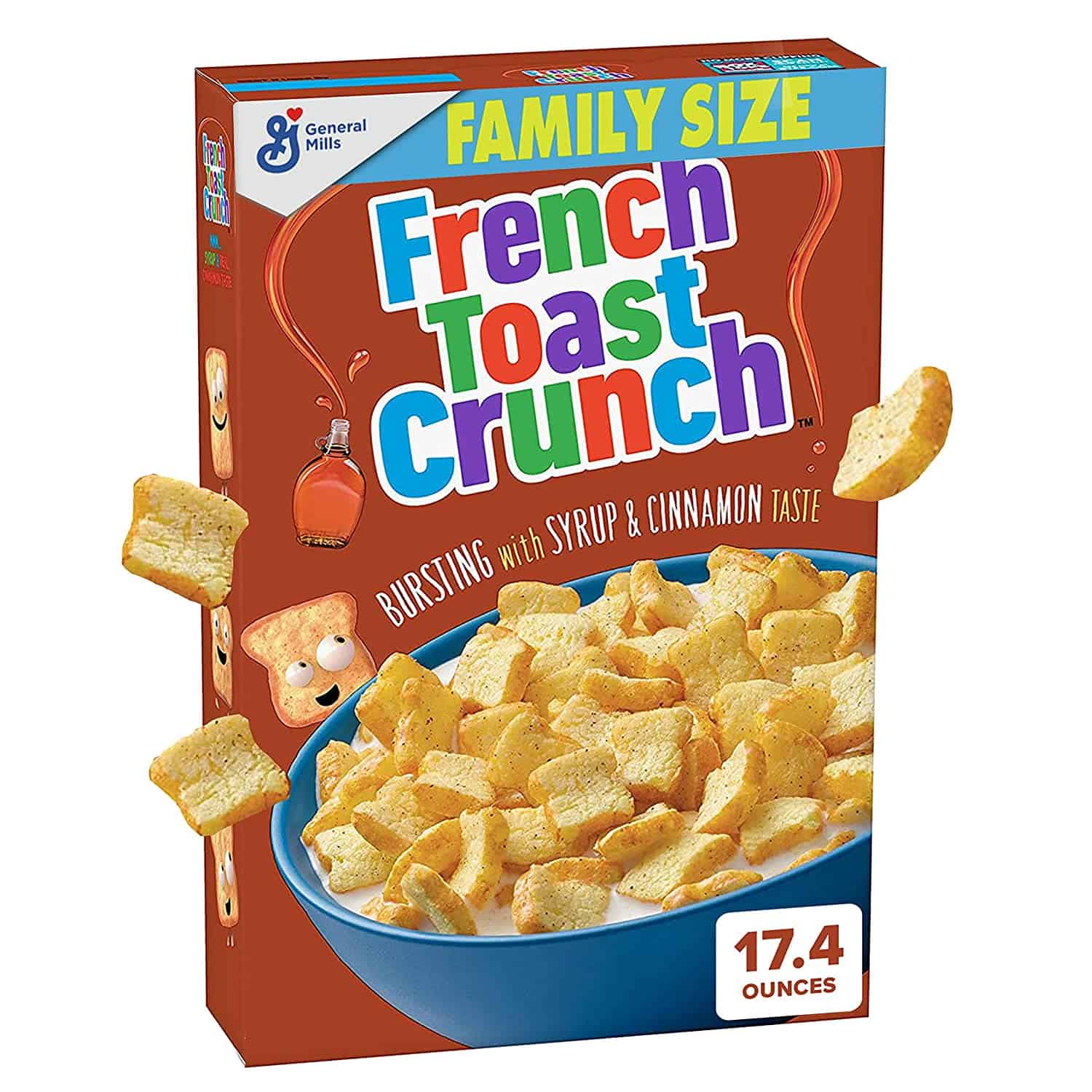 Are you looking for a new cereal to liven up your first meal of the day? If so, check out French Toast Crunch cereal from General Mills! The tiny French toast pieces are bursting with irresistible flavor that the whole family can enjoy.
But is this crunchy cereal healthy? Is it suitable for vegans or those following a keto diet? Read along as we take an in-depth look at the nutrition facts of this great-tasting corn cereal.
Nutrition Facts

A standard 328g box of French Toast Crunch cereal contains around 11 servings, with one 37g serving providing:
Calories: 110
Fat: 1.5g 2% DV
Saturated fat: 0g
Trans fat: 0g
Monounsaturated fat: 1.5g
Polyunsaturated fat: 1.5g
Total carbohydrates: 24g 8% DV
Fiber: 1g 4% DV
Sugars: 9g
Sodium: 140mg 6% DV
Protein: 1g
The DV (Daily Value) is how much each nutrient in one serving contributes to your daily diet, based on a 2,000 calorie intake.
Ingredients

The ingredients used to make French Toast Crunch cereal include:
Whole grain corn
Corn syrup
Corn meal
Refiner's syrup
Natural flavor
Calcium carbonate
Color – annatto extract, turmeric extract, caramel color
Zinc – mineral nutrients
A B vitamin – folic acid
Vitamin C – sodium ascorbate
A B Vitamin (niacinamide)
Salt
Is French Toast Crunch Cereal Healthy?
Although it contains no artificial flavors, French Toast Crunch cereal is not very healthy because of the high volumes of sugars that it contains, including corn syrup. With 9g of sugar per serving, this cereal is almost half of the recommended daily sugar consumption for women.
This suggests that French Toast Crunch cereal is too high in sugar to be considered healthy. Despite the cereal having added vitamins and minerals, it should be treated as a dessert or a special weekend breakfast, rather than making it a pantry staple for your daily diet.
Is French Toast Crunch Cereal Gluten-Free?
Technically, this cereal is gluten-free as it doesn't contain barley, wheat, or other gluten-containing ingredients. Instead, it's made with whole-grain corn and rice bran. However, it isn't labeled as a gluten-free breakfast, which could mean that there's no guarantee that it's 100% free from gluten.
This may be because there's a small risk of the cereal being cross-contaminated with gluten products during the manufacturing process. Therefore, to be safe, it's better for those who have celiac disease to choose a product that's specifically labeled as gluten-free.
Is French Toast Crunch Cereal Vegan?
At first glance, French Toast Crunch cereal could be considered a vegan breakfast option. It doesn't contain animal products or by-products such as butter, lactose, whey, or milk in the ingredient list.
That said, this cereal does contain some ingredients that vegans may not be comfortable consuming. For starters, "natural flavors" may be hiding some animal-sourced additions.
Secondly, this is a rather sugary product, and sugar is often processed using animal bone char to give it its signature white appearance.
Lastly, the cereal contains vitamin D3, which is a lanolin product made from sheepskin. Although the vitamin is only in small amounts, it is still an animal product that vegans may want to avoid.
Is French Toast Crunch Cereal Keto?
No, this cereal is not suitable for a keto diet for a few reasons. Firstly, it's packed with carbohydrates. With 24g of carbohydrates in each serving, it's not suitable for a keto diet, as those following this diet aim to consume between 20-30g of carbs each day.
It also contains canola oil and other additives that aren't suitable for those following a keto diet. As well as that, the sugars and the corn syrup that can be found in the ingredient list may cause a spike in your blood sugar, preventing you from reaching a state of ketosis.
Is French Toast Crunch Cereal High in Protein?
With only 1g of protein per serving, this cereal is not high in protein. Breakfast cereals, in general, are not known for being good sources of protein due to their high sugar content.
For this reason, if you're looking for a protein-rich breakfast, sugary cereal isn't the best option for you.
Is French Toast Crunch Cereal High in Fiber?
No, this cereal contains a very disappointing 1g of fiber, even though the first ingredient is whole grain. The beauty of whole grains is that they provide valuable fiber to your diet, but this cereal lacks any real nutritional value.
A fiber-rich diet has a huge number of health benefits, including stabilizing your blood sugar levels, preventing constipation, and lowering cholesterol levels. If you're looking to pursue a fiber-rich diet, you may want to look for a cereal that provides a higher fiber content.
French Toast Crunch Cereal Store Brand Alternatives
If you're looking for an alternative to this General Mills cereal, there are plenty of options. General Mills also makes Golden Grahams, which is fairly similar to this crunchy cereal.
Another similar cereal is General Mills Cinnamon Toast Crunch. However, with 130 calories and 10g of sugar per serving, it's even less healthy than the French Toast cereal.
Where You Can Buy French Toast Crunch Cereal
You can buy this cereal in most retail supermarkets, so it should be very easy to find. If you'd prefer to shop online, you can find it on sites such as Walmart and Amazon.
Famous French Toast Crunch Cereal Commercials
French Toast Crunch Cereal made its debut in 1996, with this being one of the first TV commercials. Ask any 90s kid what their favorite TV commercial was, and it's probably this one!
In 2006, General Mills discontinued this cereal in the US, but it was still available in Australia and Canada. This caused outrage among cereal fans, and in 2014, after years of campaigns, General Mills announced that their popular cereal would make a comeback.
Instead of just plain squares, the company decided to go back to the original style of miniature toast pieces that people had come to know and love. There have been many reviews of this cereal, which shows how immensely popular it's become.
User Reviews
Review Summary
0 out of 5 stars (based on 0 reviews)
Recent Reviews
There are no reviews yet. Be the first one to write one.
Submit a Review