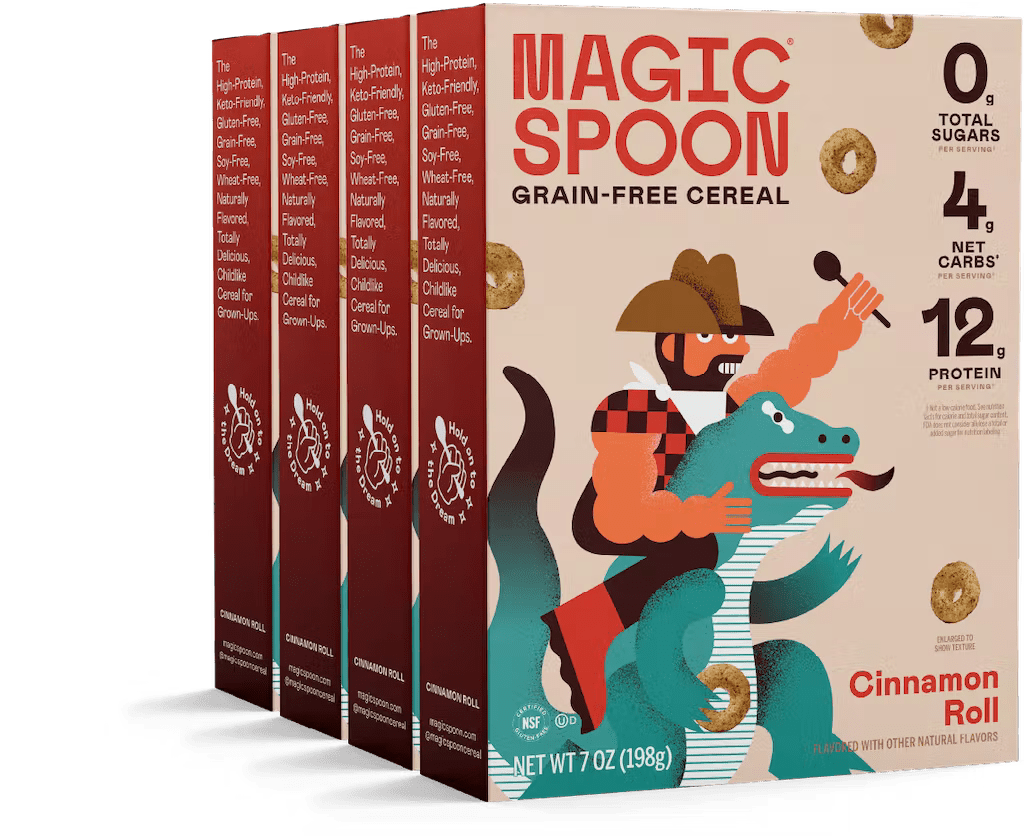 Although cinnamon is most common during the winter and fall months, it is still a delicious flavor throughout the year. This is why Magic Spoon Cinnamon cereal is an easy recommendation for anyone looking to spice up their morning routine.
This surprisingly healthy option packs in a powerful cinnamon flavor that is sure to impress even the fussiest of eaters' taste buds.
Below you can find all the important nutritional information you need to know about this Cinnamon Roll flavored cereal!
Nutrition Facts
Breakfast is easily one of the most important meals of the day, so it's vital that it contains the nutrients you need. Thankfully, most breakfast cereals offer a decent selection of nutrients, perfect for giving your body the kickstart it deserves.
In your average serving of Magic Spoon Cinnamon Roll cereal (37 grams), you can expect the following nutrients:
Calories – 140Kcal
Total Fat- 7g
Saturated Fat – 1g
Trans Fat – 0g
Polyunsaturated Fat- 0g
Cholesterol- 10mg
Sodium- 150mg
Total Carbohydrate- 15g
Dietary Fiber- 1g
Sugars- 0g
Protein- 12g
Vitamin D – 0mg
Calcium – 29mg
Iron – 2mg
Potassium – 0mg
Ingredients
Knowing the ingredients contained in your cereal choice is an excellent way to check that it's the right option for you. This is especially true if you are allergic to common ingredients or you want to avoid a specific ingredient, such as palm oil.
In most cereals, you can find a list of ingredients either on the side or the back of the box. This cereal contains the following ingredients:
Milk Protein Blend
Whey protein concentrate
Sweetener Blend
Oil Blend (Sunflower oil, Avocado oil)
Tapioca Starch
Chicory Root Inulin
Natural Flavors (Zero artificial flavors)
Salt
Cinnamon
Is Magic Spoon Cinnamon Cereal Healthy?
Healthy cereals tend to offer a collection of important nutrients, such as protein and fiber, whilst still maintaining a low-carb recipe. Thankfully, this Cinnamon flavored snack has a high protein content with zero added sugars.
It could slightly improve its vitamin and fiber count, but this can be easily remedied by adding some fruit or juice to your breakfast routine.
As far as cereals go, this flavorful option is a surprisingly healthy choice and is an excellent way to waken your tastebuds!
Is Magic Spoon Cinnamon Cereal Gluten-Free?
Magic Spoon cereal is a grain-free product, which is perfect for anyone who is looking to avoid gluten entirely. As gluten is most commonly found in grain, grain-free cereals are an excellent option for celiacs and similar gluten-free diets!
Is Magic Spoon Cinnamon Cereal Vegan?
One of the proteins found in this Cinnamon Roll cereal is a dairy-based protein. As the dairy used is an animal product, this cereal is sadly not a suitable option for anyone who is currently a vegan.
Always check the list of ingredients on the cereal box, or look out for a large V logo to check if your chosen cereal is vegan-friendly.
Is Magic Spoon Cinnamon Cereal Keto?
A keto diet is all about limiting the number of carbs you eat a day. Ideally, most low carb or keto diets suggest you consume less than 50 grams of net carbs a day as this can help you control your blood sugar levels a little easier.
Thankfully, this cinnamon Magic spoon cereal doesn't use maple syrup, sugar alcohols, or similar sugary products to add flavor – this is truly a zero sugar cereal. This makes it an excellent keto-friendly option!
Is Magic Spoon Cinnamon Cereal High in Protein?
Protein is easily one of the most important nutrients our body needs. It is used in a range of bodily functions but is perhaps most important for body and muscular growth in young kids and teenagers.
Magic Spoon cereal offers a fairly high amount of protein per serving, 12 grams, which is around 22% of your recommended daily intake. This is great news for anyone looking for a high-protein cereal for their daily diet.
Is Magic Spoon Cinnamon Cereal High in Fiber?
Fiber is responsible for maintaining gut health and avoiding a range of gastrointestinal issues from cropping up. You can most commonly find fiber in grains, which is why a large majority of healthy cereal tends to use grains in their recipe.
Although this cinnamon-flavored cereal is a healthy option, it sadly lacks a high fiber content due to its grain-free recipe. Per serving, you can expect around 1 gram of fiber, so you may want to pair this cereal up with fruit or toast to boost your fiber intake.
Magic Spoon Cinnamon Cereal Store Brand Alternatives
Cinnamon is one of the most popular flavors in the world of cereals, alongside cocoa flavor. One of the most popular cinnamon-flavored cereals available on the market is General Mills' Cinnamon toast crunch.
If you are looking for a fruity flavor option, then Magic Spoon cereal also offers a range of fruity options. In terms of store brands, consider checking out Aldi's MillVille Cinnamon Crunch Squares!
Where You Can Buy Magic Spoon Cinnamon Cereal
You can find Magic Spoon cereal in most local retailers such as Walmart, Target, and Aldi. If you want to try a few other flavors alongside their cinnamon option, then consider checking out their fantastic variety pack!
You can also find this healthy cereal on a range of online stores such as Amazon and even a few online wholesale retailers such as Costco.
Famous Magic Spoon Cinnamon Cereal Commercials
Commercials are an important tool when trying to advertise your product to as many consumers as possible. With this in mind, Magic Spoon tends to focus more on social media advertising than tv commercials.
However, there are still a few famous commercials out there, such as this one which compares their cereal brand with generic cereal options. They explain how most healthy options are tasteless, whereas tasty options tend to be unhealthy – unlike the cereal varieties they offer!
User Reviews
Review Summary
0 out of 5 stars (based on 0 reviews)
Recent Reviews
There are no reviews yet. Be the first one to write one.
Submit a Review