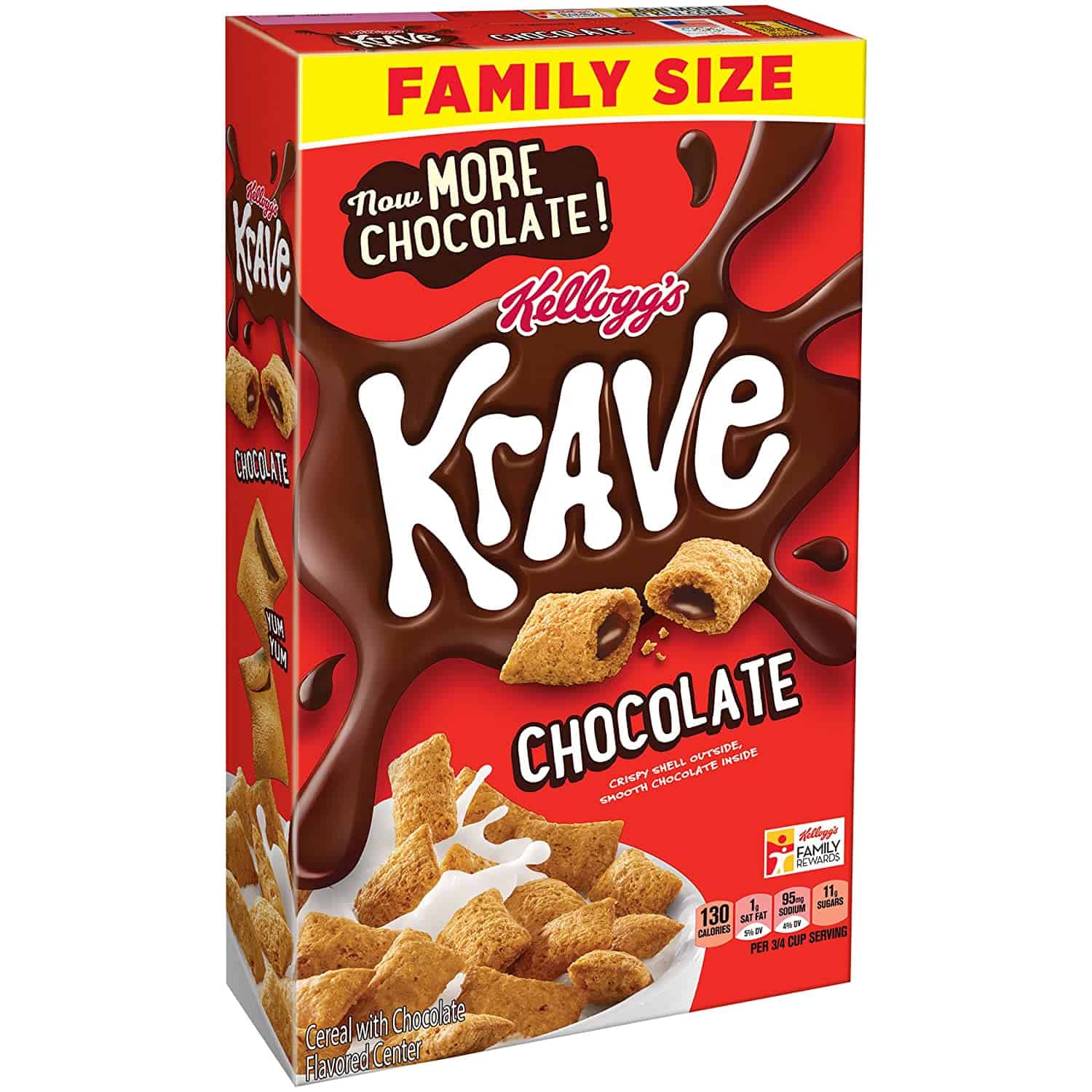 Kellogg's Krave is a family-favorite cereal, having been produced by the Kellogg Company in the United States since 2012.
Made with real chocolate, the pillow-shaped cereal is considered a crispy treat for young and old alike. It is a popular food choice as part of a balanced breakfast, midday snack, afternoon pick me up, or even a sweet treat in the evening.
It has added vitamins and minerals and – although high in sugar – when enjoyed in moderation, Krave can form a welcome part of many people's diets.
Nutrition Facts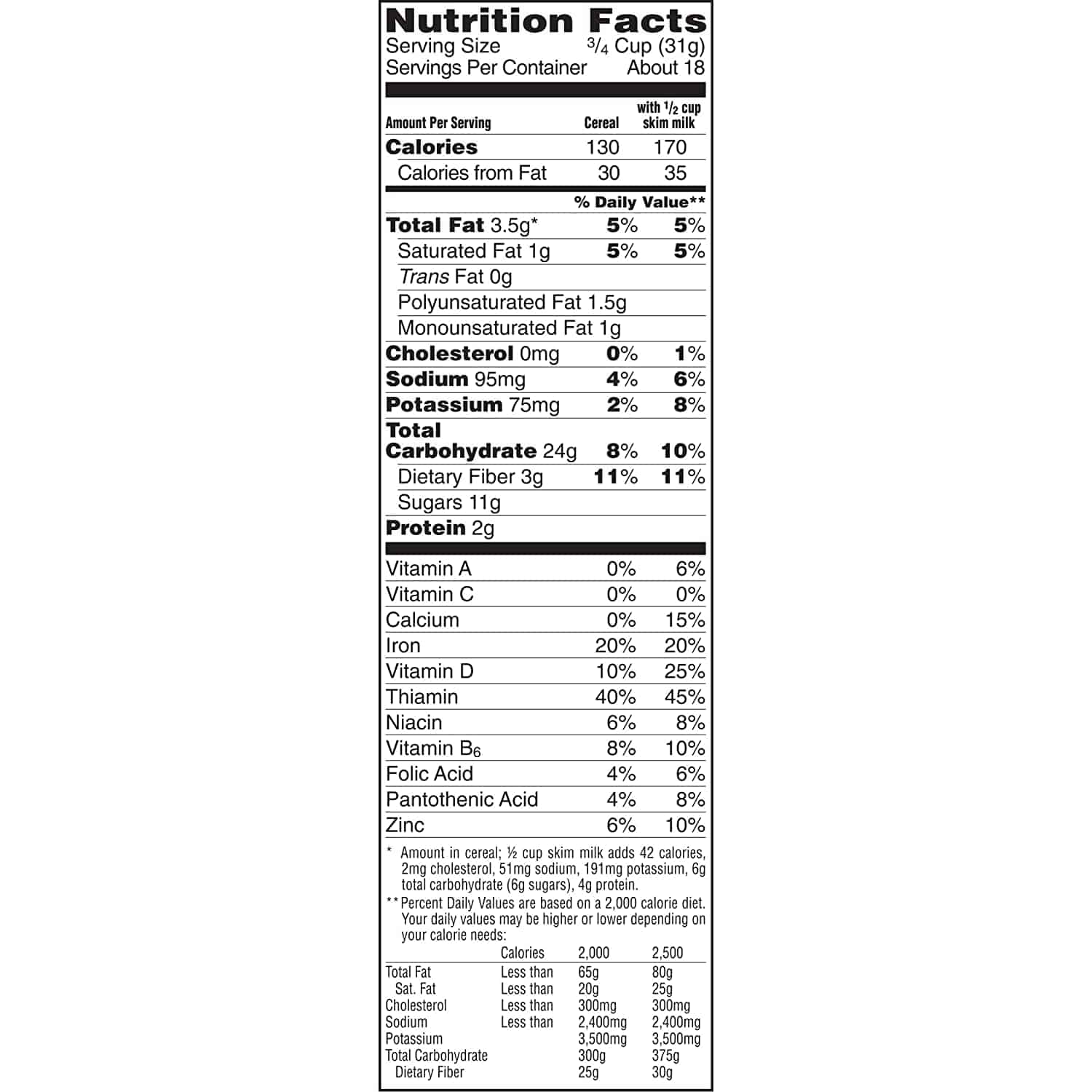 A single serving (31g) of Kellogg's Krave chocolate cereal contains:
Calories – 160
Calories from fat – 31.5
Total fat – 3.5g
Saturated fat – 1g
Sodium – 100mg
Potassium – 70mg
Carbohydrates – 24g
Net carbs – 21g
Sugar – 11g
Fiber – 3g
Protein – 2g
Ingredients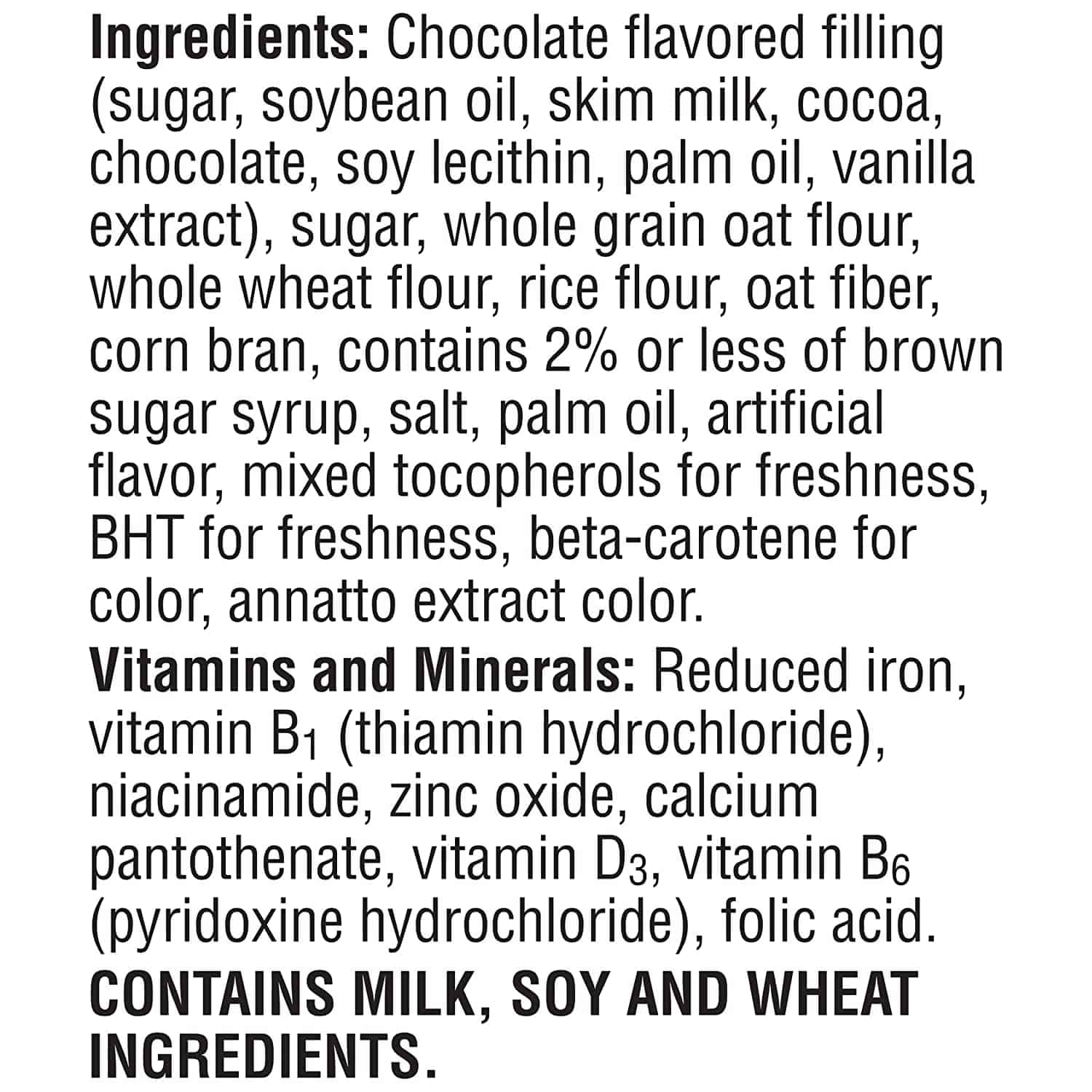 The chocolate-flavored bits consist of:
Sugar
Soybean Oil
Cocoa
Whey
Chocolate
Soy Lecithin
Palm Oil
Vanilla Extract
Is Krave Cereal Healthy?
Although it has been marketed as a healthy and delicious cold breakfast, as a chocolate breakfast cereal, each serving contains a lot of sugar and, therefore, may not be the healthiest option for you and your family.
Kellogg's Krave cereal contains more sugar than any other ingredient.
Kellogg's have added additional vitamins and minerals in a bid to make their delicious cereal slightly more healthy, including zinc oxide, calcium pantothenate, and folic acid.
Krave is also an excellent source of B vitamins as well as iron which allows your body to release energy.
But, can we really call it healthy? Based on its chocolate-flavored filling, which is loaded with sugar, the answer is no, Kellogg's Krave breakfast cereal cannot be considered a healthy breakfast option.
Is Krave Cereal Gluten-Free?
No, Krave is not gluten-free as it contains wheat, and therefore the cereal is unsuitable for those with gluten intolerances. Nor does Kellogg's claim that Krave is gluten-free in any way, and they have listed wheat as an ingredient on the packaging.
Is Krave Cereal Vegan?
While Kellogg's Krave breakfast cereal is suitable for vegetarians, it is unfortunately not suitable for those individuals who follow a vegan diet. Just a quick glance at the ingredients list will highlight to the reader that Vitamin D3, milk, and whey are used to make the crunchy cereal.
Is Krave Cereal Keto?
If you are on any form of keto diet, cereal will likely not be suitable for you. Cereals, in general, tend to focus on whole grains, which, while they aren't unhealthy, almost always are unsuitable for those following a keto diet.
Krave chocolate breakfast cereal is no exception. It is a high-carb processed breakfast cereal that contains a whopping 74g of net carbs per 100g. Bear in mind that if you want to reach or stay in ketosis, the maximum amount of carbs you should be eating in a whole day is around 30g.
Is Krave Cereal High In Protein?
Protein has a range of benefits, so it's no wonder so many of us want to include more of it in our diets.
Per serving, Krave has quite a good amount of protein for a cereal, weighing in at 2g per 31g serving. Considering the average amount of protein in breakfast cereal is only 1g, Krave doesn't perform badly when it comes to protein density. However, if you are looking for a protein-rich breakfast, cereal may not be the optimum option for you.
Is Krave Cereal High In Fiber?
A diet rich in fiber provides a host of health benefits, including steady blood sugar levels, potentially reducing cholesterol, as well as slowing fat absorption.
Krave contains 3 grams of fiber per serving, which is around the expected amount for a sugary, chocolate breakfast cereal and 12% of the recommended daily amount of fiber for the average adult.
If you want to maintain or pursue a diet rich in fiber, there are many other kinds of cereal that will offer a much higher amount of fiber per serving, with some offering as much as 10 grams per serving.
Krave Cereal Varieties
This crispy treat straight from the box consists of a blend of crisp cereal exterior and a smooth chocolate filling inside that makes for a distinctly delicious combo. There are two tasty varieties to choose from – chocolate or chocolate chip cookie dough.
Chocolate
The original and most popular option is Kellogg's Krave chocolate flavor made from crunchy multigrain cereal shells and generously loaded with real chocolate inside. In addition to a three-quarter cup of skimmed milk, a bowl of these will add up to around 230 calories.
Chocolate Chip Cookie Dough
The chocolate chip cookie dough flavor from Krave gives an added chocolate hit, thanks to its chocolatey exterior, making it a good option for those with an extra-sweet tooth. A serving of these with three-quarters of a cup of milk also adds up to 230 calories, according to Kellogg's.
Where You Can Buy Krave Cereal
Kellogg's Krave breakfast cereal can be found practically anywhere, thanks to its popularity, so check your local supermarket's shelves. If you would prefer to buy online, you can order at online stores such as Walmart and Amazon.
Famous Krave Commercials
Krave has had many successful commercial campaigns, but one of the most famous and humorous to be shown in the United States revolves around two rather destructive characters.
Picture the scene: a chocolate bar is lying in bed, fast asleep. Under said bar's bed is a pair of mischievous – not to mention hungry – Krave chocolate cereal pieces waiting to pounce. The duo mimics the sound of the chocolate bar's alarm to wake him up, and as he gets out of bed, he assumes that he has just placed his feet in his slippers.
He hasn't. He has slipped his feet onto the dastardly Krave pair, who chase him around his bedroom, devouring him as they do so.
Watch the comical commercial here alongside some other of the most famous Kellogg's Krave breakfast cereal adverts.
User Reviews
Review Summary
3 out of 5 stars (based on 1 review)
Recent Reviews
No Title
Only breakfast cereal my granddaughter will eat, it's hard to get her to eat anything nutritious, as she helps her self to the kraves All the time!
Submit a Review