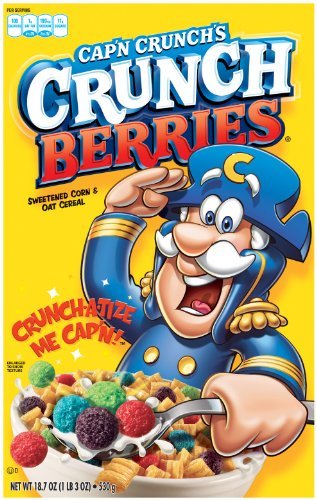 Part of the popular Cap'n Crunch range is the Crunch Berries cereal, and it's a colorful mix of sweetened corn in your breakfast bowl. With a colorful berry flavor and iconic crunch sensation that this cereal range has, it's a great pick for anyone who wants to try something new.
Whilst it might not beat the original crunch flavor, it's definitely one that will delight the taste buds from start to finish. Enjoy it in a bowl with milk or have it as an easy snack for couch time or whilst at work.
Cap'n crunch's crunch berries certainly cater to the young kids, especially with its vibrant color profile, but it's just as appealing to adults too.
Nutrition Facts
For those needing a little information on the nutritional facts of this Cap'n Crunch cereal, here are all the nutritional details. There are sixteen servings per cereal box.
Calories: 150
Saturated Fat: 0.5g
Trans Fat: 0g
Polyunsaturated Fat: 0g
Monounsaturated Fat: 0.5g
Cholesterol: 0mg
Sodium: 270mg
Total Carbohydrate: 32g
Dietary Fiber: 1g
Sugars: 16g
Includes Added Sugars: 16g
Protein: 2g
Calcium: 0mg
Potassium: 60mg
Iron: 7.5mg
Vitamin D: 0mcg
Thiamin: 0.3mg
Riboflavin: 0.33mg
Niacin: 4.8mg
Vitamin B: 60.43mg
Folic Acid: 133mcg
Ingredients
Whether the kids enjoy this breakfast cereal or you're looking to purchase a family-size option, here are the ingredients contained in the cereal.
Corn Flour
Sugar
Oat Flour
Brown Sugar
Palm and/or Coconut Oil
Salt
Sodium Citrate
Natural and Artificial Flavor
Malic Acid
Red 40
Reduced Iron
Yellow 5
Niacinamide
Blue 1
Yellow 6
BHT
Thiamine Mononitrate
Pyridoxine Hydrochloride
Riboflavin
Folic Acid
Is Crunch Berries Healthy?
With any cereal, it's a choice of whether you go for something extremely healthy or a cereal brand that's more of a treat than it is a contribution to your five a day, etc.
Cap'n Crunch is a cereal that provides grains, making it an excellent choice for nutritional value. There are seven essential vitamins that make up this cereal, and a few of its other health perks include it being free from cholesterol and low in fat.
Whether you enjoy it with milk or a glass of juice, it's a good breakfast option compared to some of the unhealthier options out there.
Is Crunch Berries Gluten-Free?
Gluten-free foodies will want to avoid this cereal brand as the main ingredient is oat flour, which often comes into contact with barley and wheat. This cross-contamination means there's no guarantee that the oat flour doesn't contain traces of gluten.
It's not safe for celiacs, so anyone who has Celiac disease or a gluten intolerance will want to seek out an alternative to this cereal.
Is Crunch Berries Vegan?
For vegans, the Berry Crunchy cereal is one of few that's actually vegan. According to PETA, you can enjoy this breakfast guilt-free, knowing that it's approved as a vegan cereal.
Not all of these processed cereals will be vegan, but this stands out as being one of the few that you can enjoy as a vegan. The range also has a couple of other vegan-friendly options, including the Crunch Original and the Peanut Butter Crunch.
Is Crunch Berries Keto?
As a processed food that's high in carbs, the Berry cereal is not one that's keto-friendly. The cereal also contains a lot of ingredients that are not permitted on a keto diet.
These unhealthy ingredients include sugar, palm oil, and BHA/BHT. A lot of the keto requirements are fairly restrictive in their carbs and sugar allowance. This cereal contains a lot more carbs and sugar than the daily allowance for keto dieters, so it's best to avoid this cereal if you are on a keto diet.
Is Crunch Berries High in Protein?
Crunch Berries has around 2g of protein per serving. This can be boosted if you were to add nuts and berries, which would go well with this fruity cereal. You may want to add in some additional fruit, too, in order to bulk up the nutrition of this cereal.
If you're looking for something more protein-rich, then this might not be your preferred go-to when it comes to cereal by itself.
Is Crunch Berries High in Fiber?
There is one gram of fiber in this Cap'n Crunch cereal, which is one of the highest in comparison to other cereals within the range. As a higher fiber-based cereal, it's going to be fairly useful for those who need to improve their digestive system.
You could combine this cereal with anything wheat-based to increase the amount of fiber you receive from consuming it.
Cap'n Crunch's Crunch Berries Varieties
The Cap'n Crunch's range is fairly substantial if you're looking for varieties beyond the berry flavors. These are:
Cotton Candy
Peanut Butter
Oops! All Berries
Chocolate Caramel
There are also plenty of snack items that the brand stocks too. If Crunch Berries is not the cereal for you, then there are plenty to try instead.
Crunch Berries Store Brand Alternatives
If you're looking for some alternatives to Crunch Berries Cereal, then there are a number of brands that have made some similar cereal types. A few examples of those alternatives are below:
General Mills Pokemon Berry Bolt Cereal
Very Berry Cheerios
You will likely find a number of store-brand alternatives if you visit your local grocery store, however, we'd recommend giving the Captain's Berry cereal a try.
Where You Can Buy Crunch Berries
You'll be able to purchase Cap'n Crunch's Crunch Berries cereal from these retailers:
Amazon
eBay
Walmart
Target
Famous Crunch Berries Cereal Commercials
There are some great commercials that have hit the television screens over the years for Captain Crunch's cereal. Here's one or two for the Crunch Berries!
This features the Captain handing a kid a bowl of crunchy berry cereal to help him through a school performance.
This one shows the Captain giving the cereal to various people in the city to try, all of which love the cereal!
User Reviews
Review Summary
0 out of 5 stars (based on 0 reviews)
Recent Reviews
There are no reviews yet. Be the first one to write one.
Submit a Review