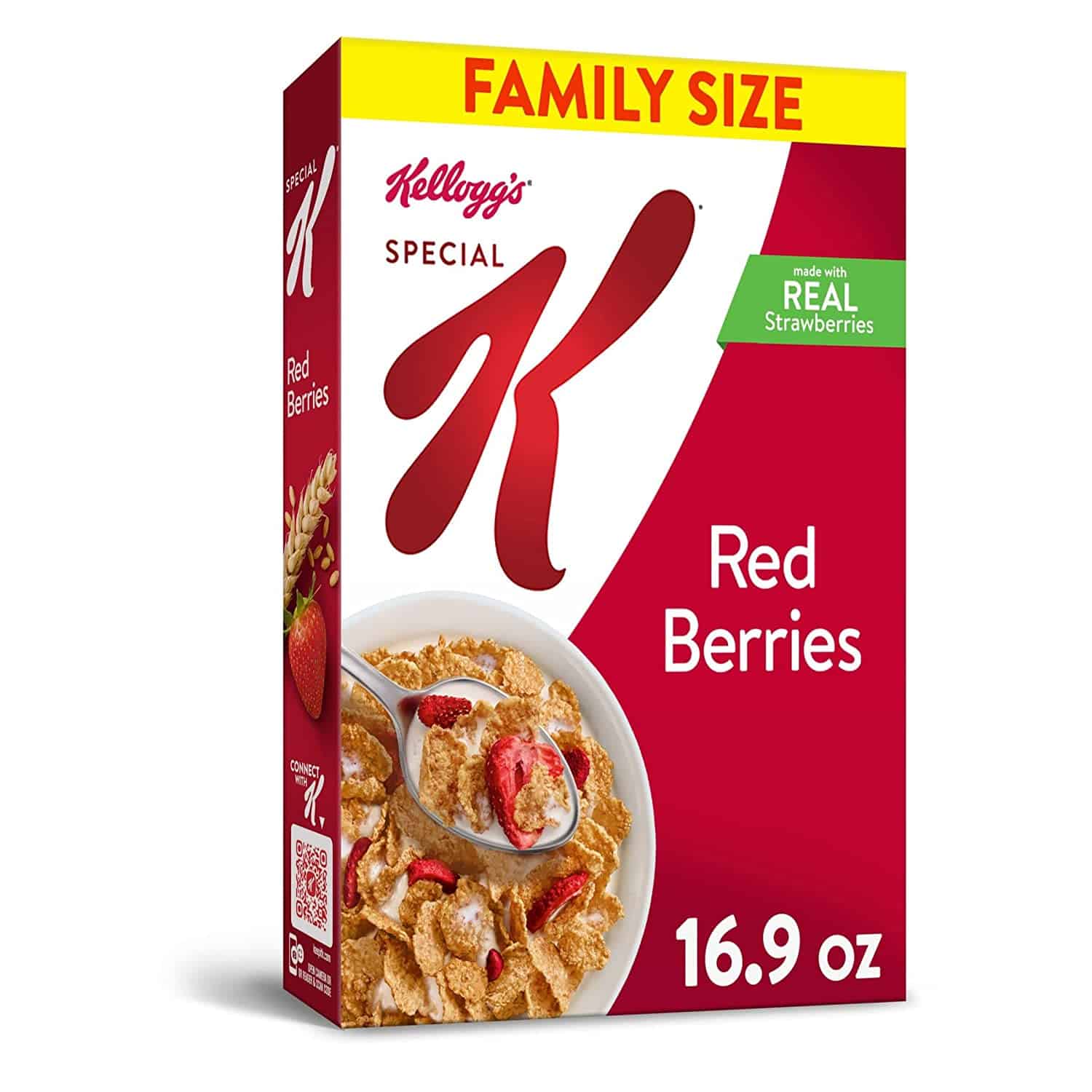 You might be pleasantly surprised by the combination of Kellogg's Special K classic rice and wheat flakes and real strawberries and red berries. This whole grain wheat breakfast cereal takes on crunchy fruity goodness, serving up a great taste that is perfect for the morning, or a late-night snack.
Kellogg's Special K Red Berries is marketed as a "bright, flavorful breakfast" that relies on the sweet taste of real sliced strawberries and the classic malt flavor of Special K cereals, for a great taste the whole family will enjoy.
Nutrition Facts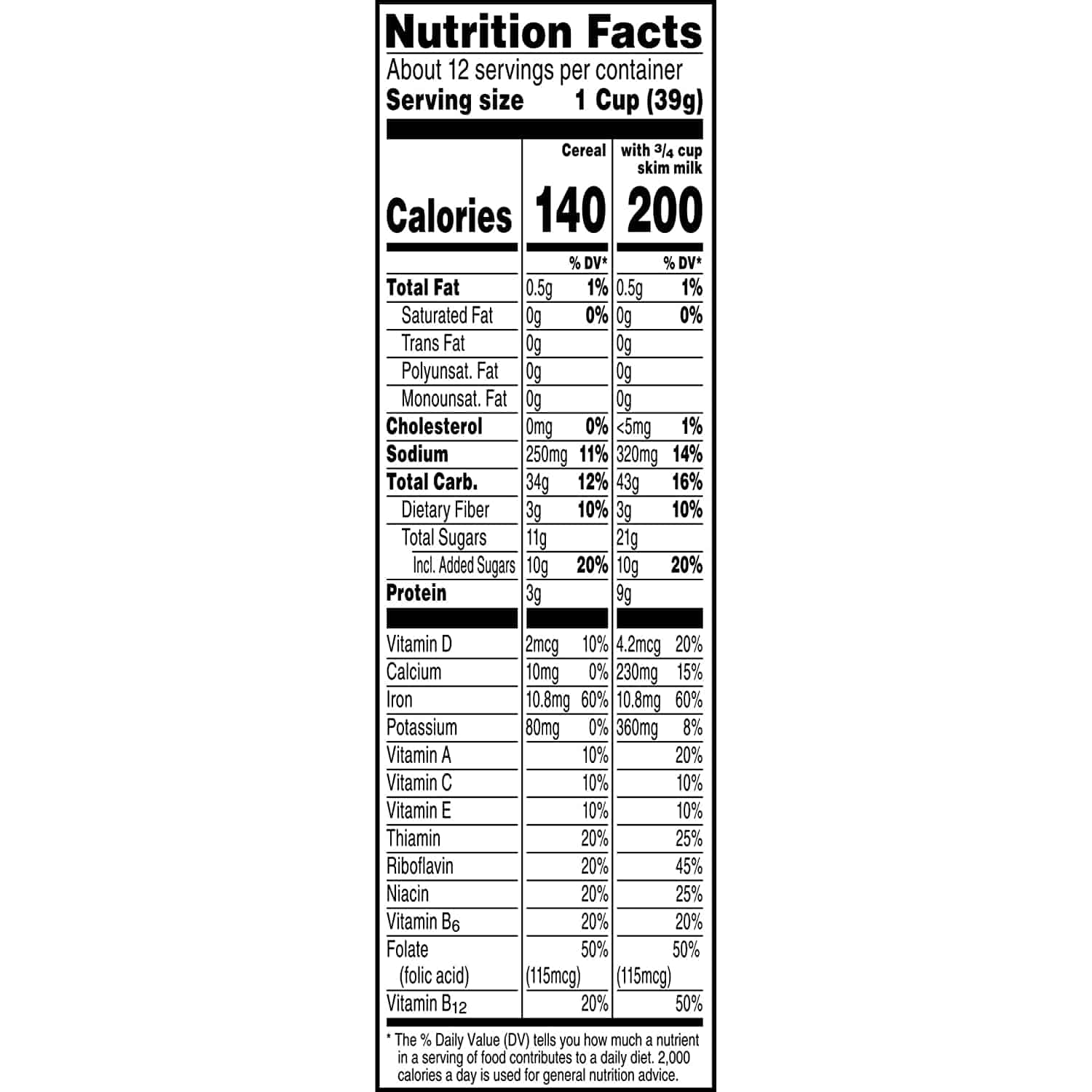 Serving size 1 cup
Calories (per serving) 140
Total Fat 0.5g 1%
Saturated Fat 0g 0%
Trans Fat 0g
Polyunsaturated Fat 0g
Monounsaturated Fat 0g
Cholesterol 0g 0%
Sodium 250g 11%
Total Carbohydrate 34g 12%
Dietary Fiber 3g 10%
Total Sugars 11g
(Incl. 10g added sugars)
Protein 3g
Ingredients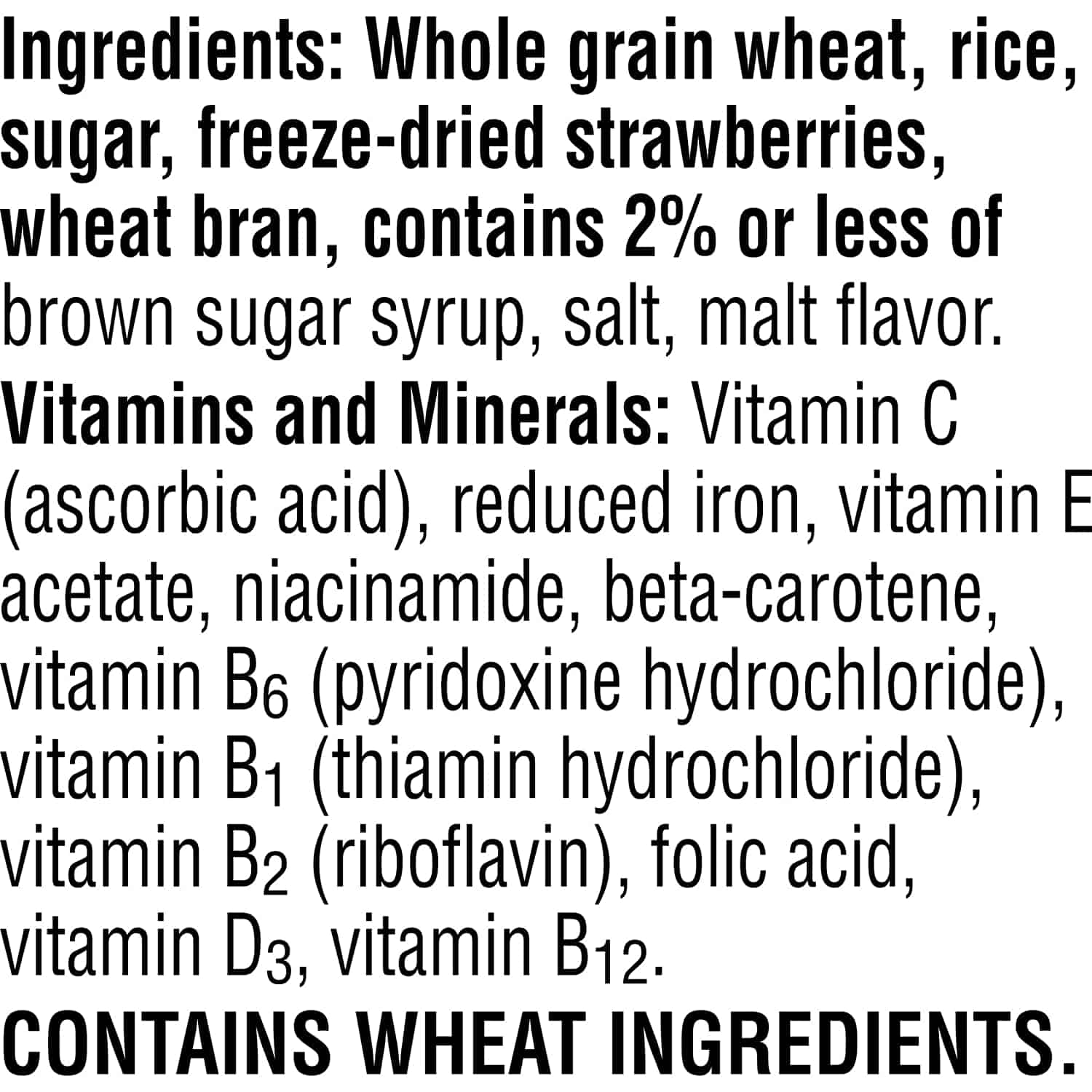 Whole Grain Wheat, Rice, Sugar, Freeze Dried Strawberries, Wheat Bran, Contains 2% or less of Brown Sugar Syrup, Salt, Malt Flavor. Vitamins and Minerals: Vitamin C (Ascorbic Acid), Reduced Iron, Vitamin E Acetate, Niacinamide, Beta Carotene, Vitamin B6 (Pyridoxine Hydrochloride), Vitamin B1 (Thiamin Hydrochloride), Vitamin B2 (Riboflavin), Folic Acid, Vitamin D3, Vitamin B12
Is Special K Red Berries Cereal Healthy?
Kellogg's Special K with red berries is a good source of natural grains and rice flakes. Just one bowl contains 15g of whole grains goodness which is an excellent way to fuel up for the day ahead.
This ready-to-eat cereal is also a good source of 11 vitamins and minerals, including vitamin C, vitamin E, and folic acid… but can Kellogg's Special K Red Berries be considered a healthy cereal?
Well, it is healthier than some, competing breakfast options. This low-calorie cereal might help you drop a couple of pounds when eaten as part of a healthy, balanced diet.
However, at just 3g per serving it is surprisingly low in fiber for a supposedly wholesome wheat cereal and just about average when it comes to protein.
That great taste comes from brown sugar syrup and freeze-dried fruit… and 11g of sugar. While Kellogg's Special K Red Berries is certainly healthier than high sugar, artificially colored cereals, adding your fresh fruit to a plain, sugar-free cereal and serving it with your favorite yogurt is always going to be a healthier choice.
Is Special K Red Berries Cereal Gluten-Free?
No, two of the key ingredients are whole grain wheat and wheat bran, so this breakfast cereal is not gluten-free.
Is Special K Red Berries Cereal Vegan?
Kellogg's Special K cereal with red berries does not list milk or derivatives among the ingredients, so it could be enjoyed with nut milk for a dairy-free breakfast cereal.
However, it does contain vitamin D3, which is commonly derived from the grease found in sheep wool. It also contains vitamin B12, which is most often present in animal-based foods, including meat, fish, eggs, and dairy. It is less often contrived of plant origin.
It is also worth noting that many processed bowls of cereal (especially in the US) include sugar which has been filtered through animal bone char. Ultimately whether or not this cereal can be classified as vegan, depends on how strict a vegan the consumer wants to be.
Is Special K Red Berries Cereal Keto?
Unfortunately not. Like most similar, processed cereals this one is a little too high in carbohydrates to be considered keto.
A person following the ketogenic 'keto' diet strives to keep their daily carbohydrate intake between 25-50g. This cereal contains 34g per serving… so while it could be eaten as part of a keto diet, possibly, it would essentially gobble up all of your daily carb allowance.
Is Special K Red Berries Cereal High in Protein?
According to their SmartLabel page, Kellogg's Special K with red berries contains just 3g of protein per serving. Some, high sugar cereals will offer less – but 3g is really not that great with 2-3g per bowl ranking about average among competing for whole grain cereals.
If you are looking to add a little more protein to your morning, try a high-protein cereal instead. Special K Protein offers a considerable 15g of protein per serving.
Is Special K Red Berries Cereal High in Fiber?
At just 3g of fiber per serving, this breakfast cereal equates to only 10% of your recommended daily fiber intake. With all those whole grains and wheat ingredients you might think this cereal would be a little better but fiber-wise, it ranks just okay… with higher scoring alternatives out there if you want to boost your daily fiber intake.
Special K Red Berries Cereal Store Brand Alternatives
Kellogg's Special K Red Berries continues to be one of the most popular variations, but you should also be able to find these members of the Kellogg company Special K product line:
Brown sugar cinnamon
Chocolatey dipped flakes with almond
Blueberry
Fruit and yogurt
Vanilla almond
Chocolatey delight
Protein cereal
Cinnamon brown sugar crunch protein cereal
Cinnamon pecan
Touch of honey granola
If it's the berries you're after, try Kellogg's Special K Red Berries chewy snack bar or similar 'calorie conscious' bars; protein bars; and keto-friendly snack bars, inspired by popular Special K flavors.
Where You Can Buy Special K Red Berries Cereal
Red Berries continues to prove itself among the most popular and enduring of Kellogg's Special K product line. You should be able to find a box at your local grocery store.
Or buy online at: target.com or heb.com
Famous Special K Red Berries Cereal Commercials
As one of the most popular and enduring Special K products, the Red Berries cereal has enjoyed a few commercials over the years:
User Reviews
Review Summary
0.0 out of 5 stars (based on 0 reviews)
Recent Reviews
There are no reviews yet. Be the first one to write one.
Submit a Review