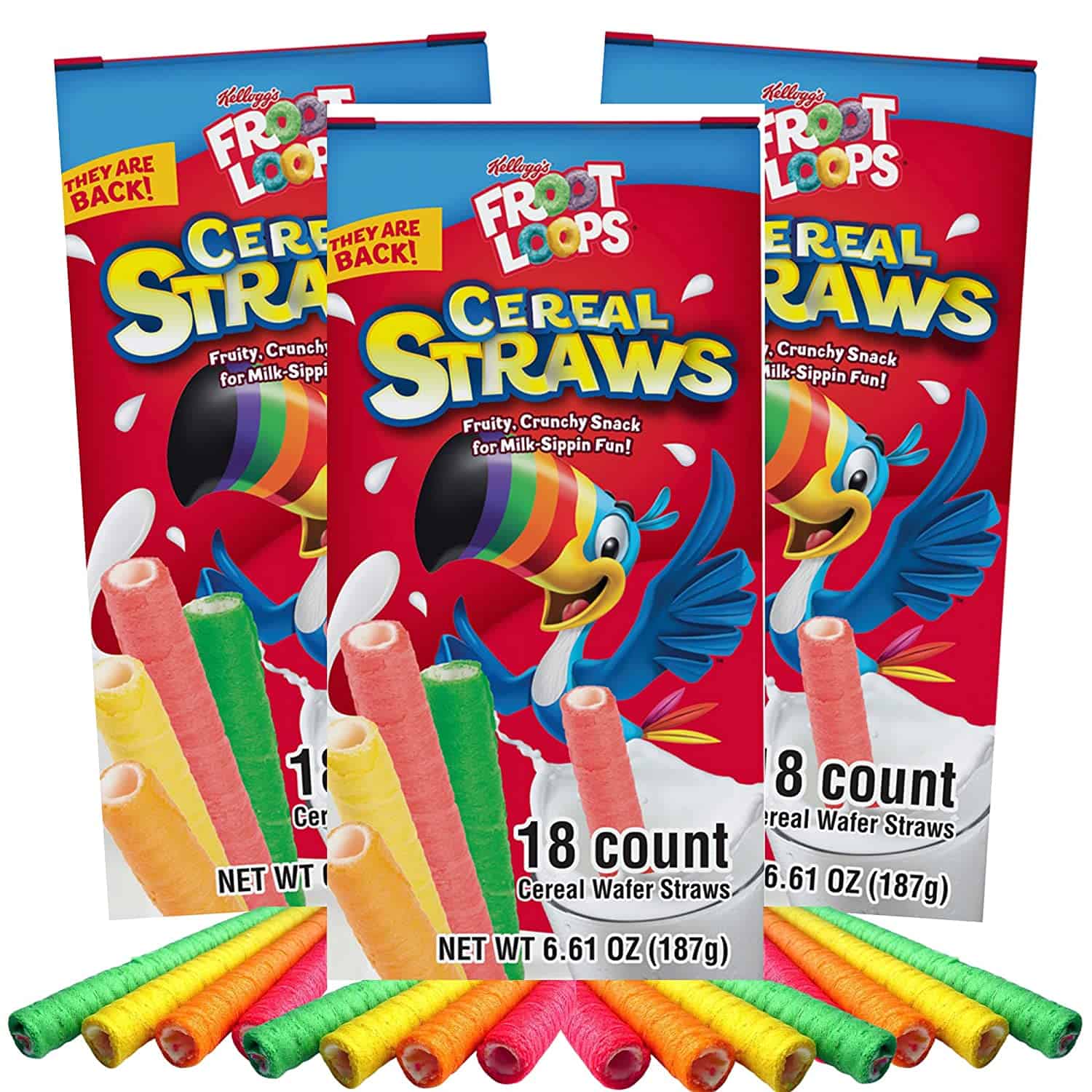 In case you didn't know, Froot Loops Cereal Straw snacks are crunchy on the outside with a tasty coating on the inside – making them perfect for ensuring milk tastes even better. Each pack consists of five Froot Loops Cereal Straws.
While the cereal straws were discontinued in 2009, to much public sadness (there was even a Change.org petition), the iconic Kellogg's snack staple is currently enjoying an even more significant rise in popularity. After an almost 13 year hiatus, Froot Loops Cereal Straws are back with a bang and proving to be as successful as ever while making sipping fun again.
Nutrition Facts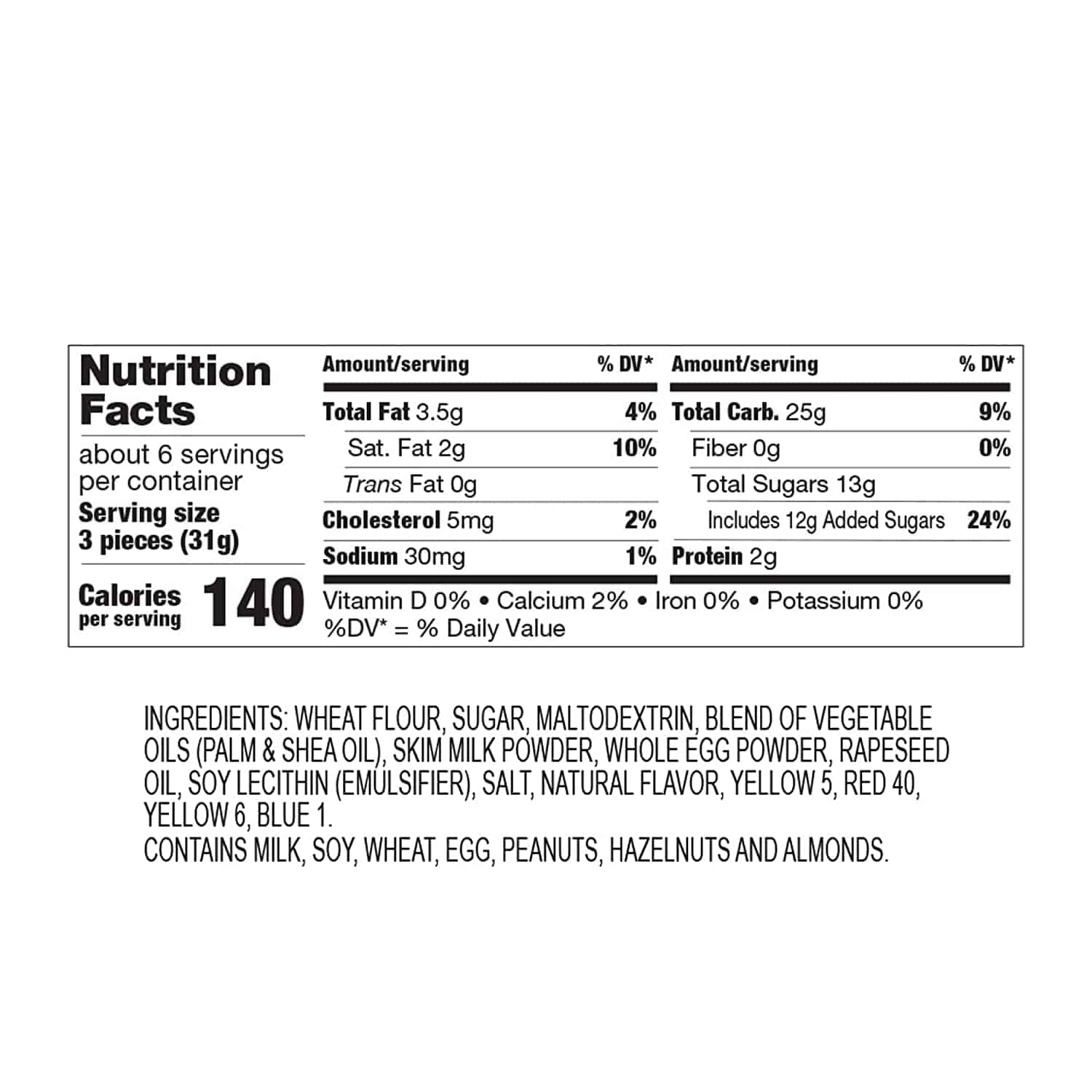 3 Kellogg's Froot Loops straws (1 NLEA serving) (31g) contain:
Calories  – 136
Calories from Fat – 32
Total Fat – 3.53 g
Saturated Fat – 1.829 g
Trans Fat – 0.012 g
Cholesterol – 0 mg
Sodium – 15 mg
Potassium – 2 mg
Total Carbohydrate – 24.30 g
Dietary Fiber – 0.0 g
Sugars – 11.97 g
 Protein – 1.67 g
Vitamin A – 500 IU
Vitamin C – 0.0 mg
Calcium – 0 mg
Iron – 0 mg
Ingredients
Kellogg's Froot loops contain a large number of ingredients:
Sugar
Whole grain corn flour
Wheat flour
Whole grain oat flour
Oat hull fiber
Corn bran
Hydrogenated coconut
Vegetable oil
Salt
Natural fruit flavoring
BHT
Iron
Niacinamide
Zinc oxide
Thiamine hydrochloride
D-calcium pantothenate
Cholecalciferol
Pyridoxine hydrochloride
Folic acid
Is Froot Loops Cereal Healthy?
While Froot Loops straws are many things – tasty, innovative, and fun, being some of them – one thing they are not is healthy, in any shape or form. As we will discuss further a bit later, the iconic Kellogg's cereal straws are high in carbs, very low in protein, and loaded with sugar.
However, when enjoyed in moderation as a delicious treat, there's no reason not to have a few with a cold, refreshing glass of milk. They definitely make milk taste better!
Is Froot Loops Gluten-Free?
No, Froot Loops straws are not gluten-free, and that goes for Froot Loops cereals too. This is because all the products contain a large percentage of wheat, their primary ingredient. So if you are required to follow a gluten-free diet, this brand of snacks is most definitely not for you.
Is Froot Loops Cereal Vegan?
At first glance, it may appear that Froot Loops are vegan. However, there is a gray area that many people are unaware of, which could make for an argument that these cereal straws are not suitable for those who don't wish to consume animal products.
Froot Loops contain Vitamin D3, which is derived from sheep's wool and therefore obviously not suitable for vegans.
Sugar, which Froot Loops straws have a lot of, is also sometimes not considered vegan due to how it is refined, which has led to some uncertainty within the vegan community.
Therefore, if you are a strict vegan, it is best to stay away from Froot Loops.
Is Froot Loops Cereal Keto?
No. Froot Loops straws contain a lot of carbs (76g of net carbs per 100g), meaning they are not suitable for those following a keto diet and wishing to reach or maintain a ketosis state.
It isn't just this brand, however: many breakfast cereals cannot be consumed on the keto diet for the same reason.
Is Froot Loops Cereal High In Protein?
No, unfortunately, Kellogg's cereal straws give next to no nutritional support in the form of protein. Those wanting more protein in their diet might wish to choose a cereal with a higher protein level, such as Kellogg's Special K.
Is Froot Loops Cereal High In Fiber?
While the straws themselves will not be beneficial if you are required to follow a high fiber lifestyle, Froot Loops cereal is a better option. Each serving of cereal provides as much as 6g of fiber and would be a much better option if you want to make small, healthy changes.
Froot Loops Varieties
Wafer straws make breakfast easy – simply place each of the Kellogg's cereal straws into a glass of milk, and undoubtedly the taste improves. They also make great snacks and bring back a lot of childhood memories for many. Similar products include Kellogg's Cocoa Krispies straws to give your milk a chocolatey taste.
However, it isn't just these cereal straws that you can purchase; Froot Loops also produce a range of breakfast cereals too.
Original
The original Froot Loops cereal tastes of fruity goodness in a bowl.
This multi-grain cereal consists of multicolored rings packed with natural fruit flavors. There is the added benefit of 9 vitamins and minerals, and while they are high in sugar, they can be incorporated into a healthy diet and lifestyle when eaten in moderation. Each portion (39g) is approximately 150 calories.
Sweethearts
Those who enjoy a sweet tooth may prefer to indulge in Kellogg's Froot Loops Sweethearts. That bit sweeter than the original and designed in playful heart-shaped pieces, this cereal tastes undoubtedly delicious, fun, and definitely a winner with kids. One portion is 140 calories.
Froot Loops with Marshmallows
Just like the original but with added marshmallows, this option is the highest calorie option, measuring in at 240 calories per serving.
Where You Can Buy Froot Loops
You can purchase a pack of Froot Loops straws just about anywhere; your local store is almost guaranteed to have them.
If you'd rather shop online, you can find the fruity treats at the likes of Walmart.
Famous Froot Loops Commercials
Froot Loops have produced a variety of commercials for its cereal straws over the years, all of which are primarily focused on bringing the straws to the attention of young children, as well as pre-teens.
In an advert from 2009, Toucan Sam, the Fruit Loops mascot, explains how much fun these cereal straws are, while a group of kids seems to thoroughly enjoy tasting the snack straws with a glass of milk.
'Sip, Dip, Munch' is the motto.
You can watch the nostalgic Froot Loops Cereal Straws commercial here.

User Reviews
Review Summary
0.0 out of 5 stars (based on 0 reviews)
Recent Reviews
There are no reviews yet. Be the first one to write one.
Submit a Review