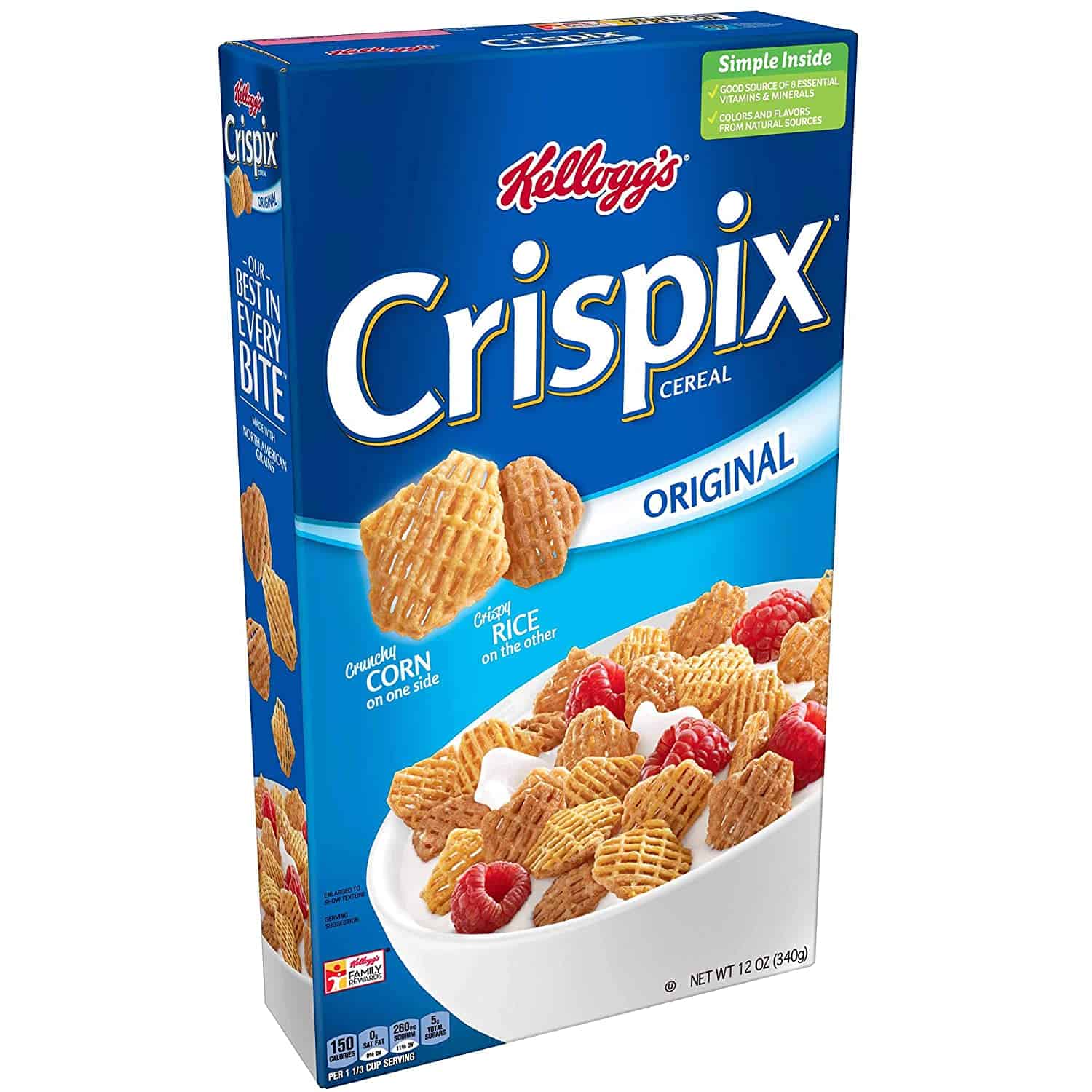 A taste-tantalizing crunchy, crispy corn and rice cereal with just the right amount of sweetness and the perfect way to start your day.
With the delightful crunch of corn on one side and the beautiful crispiness of rice on the other, this is a delightfully delicious first meal of the day, irrespective of whether to eat straight from the box, served with a splash of milk, or paired with yogurt.
With eight vitamins and minerals, it's also a healthy way to fuel up and one of the only cereal options to score five stars in several customer reviews!
Nutrition Facts

Every box of this ready-to-eat breakfast cereal contains the following nutrition items.
These are based on the average consumption of 2,000 calories per day on a container serving size of 36 grams (equivalent to one-third of a cup).
Calories: 150 grams
Total Fat: 0 grams
Saturated Fat: 0 grams
Polyunsaturated Fat: 0 grams
Trans Fat: 0 grams
Monounsaturated Fat: 0 grams
Cholesterol: 0 mg
Sodium: 260 mg
Total Carbohydrate: 34 grams
Dietary Fiber: 0 grams
Total Sugars: 5 grams (Includes 5g Added Sugars)
Protein: 3 grams
Vitamin D: 3 mcg
Calcium: 0 mg
Iron: 11 mg
Potassium: 20 mg
Thiamin: 30% of your daily allowance
Riboflavin: 30% of your daily allowance
Niacin: 30% of your daily allowance
Vitamin B6: 30% of your daily allowance
Folate (115 mcg): 200 Mcg
Vitamin B12: 30% of your daily allowance
Ingredients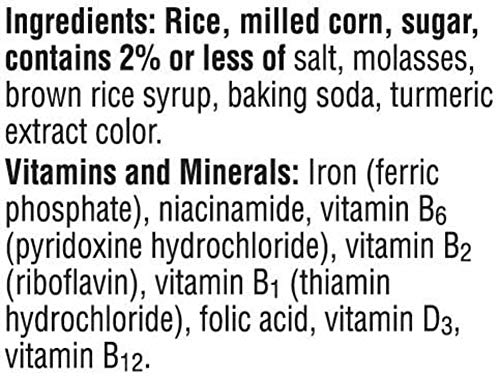 Each box of this irresistibly crispy delicious breakfast cereal contains the following ingredients and vitamins and minerals:
Rice
Milled corn
Sugar
2% or less of salt
Molasses
Brown rice syrup
Baking soda
Turmeric extract color.Vitamins and Minerals
Iron (ferric phosphate)
Niacinamide
Vitamin B6 (pyridoxine hydrochloride)
Vitamin B2 (riboflavin)
Vitamin B1 (thiamin hydrochloride)
Folic acid
Vitamin D3
Vitamin B12
Is Crispix Cereal Healthy?
With 4 grams of sugar, which is the equivalent of 1 teaspoon per serving, Crispix isn't the healthiest breakfast cereal out there. However, it is not the worst either.
It is essential to try and limit your sugar intake, especially if you are trying to stick to a balanced, healthy lifestyle.
Is Crispix Cereal Gluten-Free?
Crispix breakfast cereal has a gluten-containing ingredient in the shape of barley malt.
If you are intolerant to gluten, always read the nutrition and ingredient label on the back of the box.
Is Crispix Cereal Vegan?
Yes, Kellogg's Crispix Original breakfast cereal is vegan and nut-free and boasts no artificial ingredients.
For best results, always check the box. It will list whether or not the product is vegan, along with other handy information such as nutrient facts, ingredients, and more.
Is Crispix Cereal Keto?
Those looking to embrace a keto-friendly diet should avoid Kellogg's Crispix Original. Why?
It is a very high-carb processed food, comprising several processed ingredients such as sugar, concentrated syrup, and molasses.
If you're on a strict Keto diet plan, this is not an ideal cereal to choose.
Is Crispix Cereal High in Protein?
Kellogg's Crispix Crunchy Cereal makes up for 3 grams of protein per serving.
You can add more protein to your breakfast bowl by adding yogurt, milk, nuts, and seeds to your scrumptious bowl, creating a homemade snack mix.
It is essential to ensure we get enough protein in our daily diet. This food contributes to being a light enough snack to enjoy when you get late-night cravings, as it is for an afternoon treat or breakfast.
Is Crispix Cereal High in Fiber?
This crunchy corn breakfast cereal boasts zero grams of fiber, making it a less popular option for those looking for a beautiful grain that scores five stars on the fiber front.
Want to add more fiber? Simply add a handful of seeds, nuts or nut butter, or berries to your bowl. This will bring this wonderful cereal to a new level.
Crispix Cereal Store Brand Alternatives
Kellogg's Crispix cereal, with rice on one side and a satisfying crunch of corn, makes for a balanced breakfast when consumed in moderation.
When paired with your preferred milk (or alone, as a tasty cereal straight from the box), every delicious spoonful boasts plenty of vitamins and minerals and is a great way to start your day.
However, if you're looking for a crunchy cereal for Kellogg's Crispix, we recommend Chex Mix Cereal varieties such as Corn Chex, Rice Chex, and Wheat Chex.
You can even make your own healthy cereal or homemade snack, complete with an irresistible crunch, by mixing them. It may even become your favorite cereal forever!
Another delicious addition and satisfying solution to not being able to source K cereal? Kellogg's Special K. This crispy rice alternative boasts the same light and puffy crispiness, just a hint of crunch and pleasant sweetness as so many boxes of Crispix do, and every spoonful makes you want more!
Where You Can Buy Crispix Cereal
Although it is becoming harder to source, you can buy this ready-to-eat cereal online, such as on Instacart and Amazon, or in various stores, such as Walmart and Target, that stock Kellogg's brand.
Famous Crispix Cereal Commercials
Kellogg's Crispix Cereal makes commercials too! They get five stars for their effort on this front. The concept? To promote this carefully crafted creation and improve average customer ratings.
If you have ever eaten Crispix cereals, you were likely prompted to purchase this or one of the different flavors because of the commercial you viewed when watching TV.
Some of the best adverts are listed below, each with a link to the video file:
80's Crispix Cereal Commercial" Kellogg's Crispix is crispy, times 2″. Many will remember eating Crispix when watching the advert!
1994 advert: This Crispix commercial features two very famous people; The celebrated Ricardo Montalban and Chrysler Cordoba.
This link showcases the Australian version of the TV commercial for the Crispix cereal. The soundtrack features a cover of the Carpenter's song "Top of the World."
User Reviews
Review Summary
0 out of 5 stars (based on 0 reviews)
Recent Reviews
There are no reviews yet. Be the first one to write one.
Submit a Review