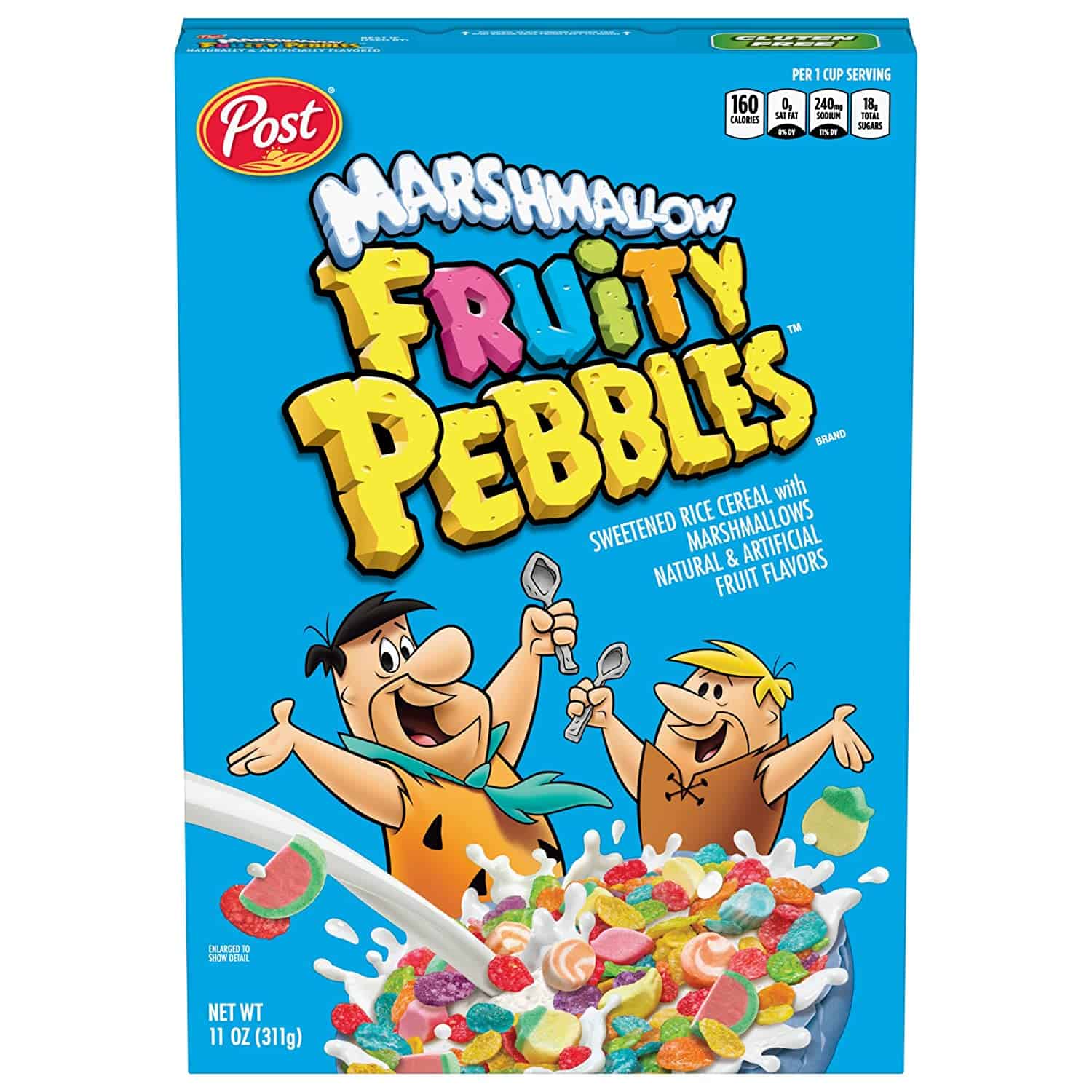 Post cereals did it again. One of America's favorite cereal lines keeps getting bigger and better. This time, Post added marshmallowy goodness to Pebbles to make a unique fruity treat for breakfast. We all love Fruity Pebbles, so simply adding marshmallows was a no-brainer.
While the marketing was fun, the entire box super disappointed most people, as it lacked a lot of the unique features the cereal was trying to make for itself. At the time, it was the only cereal that had failed to do so of the Pebbles varieties.
Nevertheless, it did make a giant leap forward in recipes such as Pebble alternatives to rice Krispie treats, and the absolute favorite bottom line is that it's still Fruity Pebbles.
Nutrition Facts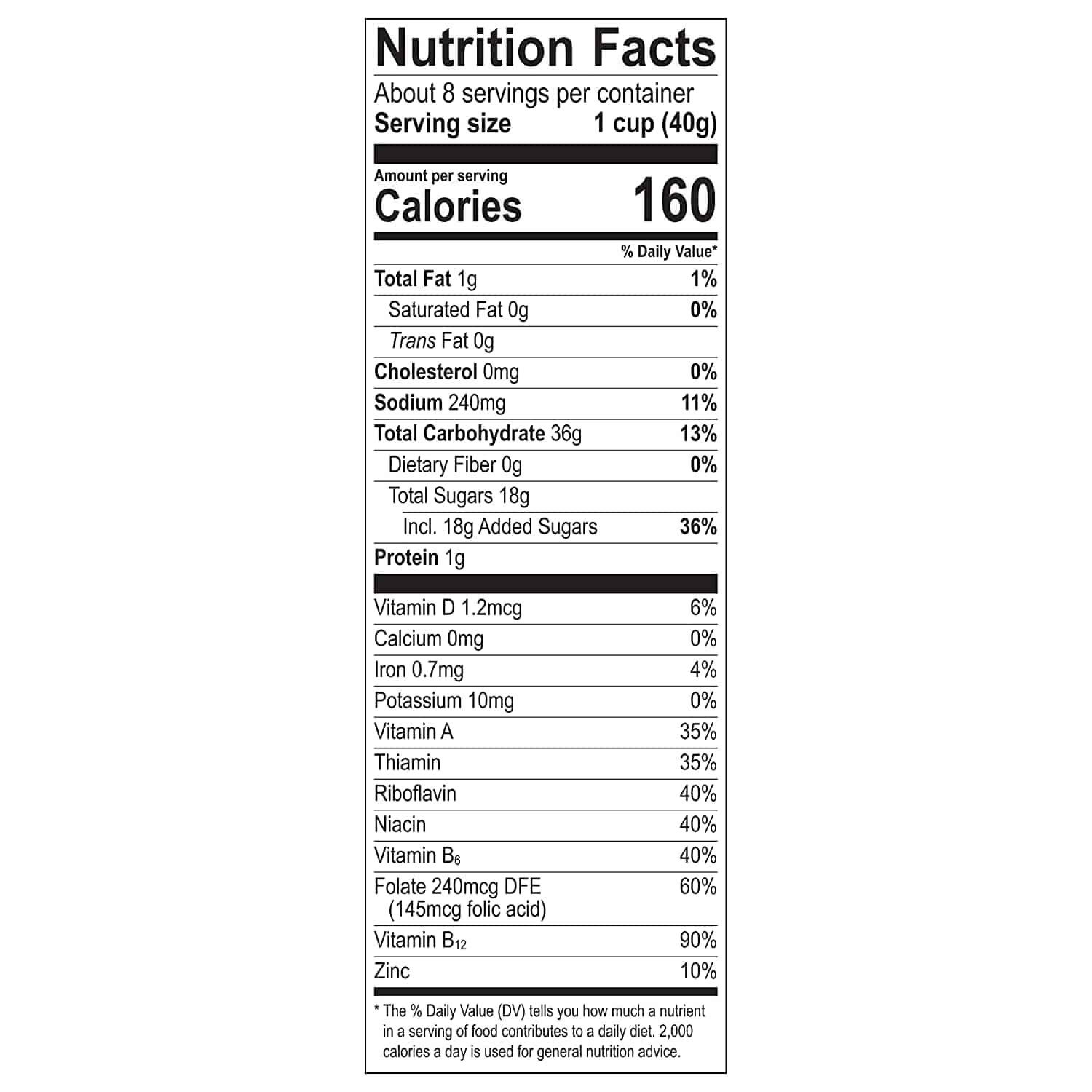 One serving (40 grams) of Marshmallow Fruity Pebbles cereal contains has the following nutritional values:
Calories – 160
Fat – 1 grams / 1% DV

Saturated fat – 0 mg
Trans fat – 0mg
Polyunsaturated fat – 0mg
Monounsaturated fat – 0mg

Cholesterol – 0mg
Sodium – 240mg / 11% DV
Total carbohydrates – 36 grams / 13% DV

Total sugars – 18 grams (all added sugars) / 36% DV
Other carbohydrates – 18 grams
Dietary fiber – 0 grams / 0%

Protein – 2 grams / 0% DV
Vitamin A – 35% DV
Vitamin B1 (Thiamin) – 35% DV
Vitamin B2 (riboflavin) – 40% DV
Vitamin B3 (Niacin) – 40% DV
Vitamin B6 (Pyridoxin) – 40%
Vitamin C – 10% DV
Vitamin D – 1.2mcg / 6% DV
Folate – 240 mcg DFE / 60% DV
Vitamin B9 (Folic acid) – 145 mcg
Vitamin B12 – 90% DV
Potassium – 10 mg / 0% DV
Calcium – 0 mg / 0% DV
Phosphorus – 4% DV
Iron – .7 mg / 4% DV
Zinc – 10% DV
The above Daily Value (DV) percentage is based on a diet of 2,000 calories per day.
Typically, Marshmallow Fruity Pebbles cereal comes in a 311 grams box which contains around 29 servings.
Marshmallow Fruity Pebbles cereal does not contain any grams of whole grains.
Ingredients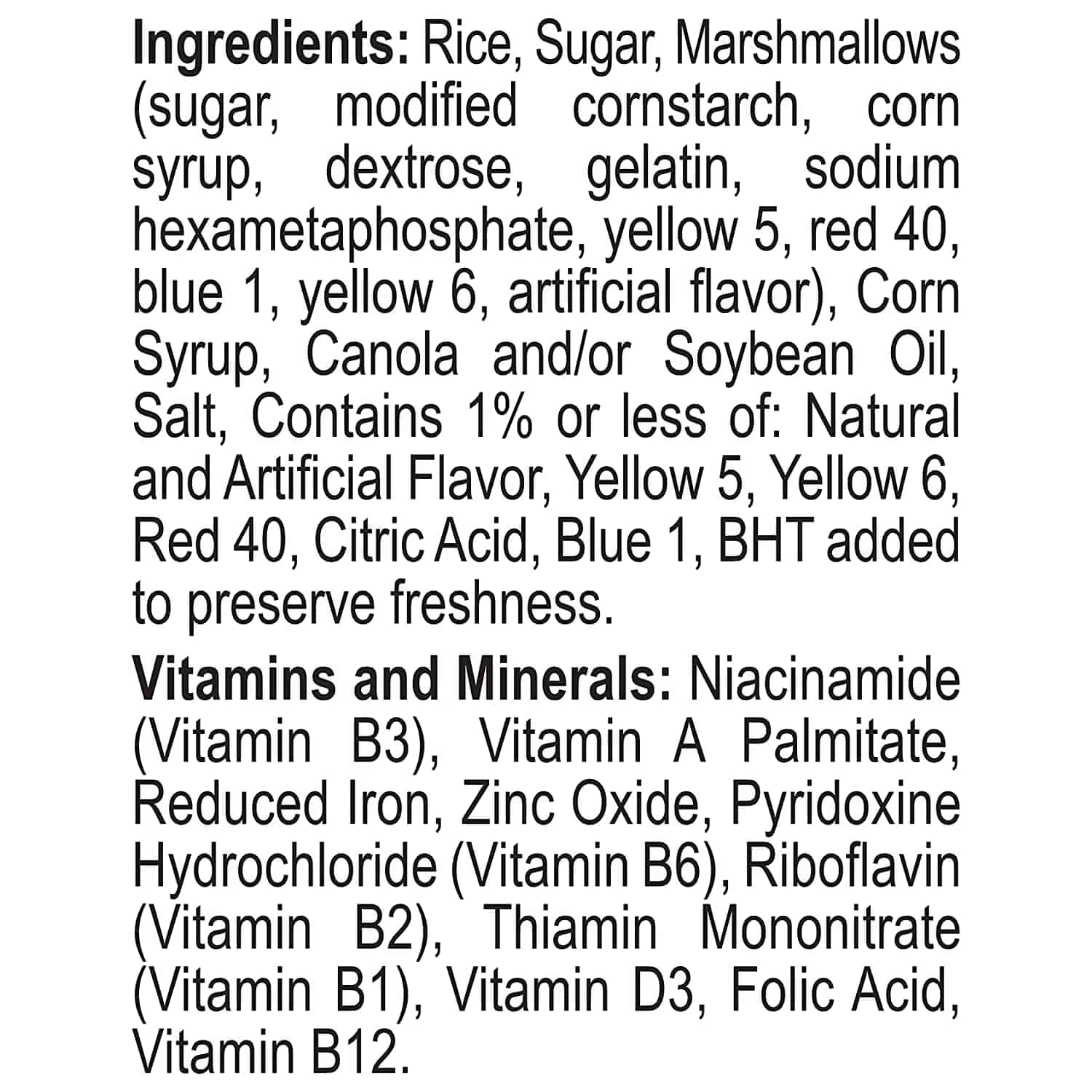 Marshmallow Fruity Pebbles has an ingredients list that includes:
Rice
Sugar
Marshmallows

Sugar
Modified cornstarch
Corn syrup
Dextrose
Gelatin
Sodium Hexametaphosphate
Yellow 5
Red 40
Blue 1
Yellow 6
Artificial flavor

Corn syrup
Canola oil
Salt
Natural and artificial flavor
Yellow 5
Yellow 6
Red 40
Blue 1
BHT added to preserve freshness
Niacinamide (Vitamin B3)
Vitamin A palmitate
Reduced iron
Zinc oxide
Pyridoxine Hydrochloride (Vitamin B6)
Riboflavin (vitamin b2),
thiamin mononitrate (vitamin b1),
Vitamin D3
Folic Acid
Vitamin B12
Are Marshmallow Fruity Pebbles Healthy?
No, Marshmallow Fruity Pebbles cereal is not a portion of healthy food, but none of the Pebbles cereal products are healthy foods. This is for a few specific reasons.
First, all of the Pebbles cereals, especially Marshmallow Fruity Pebbles, have very heavy sugar content. A single bowl of this cereal is roughly made up of 50% sugar. That is a very unhealthy amount of sugar for anyone to consume.
Secondly, Marshmallow Fruity Pebbles cereal contains several additives and preservatives that cannot be considered healthy either. Specifically, there are artificial flavors, yellow, red, and blue color additives, and most importantly, BHT.
All of this combined does not make for a very healthy food product.
Are Marshmallow Fruity Pebbles Gluten-Free?
Yes, though not actually healthy, Marshmallow Fruity Pebbles cereal, along with all the Pebble cereals, is a gluten-free broad. Marshmallow Fruity Pebbles is essentially a rice product, and rice is a very gluten-friendly food.
Are Marshmallow Fruity Pebbles Vegan?
No, there are several reasons for why Marshmallow Fruity Pebbles is not a vegan food.
To begin with, marshmallows are not considered vegan as they contain gelatin. Gelatin is a byproduct of animals, typically animal bones and animal cartridges.
Also, Marshmallow Fruity Pebbles cereal contains Vitamin D3 and Vitamin B12. These two vitamins cannot be sourced from anything plant-based; they are always a by-product of an animal product. Thus, they are not acceptable to strict adherence to a vegan diet.
Are Marshmallow Fruity Pebbles Keto?
No, like all sugar-based breakfast cereals, Marshmallow Fruity Pebble cereal will not fit into any interpretation of a Keto diet. A Keto diet is all about heavily restricting a person's carbohydrate intake to, at the most, 20 -30 grams of carbohydrates a day.
One bowl of Marshmallow Fruity Pebbles will take a Keto diet over that limit.
Are Marshmallow Fruity Pebbles High In Protein?
Again, as with most sugar-based breakfast foods, this cereal is not high in a protein food product. Food products designated at high in protein are called such because they deliver at least 10 grams of protein for each serving portion.
This cereal only delivers 2 grams, which is typical of other sugary options in the cereal aisle but not a high in protein food.
Are Marshmallow Fruity Pebbles High In Fiber?
This cereal is also not a source of dietary fiber. In fact, there is absolutely no dietary fiber in a bowl of Marshmallow Fruity Pebbles cereal. It is important to remember that, as recommended by the FDA, a person should consume around 25 grams of dietary fiber each and every day.
This cereal will not help you get to that recommended mark.
Marshmallow Fruity Pebbles Varieties
This cereal is, in fact, a variation itself. Post continues to develop and add new cereal to their very popular Pebbles line of cereal. This was simply another addition to that line.
Marshmallow Fruity Pebbles Store Brand Alternatives
Interestingly, the entire line of Pebbles branded cereal has withstood any legitimate attempt to be copied. This is primarily due to the cereal generating such a large fan following and its association with the cartoon, the Flintstones.
Where You Can Buy Marshmallow Fruity Pebbles
Marshmallow Fruity Pebbles cereal can be found wherever the remainder of the Post Pebbles cereal varieties is offered or any Post Consumer brands cereal can be found.
Famous Marshmallow Fruity Pebbles Cereal Commercials
Post launched Marshmallow Fruity Pebbles with a stunning well-animated commercial. It depicted Fred and Barney at the quarry taking a lunch break. Then Fred, Barney, and all the dinosaurs began dancing and had marshmallows in their mouths. It was a very fun and enjoyable commercial which can be seen as part of a compilation of Pebbles commercials on YouTube.
User Reviews
Review Summary
0.0 out of 5 stars (based on 0 reviews)
Recent Reviews
There are no reviews yet. Be the first one to write one.
Submit a Review