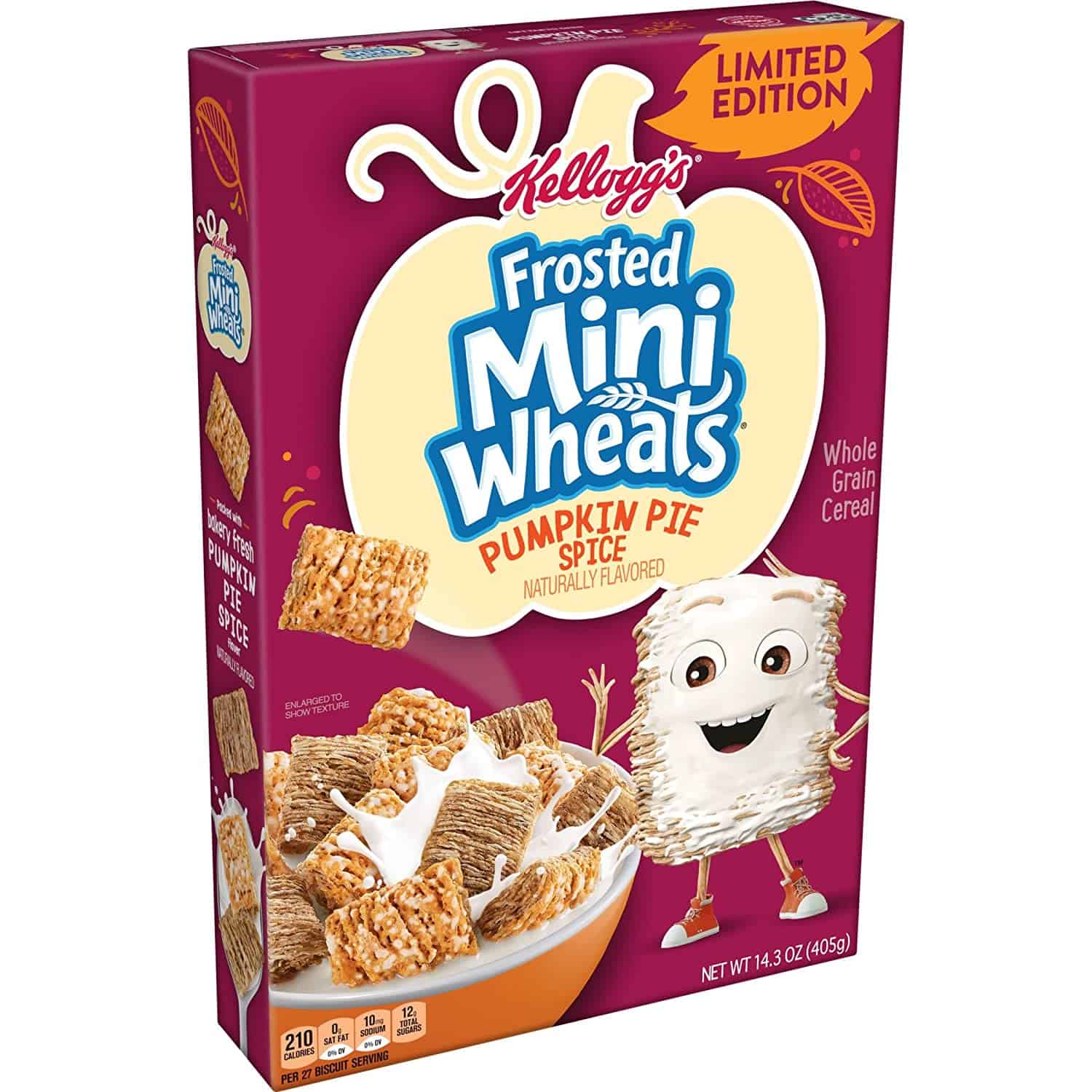 Initially introduced to the American market in 1969, Kellogg's frosted mini-wheats are available in a range of flavors. One of the most popular varieties they offer is their pumpkin spice variety, a delicious pleasing cereal perfect for the fall months.
The cereal itself features a rectangular shape, consisting of 100% whole-grain wheat and topped with a sugary coating.
But how does this tasty snack compare to similar options on the market and can it be classed as a healthy cereal – find out below!
Nutrition Facts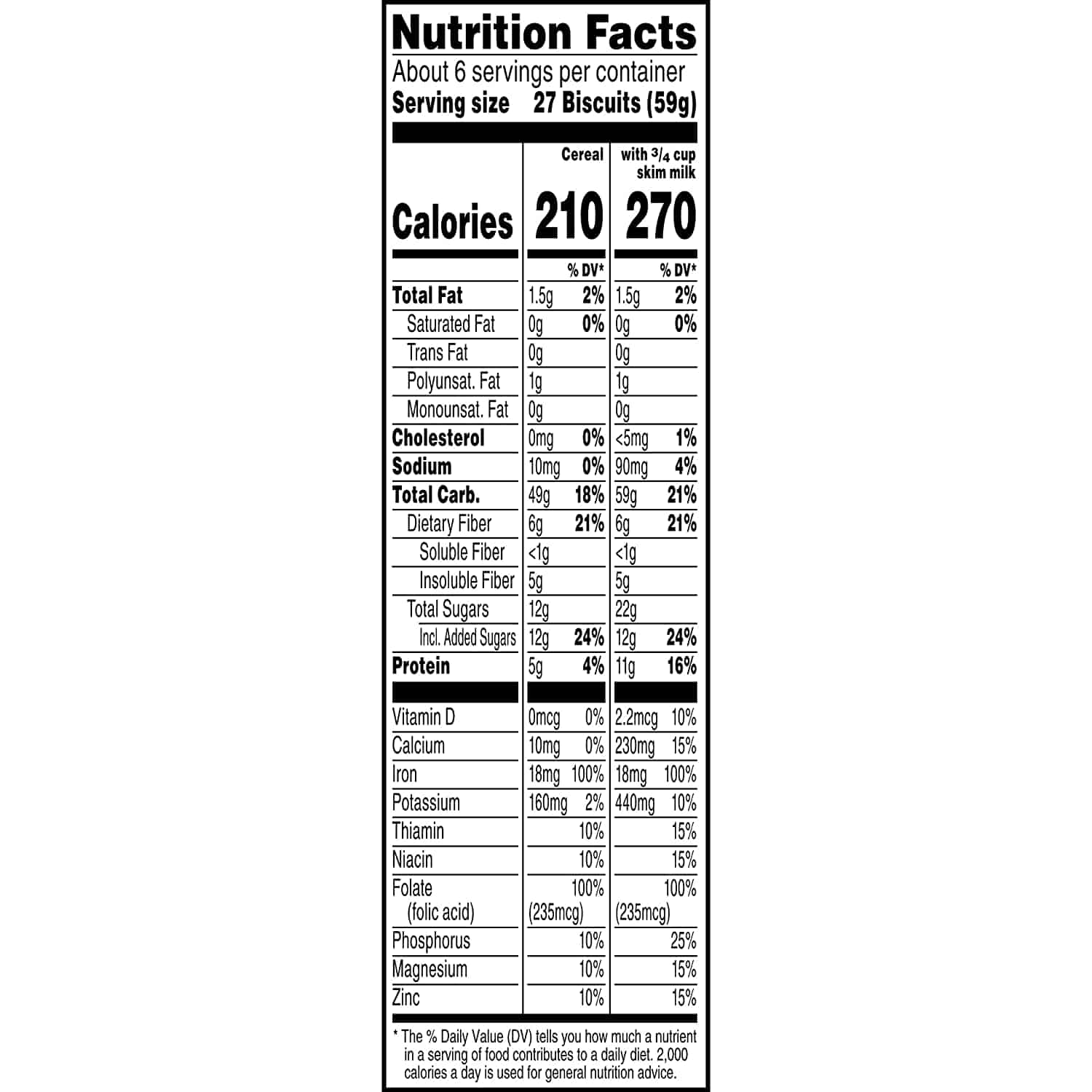 Your average serving of Pumpkin Frosted Wheat (59 grams) contains:
Calories – 210Kcal
Total Fat – 1g
Saturated Fat – 0g
Trans Fat – 0g
Polyunsaturated Fat – 1 g
Cholesterol – 0mg
Sodium – 10mg
Potassium – 160mg
Total Carbohydrate – 49g
Dietary Fiber – 6g
Sugars – 12g
Added Sugars – 12g
Protein – 5g
Vitamin A – 0mg
Vitamin C – 0cmg
Calcium – 10mg
Iron – 18mg
Folate – 400 mcg
Ingredients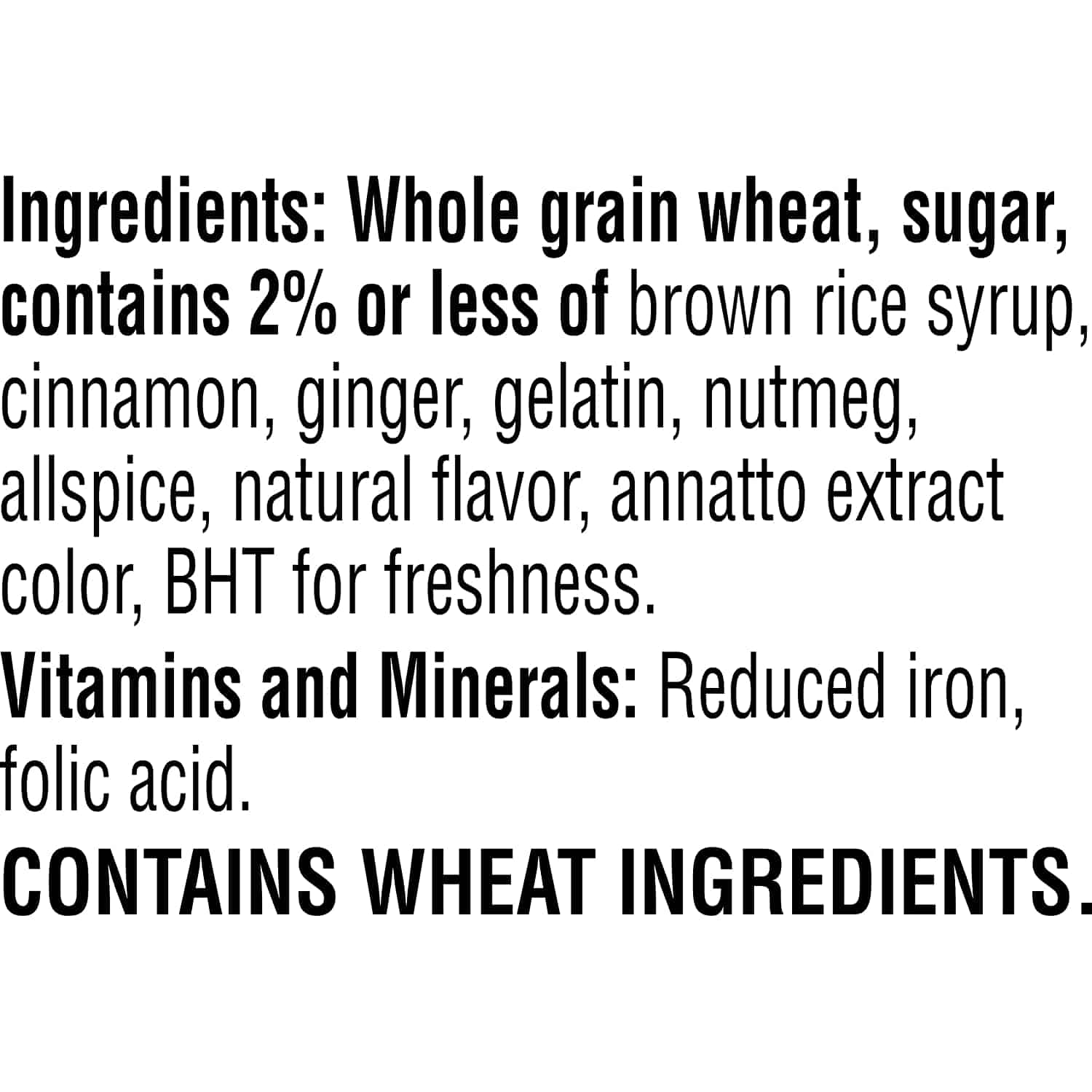 The exact ingredients contained in this cereal as exactly what you would expect. The cereal itself is 100% whole-grain wheat. Here is a full list of ingredients:
Whole grain wheat
Sugar
Brown rice syrup
Cinnamon
Ginger
Gelatin
Nutmeg
Allspice for the pumpkin pie spice taste
Natural flavor
Annatto extract color
BHT (Butylated hydroxytoluene)
Vitamins and Minerals: Reduced iron and folic acid.
Is Frosted Mini-Wheats Pumpkin Spice Cereal Healthy?
This Kellogg's frosted cereal contains a high amount of fiber and protein, but the frosted coating does contain a lot of sugar. Due to this high sugar content, it's not as healthy as some similar cereals on the market.
However, it does contain a range of important minerals and vitamins such as iron, folic acid, and potassium. These are all excellent foundations for a healthy diet.
Overall, we can't truly say that Kellogg's frosted mini-wheats is a healthy cereal choice as it contains 60% more sugar than the average cereal on the market. It is still a better option than pumpkin chocolate chip cookies, but we can't imagine you have those for breakfast!
Is Frosted Mini-Wheats Pumpkin Spice Cereal Gluten-Free?
Frosted mini-wheats cereal is made from 100% wheat grains, which sadly contain gluten. This means that this delicious pumpkin flavor cereal sadly isn't suitable for anyone who is gluten intolerant or is trying to avoid gluten where possible.
Is Frosted Mini-Wheats Pumpkin Spice Cereal Vegan?
As frosted mini-wheats breakfast cereal contains gelatin, which is an animal product, they are neither vegetarian nor vegan. Always check the box of your favorite cereals to check whether or not they are vegan, you can usually find a large V on the box if it is vegan!
If you're unsure, check the ingredients as not every cereal available will highlight whether or not it is vegan friendly.
Is Frosted Mini-Wheats Pumpkin Spice Cereal Keto?
A keto diet is where you ideally eat less than 50 grams of carbs per day. Due to the frosted coating, this cereal is fairly high in sugar which means it isn't ideal for keto diets. Each serving offers around 46 grams of carbs, of which 12 grams are sugar.
The high fiber content does outweigh some of its keto carb counts, but overall it isn't particularly keto-friendly.
Is Frosted Mini-Wheats Pumpkin Spice Cereal High in Protein?
Protein is a vital nutrient to any diet as almost every function our body performs requires protein of some sort.
Per gram, Pumpkin Pie Spice frosted wheat offers incredible amounts of protein, offering you the perfect start to the day. In a typical 59g serving, you can expect this cereal to contain up to 4% of your daily protein intake – which for a cereal, is pretty impressive.
Is Frosted Mini-Wheats Pumpkin Spice Cereal High in Fiber?
Frosted Mini-Wheats Pumpkin Spice flavor is a perfect breakfast cereal if you are lacking fiber in your diet. A general serving of Frosted Mini-Wheats breakfast cereal offers around 21% of your recommended daily intake.
If you pair this up with your chosen dairy or nut milk, some fruit, or even a slice of toast, you should be able to easily hit your recommended fiber intake!
Frosted Mini-Wheats Pumpkin Spice Cereal Store Brand Alternatives
Pumpkin Pie Spice is a popular flavor during the fall season, so there are a few cereal alternatives you can find on your local grocery store shelves.
A popular alternative is Kellogg's® Special K® Pumpkin Spice Crunch Cereal. Special K offers crunchy flakes packed to the brim with pumpkin flavor and what's more, it's surprisingly good for you!
If you love the taste of pumpkin, you should also check out Aldi's Millville Pumpkin O's cereal. This limited-edition breakfast cereal is extremely high in fiber and tastes just as good as Kellog's Pumpkin Cheerios!
Where You Can Buy Frosted Mini-Wheats Pumpkin Spice Cereal
As Kellogg's Frosted Mini-Wheats Pumpkin is a seasonal flavor, it can be hard to find in stores outside of the fall months. However, there are still a few locations that will sell it throughout the year.
One of the best places to find a cereal that is not currently being produced is on sites such as Amazon and eBay.
During fall, most local retailers are sure to stock up on this extremely proper pumpkin pie spice cereal. Check stores such as Walmart, Aldi, and even Costco to find this pumpkin spice seasonal version of Kellogg's frosted mini-wheats!
Famous Frosted Mini-Wheats Pumpkin Spice Cereal Commercials
There aren't many commercials targeting pumpkin spice mini-wheats, but there are lots of famous options out there for plain mini-wheats. One of these is a 2009 commercial starring a young Noah Munck of Nickolodeon fame.
This 2009 commercial has a young kid reminding the teacher about the previous lesson that he perfectly remembered thanks to his choice of breakfast cereal. The teacher is stunned – and rightfully so – as he even remembers her chalk snapping on the board!
The most famous advertising for frosted wheats is the small mascot, a talking mini-wheat cereal. You can find this mascot adorning many Kellogg's frosted wheat products, including the pumpkin-flavored cereal!
User Reviews
Review Summary
0 out of 5 stars (based on 0 reviews)
Recent Reviews
There are no reviews yet. Be the first one to write one.
Submit a Review