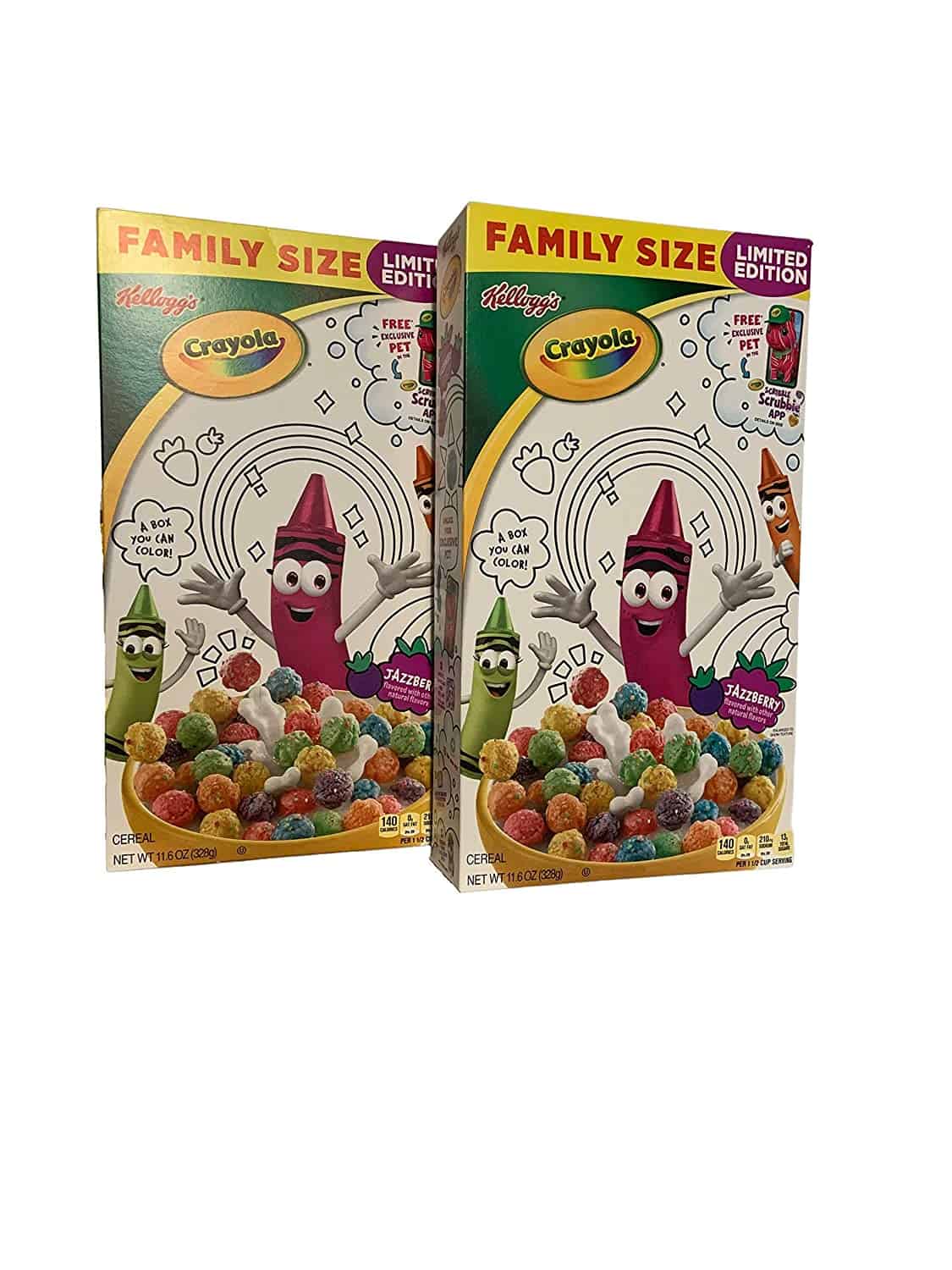 Founded way back in the late 1800s, Crayola is a household name – at least when it comes to its iconic, nostalgia-fuelling crayons and colorful art supplies. Now Crayola has partnered with Kellogg's to unleash all of their trademark bright, rainbow fun in a limited edition cereal sure to bring a splash of color to your breakfast table.
Kellogg's Crayola Jazzberry cereal aims to recreate the art of breakfast cereal. Every bowl of this limited edition cereal is a positive kaleidoscope of rainbow-colored puffs, so it really is the next best thing to chewing on a box of crayons… in fact, the infused lip-smacking berry taste certainly makes it much tastier than snacking on a crayon.
In a bid to make breakfast cereal even more fun, Kellogg's Crayola Jazzberry cereal comes packaged in a special color-your-own box – so grab your crayons and start coloring next time you reach for a snack.
Each box of this Jazzberry flavored cereal unlocks a free digital pet that kids will love. Simply download the popular Scribble Scrubbie Pets app and scan the box for an exclusive new pet.
The quirky name of this cereal pertains to the Jazzberry Jam-colored Crayola crayon. The cereal itself reportedly has a berry medley taste, with consumers highlighting strawberry or raspberry as the dominant flavor.
Nutrition Facts

5.0 About servings per container
Serving size100 Grams
Amount per serving
Calories 140
% Daily Value*
Total Fat 1g 1%
Saturated Fat 0g 0%
Trans Fat 0g
Polyunsaturated Fat 0g
Monounsaturated Fat 0g
Cholesterol 0mg 0%
Sodium 210mg 9%
Total Carbohydrate 36g 13%
Dietary Fiber 5g 20%
Sugar 13g
Protein 2g
Calcium 30mg 2%
Folic Acid 50mcg
Iron 4.6mg 25%
Potassium 60mg 0%
Vitamin D 2mcg 10%
*The % Daily Value (DV) tells you how much a nutrient in a serving of food contributes to a daily diet. Two thousand calories a day is used for general nutrition advice.
Ingredients
Corn flour blend (whole grain yellow corn flour, degerminated yellow corn flour)
Sugar
Wheat flour
Whole grain oat flour
Oat fiber
Soluble corn fiber
Contains 2% or less salt
Enriched flour (wheat flour, niacin, reduced iron, vitamin B1 [thiamin mononitrate], vitamin B2 [riboflavin], folic acid)
Calcium carbonate
Natural flavor
Degerminated yellow corn flour
Invert sugar
Cornstarch
Red 40, yellow 5, yellow 6, blue 1, turmeric extract color
BHT for freshness
Vitamins and Minerals:
Reduced iron
Niacinamide
Vitamin B6 (pyridoxine hydrochloride)
Vitamin B2 (riboflavin)
Vitamin B1 (thiamin hydrochloride)
Folic acid
Vitamin D3
Vitamin B12
Is Crayola Cereal Healthy?
This breakfast cereal contains 13g of sugar per 41g serving, so while it may not certainly be the healthiest way to start the day, it is a colorful, delicious, and fun way.
Typically anything with color added is not particularly healthy, and Kellogg's Crayola breakfast cereal has a lot of colors. Food dyes are chemical substances infused into food to make them more visually appealing but offer no nutritional benefits.
Food dyes are derived from petroleum, and consumption may cause side effects. The most commonly reported reaction to Red40, Yellow5, Yellow6, and Blue1 is hyperactivity in sensitive children. However, on occasion, consumption of these chemical substances may lead to side effects, including facial swelling, hives, or even asthma.
This breakfast cereal does contain whole grains as well as assorted vitamins like Vitamins D3, which improves bone strength and bone mass, as well overall immune function. So there is some goodness to be found in a bowl, so long as it is eaten as part of a balanced diet.
Is Crayola Cereal Gluten-Free?
No, Crayola cereal is not gluten-free because it contains wheat ingredients and wheat derivatives.
Is Crayola Cereal Vegan?
Kellogg's Crayola cereal does not contain dairy products, but there is maybe some uncertainty as to whether it is strictly vegan.
This whole-grain cereal contains the vitamin D3, which is most often produced from the grease of sheep wool. Moreover, this cereal contains a lot of sugar – which many strict vegans avoid since white sugar is often filtered with bone char derived from animal bones.
Is Crayola Cereal Keto?
The ketogenic or 'keto' diet focuses on keeping your carbohydrate intake low. Since Kellogg's Crayola cereal is high in carbohydrates, it is not keto-friendly. The keto diet also prefers a minimal sugar intake, and just one tasty bowl of this Kellogg cereal is rather high in sugar.
A keto diet typically only permits a total daily intake of 20 -30 grams of carbohydrates a day. Kellogg's colorful Jazzberry cereal packs a punch of 36 grams of carbohydrates and 13g of sugar in every scrumptious bowl of Crayola cereal.
Is Crayola Cereal High In Protein?
Kellogg's Crayola cereal contains 2g of protein per serving. It contains protein but is not nearly as high in protein as competing breakfast cereals.
However, serving a bowl with milk will boost your breakfast protein intake and may prove a clever way to get milk protein into your kids at breakfast time.
Is Crayola Cereal High In Fiber?
This breakfast cereal contains 5g of fiber per average serving.
Crayola Jazzberry breakfast cereal is loaded with wheat flour, oat fiber, and enriched flour, and all these things contribute to 20% of your daily fiber requirement.
Crayola Cereal Store Brand Alternatives
This crunchy, Jazzberry cereal is currently the only Crayola cereal on the market.
It is not the company's first foray into foodstuffs, however. In 2020 Crayola partnered with Friendly's to unveil their colorful Decorate your own Ice Cream Cake
Where Can You Buy Crayola Cereal?
Crayola Jazzberry breakfast cereal is a limited edition and may be difficult to locate from all major grocery stores. You may have better luck searching online retailers like Giant, Walmart, or Amazon, or many times you can find limited edition cereals being sold by independent sellers through eBay.
User Reviews
Review Summary
0 out of 5 stars (based on 0 reviews)
Recent Reviews
There are no reviews yet. Be the first one to write one.
Submit a Review