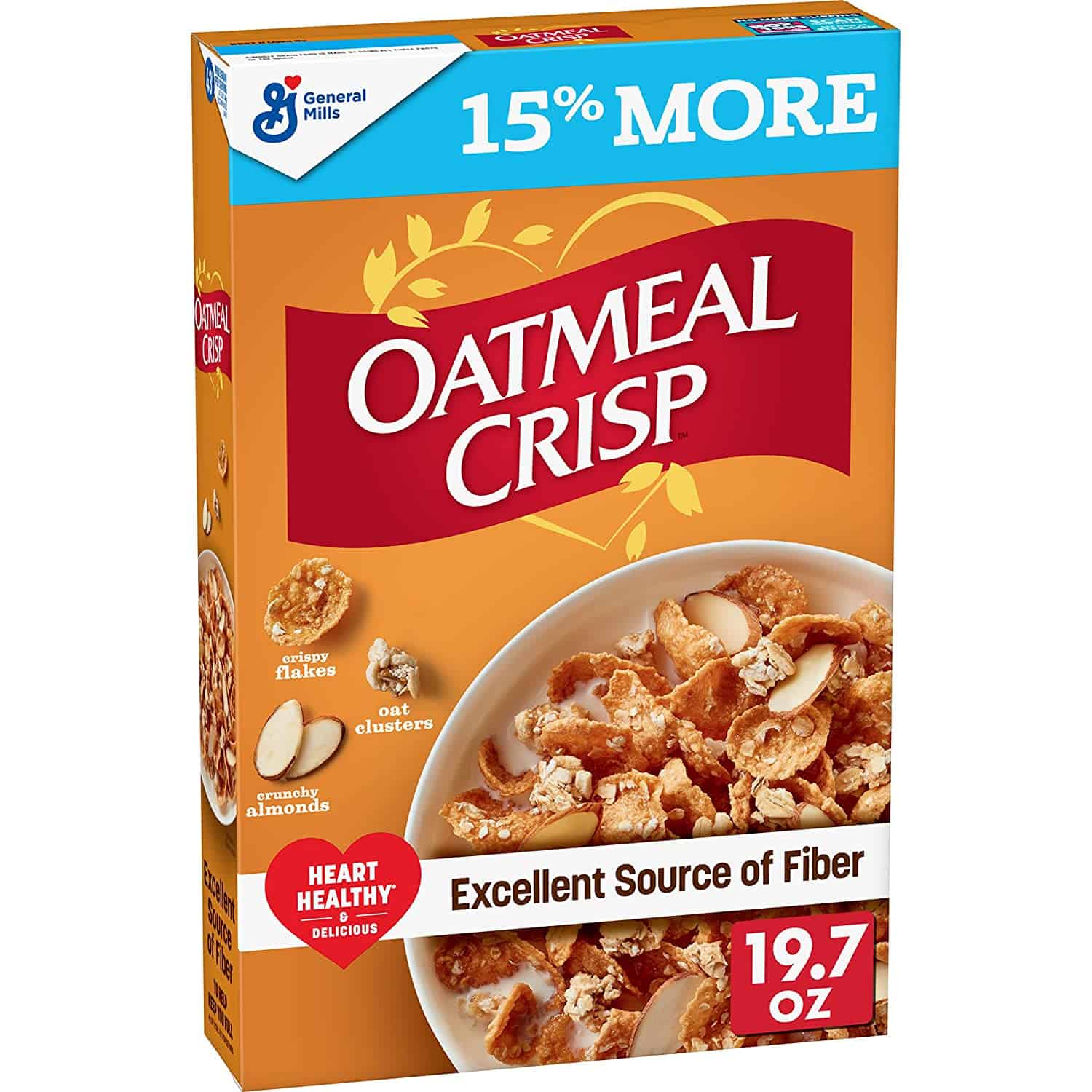 For those that prefer a more sophisticated cereal brand, Oatmeal Crisp is a great option that blends a combination of whole wheat and whole grain oats with crunchy almonds and clusters.
It's a great combination that makes it a well-loved breakfast cereal for many adults, both young and – more mature, shall we say!
There are many processed breakfast cereals on the market, and whilst this does contain quite a few extra ingredients, it's a healthy option in comparison to some of the heavily sweetened cereals that you can get nowadays. Here's all you need to know about Oatmeal Crisp cereal.
Nutrition Facts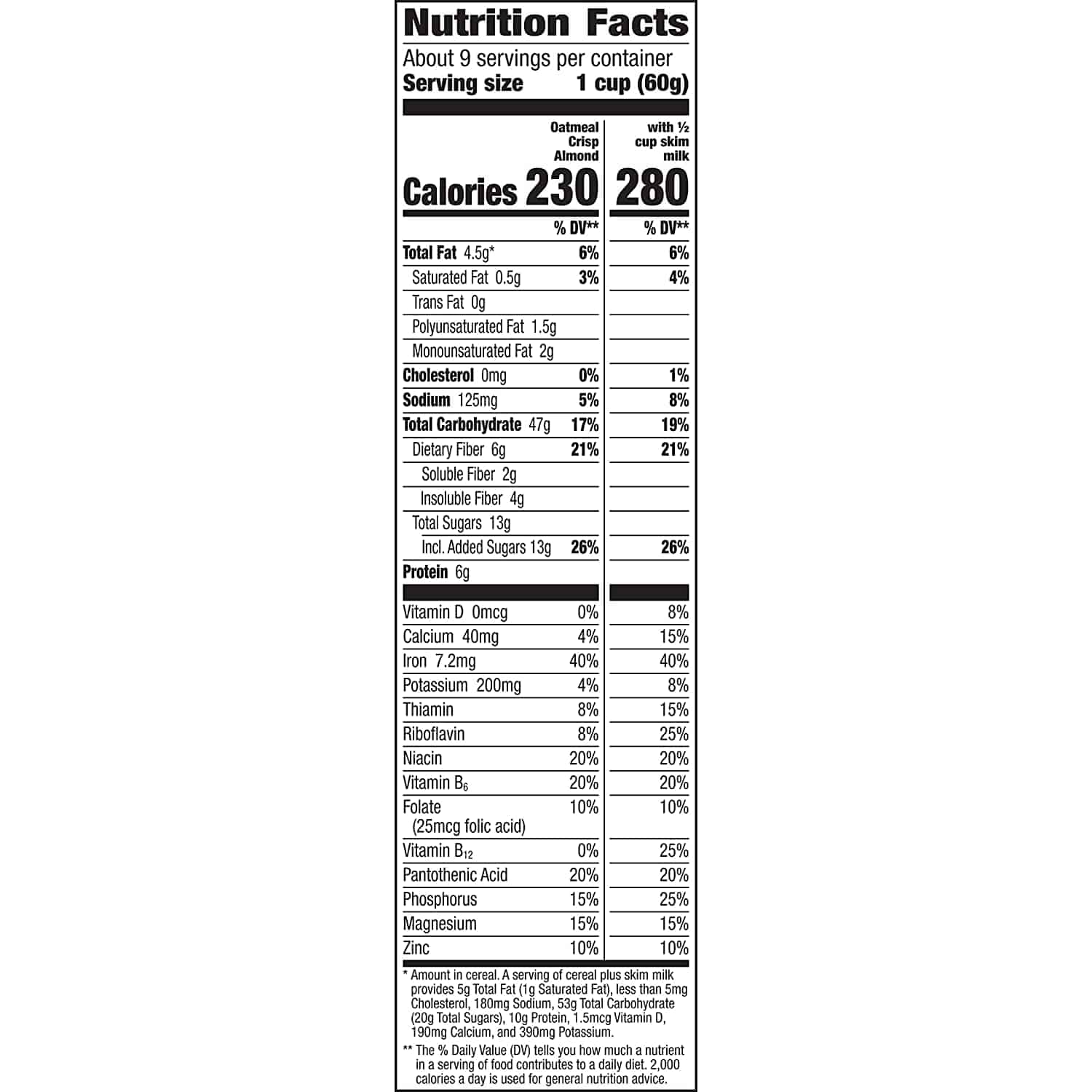 This 19.7 oz cereal comes with around eight servings per container. Many rate this cereal 5 stars for taste and satisfaction. Let's look at some of the nutritional facts that make up this nutritious snack.
Calories – 240
Total Fat – 4g
Cholesterol – 0mg
Sodium – 125mg
Total Carbohydrates – 47g
Dietary Fiber – 6g
Total Sugars – 14g
Protein – 6g
Whilst it may seem quite a calorie high in comparison to some of the other cereals out there, that's due to it being an oatmeal crisp almond cereal.
Ingredients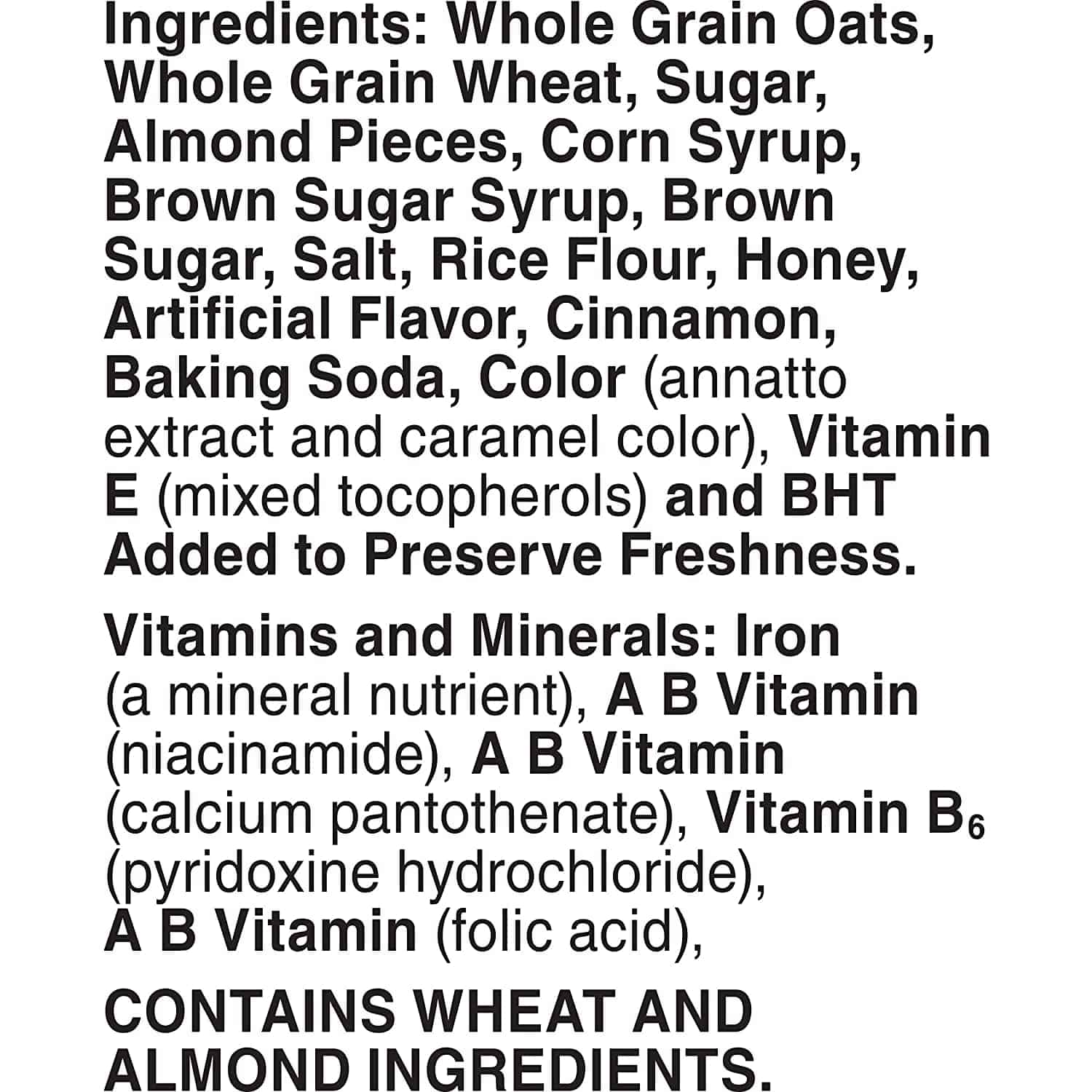 This Oatmeal Crisp breakfast cereal packs a considerable amount of ingredients which may put some foodies off, but in comparison to other breakfast cereals, it's not nearly as bad as it could be.
Whole Grain Oats
Whole Grain Wheat
Sugar
Almond Pieces
Corn Syrup
Brown Sugar Syrup
Brown Sugar
Salt
Oat Flour
Rice Flour
Honey
Cinnamon
Baking Soda
Artificial Flavor
Color Added.
Vitamin E (mixed Tocopherols)
Bht added to preserve freshness
Vitamins And Minerals: Iron (a Mineral Nutrient), Calcium Carbonate, A B Vitamin (niacinamide), A B Vitamin (calcium Pantothenate), Vitamin B6 (pyridoxine Hydrochloride), A B Vitamin (Folic Acid).
Is Oatmeal Crisp Cereal Healthy?
Oatmeal Crisp cereal combines crunchy almonds with whole-grain foods. It's a great combination that is healthy enough in comparison to other cereals that are out there and likely have a lot more sugars and carbs.
It's a heart-healthy option that's low in saturated fats and, more importantly, contains no cholesterol.
Is Oatmeal Crisp Cereal Gluten-Free?
For those looking for a gluten-free option, this cereal is not the best choice if you have an intolerance to gluten or you're allergic to it. As a crisp breakfast cereal, it contains oatmeal which contains avenin, a protein similar to gluten.
Whilst this might not be great for some, as a protein that's not specifically gluten, research has shown that people with celiac disease can tolerate avenin to some extent. However, it's always worth taking caution when it comes to any allergies or intolerances you might have when it comes to these types of breakfast cereals.
Is Oatmeal Crisp Cereal Vegan?
All of the Oatmeal Crisp cereal varieties are vegan-friendly, meaning you've plenty of choices when it comes to shopping for these cereals in particular. For some processed breakfast cereals, you'll notice that whilst they may seem vegan-friendly, some of the ingredients may be partially animal-derived.
In this case, it's not, so you'll be fine eating this cereal if you're vegan.
Is Oatmeal Crisp Cereal Keto?
The Oatmeal Crisp breakfast cereal is not keto-friendly, which isn't unsurprising when keto diets, in general, can tend to be challenging to adhere to.
The reason that this breakfast cereal isn't keto appropriate is that it's a high-carb processed food. It also contains a higher amount of sugar and high fructose corn syrup, which are two big no's when it comes to keto.
Is Oatmeal Crisp Cereal High in Protein?
The Oatmeal Crisp cereal is fairly high in protein, which is great for those who are looking for a more protein-rich diet. 6g of protein is a considerable amount compared to most processed cereal foods.
The delicious oat clusters and flakes with crunchy almonds all contribute to the protein that you get with this cereal.
Is Oatmeal Crisp Cereal High in Fiber?
Another nutrient that's high with these delicious oat clusters is the fiber content. Fiber is great for the digestive system, and if you've been told to get more fiber in your diet, then this one that's rich in fiber.
It's certainly recommended that you choose this type of cereal when it comes to fiber content. The 19.7 oz box is a great option for those looking for more fiber in their diet, whether they're younger or older.
Oatmeal Crisp Cereal Varieties
There are a number of oatmeal crisp cereal varieties that get 5 stars amongst many customers who've tried them. Here are some alternatives available:
Raisin
For those that love dried fruit, the raisin alternative is a great one for those that are looking for natural fruit-based cereals.
Almond
If you're a fan of almonds, then you'll love this Oatmeal Crisp option, which offers a good breakfast for nut lovers!
Triple Berry
This triple berry option is great for those wanting a sweet addition to their oatmeal cereal.
Apple Brown Sugar
Apple brown sugar is the perfect combination of sweet and sour. The perfect balance that makes for a great bowl of cereal.
Maple Nut
Maple Nut is a great one for those looking for a nutty but sweet combination that's slightly more elevated than the original.
Vanilla Yogurt
With yogurt being a great flavor combination for this cereal, it made sense to make a vanilla yogurt-flavored option!
Where You Can Buy Oatmeal Crisp Cereal
There are many places where you can buy Oatmeal Crisp cereal. Here are a couple of places online and offline where you'll find this breakfast cereal.
Famous Oatmeal Crisp Cereal Commercials
There are a couple of oatmeal crisp cereal commercials that are certainly memorable. Here are a few options.
This commercial features a funny conversation between an older son and dad. The son is trying to convince the dad to try the cereal.
Fast forward to this cereal advert where the dad is trying to deter the son from trying the cereal.
User Reviews
Review Summary
0 out of 5 stars (based on 0 reviews)
Recent Reviews
There are no reviews yet. Be the first one to write one.
Submit a Review