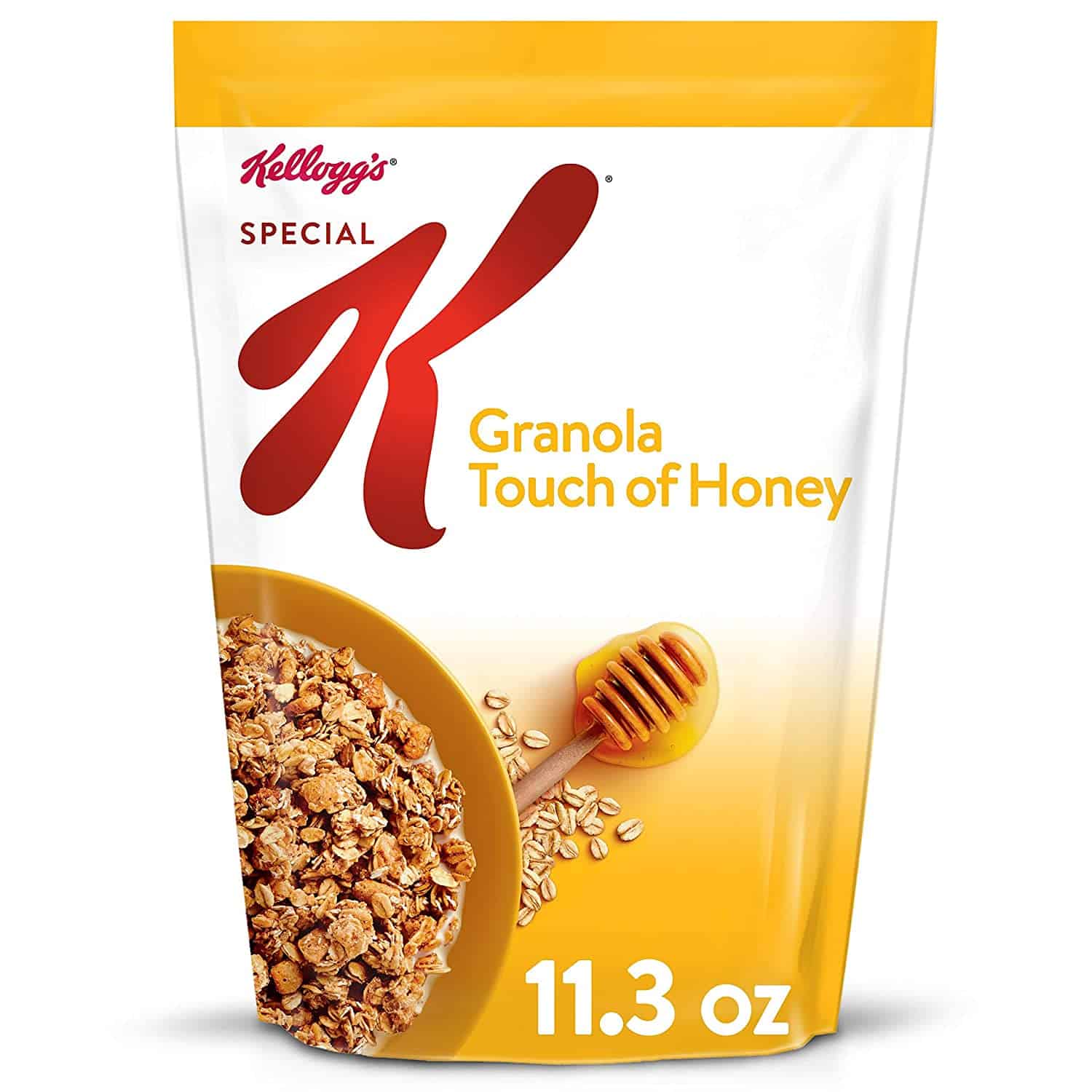 Kellogg's Special K takes on a new guise with this touch of honey granola cereal. Marketed as "a little crispy, crunchy goodness" Kellogg's Special K granola is a bit of a breakaway from the traditional, wheat grain Special K… this one's made from oats.
A low fat, low sugar cereal, Kellogg's Special K granola is made of natural ingredients and sweetened with honey; it makes a perfect breakfast cereal, late-night snack, between-meal treat… or go ahead pop open that convenient, resealable bag to add a handful to your trail mix recipe!
Kellogg's Touch of Honey Granola cereal is one of the many Special K products which earned consistently above average reviews from consumers but has still been discontinued. Special K granola products are still available in different flavors.
Nutrition Facts

One serving is approximately 52g
Calories (per serving) 200
Total Fat 3g 4.62%
Saturated Fat 0.5g 2.5%
Trans Fat 0g
Polyunsaturated Fat 1g
Monounsaturated Fat 1g
Cholesterol 0mg 0%
Sodium 120mg 5%
Total Carbohydrate 40g 13.33%
Dietary Fiber 5g 20%
Sugar 9g
Protein 6g
Calcium 20mg 2%
Iron 4.5mg 25%
Vitamin A 500Number of International Units 10%
Vitamin C 0mg 0%
Ingredients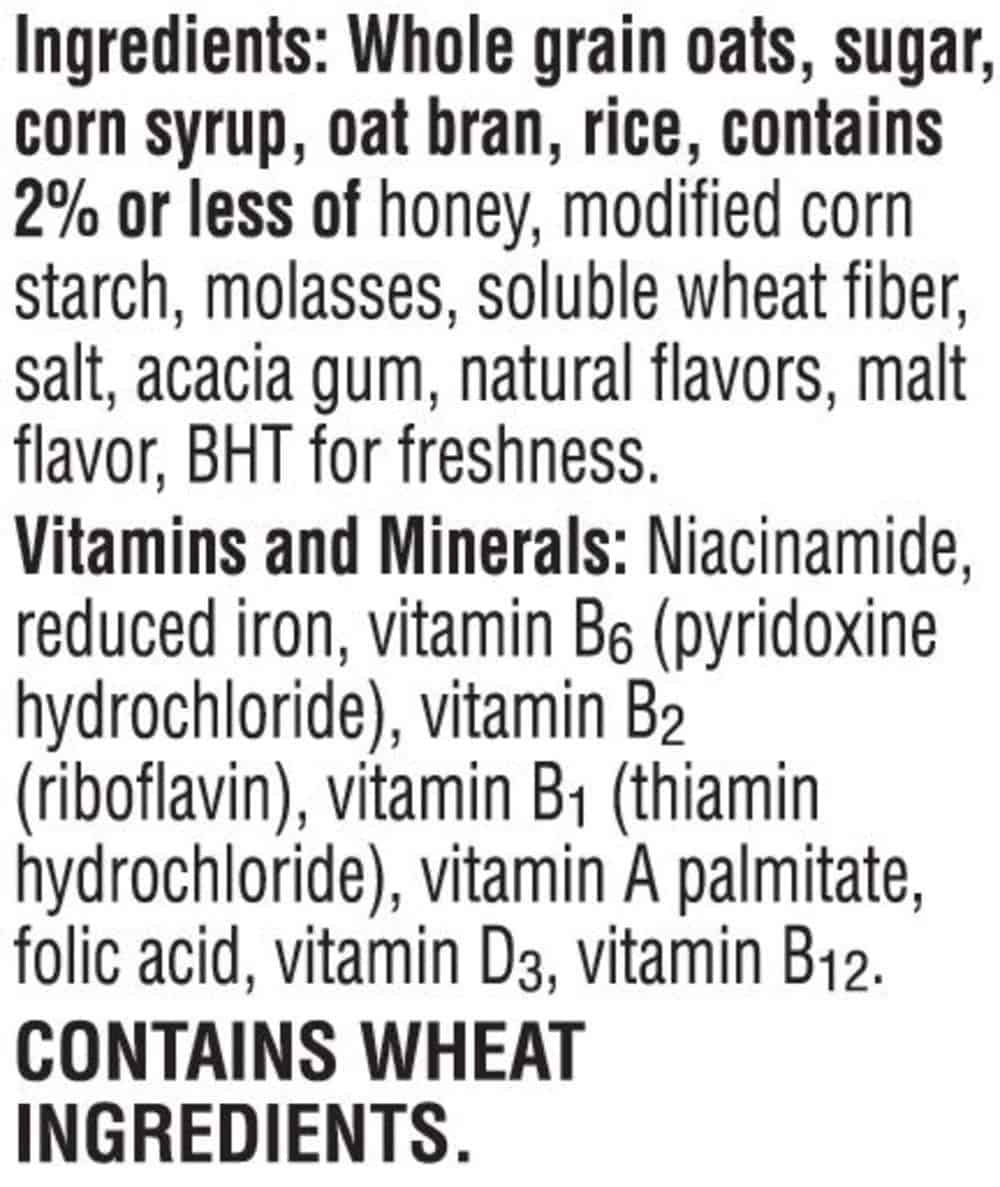 Whole Grain Oats, Sugar, Corn Syrup, Oat Bran, Rice, Contains 2% or Less of Honey, Modified Corn Starch, Defatted Soy Grits, Molasses, Soluble Wheat Fiber, Natural Flavor, Degerminated Yellow Corn Flour, Salt, Acacia Gum, Soy Protein Isolate, Oat Fiber, Dried Cane Syrup, Malt Flavor, BHT For Freshness. Vitamins and Minerals: Niacinamide, Reduced Iron, Vitamin B6 (Pyridoxine Hydrochloride), Vitamin B2 (Riboflavin), Vitamin B1 (Thiamin Hydrochloride), Vitamin A Palmitate, Folic Acid, Vitamin D3, Vitamin B12
Is Special K Granola Touch Of Honey Cereal Healthy?
There are several reasons this Special K honey granola could be considered a sort of healthy breakfast cereal. Its crispy bites are made of pure oats, rice, and wheat, and sweetened with less than 2% honey. This gives the cereal a little boost of fiber, without dousing it in too much sugar or artificial flavoring.
It also boasts an above-average rating value of protein per bowl; while it might not be the best granola for a consumer seeking to boost their protein intake, you could do worse too.
This cereal tastes great, especially served with vanilla yogurt and a little extra fruit. It is a good source of Vitamin A and Vitamin D and is perfectly healthy when eaten as part of a balanced diet.
However, if you are looking for lower-calorie granola… this is not it. With a less-than-fabulous 200 calories per serving, this is not a particularly healthy start to the day… or late-night treat. If you are watching calories you might consider completely plain granola, then serve with your favorite yogurt and fresh fruit.
It is not exactly low fat either. Yes, it tastes good and yes there are even better-tasting cereals filled with even more fat but considering Kellogg's classic Special K contains just 0.5g of fat per serving… the touch of honey granola has precisely six times that.
Is Special K Granola Touch Of Honey Cereal Gluten-Free?
No, it contains soluble wheat fiber and gluten-containing grain products.
Is Special K Granola Touch Of Honey Cereal Vegan?
Well, this rather depends on how strict a vegan the consumer wants to be… Kellogg's Special K sweet-tasting granola cereal does not contain dairy products and it can be served with your favorite soya or nut milk.
However, it does contain vitamin D3, which is derived from the grease in sheep wool and is therefore not strictly vegan.
Similarly, the vitamin B12 found in Kellogg's Special K granola is most likely of fish, meat, egg, or dairy origin.
Oh, and there is a good chance that 9g of sugar was filtered through animal bone char.
Is Special K Granola Touch Of Honey Cereal Keto?
No. No. No. The ketogenic 'keto' diet focuses on keeping one's daily carbohydrates pretty low, usually between 25-50g. With its hefty 40g of carbs per serving, Kellogg's Special K with its touch of honey and so-called "delectable granola chunks" is seriously not keto-friendly.
Is Special K Granola Touch Of Honey Cereal High in Protein?
Not really; boasting an average of 6g of protein per serving, Kellogg's special, oat grain breakfast cereal fares better than sugary competitors with 1-2g… but does not compete with healthier options offering 10g+ per bowl.
If you are looking to get a little more protein in your diet, Kellogg's Special K protein might be a little more your thing.
Is Special K Granola Touch Of Honey Cereal High in Fiber?
Containing whole grain oats, rice, and wheat fiber, this sweet-tasting granola cereal is higher in fiber than many of its competing products. A single bowl of Kellogg's Special K honey granola contains 5g of dietary fiber, which equates to approximately 20% of a healthy daily requirement.
Of course, fibrous cereal with up to 10g per serving is available, compared to which Kellogg's breakfast granola touch of honey is only a little better than average.
Special K Granola Touch Of Honey Cereal Store Brand Alternatives
A little bit of research proves that Kellogg's Special K granola has been available in other flavors, including:
Most of the granola varieties seem to have been discontinued but you should still be able to find classic Special K in the following flavors:
Brown sugar cinnamon
Chocolatey dipped flakes with almond
Blueberry
Red berries
Fruit and yogurt
Vanilla almond
Chocolatey delight
Cinnamon brown sugar crunch protein cereal
Cinnamon pecan
Or try your Special K in a different form with: 'calorie conscious' bars; protein bars; and keto-friendly snack bars.
Where You Can Buy Special K Granola Touch Of Honey Cereal
Despite consistently above average customer ratings, Kellogg's touch of honey granola has been discontinued and so you are unlikely to find a box in your local grocery store… or any grocery store, for that matter.
Famous Special K Granola Touch Of Honey Cereal Commercials
With all their many, many flavors, Special K Touch of Honey seems not to have earned its commercial. Check out a nod to their early granola range instead:
Kellogg's Special K granola – feel free to enjoy!
Oh, and here's a classic, if totally questionable ad for the 'health benefits' of eating Special K:
Kellogg's Special K – seriously dated pinch more than an inch ad.
User Reviews
Review Summary
0 out of 5 stars (based on 0 reviews)
Recent Reviews
There are no reviews yet. Be the first one to write one.
Submit a Review