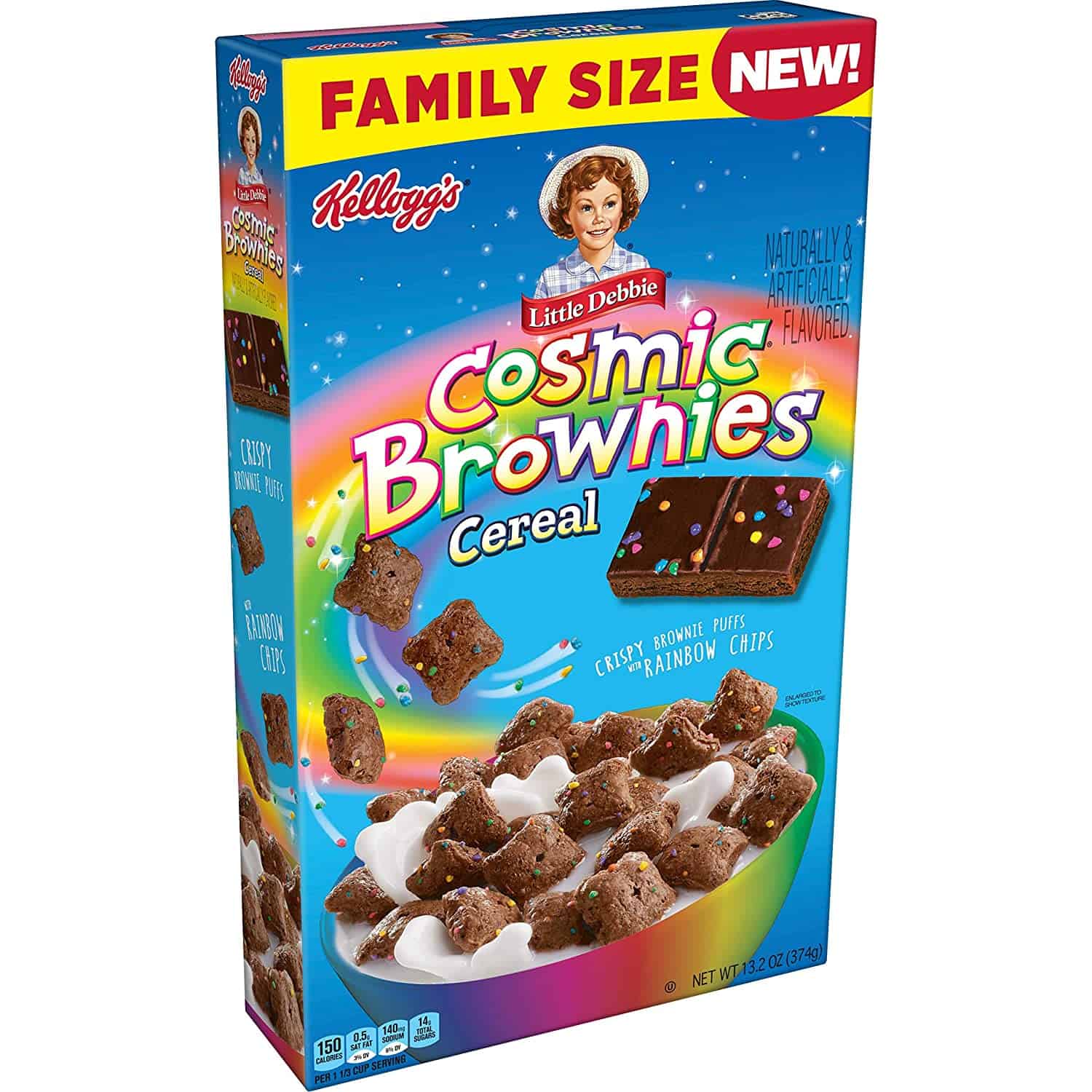 Released to great fanfare in May 2021, Kellogg's Little Debbie Cosmic Brownie cereal is exactly what you expect it to be: the classic Little Debbie treat cut down into bite-sized, chocolate cereal chunks and chucked in a bowl of milk.
Sound tasty? Absolutely, and so it's no surprise that since its release, brownie and cereal fanatics have been going crazy for these early morning intergalactic snacks. However, does eating such an out-of-this-world flavor come with a price?
Well, read on to find out more about the nutritional value of Kellogg's and Little Debbie's new Cosmic Brownies cereal and whether it should be your go-to with your morning milk.
Nutrition Facts
One cup (42 grams) of Kellog's Cosmic Brownies cereal contains:
[% = of Daily Value based on 2000 calorie diet].
Total Fat: 2g (3%)
Saturated Fat: 0.5g (3%)
Trans Fat: 0g
Polyunsaturated Fat: 0g
Monounsaturated Fat: 0g
Cholesterol: 0mg
Sodium: 140mg (6%)
Total Carbohydrate: 31g (11%)
Dietary Fiber 1g (4%)
Sugars 14g (28%)
Protein: 3g
Ingredients
Whole Grain Oat Flour
Wheat flour
Wheat Starch
Sugar
Degerminated Yellow Corn Meal
Cocoa (processed with alkali)
Palm Oil
< 2% Brown Sugar Syrup
Caramel Color
Salt
Baking soda
Natural and Artificial Flavor
Paprika Extract Color
Red 40
Yellow 5
Blue 1
Yellow 6
Red 40 Lake
Blue 2 Lake
Yellow 5 Lake
Blue 1 Lake
Butylated Hydroxytoluene (BHT) Preservative
Vitamins and Minerals: Reduced Iron, Vitamin B1 (Thiamin Hydrochloride), Vitamin B6 (Pyridoxine Hydrochloride), Vitamin B12 (Cobalamin), Vitamin D3 (Cholecalciferol), Niacinamide, Zinc Oxide, Calcium Pantothenate, and Folic Acid.
Is Cosmic Brownie Cereal Healthy?
The American Heart Association (AHA) cites that the maximum amount of sugar that Americans should be consuming each day is 37.5g for adult men and 26g for adult women.
With that in mind, while the Little Debbie Cosmic Brownies cereal is a tasty treat for those who like to indulge, its sugar content alone means that it should remain an indulgence. In fact, with 14g of added sugar in the average portion of this milk chocolate cereal, each bowl equates to almost a third of your maximum recommended daily sugar intake.
In addition to this, Kellogg's Little Debbie Cosmic Brownie cereal also cites the preservative Butylated Hydroxytoluene (BHT) amongst its list of ingredients. Why is this worthy of note?
Well, BHT's use is banned in Canada, Australia, New Zealand, and Japan (and many European countries too!) due to a potential link found between its presence and the development of certain cancers, liver enlargement, and cell developmental issues.
With that in mind, at Cereal Secrets, we'll always rate any breakfast snack that contains BHT as carrying an additional potential health risk.
Finally, while the Little Debbie Cosmic Brownie cereal has a relatively modest fat content, it more than makes up for this with a large percentage of carbohydrates.
So, while these mini Cosmic Brownies might be a delicious Little Debbie snack, they do not represent a healthy cereal. The best thing to do, then, is to eat this cosmic breakfast candy with a big bowl of milk as part of a balanced diet.
Is Cosmic Brownie Cereal Gluten-Free?
Kellogg's Cosmic Brownie's cereal contains both wheat flour and wheat starch. Unfortunately, this means that the cereal also contains gluten and thus is not suitable for those who require a gluten-free diet.
Is Cosmic Brownie Cereal Vegan?
As Little Debbie Cosmic Brownies cereal contains Vitamin D3, Cholecalciferol, this means that the cereal is not suitable for vegans. This is because D3 is usually derived from animal products.
Is Cosmic Brownie Cereal Keto?
In short, no. This is because the keto diet requires one to limit the daily amount of carbohydrates they consume to between 20 and 50 grams. Cosmic Brownies contain 31g of carbohydrates per portion, representing a huge proportion of your daily allowance. Thus, it is unviable as part of a successful keto diet.
Additionally, because the keto diet works by guiding the body away from a reliance on sugars, the large sugar content of Cosmic Brownies cereal further reduces its suitability for keto dieters.
Is Cosmic Brownie Cereal High In Protein?
On average, it's estimated that adults require a daily protein intake of about 0.8g per kilogram of weight. For a typical, sedentary person, this amounts to about 50g a day.
As Kellogg's and Little Debbie's Cosmic Brownies cereal contains just 3g of protein per serving, unfortunately, it doesn't class as high in protein.
Is Cosmic Brownie Cereal High In Fiber?
One serving of Cosmic Brownies cereal contains about 4% of your required daily intake of fiber. More specifically, it's estimated that adult males should consume between 30 – 38g of fiber, daily, while adult females should consume between 21 – 25g.
With the recommended daily fiber intake in mind, this chocolate brownie treat has a modest but not high fiber content.
Cosmic Brownie Cereal Varieties
Unfortunately, there is currently only one variation of the Cosmic Brownies cereal available. This is because Kellogg's has designed the cereal, in collaboration with Little Debbie, to replicate the latter's infamous Cosmic Brownies treat.
That being said, Kellogg's is known for experimenting and producing various flavors for many of their most popular cereals, so watch this space!
Where You Can Buy Cosmic Brownie Cereal
For the time being, the most reliable source for Cosmic Brownies cereal is in-store or online at Walmart. This is because, thus far, we've been unable to locate any other stores (digital or physical) that stock the chocolate cereal snack.
However, as soon as a member of our team strikes Cosmic Brownies gold, we'll be sure to let you know!
Famous Cosmic Brownie Cereal Commercials
As a relatively recent addition to the Kellogg's family, Little Debbie's Cosmic Brownies cereal doesn't have any famous cereal commercials ready to stir nostalgia. More to the point, unfortunately, we've been able to find a trace of any trailers for the intergalactic chocolate cereal.
Rest assured, however, that they are out there. So, if you're a fan of Kellogg's Cosmic Brownies cereal and are excited to revisit the commercials that spawned all the excitement – grab your friends, grab a bowl, and get hunting!
Oh… and if you find any, let us know.
User Reviews
Review Summary
0 out of 5 stars (based on 0 reviews)
Recent Reviews
There are no reviews yet. Be the first one to write one.
Submit a Review